Razer and Logitech are two of the biggest names in gaming and PC peripherals.
For decades they have waged war over mice, keyboards, headsets, and more. What happens when an irresistable force meets an immovable object?
Let's take a closer look at these two closely matched titans of industry.
Logitech

vs

Razer

: The Two Titans Clash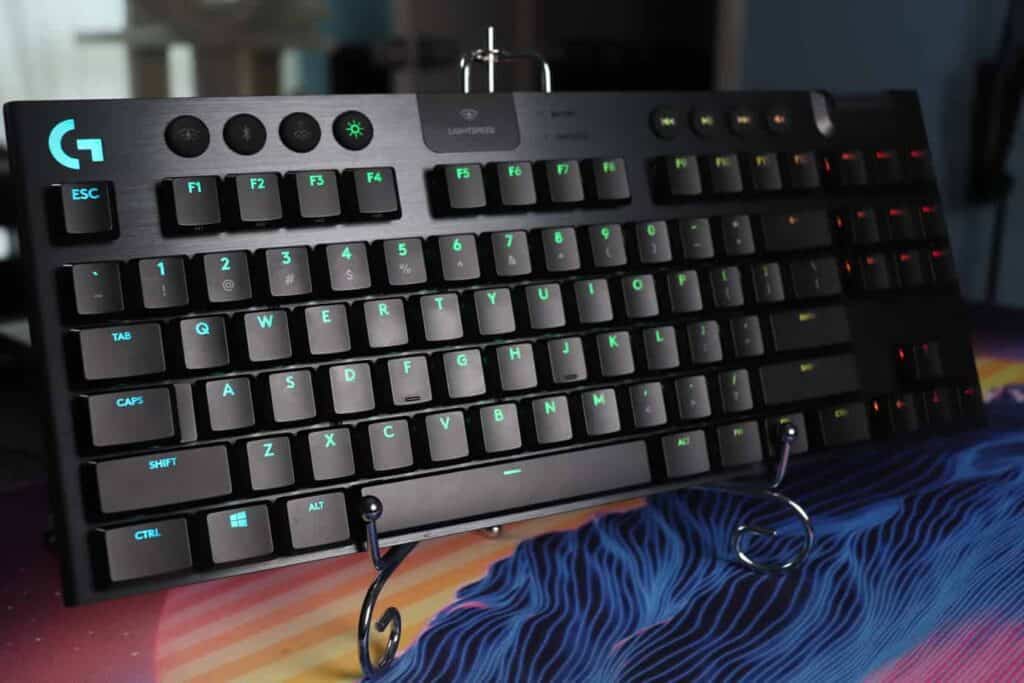 Logitech is a long-standing legend in the pc peripheral world since the 80's, making some of the most popular and iconic peripherals in history like the Mouseman in the mid 90's and their Optical Mouse in the late 90's.
After almost two decades in the office and professional peripheral space, and moving into gaming in the early 2000's, Logitech changed the game with one of the most legendary mice in gaming history, the MX518.
Needless to say, when it comes to peripherals, Logitech is the master looking to be out-matched by the student, Razer.
In the late 90's, Razer came onto the scene with their first gaming mouse, the Boomslang. As the new millenium rolled on, Razer released more and more mice and even keyboards named after snakes and spiders – so edgy.
Since then, both Logitech and Razer have branched out into multiple peripherals including webcams and streaming equipment, audio and headsets, and in Razer's case even laptops and phones.
While both have had their fair share of innovations, both Logitech and Razer have also had plenty of missteps, including poor quality control and proprietary designs that laugh in the face of customization.
When Godzilla Logitech meets King Kong Razer, all we can do is let them fight.
Let's see what it's like when worlds collide.
Best Mechanical Keyboards:
Winner = Tie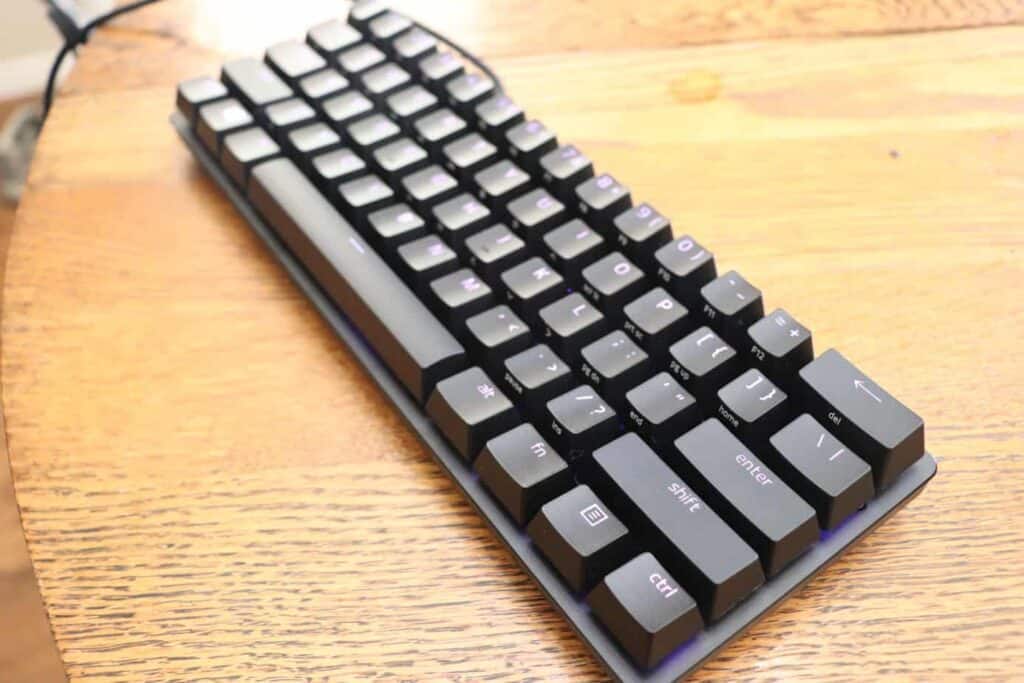 As it stands, both Logitech and Razer mechanical keyboards have their share of ups and downs.
Logitech mechanical keyboards have never been very consistent when it comes to switch choice.
At first, with options like the G610 Orion, Logitech used Cherry MX Switches.
The G810 Orion, released at the same time, instead used Logitech "Romer-G" Switches.
Now, Logitech also uses their own "GX" mechanical switches, "GL" low-profile switches, and even have an amazing hot-swappable keyboard that uses Kailh-style hotswap sockets, the Logitech G Pro X Wireless.
Razer likewise first started using Mechanical switches in their "BlackWidow" line, at first favoring Cherry MX switches but later moving to proprietary Razer mechanical switches.
The "Huntsman" series of keyboards feature Razer's optical-mechanical hybrid switches, which feature a stabilizer wire on each keyswitch and super-fast actuation.
Common Flaws
While these keyboard switches not be a bad option at all, what Logitech and Razer do next may confuse you.
Both Logitech and Razer mechanical keyboards suffered from the same flaws: bad stabilizers, hollow cases, and non-standard, proprietary bottom row spacing.
While the bad stabilizers and hollow cases can be modified by any enthusiast, the non-standard spacing meant that no one could find any keycaps if their spacebar or modifier keycaps needed to be replaced.
People who purchased these expensive keyboards were forced to buy new keyboards when these poor-quality keycaps inevitably met their doom.
Logitech's G Pro X Keyboard? That great hotswap wireless option we mentioned earlier?
Also plagued with a non-standard bottom row.
In classic fashion, this proprietary choice keeps the G Pro X from being an enthusiast-worthy keyboard.
Not to mention that the Logitech G Pro X still uses mini-USB for some inexplicable reason.
Razer, on the other hand, has listened to the communities at large and have provided standard spacing across multiple keyboards including the Hunstman Mini.
Razer still uses proprietary stabilizers, however, meaning you must not lose the adapters included with your Razer keycaps, lest you run into incompatibility once more.
At the end of the day, there is no clear winner, and it ultimately comes down to a draw. (lame, I know)
Best Gaming Mice:
Winner = Razer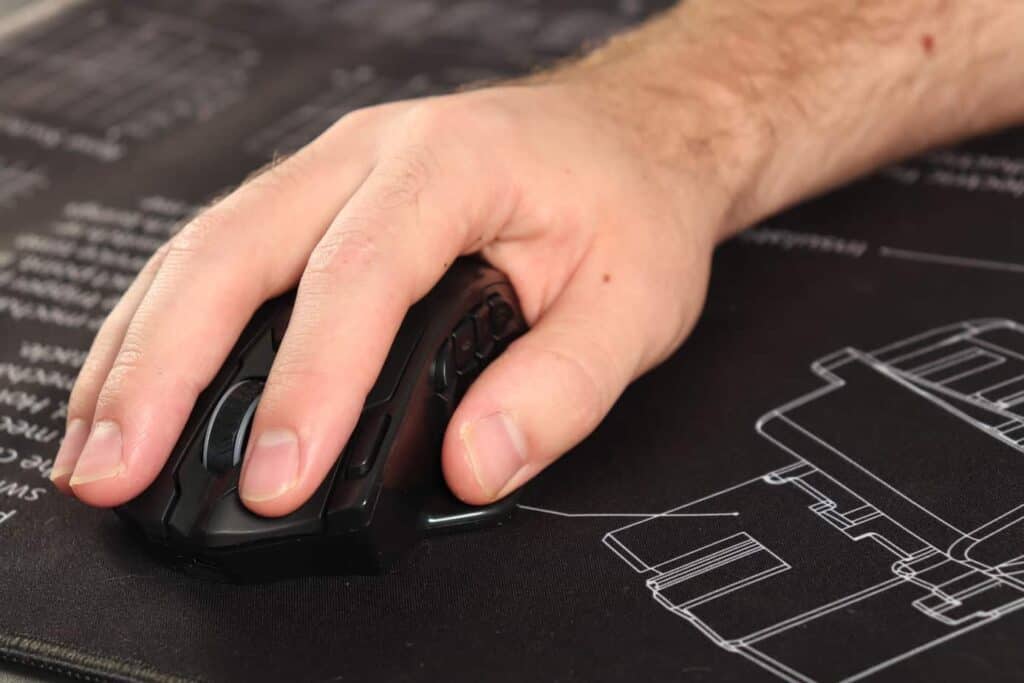 Logitech has been making mice since for twice as long as Razer has, but both have been making gaming mice since only 1999.
Logitech's legendary MX518 and Razer's revered Diamondback both came onto the scene in 2004 to 2005, and both have staked their claims as the pinnacles of ergonomic and ambidextrous gaming mice respectively.
Today, the G502 and Razer Viper take over where the MX518 and Diamondback left off. Each are powerhouse peripherals that will not disappoint any gamer that wields one.
Interestingly enough, Razer and Logitech have matched each other pound-for-pound in each weight class.
The Logitech G502 and Razer Basilisk both share an extremely similar ergonomic shape with dorsal fin and option for wireless.
The Logitech G305 and Razer Viper both share simpler, flatter ambidextrous designs perfect for any claw-grip enthusiast.
The Logitech G703 and Death Adder are both comfortable, simple right-handed asymmetrical designs.
Finally, the G604 and Naga fill the gap needed for a MOBA and MMORPG-focused mouse with multiple thumb-macros. The Naga goes a step further and offers a modular system for different thumb-controlled button layouts.
While Logitech is the general master of mice, flawed Omron switches that led to double-clicking seemed to be the the peripheral giant's "Achilles' Heel".
Razer, however, takes the edge by simply offering more options within each model line, and providing better quality control by offering their own Razer mouse switches. Razer, did, however, face an issue with rechargeable batteries not charging.
Best Stream Gear:
Winner = Razer
Streaming has been become a growing hobby and viable career, and many streamers have used Logitech and Razer products in their setups.
Logitech has been making webcams since 2002 with their QuickCam models, and even experimented with digital cameras before that.
Today, the Logitech C920 is the bread and butter of streaming kits, and Logitech Brio remains the gold-standard of webcams.
Razer answers back with the Razer Kiyo webcam that includes a beautiful integrated ring-light to provide crucial, optimal lighting in even dark environments.
Razer even has a noteworthy condenser microphone lineup called the Seiren.
However, if you're interested in streaming mics, you may have heard of the Blue Yeti. Blue is known for quality microphones like the Blue Yeti and Snowball, and they are now a Logitech brand.
While Logitech might bring the quality, Razer brings the quantity by offering chairs, deskmats, and even computers.
While Logitech might be the better choice for the streaming gear they offer, you could potentially have an all-Razer setup for gaming and streaming.
Best For the Office:
Winner = Logitech
And now for something completely different.
When it comes to the office and any modest or traditional "corporate" work setting, Logitech is simply the only choice.
You can forget about Razer, and you can forget about Corsair.
The last thing you need with your boss over your shoulder is a glowing snake or pirate-ship logo in all of its ArrGeeBee brilliance.
Logitech is unmatched when it comes to office-appropriate, productivity driven peripherals, and this has been true for decades.
With mice like the MX Master series, ergonomic options in the MX Ergo and MX Vertical, there has never been a better balance between ergonomic comfort and productivity in a peripheral.
Logitech K845 is the modest mechanical keyboard decked in aluminum that even features a standard bottom row spacing.
Logitech's gaming keyboards can even be tasteful in the office when paired with a white backlight.
With Razer, unless you work in a creative career, or one with a more youthful and less corporate presence, you probably will not find a very work-appropriate design for the office.
Unless you like glowing green snakes.
Best Headsets:
Winner = Tie
When it comes to headsets, both Logitech and Razer offer fairly good options.
Logitech again offers both office and gamer-oriented designs.
Both wired and wireless options are available for the Logitech G and G Pro headset lineup.
All of Logitech's headsets are offered in large circum-aural designs, offered with 40 to 50mm drivers, and with some even sporting 7.1 Surround sound and Lighsync wireless technology.
A few premium models like the Pro X Headsets even feature microphones with the same technology that goes into Blue brand microphones.
Razer simplifies everything again with their naming system.
Logitech offers two families of headsets: The BlackShark with oblong oval shaped earcups, and the Kraken family that sports circular earcups.
The Kraken Kitty even sports a pink design with cat ears on top of the headband.
Both lines of headsets also have 40 to 50mm drivers, cardioid microphones for ideal voice quality, and both wired and wireless models with 7.1 surround sound technology.
Both Logitech and Razer offer competitive options, and in the end is more about style.
Best Wireless:
Winner = Logitech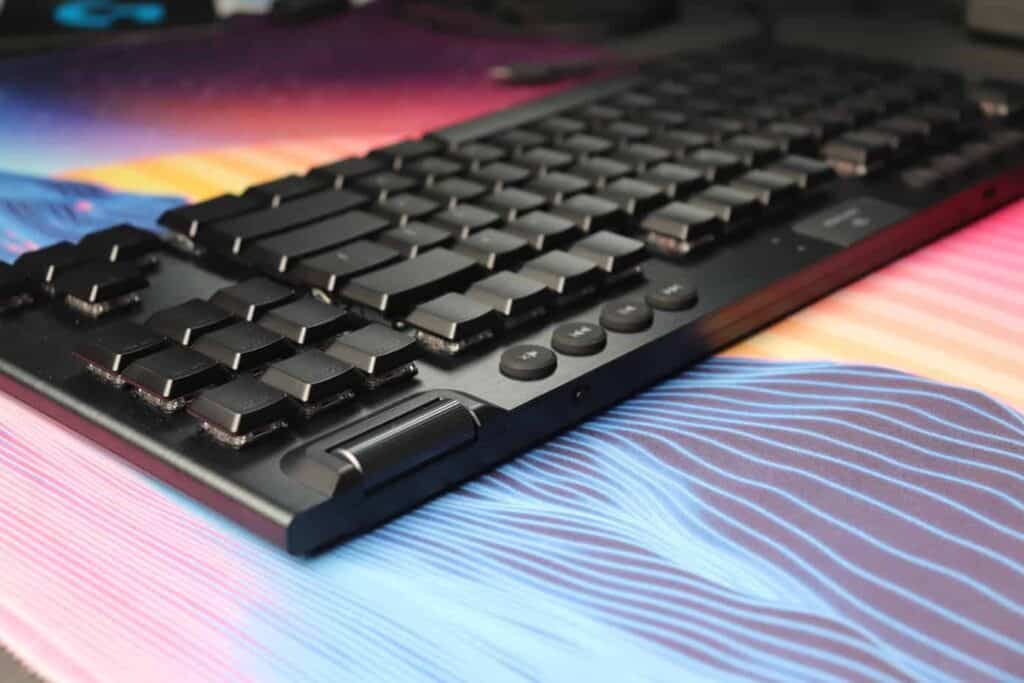 Both Logitech and Razer make use of bluetooth and 2.4ghz wireless modes, as well as premium wireless tech known as Logitech Lightspeed and Razer Hyperspeed.
Though both Logitech Lightspeed and Razer Hyperspeed offer extremely low-latency and strong connections across mice, keyboards, and headsets, Logitech has utilized their Lightspeed technology in more keyboards and mice, and thus has more premium wireless gaming options.
The real difference again comes in Logitech's non-gaming line.
Logitech's Unifying Reciever technology makes it possible to pair up to six peripherals to a single USB receiver.
With those that use Logitech Flow software, you can use two dongles on two computers with a single mouse like the MX Master 3, making it possible to use two computers at once and even transfer files across them over the same network.
Logitech also sells these receivers separately, something you won't find Razer doing with any of its USB dongles.
Such productivity and performance is simply not possible with a Razer.
Best Software:
Winner = Logitech
Logitech has had a long time to perfect its peripherals, and the same can be said of its software.
Logitech has a suite of softwares depending on the peripheral.
Logitech's consumer and professional oriented peripherals tend to use Logitech Setpoint or Options to customize functionality and speed, and some use Logitech Flow for increased productivity between two computers like transferring files.
You can even pair multiple mice and keyboards to a single USB Logitech Unifying Receiver.
Logitech Gaming Software and now G-Hub are the softwares for Logitech's gaming peripherals. You can customize your layout, and of course sync lighting across all of your devices.
Razer's Synapse software is the single software for all Razer peripheral.
Functionality remains similar to Logitech's software, but simply doesn't work as well.
Despite being on its third version, Synapse remains bloated and buggy.
With so many products in the Razer lineup, it may be difficult to control them all with an unreliable software.
Still, with both Logitech and Razer softwares, hopefully all you have to do is use them once, and never touch them again.
Other Notable Tech
There is one notable fact that separates Razer from Logitech.
Razer offers everything a gamer would need as a one-stop shop.
Though Logitech and Razer both deal in mice, keyboards, and headsets, Razer goes a few steps further and has an entire suite of products ranging from hardware to peripherals to accessories.
This includes gaming chairs, laptops, desktop computers, and even a gamer smartphone.
It is clearly obvious how different the brand philosophies are.
Logitech sticks more with tradition and focuses on purpose-driven peripherals.
Razer is definitely "by gamers for gamers" and takes more chances, and that fact certainly appeals to many people.
Should You Even Buy Tech From The Big Brands?
Logitech and razer are no doubt two of the biggest brands in gaming, productivity, and peripherals.
Being so big, though, does not come without its downsides. When it comes down to it, these brands make money by appealing to a mass audience, as well as by cutting corners to increase profits.
While this is not uncommon in business and production, the fact remains that some alternative niche-specific brands may offer better options.
In terms of keyboards, you can often find options with better build quality, better stabilizers, better switches, and better keycaps, without sacrificing any of the options (except premium wireless tech, of course).
Brands like Varmilo and Leopold lead the way with solid pre-builts, and Epomaker and Glorious making hot-swappable keyboards with superior customization and upgrade paths.
While Logitech and Razer may have gaming and productivity mice figured out, offerings from smaller brands may offer all of the features for a fraction of the cost.
When it comes to trackballs, you may find a better offering from Elecom.
If you are looking for audio quality from a headset, you can even try using a proper set of headphones with a removeable or separate microphone. If you're going to get a headset, why not a headset from an audiophile brand, or smaller brand with more to prove like Roccat, Hyper X, or Redragon?
What you do get with brands like Logitech and Razer though, is wide availability, support, and brand-ecosystem integration.
There is something to be said about the convenience of big brands and the unified aesthetic that those brands provide.
Conclusion
Logitech and Razer have truly built a legacy forged by the best peripherals available on the market.
Though both have their strengths and weaknesses, it's not difficult to see why Logitech and Razer brand products have become so popular and so widespread across the globe.
Whether you choose Logitech for its functional and productive designs, or Razer for its innovation and edgy gamer aesthetic, you cannot go wrong with offerings from these two big brands.
If you prefer something a little more enthusiast driven, perhaps consider a Ducky?
Thank you for reading, and sorry about your wallet!