Redragon is a company known for their affordable and budget-friendly gaming peripherals and PC parts. However, budget doesn't always mean the quality is bad.
At first glanced, the Redragon Zeus H510 may remind you of the similar HyperX Cloud 2 headset that we reviewed a long time ago. But does it have similar comfort, build quality, and sound?
In this review, we'll find out.
The Verdict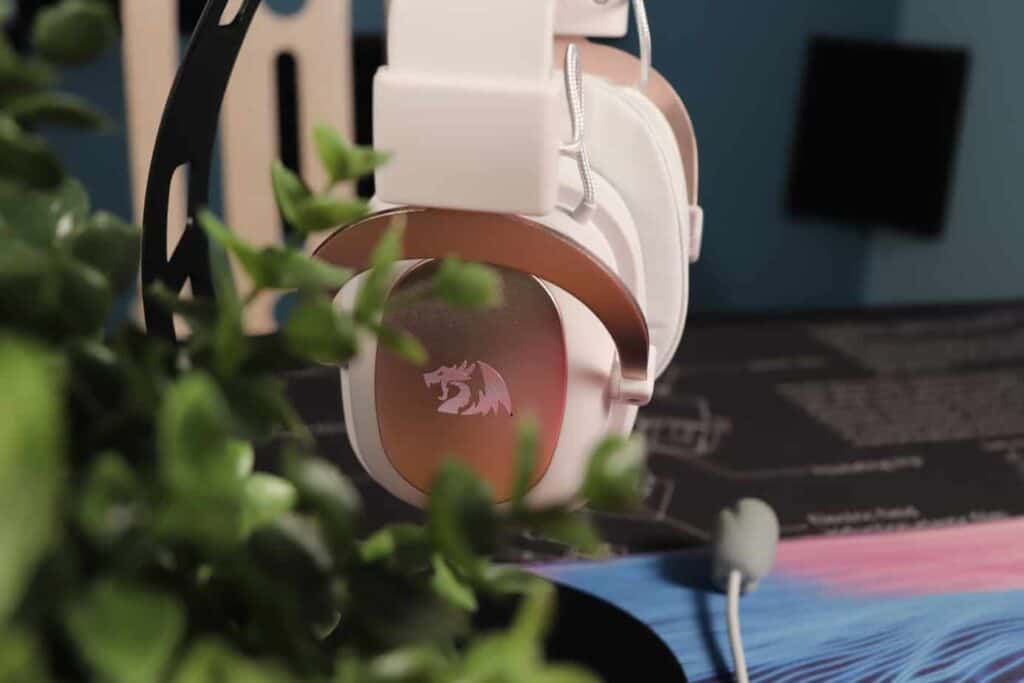 The Redragon Zeus H510 headset is perfect for people who want a comfortable gaming headset with good microphone and sound quality for an affordable price at somewhere around $50 (prices may change).
Coming in two different colors, black or white, this headset is great for any person. It's not blow-your-mind amazing by any means, but for $50, it definitely needs to be talked about more.
Not only that, but the H510 headset is always compatible with almost every device with the additional accessories provided.
Seriously, though, they're impressive. But don't just believe me, we'll talk about more of the details down below.
---
In The Box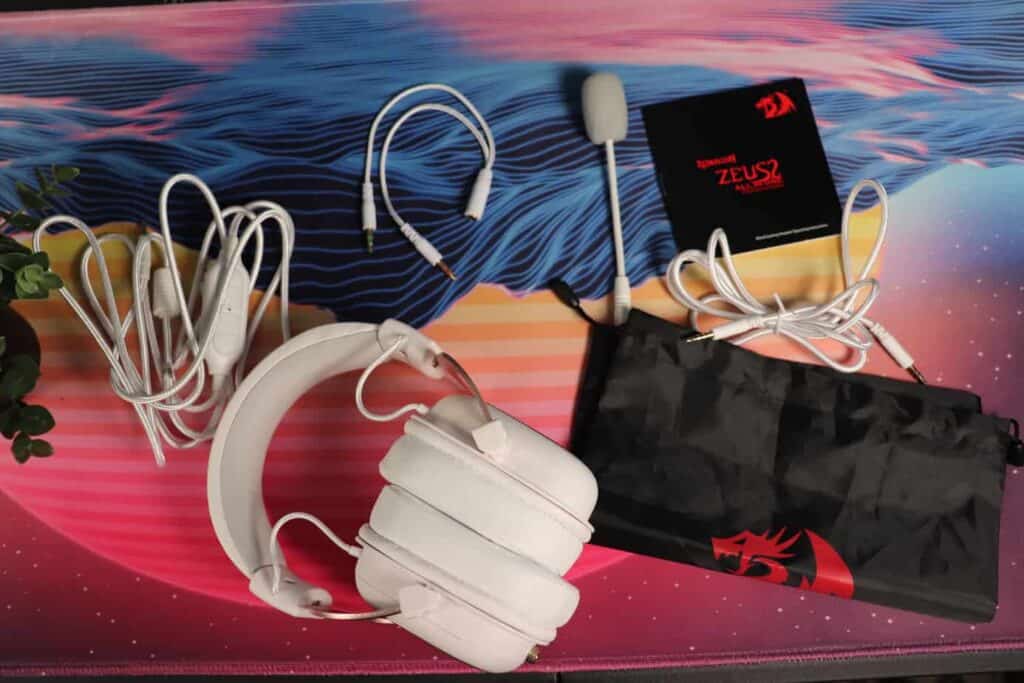 In the box, we have a multitude of accessories:
Headset: The headset has a detachable cable port, so you can chooses to change up the following cables if you choose to.
3.5mm to 3.5mm auxiliary cord: Perfect for connecting to your mobile device for listening on the go.
1-to-2 splitter: If you plan on using it on PC with the microphone, this lets you do that.
USB connector with headset controls: This lets you connect the auxiliary cord into it and then connect it to PC to use the microphone as well. I've experienced greater sound and microphone quality when using this.
Detachable microphone: It comes with a removable windscreen, and it's flexible.
Manual: The included manual tells you how to connect the headset to each platform that it's compatible with (PC, PS4, Xbox, mobile, etc).
Carrying bag: Made of soft plastic with a drawstring closure.
Sticker: The sticker features the Redragon logo.
Not that all of the cables provided are braided and match the color of your headset.
---
Build Quality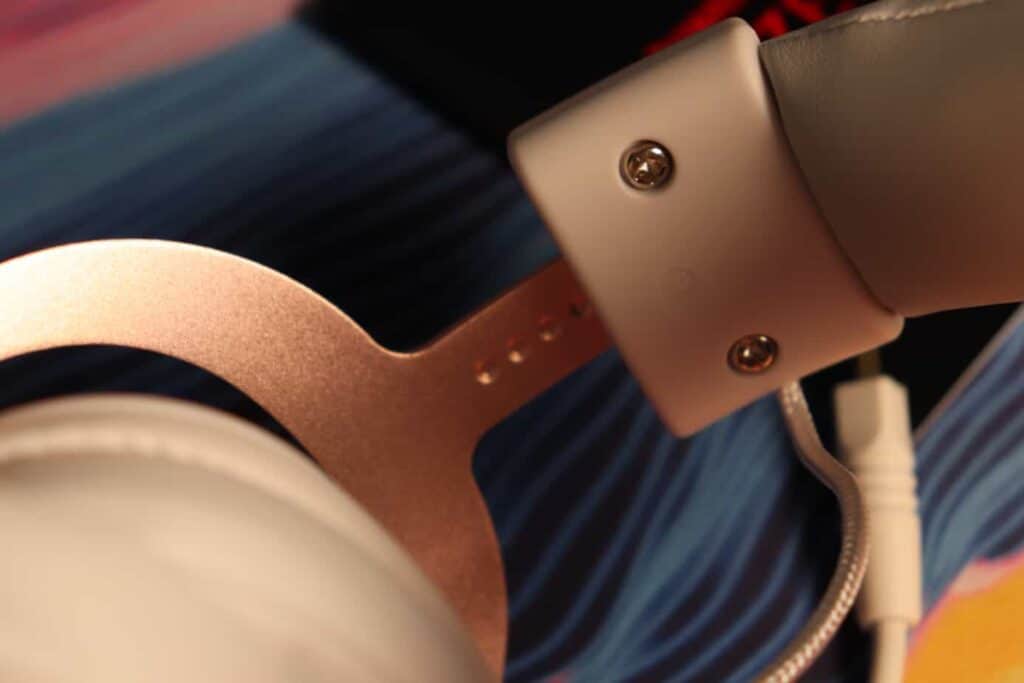 The headband of the headset is made of plush memory foam that's stitched from two pieces of soft fabric. From a quality standpoint, it is slightly less durable than the HyperX Cloud 2s because the Cloud 2s are stitched directly to the headband.
At the top of the headband is the Redragon logo embossed on it. You can only see it when light is shining on it.
On the left ear cup, there is a detachable cable port, which adds to long-term durability. If the cable or the detachable microphone breaks, you can always order these parts separately rather than replacing the whole headset.
The H510 has the same points of failure as the Cloud 2s. Specifically, we are talking about the plastic connections that connect the metal adjustment band to the separate ear cushions and the headband.
These plastic connections are small and connected via screws. Over time, with repetitive use at maximum range of motion of the headset, I can see some breakage at these specific areas.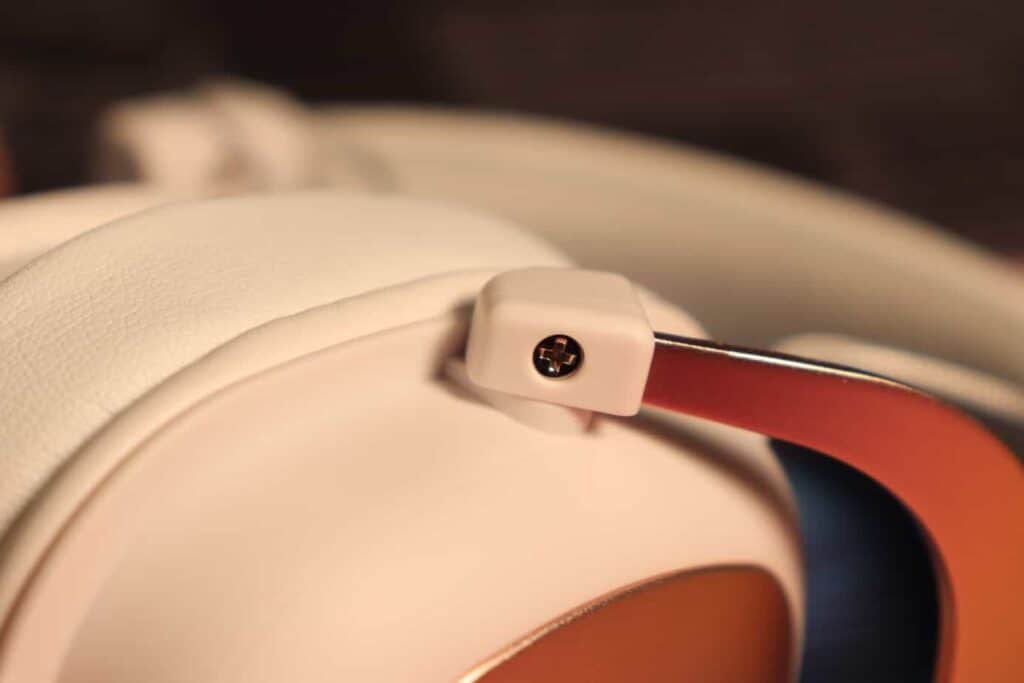 After accidentally dropping it once, there was no cracking or creaking. Thank goodness! With maximum twisting, extension, and flexion of the headband, there is no creaking either.
Each earcup has a metal plate that's stylized with the Redragon logo. The cables are are braided and survive even after rolling your chair on them.
For the price, this headset will last you a long time. They are built nicely with high-quality materials. Just take care of them, and they will last.
Comfort and Style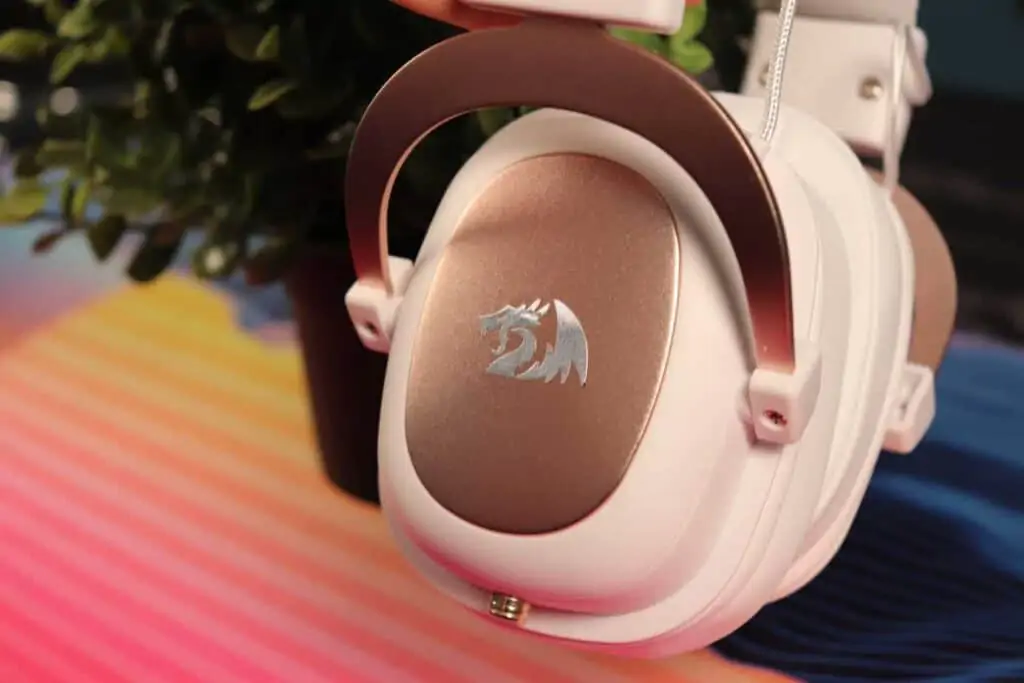 Out of the box, the clamp force was too much for me personally. After breaking them in by putting them in an extended position overnight, the clamp was looser yet wasn't too loose. It was much more comfortable.
The headset weighs around 350g, and it's quite comfortable. The earcups are ovular with squarish corners. It encompasses the entire ear.
These ear cushions are very thick and after long listening sessions, they can get hot on the ears. They do compress slightly when they're on, causing good sound isolation from outside noise.
The comfort slightly suffers when using the USB card because the card has no clip to attach it to your body.
This causes the card to weigh down the left side of the headset due to lack of extra slack.
Sound Quality
The sound quality has a strong bass. If you're listening to hip hop, rap, or EDM, the lowest bass sounds are punchy.
The sound quality is clear and not muddled at all. There are no problems with volume when plugged straight into PC or mobile.
In all areas, there is decent performance. The highs and lows are very good. The mids can be lacking.
However, with gaming headsets, this is quite normal. If you use an equalizer, you can get better audio quality on them.
With FPS games, the grenades, footsteps, and people fighting further away can be heard.
Compared to other gaming headsets, this headset performs much better in all-around settings including listening to music, movies, videos, and gaming rather than just having extra loud bass and glaring highs.
The attached USB dongle lets you change the volume, mute the sound, and mute the microphone with a touch of a button. The sound quality is slightly better with the USB dongle than with the 3.5mm auxiliary cord.
For the price, this headset sounds amazing.
Microphone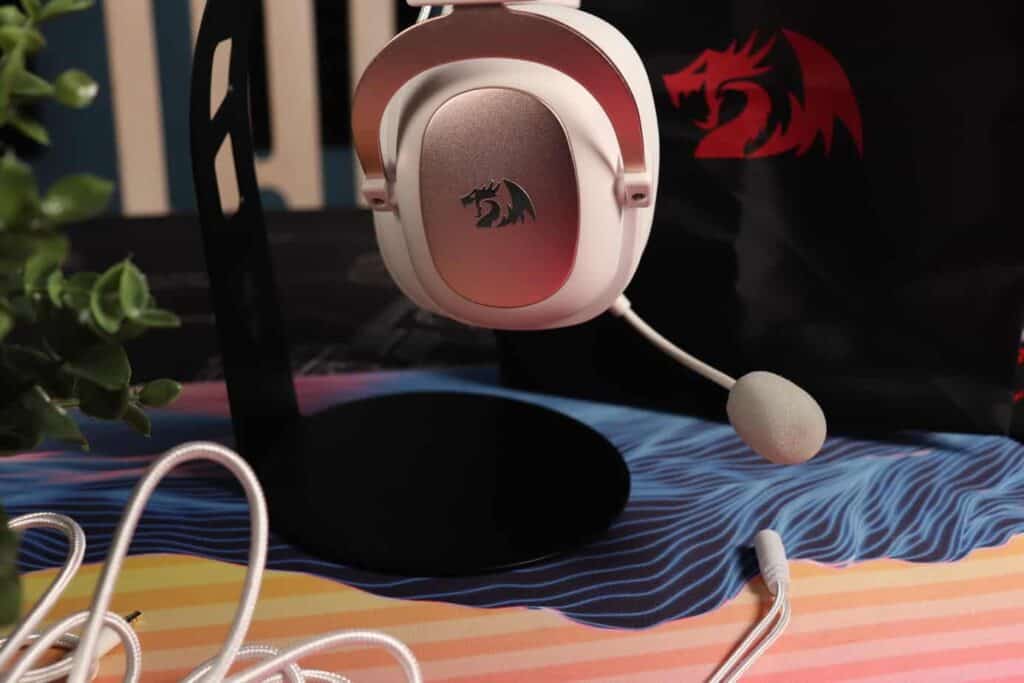 The microphone arm is bendy and flexible. It comes with an additional wind screen that is removable if you don't like the way it looks.
The microphone needs to be attached on the correct side, or else it picks up everything around you rather than your talking.
When the microphone is at the farthest position to the corner of the mouth, the sound quality is amazing.
It does pick up some surrounding noise from keyboard sounds and other people speaking.
For the p and b sounds, they can be heard. However, they're not extremely disturbing. The wind screen definitely helps with this.
Definitely don't use a really loud keyboard when using this headset to talk to your friends on Discord or stream on Twitch.
Technical Details
Driver size: 53mm
Impedance: 64 ohms
Sensitivity: 110±3dB
Frequency response: 20-20KHZ
---
Conclusion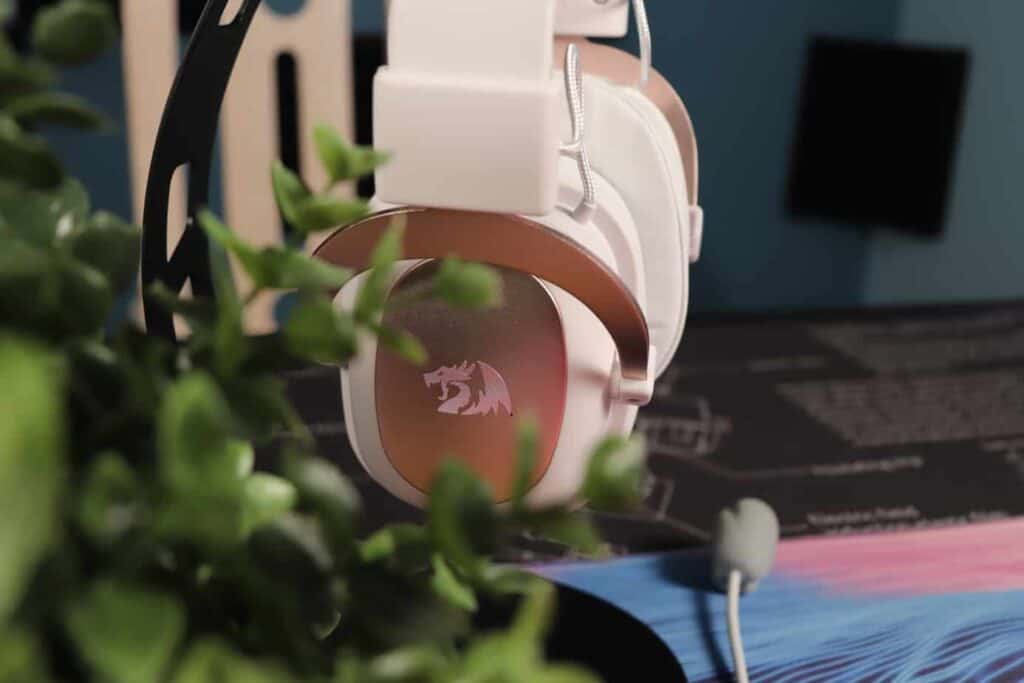 If this is your first gaming headset, but you don't want to spend money on something that sucks, then the Redragon H510 Zeus is for you.
At this price, you may expect there to be a ton of problems at at the very least, one glaring problem. However, the overall verdict on the Redragon H510 headset is that it doesn't suck. In fact, it's a lot better than that.
Not only is it affordable, but it comes with many accessories to be compatible with all platforms, durable features such as a detachable cable and microphone, and exquisite sound and microphone quality to let you play well in games and listen to music while working or studying.
Despite its affordable price, it can compare to many headsets at the $80-$100 range and punches well above its price tag.
To purchase the headset or read more about it, you can find it here on Amazon for an affordable price.