Elecom is a Japanese electronics and peripherals brand known for making some of the most well-designed productivity-driven trackballs on the market.
Which one should you choose? Let's have a closer look.
Elecom's Trackball Selection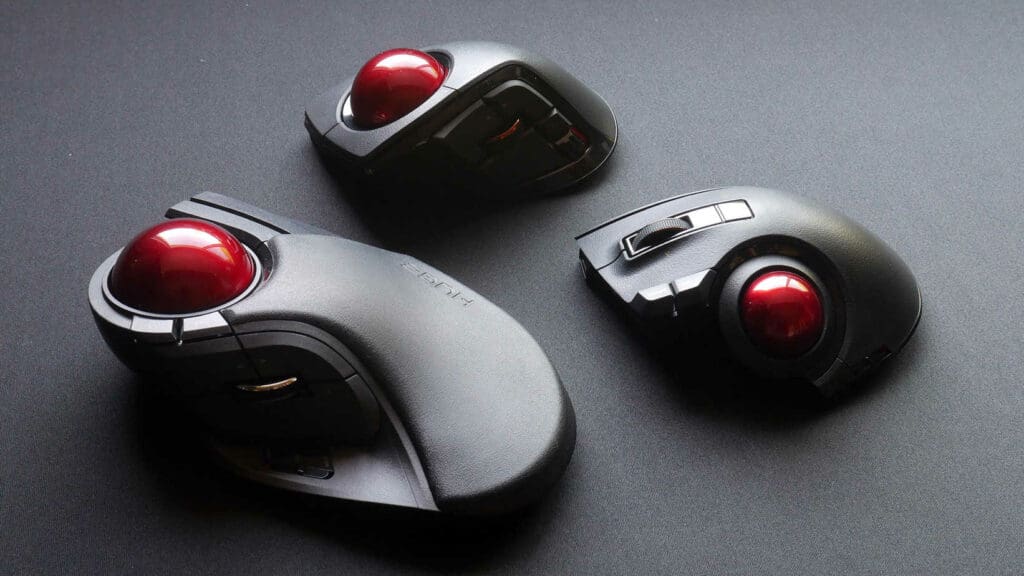 | | | |
| --- | --- | --- |
| Elecom Model | Connection Type | Trackball Type |
| HUGE | 2.4ghz or Wired | Best for Comfort |
| DEFT Pro | 2.4ghz + BT + Wired | Best Fingerball |
| EX-G Pro | 2.4ghz + BT + Wired | Best Thumbball |
| DEFT EX-G | 2.4ghz or Wired | Budget Fingerball |
| EX-G | 2.4ghz or Wired | Budget Thumbball |
| EX-G Lefty | 2.4ghz | Lefty Thumbball |
| Bitra Thumb | 2.4ghz or BT | Travel Thumbball |
| Bitra Finger | 2.4ghz or BT | Travel Fingerball |
| Relacon | 2.4ghz or BT | Handheld Power |
With 9 different models currently available on the Amazon marketplace, it can be confusing choosing one that's right for you.
As a general guide, HUGE and DEFT are fingerballs, EX-G are thumb-balls, Bitras are travel trackballs, and Relacon is handheld.
Most will come in either Wired or Wireless models, but usually only a single mode.
A "Pro" designation means an updated design and multiple connectivity modes.
Elecom's HUGE, DEFT Pro, and EX-G Pro trackballs are the best overall trackballs in terms of ergonomic and productivity driven design.
All Elecom trackballs feature 2.5mm artificial ruby bearings and "gaming" sensors which allow you to set tracking up to 1500DPI for fast, smooth operation.
Elecom also offers budget, travel, office, and even lefty trackballs to round out a very complete collection of ergonomic peripherals for every need.
Let's further examine each trackball to see which is right for you.
01. Elecom HUGE – Best for Comfort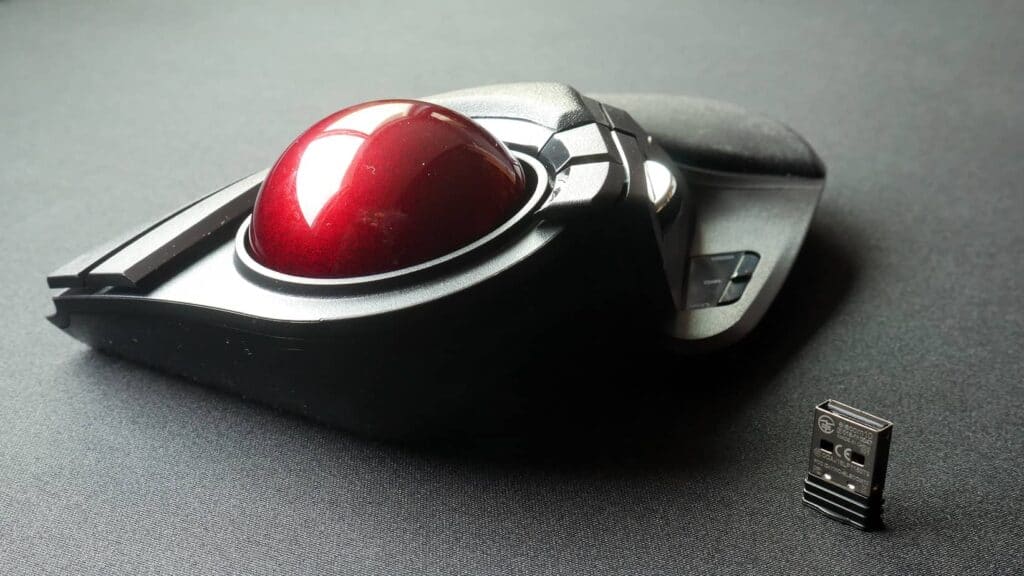 The Elecom HUGE is an ergonomic fingerball with a built-in memory foam palm-rest. Elecom's largest trackball is also their most comfortable. See the full review here.
This large, luxurious trackball has a bold design with good build quality, and is notable for the large 52mm ball and plush memory foam palm rest.
With 8 customizeable buttons and adjustable tracking speeds, the Elecom HUGE is one of the most comfortable and most productivity driven trackballs on the market.
Despite being one of the flagship models, the HUGE does not have a PRO designation, so you will have to choose between wired or 2.4ghz wireless versions of the mouse.
You will also probably have to hover-hand rather than palm-grip this trackball due to its shape and palm-rest. I usually call these "hoverballs".
Fans of the classic Microsoft Trackball Explorer and anyone looking for a comfortable trackball with desk presence will love the Elecom Huge.
02. Elecom DEFT PRO – Best Productivity Finger-ball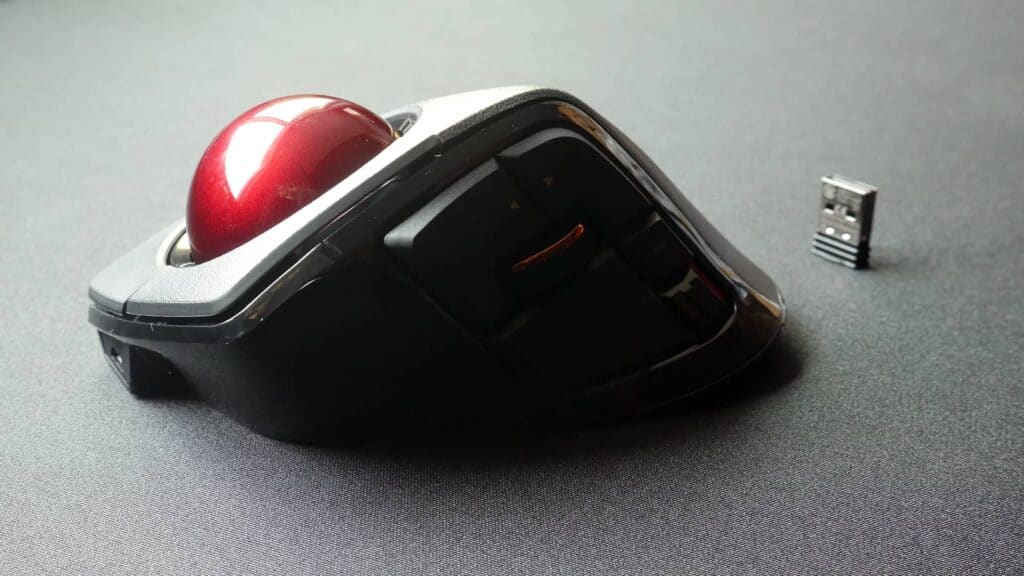 Elecom's Deft Pro is a trackball that might feel less premium than its big brother the Elecom HUGE, but provides more connectivity options and a more subtle design.
As an Elecom "Pro" trackball, the Deft Pro features tri-mode connectivity using not only a wired connection but Bluetooth and 2.4ghz as well.
The DEFT Pro features a smaller trackball than the HUGE at 44mm, but feels more comfortable in the hand and may allow for a more natural hand and arm position due to the lack of a foam pad.
You can palm this finger-ball as well, and use one or two fingers to roll.
With a large top-mounted globe and buttons available for nearly every finger, (including 5 for your thumb), the Deft Pro is one of the most productivity-oriented and well-designed peripherals regardless of type.
Check out the Elecom Deft Pro if you are looking for a top-mounted trackball that is both ergonomic and highly functional.
03. Elecom EX-G Pro – Best Productivity Thumb-ball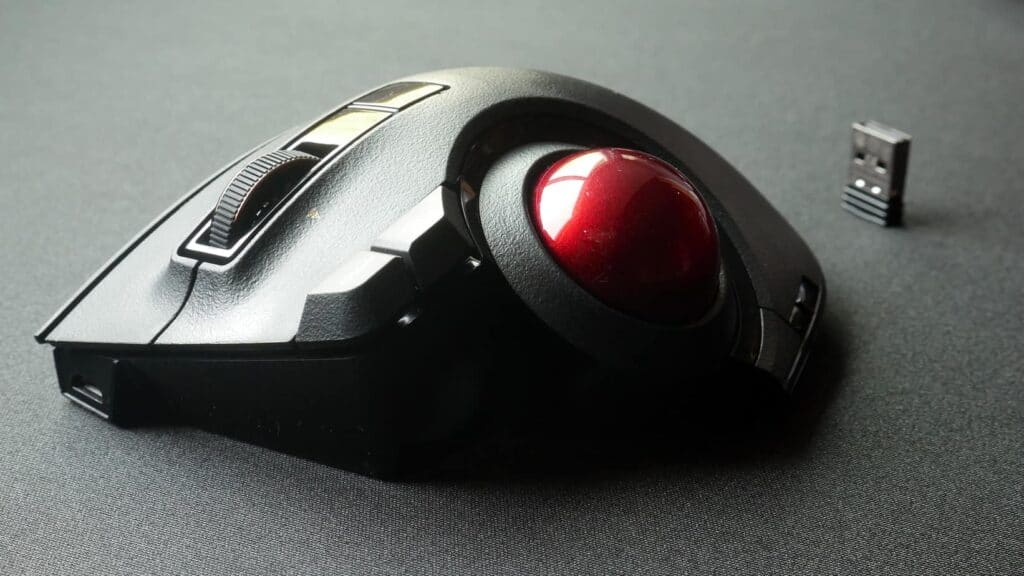 Elecom's EX-G Pro is a side-mounted trackball that may not be as simple as the Logitech M570 or M575, but may actually be more comfortable and more functional as well.
As an Elecom "Pro" trackball, the EX-G Pro thumbball gets not only a wired mini-USB connection, but also Bluetooth and fast 2.4ghz wireless options.
The EX-G thumb-ball is very comfortable, though your hand may be in a more pronated position than other thumb-balls.
You may also find your thumb collides with the side of your hand when rolling the trackball, which could feel awkward or provide less range of motion than its competitors.
If you are looking for a thumb-ball with tons of options for productivity, you've found the answer in the Elecom EX-G Pro trackball.
04. DEFT EX-G – Budget Fingerball
Elecom's Deft EX-G is a budget fingerball that features all of the functionality of the Deft Pro without the connectivity options.
The Deft EX-G and others on this list are not "Pro" trackballs, and thus only come in either a wired or wireless option.
The design is dated compared to the Pro version, and the EX-G also has a smaller trackball at only 34mm in diameter.
You may find this makes it easier to control with one finger rather than two.
Your index finger also gets an extra function button, while your ring finger is left out of the party this time.
If you're looking to ball on a budget, look no further than the Deft EX-G.
05. EX-G – Budget Thumbball
The Elecom EX-G is a budget thumb-ball similar to its Pro counterpart, but lacks a function button for your thumb.
The design is also less sleek and modern than the HUGE and Pro models, instead opting for a simple, sleek design.
The trackball comes in at a 34mm diameter, which should make it fairly easy to control.
The EX-G also only comes in wired or wireless models.
If you've been looking for a budget top-mount trackball with plenty of buttons, the Elecom EX-G is what you've been looking for.
06. EX-G Lefty – Best for Lefties
The Elecom EX-G Left-handed Trackball is an ergonomic thumbball meant for left-handed users.
The EX-G Lefty is the same trackball as the EX-G, but flipped for lefties and only comes in a wireless model.
If you're thinking Ned Flanders' Leftorium is the only place to get a left-handed ergonomic trackball, Elecom has you covered.
Lefties don't exist in Logitech's universe. For left-handers looking for a trackball, the EX-G Lefty may be one of your only ergonomic options.
07. Bitra – Travel Trackballs
Elecom's Bitra wireless travel trackballs comes in two flavors, a thumb-ball and a finger-ball.
Both of the Bitra models feature 5-buttons and the same sensor and bearings found on the larger Elecom trackballs. Both also come in your choice of Bluetooth or Wireless models.
With a small 25mm ball and buttons as large as the 3.5 inch-long, 3 ounce trackballs can fit, the Bitra is a worthy travel companion that fits in any bag.
The Bitra even comes with a carrying case so you don't have to worry about damaging the petite peripherals.
If you're an on-the-go professional or creative with a mobile-lifestyle, or even a student bouncing from place-to-place, the Elecom Bitra will be there every step of the way.
08. Relacon Handheld – Handheld Powerhouse
Rounding out our mischief of mice is the Elecom Relacon.
The Relacon is probably Elecom's most unique and functional mouse, that should be familiar to use for anyone who has ever used a modern game controller like the Dual-Shock or Wii-mote.
The design is meant to be held in either hand, and features a whopping 10 buttons including media keys for easy playback operation.
Your index finger handles two shoulder buttons which act as left and right click. Your thumb gets everything else, which includes media keys, scroll wheel/middle click, navigation buttons, and of course rolling the trackball.
The Relacon also comes with a handy dock, so you have a place to mount it when not in use.
The one-handed use and multiple programmable buttons are perfect for everything from presentations to movies on couch.
Whether you are working hard or hardly working, the choice is in your hands with the Elecom Relacon.
Why Should I Consider Elecom?
Elecom may not be as big as Logitech or as well known as Kensington, but their dedication to design, functionality, and choice have made Elecom trackballs a compelling option for everyone.
You won't find many trackballs with as many buttons for as many fingers as on an Elecom.
If productivity with a trackball is important to you, then few brands can match Elecom.
Elecom Trackballs all feature tracking up to 1500DPI and have smooth artificial ruby bearings that are larger and easier to clean than the competition.
Should You Avoid Elecom?
Elecom trackballs are well designed and pack many features in their peripherals, but quality control can sometimes be lacking.
You may find yourself with a lemon that has defects ranging from sticky buttons to unstable connectivity, and sometimes even a bug that causes your system to wake from sleep immediately while plugged in.
The bearings sometimes may also not be perfectly spherical, causing your trackball to not be as smooth as it could be.
Many people end up performing simple modifications to improve smoothness.
Still, defects are not the most common and if you get a perfect unit, Elecom trackballs are unmatched in terms of functional design.
Why Should I Listen To You?
After over a decade of using trackballs every day, I have seen many come and go.
Being a creative who requires and demands the most in terms of productivity, functionality, and thoughtful design, Elecom products have really impressed in every category.
I have become critical in what I look for in a good trackball, and the criteria needed to earn a recommendation.
It is often difficult to find a mouse that has several functional buttons that are well-placed, that also fits most hand sizes, especially large hands like mine.
Elecom's mice all have fit my 22cm length hand well, and have been easy to adjust to.
With Logitech and Kensington seemingly dominating the market with solid but simple designs, I have found Elecom trackballs to strike the perfect balance between form and function.
Conclusion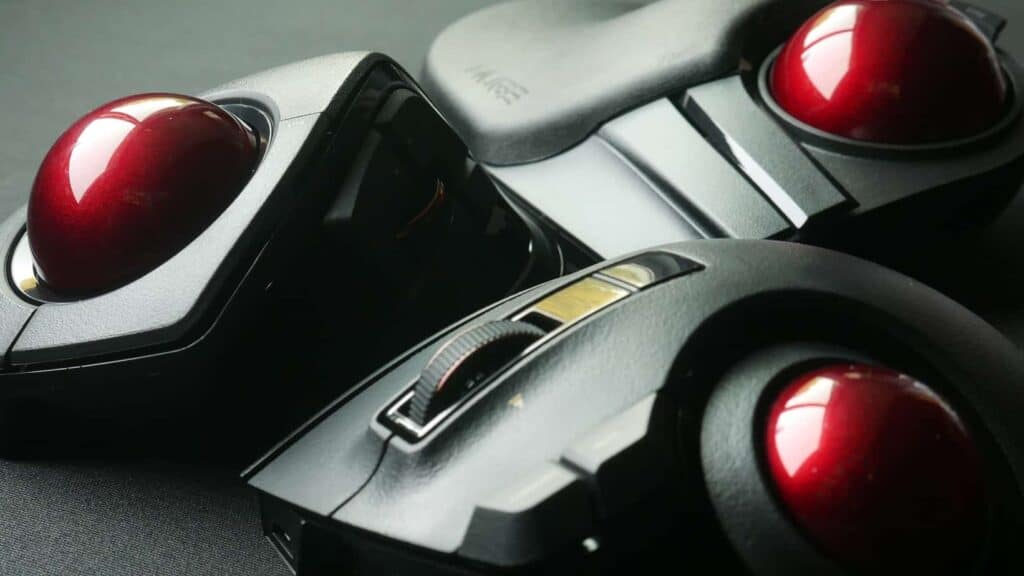 While Elecom trackballs may not be perfect in terms of quality control, a flawless Elecom trackball is also close to being a perfect peripheral.
Whether you choose a regular or Pro model, with sizes, shapes, price points, and features that are both competitive and compelling, there is sure to be an Elecom trackball that is right for you.
With so many models and a wide variety of choices on Amazon, we hope this guide to Elecom trackballs helps you navigate the landscape.
Thank you for reading, and keep on rolling.
Mischief Managed.