Leopold is a well-known Korean mechanical keyboard manufacturer within the enthusiast space, known for making a variety of mechanical and electro-capacitive actuating keyboards. The question is, are Leopold keyboards worth it and is the overall quality good?
Leopold mechanical keyboards can be worth the price due to the good build-quality, different designs and layouts from 65% to 1800-Compact, the option to have mechanical Cherry MX or Topre switches, sound-dampening foam, and durable SS2-profile double-shot PBT keycaps in several different colors.
We'll go into all of the different Leopold keyboards and talk about all the features, options, and pricing to determine what makes them worth the price.
Are Leopold Keyboards Worth It?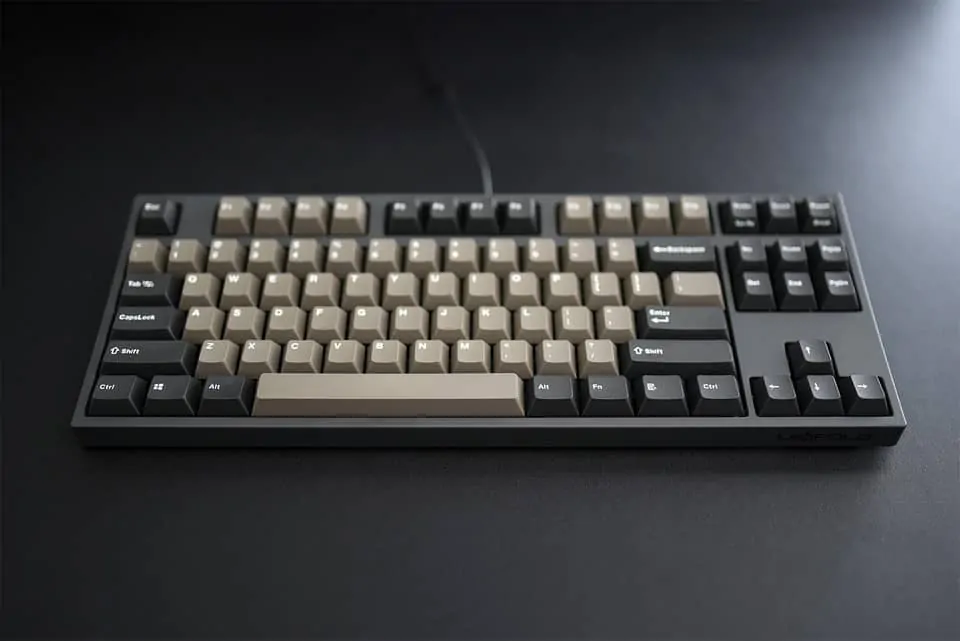 Leopold keyboards are simple and to-the-point. If you are looking for a no-frills mechanical keyboard with a great reputation, Leopold is the company to look for. They offer many different layouts, ranging from number pad all the way up to full-size and 1800-compact.
To say whether or not Leopold keyboards are definitively worth it or not is difficult and depends on the individual. But when comparing the quality of Leopold keyboards to other keyboards in the similar price range, it becomes apparent that Leopold keyboards do not mess around with the quality and will deliver an excellent keyboard.
You'll have to decide for yourself if the keyboards are worth the price by looking at the features and compare them with what you need in a keyboard. But if you want our personal opinion, you can't go wrong with a Leopold keyboard.
Leopold Keyboards in a Nutshell
Leopold is a Korean keyboard company that has been in the space for a while now, they focus on building mid-to-high end keyboards with a focus on build quality and unique layouts. Leopold is also one of the few manufacturers to make their keyboards with Topre switches, which are an electro-capacitive actuating switch.
Amongst all of the Leopold keyboards currently on the market, there are some major similarities between the different models, such as Cherry MX or Topre switches, PBT keycaps, lubed stabilizers, and DIP switches. You can expect certain features and quality standards when getting a Leopold keyboard, so we'll go over what is common between each Leopold keyboard.
Cherry MX Switches (available with R and M models)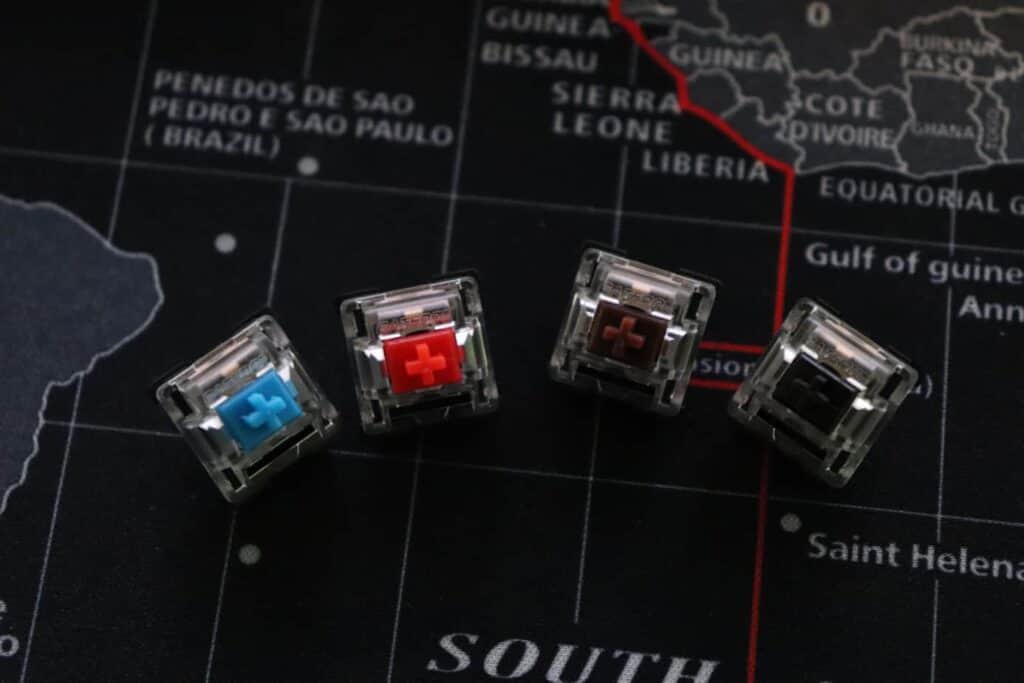 For most Leopold models you'll have the option to purchase Cherry MX switches, which are highly regarded in the mechanical keyboard world. Despite many enthusiasts shying away from these switches due to their price and lack of variety of switches, Cherry remains at the top of quality control, long-lasting keyswitch lifespan, and for being consistent in what they have to offer.
There are a ton of different Cherry MX switches available on Leopold boards: Black, Blue, Red, Brown, Silent Red, Clear, and Silver. Although you can expect to pay a little more for the last three options as they are specialty switches.
If you're looking for a Leopold keyboard with mechanical actuating switches, you'll want to check out the models with an R/M at the end of them such as the Leopold FC660M or FC750R.
For additional reading on Cherry MX switches:
Topre Switches (available in C models)
Topre switches are an electro-capacitive switch that actuates via the Hall effect. Topre switches have the feel of a rubber dome but add in the nice aspects of mechanical keyboards as well. They have a nice "thonk" sound and satisfying tactile feedback. Topre is an awesome alternative to mechanical switches if you enjoy a slightly different feel, although you have to pay quite a bit more for Topre switches.
For additional reading on other keyboards that offer Topre switches, see the 6 Best Topre Keyboards. 
Sound Dampening Layer
Leopold keyboards feature a thick layer of sound dampening material within them. It's similar to a thick layer of felt that can be seen once the keyboard is opened up. It goes between the bottom case and the PCB.
High-Quality Doubleshot PBT Keycaps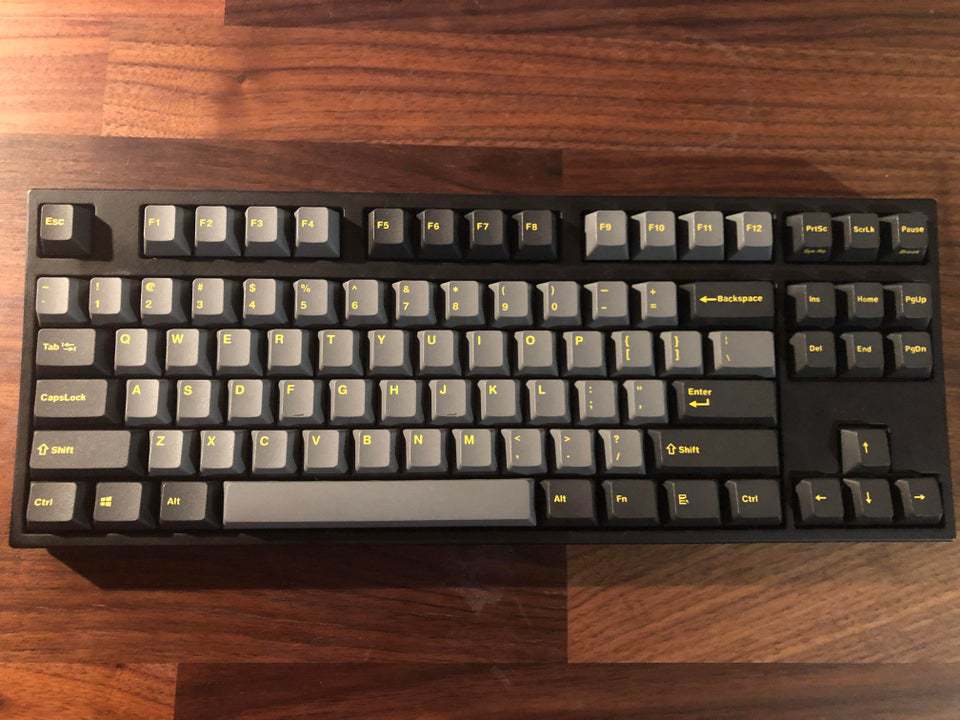 Leopold keyboards use SS2 profile keycaps, which stands for Step Sculpture 2. They are similar to Cherry-profile keycaps and are shorter than OEM profile keycaps.
Previous models used PBT keycaps without doubleshot, but recent upgrades to Leopold's keyboards now offer doubleshot PBT keycaps. The legends are doubleshot which means they will never fade away.
The legends are clean and simple with a professional font. There are many different colors available amongst their keyboard models from simple all white, two-toned beige, all black, and then more exciting colors such as light blues, pinks, purples, greens, and yellows too. Check out what colors they offer here at Mechanicalkeyboards.com (affiliate). 
One downside of the keycaps is that there are no sub-legends, which means it is difficult to know what the secondary functions on the function row are.
Some Leopold keyboards (OE models) offer OEM keycaps if you're interested in the typical feel of stock keycaps.
Tuned Stabilizers
The stabilizers come pre-lubed from the factory and have minimal rattle. Leopold uses plate-mounted Cherry stabilizers. Pre-lubed stabilizers help reduce the friction and rattle of stabilizers and makes a big improvement in the typing experience.
Cable Routing in the Back
The micro-USB cable attaches to the center of the keyboard on the back with cable routing systems to go straight up, to the left, or to the right. The routings can make cable management a breeze and improve the look and cleanliness of your workspace.
Incline and Kick-up Feet
The keyboards have a natural inclination for a comfortable typing angle. They also have two rubberized dual-angle kickstands on either side for more customizing. Having different typing angles can be great for people with different typing styles and is always a feature we look out for when reviewing mechanical keyboards.
Well-Built and Lasting Reputation
Their keyboards are solid with a solid metal mounting plate. These keyboards have no flex and have a nice heft to them despite having an all plastic external casing.
They pay attention to details, let you switch different aspects of the layouts via DIP switches on the back, and have nice rubber feet on the back to limit movement of the keyboard on your desk.
The Different Leopold Keyboard Models
The following links are affiliate links leading to Mechanicalkeyboards.com. 
FC210TP – Mechanical 21-Key Numpad
The Leopold FC210TP is a number pad that you can purchase if you need to use the numpad but have a keyboard that is compact. It is a 21-key number pad.
The numpad has a natural inclination for ease of number entry and comfort. However, if you like more incline, it has a kickstand that raises the height even higher.
There is a non-detachable cable with a velcro cable management wire attached. It also has rubber feet along the bottom and on the kick-up feet.
You can check out this numpad at Mechanicalkeyboards.com to see all of its Cherry MX switches options. This numpad is available in black with white doubleshot PBT legends, black with laser-engraved legends, and white with laser-engraved legends. 
FC660M or FC660C – 65% Layout
The Leopold FC660M or FC660C are both 65% layouts which is the perfect size for those who need a compact keyboard. The 65% layout balances comfort and compatibility better than almost any other keyboard layout, which makes it a great option for those who find the full-size or tenkeyless layout too bulky or not-efficiently laid out.
The nitty-gritty of a 65% layout: an arrow cluster and a separate cluster on the top right-hand corner for Insert and Delete. For those who use Home, End, PgUp, and PgDn often, these functions can be accessed through the secondary layer by holding FN+alpha keys on the right-hand side. Certain models have the secondary layer functions side-printed on the keycaps. The 65% keyboard has the micro-USB port on the right-hand side, which is detachable.
You can see all of the FC660C color varieties here and the FC660M colors here. 
FC750R – Tenkeyless or 80% Layout
The FC750R is a TKL (tenkeyless) mechanical keyboard. It offers the clean and simple features of all Leopold mechanical keyboards in a standard layout that has the arrow cluster and navigational cluster. Perfect for those who don't need a number pad but aren't will to jump all the way down to a 65% layout. Most people will probably find this keyboard to be in their ideal size range.
This layout comes with different style keycaps depending on what you prefer. Check them out with SS2-profile keycaps here and with OEM-profile keycaps here. 
FC980M or FC980C – 1800-Compact Layout
1800-Compact layouts take as many keys in a full-sized layout as possible and mashes it together to decrease the amount of unused space. Perfect for those who do a ton of heavy data-entry but still want to save on precious desk space. The FC980 keyboards have a numpad, arrow cluster, function row, and navigational keys (although not all of them), which make them versatile and useful for almost everyone.
The Leopold boards have Delete. Insert. PgUp, and PgDn. It also has a smaller right shift and a 1u zero key in the numpad. The bottom row of these keyboards are not standard, so be sure to check the sizes if you're planning on replacing the keycaps eventually.
There is slight separation between the arrow cluster and everything else since it is moved down a bit to allow the keys to be located closer to each other. The caps lock, numlock, and scroll lock indicators sit above the numpad but under the navigational row.
Check out FC980C here, FC980M here, and FC980M OE here to see all of their color and switch options. 
FC900R – Full-Sized Layout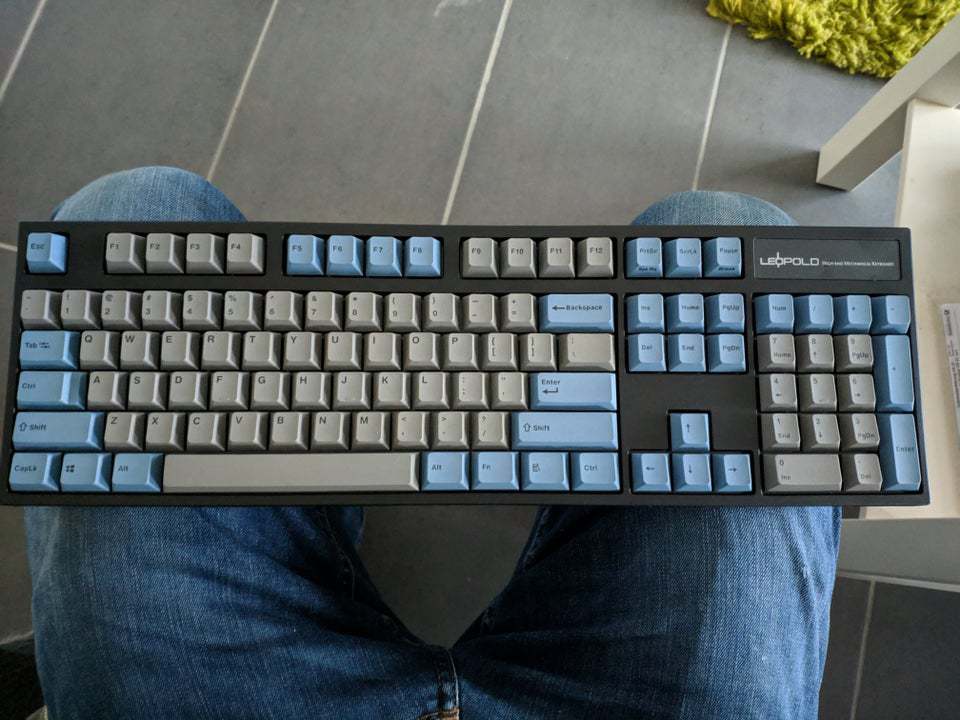 This is Leopold's full-sized mechanical keyboard, perfect for the office and/or home use if you're working remotely. There isn't much to say about this layout, because it's pretty much the standard for most keyboards.
The full-sized numpad on the right with a separate navigational cluster and arrow cluster are great for data entry. The keycap sizes are standard, and you can replace the keycaps easily without worrying about special keycap sizes.
The caps lock, numlock, and scroll lock indicators are located on the top right corner above the number pad.
Check out these keyboards with SS2-profile keycaps here and with OEM-profile keycaps here. 
Understanding the Leopold Model Names
Each keyboard from Leopold has a different model name, but there is some method to their naming process. For example, the C after FC660C, refers to the fact that the keyboard comes with a capacitive Topre switch. There are a bunch of these different letters, so we'll go over what all of the different model names mean.
What is the Difference Between M and C?
If you've looked through some of Leopold's keyboards, you'll notice that some models have the option to choose the letter M or C after the numbers that indicate it's size.
The M stands for mechanical, which means you will have the option to choose between different Cherry MX switches.
The C stands for capacitive, which means you have the option to choose Topre switches with different resistances.
What Does OE Mean?
OE means that you will get OEM-profile keycaps rather than the SS2 profile. SS2 profile is very similar to Cherry-profile. OEM keycaps are slightly higher in height and are what you regularly see on big brand and prebuilt mechanical keyboards such as HyperX and Corsair.
For an in-depth look on OEM vs Cherry, see this article we wrote on the topic. 
What Does R Mean?
The R is only seen on models where only a mechanical switch option is available, and It is also an indicator that the keyboard layout is a standard layout and will fit most keycaps if you do choose to replace them. To read more about keycap layouts and compatibility, see this article we wrote here. 
The mechanical keyboards that Leopold offers with standard layouts are their TKL and full-sized keyboards, the 750R or 900R.
Final Thoughts on Leopold Keyboards
Leopold keyboards are some of the most highly regarded pre-built keyboards within the mechanical keyboard community. They are known for their high-quality build with a solid steel mounting plate, nice doubleshot PBT keycaps, long-lasting Cherry MX switches, and many different options in sizes and layouts, and more.
Leopold pays attention to things like stabilizers and sound dampening, unlike other companies. They are one of the few companies that offer Topre switches, which offer a completely unique and different typing experience than mechanical switches.
If this is your first mechanical keyboard, you are looking towards the right direction. These are some of the best you can get, and you will not regret it.
For additional reading on mechanical keyboard sizes and layouts, see this post.