For those looking for a mechanical keyboard, the loud clicky sound that emanates from each keystroke can be quite attractive. Not all mechanical keyboards are loud and clicky so it can be difficult to find a keyboard that makes the proper clicking noises, so to help you out, we decided to put together a list of the best loud keyboards to help you choose your next clacky keyboard.
If you're looking for a loud and clicky mechanical keyboard, we highly recommend the Drop ALT, Ducky One 2 Mini, Durgod Taurus K320, Redragon K552, or Keychron K6 with a loud clicky switch such as the Cherry MX Blue or Kailh BOX White switch.
We'll dive deeper and talk about the features, price, and application of each keyboard to rank them against each other and figure out which is the best.
1. Drop ALT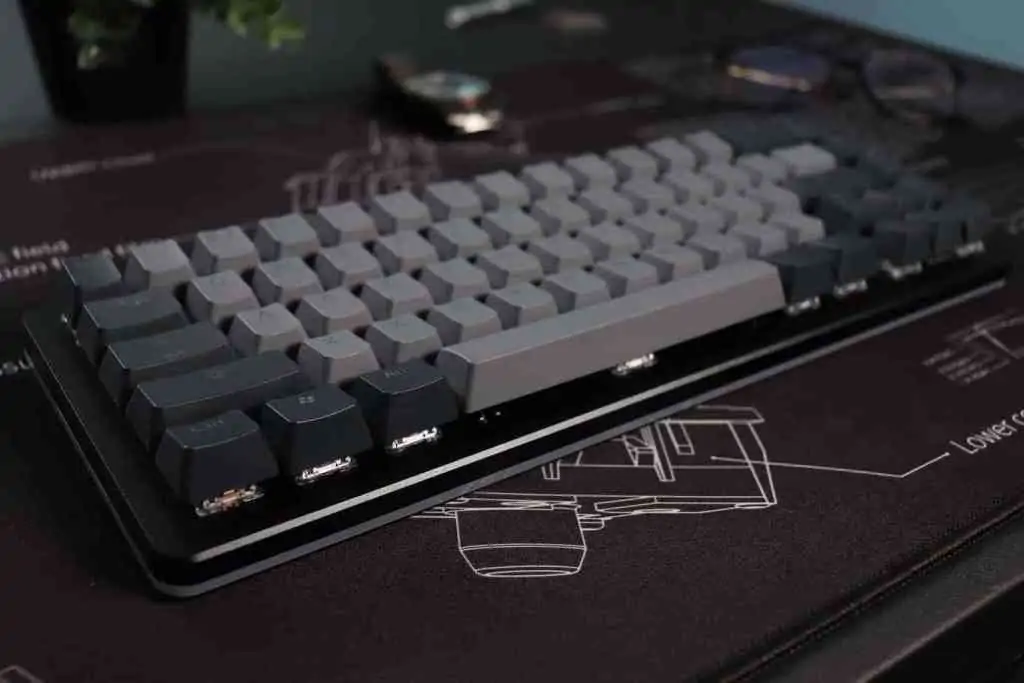 The Drop Alt is an excellent pick for those who need a loud keyboard. The floating keycap design and aluminum case are the perfect soundstage for a nice clicky switch. The keyboard feels nice and heavy, with the aluminum frame making everything feel sturdy and rigid. The Drop Alt also comes with multiple USB ports on the back to let you choose which location is the most convenient to plug in your cable. In addition, the Drop ALT also comes with a nice set of PBT keycaps to really bring it to a whole new level of fanciness.
An interesting feature of the Drop ALT is the compact 65% layout. Most smaller keyboards are the 60% size, but the 65% layout is slightly larger to allow for arrow keys. Arrow keys make gaming and typing a breeze, so many find this layout to be the ideal balance of size and comfort. With a 65% layout you no longer have a number pad, function row, or the navigation cluster, so you save a ton of desk space.
The Drop Alt comes with a couple different switch options including the Kailh Box White and the Cherry MX Blue, both of which are clicky. The Box White is generally preferred for a clicky switch because it makes a noise in both the downward and upward movement for the ultimate feedback when typing. In addition, the keyboard is hot-swappable, so you have the option to replace the switches with whatever kind you prefer.
If you want to go with a super loud switch such as the Kailh BOX Jade or BOX Navy, it's an easy switch with no desoldering required. Hot-swappable keyboards are great, because even if they don't come standard with a loud enough switch, you can change them out with ease.
You can check the price of the Drop ALT on Amazon for a good price.
2. Ducky One 2 Mini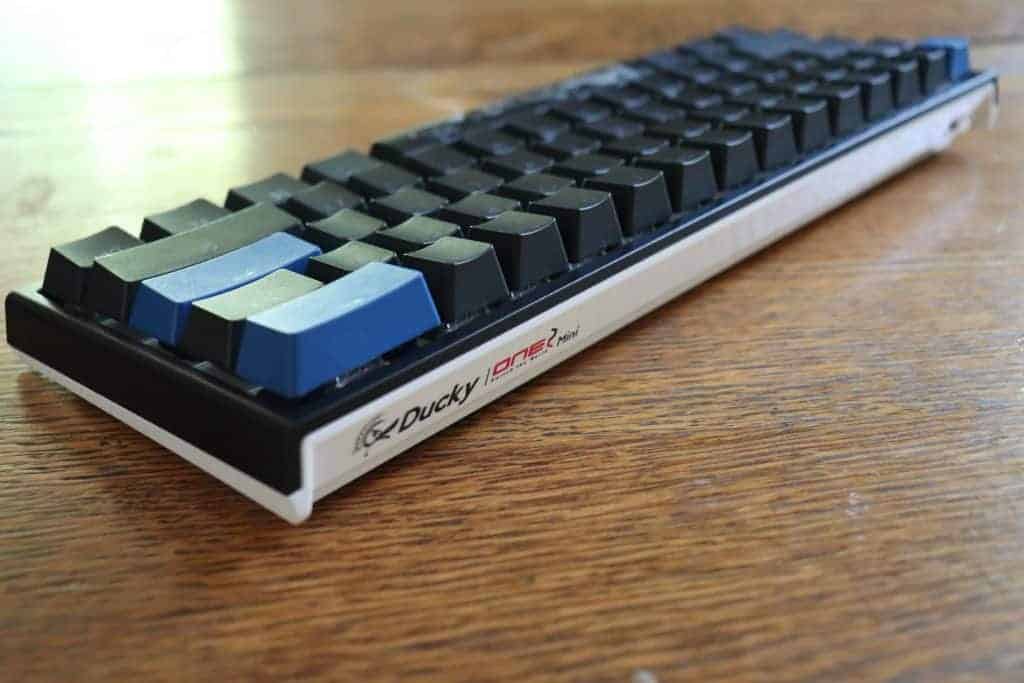 The Ducky One 2 Mini is a keyboard that needs no introduction. The One 2 Mini took the keyboard community by storm and really raised the popularity of the compact 60% layout size. Soon after its release, dozens of imitation keyboards hit the market as well, the 60% layout and sleek design really struck a chord with the gaming community.
The keyboard comes with a Kailh BOX White or Cherry MX Blue switch if you're looking for a loud switch option. The BOX White is definitely preferred for over the Cherry MX Blue because of the BOX White makes a click noise in the up and downward movement.
The One 2 Mini comes with high-quality doubleshot PBT keycaps that are better than typical ABS keycaps. The keycaps are slightly textured and don't develop a greasy shine to them overtime, as well as allow RGB lighting to shine through and illuminate the legends.
The compact 60% layout is quite popular nowadays for gaming, especially in the Fortnite community.
The layout is super compact and without a number pad or navigation cluster, you no longer need to reach as far for your mouse after typing. The extra portability of the smaller layout is also great for when you need to be on the move.
The Ducky One 2 Mini comes with a black top plate and white side casing that really pull the whole aesthetic together. The Year of the Pig spacebar also adds to the unique design and colors of the keyboard. Overall, the keyboard is sturdy, stylish, and is great for gaming.
If you're looking for an aluminum variation of the keyboard you can also look at the Ducky Mecha Mini.
You can find the Ducky One 2 Mini for a really affordable price.
3. Durgod Taurus K320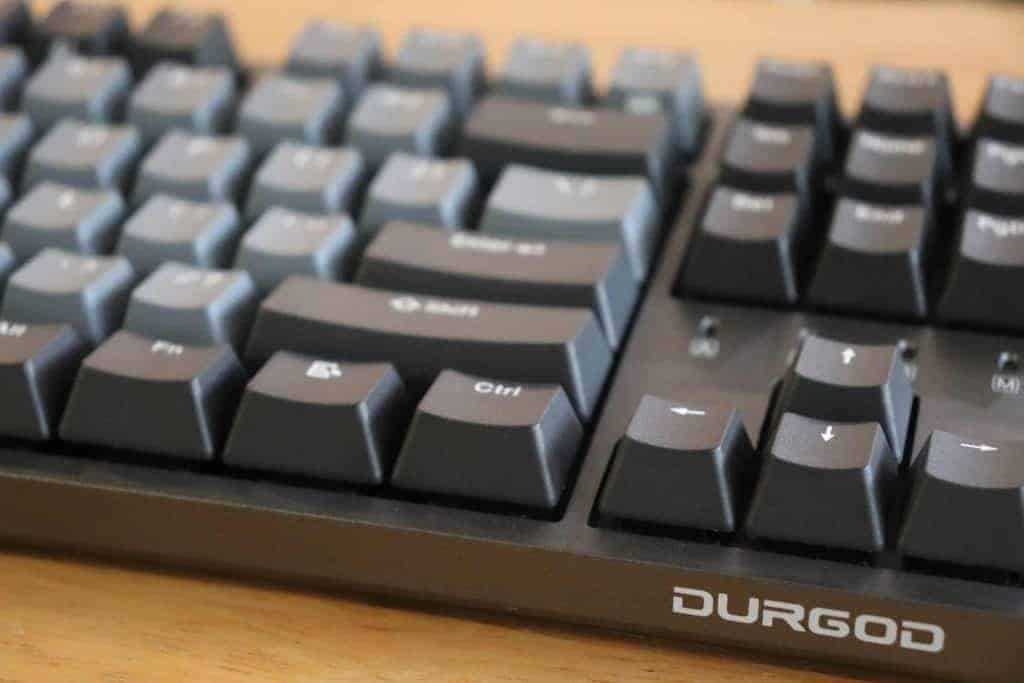 The Durgod Taurus K320 is one of our favorite mechanical keyboards. The keyboard comes in a tenkeyless layout and is constructed in out of a plastic case with a metal plate which does not flex and is very sturdy. The keyboard has one of the best typing experiences and comes with excellent stabilizers.
The keycaps are made from a nice PBT plastic in a gray and dark gray colorway that complement the case design to make everything look aesthetic.
The back of the keyboard features some cable routings to help direct the power cable which plugs into the center of the back of the case. The detachable USB-C is awesome feature which helps make the K320 more portable and easier to use.
The K320 comes with several different Cherry MX switches options including the Blue and White switches, both of which are clicky.
The Blue switches are the loudest, but if you want a slightly quieter click, the Whites are an excellent option as well. The White switches are also slightly heavier, so if you type with a heavy hand, they can help protect you from bottoming out on each keystroke.
Overall, the K320 has an excellent typing experience and we would recommend this keyboard to anybody. It actually ranked #2 on our favorite mechanical keyboard under $100, where we ranked 10 midrange keyboards against each other.
We definitely recommend you check out the K320. You can find the Durgod Taurus K320 on Amazon for a really good price.
4. Redragon K552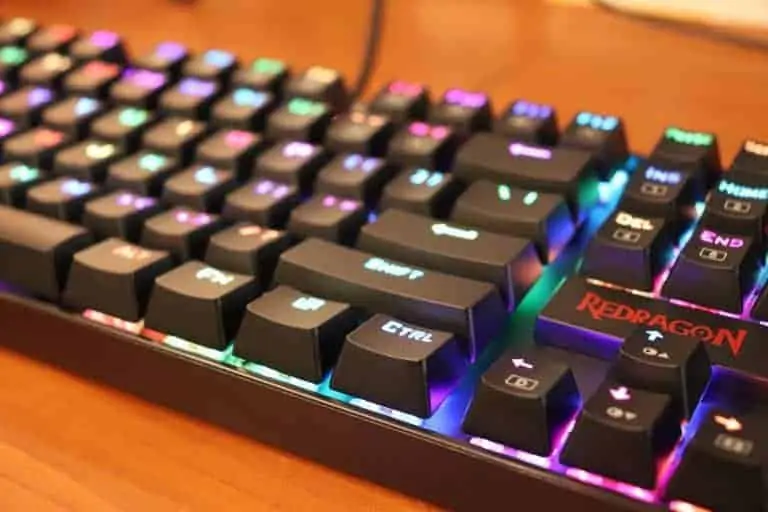 Coming in at number four on the list is the Redragon Kumara K552. If you're looking for a budget keyboard with clicky switches, look no further. This keyboard is excellent for those who want a keyboard that makes lots of noise when gaming and typing all without hurting your wallet.
The keyboard comes in a plastic case with a large Redragon brand in-between the arrow keys and navigation cluster, which really gives the keyboard a gamer aesthetic and with legends to match.
Because of the plastic design, the keyboard echoes and rattles when typing, which does add to the overall sound level of the keyboard, although it's not exactly good sound.
The K552 comes with Outemu Blue switches which are quite similar to Cherry MX Blues, but I think they're slightly louder. You can't really argue with the design for a keyboard that comes in at this price point, and checks all of the boxes when looking for a loud clicky keyboard for gaming.
Overall, the keyboard is impressive with full RGB lighting, great gaming features, and a low price point. The K552 would make a great pick for someone just getting into mechanical keyboards and wants to keep the budget tight. You can find the Redragon K552 Kumara on Amazon for a super affordable price.
5. Keychron K6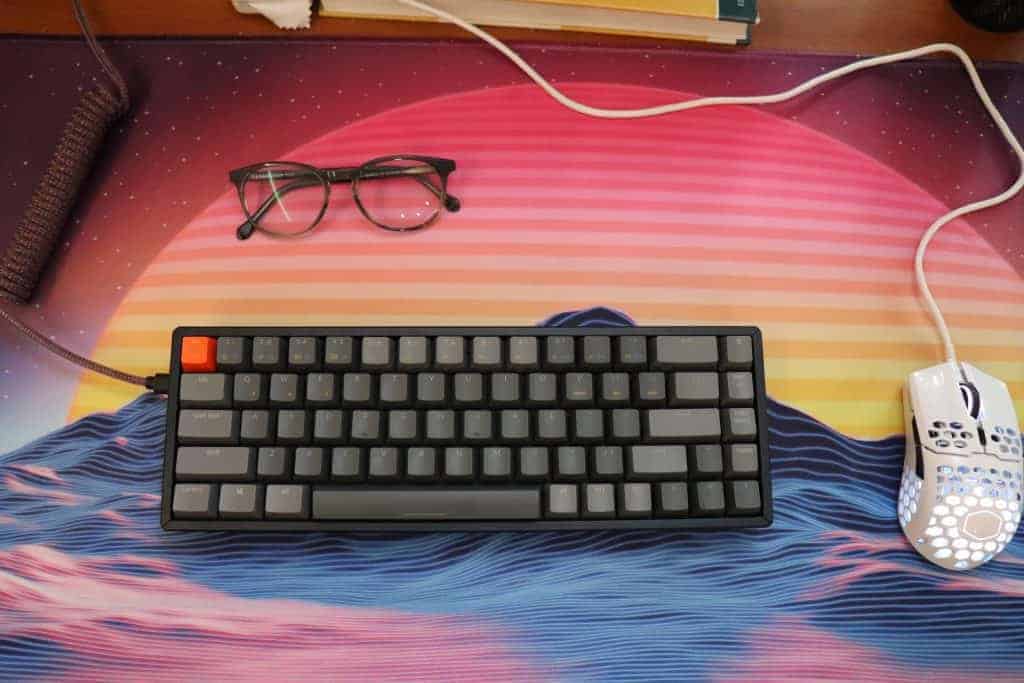 Last up on the list is the Keychron K6. We had to include the K6 on this list because of all of the awesome features packed into such a compact keyboard.
The K6 features an aluminum bezel with a hot-swappable PCB, wireless connectivity, and Mac compatibility. You can't deny this keyboard is the jack of all trades, while also making an awesome option for those who need a loud keyboard.
The hot-swappable sockets make it super easy to change out the switches in a pinch so you can test and find the loudest switches on the market.
The keyboard typically comes with Gateron Blue switches which are quite loud in their own right, but you can take things to the next level by swapping them out with some Kailh Box Jades or Navy's.
The design of the K6 is excellent, the entire keyboard feels very well constructed and promotes a fun typing and gaming experience.
The keyboard comes with a detachable USB-C cable, RGB lighting, along with all of the other bell's and whistles you would expect from a keyboard. In addition, the keyboard comes in a tight 65% layout which is an excellent compact size for gaming and typing in small spaces.
Perfect for working from home in an improvised workspace, the Keychron K6 comes highly recommended from us. You can find the K6 on Amazon for a super good price by following this link.
Why Get a Clicky Keyboard?
Most people are usually looking for a way to soundproof their keyboard for the office or so they can stop annoying their families, so why the heck would someone want a loud and clicky keyboard?
Well, there will always be something super satisfying about typing on a keyboard that clicks with each keystroke. The feedback from each click is just another form of sense that brings the whole keyboard experience together.
If you're working from home and you don't have to worry about annoying anyone around you, a clicky keyboard can be an excellent pick to be typing away with the satisfying click clacks that you come to know and love.
While not for everybody, clicky switches can make or break a keyboard. Typing on a clicky keyboard can help make typing feel more intuitive because the extra feedback can help let you know each keystroke is actuating properly.
The Switch is the Most Important Part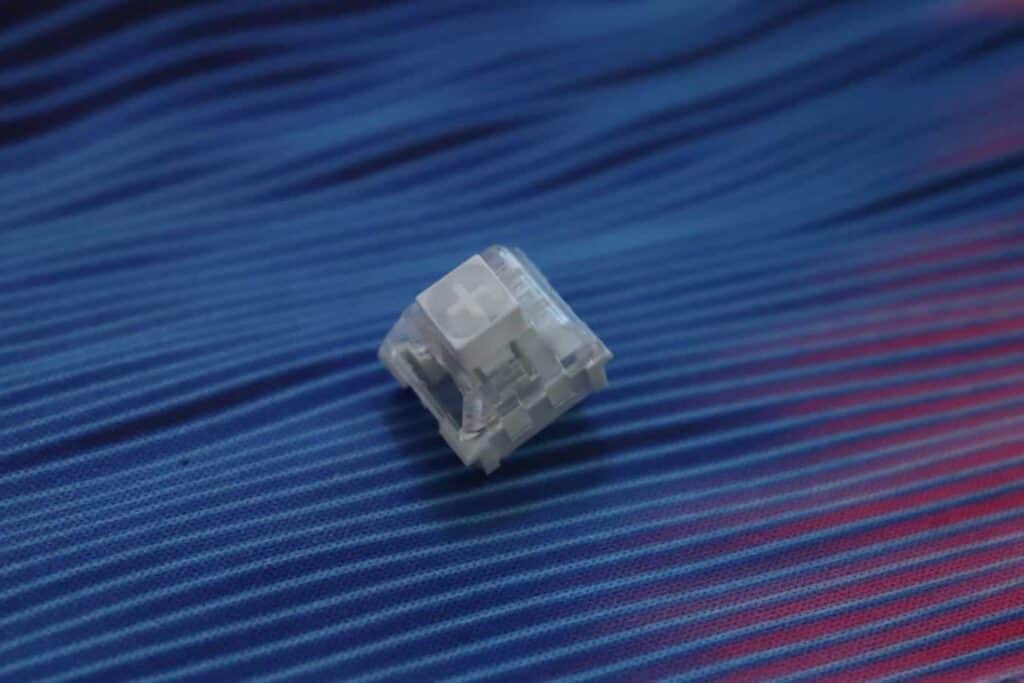 The secret to a loud and clicky keyboard is definitely the switch. The switch underneath each key is actually what makes the clicky noises, not the keyboard itself. After being pressed a certain distance, the switch will move past the bump and make a loud click noise.
Typically, most keyboards will come with a Blue switch option either from Cherry MX, Gateron, or Outemu.
All of these switches are typically on par with each other, with Cherry MX being rated for the longest durability.
In my opinion, there are better clicky switch options out there than the typical Blue switch. The best clicky switches usually come from Kailh in the BOX switch lineup, such as the BOX White, BOX Navy, or BOX Jade.
The Kailh BOX switches come in a different design, they have a click bar design which makes a click noise in the upwards and downwards movement of the switch which can double the amount of noise from each click. A Blue switch, on the hand, has a click jacket design that only makes a clicking noise in the downward direction.
Of course, I should add a disclaimer that switch preference comes down to purely preference, since many people have different opinion about which switch they prefer. But since I'm writing this article, I will say Kailh BOX switches have the best clicky options out there, currently.
The main issue is that most keyboards will only come with a Blue switch variation, so if you do want a BOX switch, you're typically limited to the BOX White. If you want to try out the BOX Jade or BOX Navy, I recommend getting a hot-swappable keyboard so you can easily interchange the switches without needing to solder. Another option is to buy a switch tester, so you can see for yourself what sound and feel you prefer.
If you want to read more about the best clicky switches, check out our article here.
How Loud Are Blue Switches?
If you were to bring your clicky keyboard to work or school, it won't be too long before people around you put on headphones are start complaining.
It's a fast track way to get someone to dislike you.
The main signature of a blue switch is the high-pitched noise made on each keystroke.
In terms of decibels, blue switches are not that much louder than other switch types, but the high-pitched nature of them makes them even more audible. The click sound really stands out.
If there are people talking around you, you can hear the blue switch above everything else.
As a quick test, I had my wife start typing on a blue keyboard while I walked into another room and shut the door. I could still hear everything.
The fact is, Cherry MX blue switches are loud.
Your entire office, classroom, or spouse will be able to hear them across the room.
If you live alone or have a fortress of solitude, feel free to pick up a blue keyboard and start typing away. There is no one to disturb.
For many, the clicking noises are incredibly satisfying when typing and gaming. You do you.
Your Entire Setup Impacts The Noise Level
One thing to keep in mind when using a clicky switch is that the entire setup will determine how loud the keyboard sounds.
Everything down to the keyboard, plate material, keycap shape, and your desk will impact the sound.
If you want a louder setup, you can opt for a full aluminum keyboard with no sound dampening foam while typing on a thin desk.
The sound level of your setup is ultimately up to you, some people like to have a keyboard that vibrates like crazy and wakes up the neighbors.
Conclusion
There are a lot of great options out there if you're looking for a clicky switch. We highly recommend the Drop ALT because the keyboard comes in excellent build quality along with hot-swappable switches so you can really find the best clicky switch to make your keyboard experience as good as possible.
A couple of other excellent options include the Ducky One 2 Mini, Durgod Taurus K320, Redragon K552, and Keychron K6. You should be able to pick out a keyboard on this list based on the size, features, and price you're looking for and get a nice loud keyboard that is sure to keep everybody up at night.
If you really want to improve the clicky sounds of your keyboard, we definitely recommend looking into the Kailh BOX switches for some of the best clicky switches currently on the market. We highly recommend the BOX Jade or BOX Navy for a loud typing experience.
Happy Typing!