If you love mechanical keyboards, but struggle to find the right style switch, do not worry. With a hot swappable keyboard, you don't have to pick!
The Best Hot-Swappable Keyboards of 2020:
Drop CTRL: Best Tenkeyless Hot-Swappable Keyboard
Input Club RE:Type: Great TKL Hot-Swappable Keyboard
GMMK TKL/Full: Best Full-Sized Hot-Swappable Keyboard
GMMK Compact: Best Compact Hot-Swappable Keyboard
Keychron K6: Best Wireless 65% Hot-Swappable Keyboard
Tecware Phantom:Best Budget TKL Hot-Swappable Keyboard
Kemove Shadow: Best Hot-Swappable Keyboard for Gamers
Hexgear Gemini/Dusk: Excellent Alternative to the Drop CTRL
Input Club K-Type: Future Release Hot-Swappable Keyboard
What is a Hot-Swappable Keyboard?
Switching between switches has never been easier with hotswappable keyboards, because the switches are not soldered to PCB at all. Instead they are pressed in to holes in the PCB and held in place by a plate.
This makes it easy to install several different styles of switches into your keyboard or swap them out whenever you get bored of a certain style. Whether they are clicky, tactile, silent, or linear, you can try them all, and install with ease.
No Soldering Required
Soldering requires having the right tools on hand, along with a dedicated workstation with good air ventilation. A lot of people don't have the time or dedication to the learn how to solder in their free. In addition, if you live in an apartment and don't have a good area to work, soldering may not be feasible or be too much of a hassle for you.
Hotswappable keyboards make it easier than ever to install and remove switches from your keyboard and don't require the skills, equipment, or work area that soldering switches normally requires. We recommend hotswappable switches to anyone who is not interested in learning how to solder, or to someone who likes to try lots of different switch types.
So how do I find a hotswappable keyboard?
Well there are only few hotswappable keyboards available for purchase right now, but due to the popularity there will be more keyboards coming out in the near future. We'll go over all these different keyboards and determine what features we like and don't like about them.
Let's jump into our list of our favorite hotswappable keyboards!
Best Hot-Swappable Keyboards
1. Drop CTRL: Best Tenkeyless Hot-Swappable Keyboard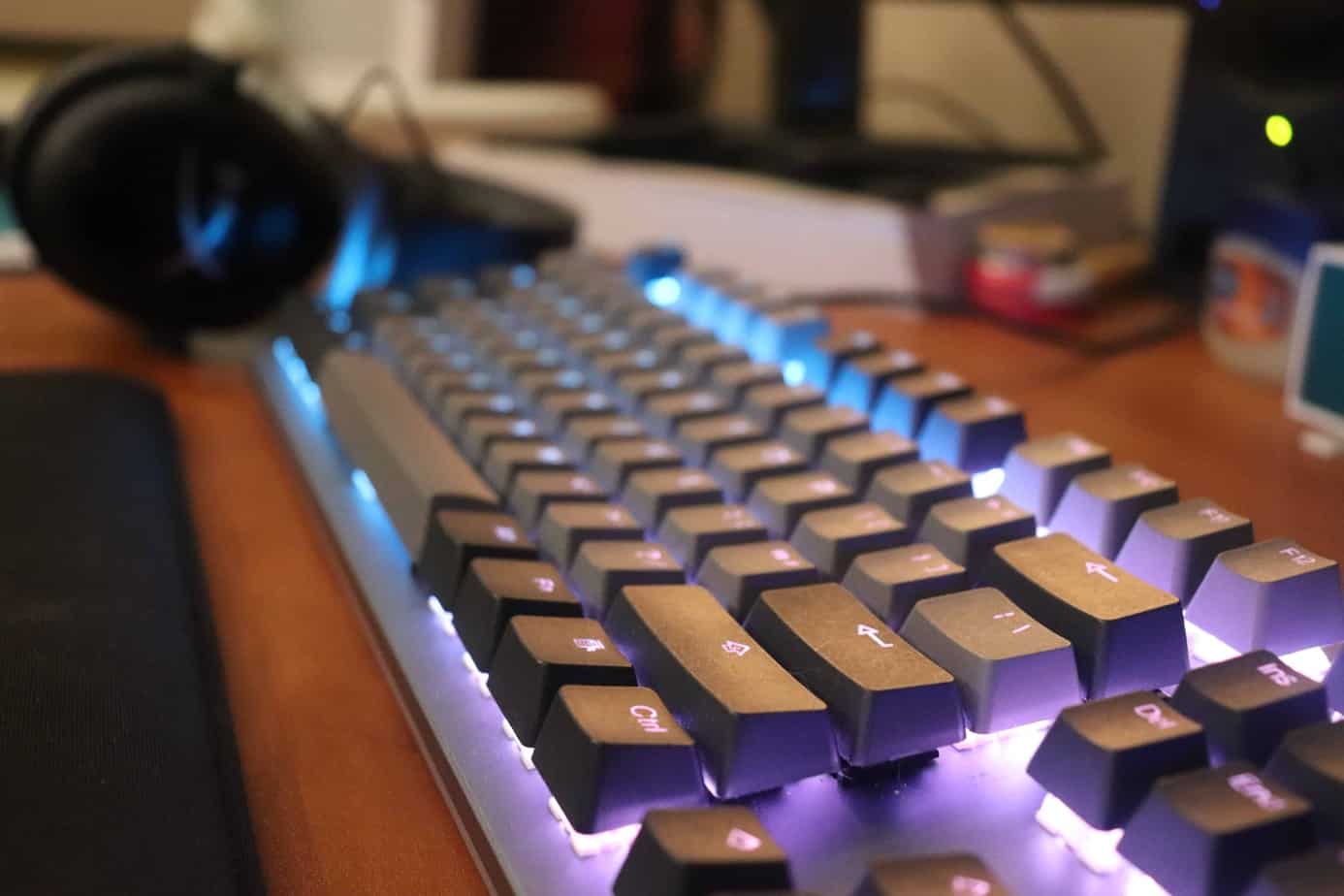 The Drop CTRL is a tenkeyless keyboard, meaning no number pad, that was released in 2018 on Drop.com. There is also a 65% percent version of this keyboard called the Massdrop ALT. The 65% version has 67 keys instead of the 87 keys like the CTRL.
Both versions of this keyboard are hotswappable and come with a switch puller, making swapping out the switches easier than ever. In addition, the keyboards are fully programmable with QMK. Coming with a detachable USB-C cable, which makes it easy to plug and unplug. The keycaps come in PBT plastic and have a nice textured feel to them, and don't develop a shiny or greasy look over time.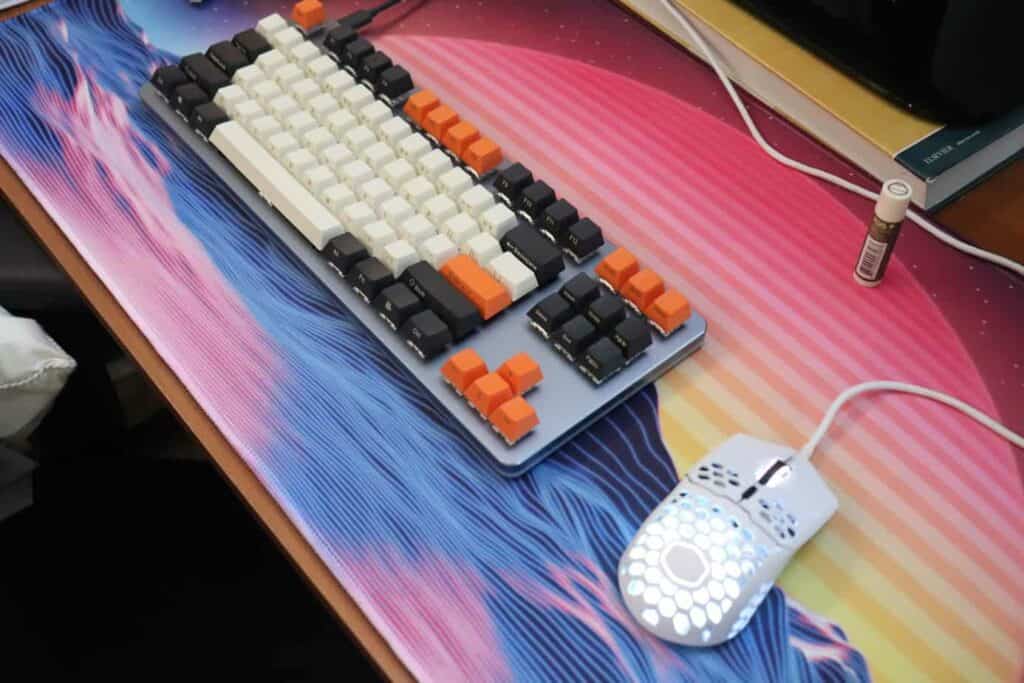 You can your pick of which switches it comes with. The options are the following: Halo True, Kaihua Box White, Kaihua Speed Silver, Cherry MX Blue, Cherry MX Brown, and the Halo Clears (which are currently sold out as of January 6, 2020).
You can also pick custom keycap kits for additional costs. The following are available for selection: GMK Red Samurai, MT3 /dev/tty, XDA Canvas, and SA Pulse Noire.
To be entirely honest, we're a little biased about this keyboard, because we actually own and use the Massdrop CTRL keyboard on a daily basis. This keyboard is durable, made from a metal case and metal plate. The CTRL is solid, rigid, and does not mess around. We would recommend this keyboard to anyone who can stomach the price tag of $200.
We have very few complaints about this keyboard, and you can check out our more in-depth review here.
2. Input Club K-Type: Great TKL Hot-Swappable Keyboard
The Input Club K-type mechanical keyboard has a tenkeyless layout and was only made during a group buy in 2018. The K-type is available for sale by looking in the after market for used keyboards.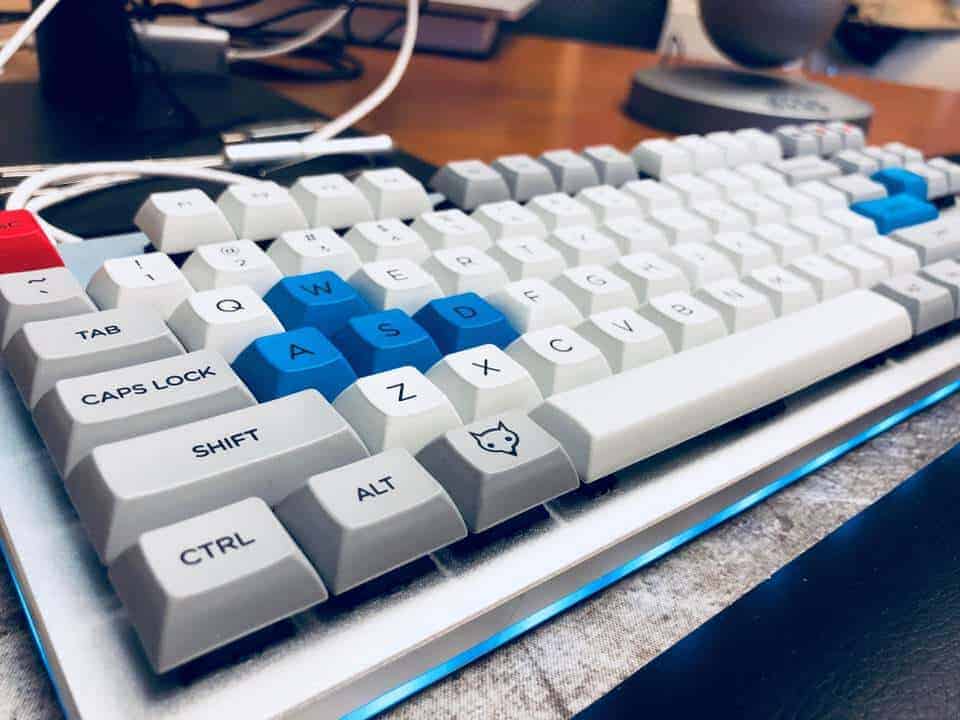 The K-type is loaded with features that would make any keyboard enthusiast excited, such as PBT keycaps, intense RGB lighting, detachable magnetic feet, anodized aluminum case, and of course hot-swappable switches.
The main drawbacks to this keyboard, is they attempted to do too much with the features and ended up with a lot of stuff that doesn't work so well, except for the lighting. For example, the PBT keycaps are a thin material so the light can shine through. The texture of the keycaps is pretty rough as well.
For what I've researched, the stabilizers are also pretty low quality as they tend to rattle and sometimes the keycaps can get displaced while typing. Of course, you can mod the stabilizers to improve the overall fell, but for a keyboard of this price ($200) you would expect better stablizers.
Overall, this keyboard is pretty good, and is absolutely loaded with features, just not worth the price tag. Although, now that the keyboard has been on the market for a couple years now, you may be able to find a used version with a better price.
3. GMMK TKL/Full-Size: Best Full-Sized Hot-Swappable Keyboard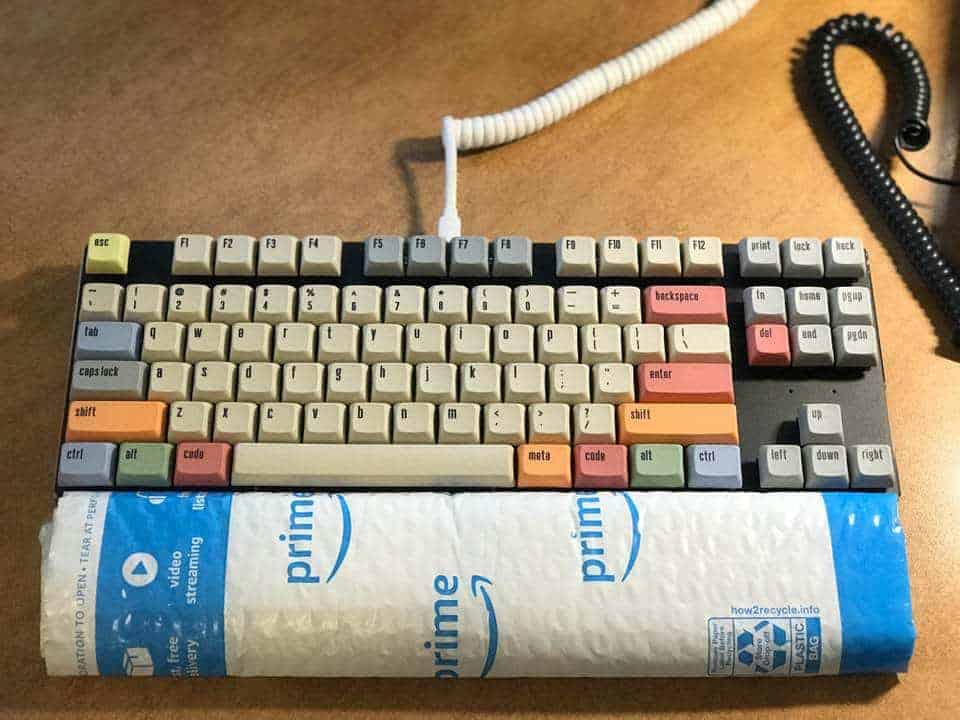 Another tenkeyless keyboard, the GMMK TKL is the most affordable keyboard on the list, coming in at $109.95. It's the only keyboard that is not made entirely of aluminum, and the price reflects that.
The TKL is an easily hot-swappable keyboard with RGB backlights and a plastic case. The keyboard also comes with a built-in keycap puller and a braided micro-usb power cable. The plastic case is not quite as sturdy as the all metal cases/plates, and the keys tend to rattle a bit to reflect that. In addition, the case is a little flexible, but overall that does not impact the overall functionality of the keyboard.
A couple unique features include a keycap puller built into the back of the keyboard for easy access, in case you ever need to swap out a switch quickly. The TKL also comes with a braided power cable with micro-usb head. Although we would have liked to see USB-C, the micro-usb is not that big of a deal.
Overall the RGB for this case is a little lackluster, the lighting is not too bright and is dull and dim. There are a lot of different lighting options, it's just the LED's are not quite strong enough. But if RGB lighting is not very exciting to you anyways, this feature won't impact you at all.
Check it out on Amazon for an afforable price if you're interested in the GMMK TKL.
4. Keychron K6: Best Wireless Hot-Swappable Keyboard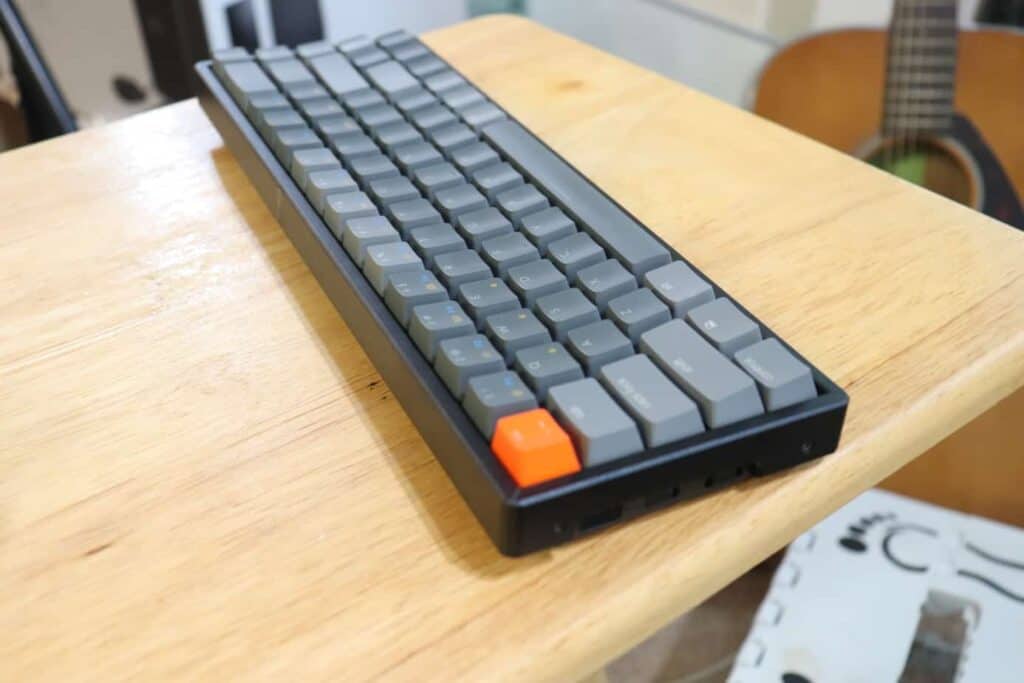 The Keychron K6 is a 65% sized keyboard, which means it does not come with a numberpad or the very top row that comes on standard keyboards. The overall design is very similar to the Keychron K2, but instead of being a 75% layout (meaning no number pad), the K6 it is scaled down to smaller, more bit-sized 65% layout.
The K6 is an incredibly affordable keyboard with hot-swappable switches, at a cost of $69 at the time I'm writing this. Although the price will likely increase after the official product launch is complete.
The K6 is a 65% keyboard and will have options for wireless/wired connection and RGB backlight. The wireless option is quite impressive as the battery will last up to 4 weeks without the usage of the RGB, that's crazy good. The charging port will be USB-C with a detachable power cable.
My favorite feature of the K6 is the choice of getting hot-swappable switches. It's easier than ever to swap out keyboard switches. Without having to solder a single switch, all you need to do is pull out the old switches with a switch puller, and press the new ones into the PCB.
The K6 comes with a variety of switch types, including LK optical, Gateron hotswappable, and standard Gateron switches; coming in brown, blue and red colors. The variety of switches really let you choose what sort of feel you want to go for, whether that be linear, clicky, or silent.
5. Tecware Phantom: Best Budget Hot-Swappable Keyboard
This keyboard is absolutely packed with features, but on top of that, it does the basic stuff really well. Overall, this keyboard is a steal. The hot-swap feature alone is quite rare to find on a keyboard under $150, let alone under $50. This allows you to swap-out and test different switches on the same keyboard without having to solder.
The keyboard is plastic, but it has an aluminum back-plate that improves the build quality and makes the keyboard feel more rigid. It doesn't fall into the trap of ringing too much or having the keys rattle with each keystroke. Of course, there is some slight ring and rattle, but it's not bad for a keyboard in this price range.
The stabilizers are very impressive. The spacebar and other larger keys have minimal rattle and are nice and secure. This is big for cheaper keyboard, because they tend to feel cheap and flexible, but this keyboard is solid. We noticed the stabilizers were actually lubed at the factory which is quite rare and explains why they feel so smooth.
The only feature we don't like is the non-detachable power cable. It's clunky and awkward. It makes the keyboard less-portable and can lower the overall lifespan of the keyboard if the cable breaks. A detachable cable would be a BIG upgrade if Tecware ever decides to implement that feature.
You can find this keyboard for an affordable on Amazon by following this link.
6. Kemove Shadow/Snowfox: Best Hot-Swappable Keyboard for Gamers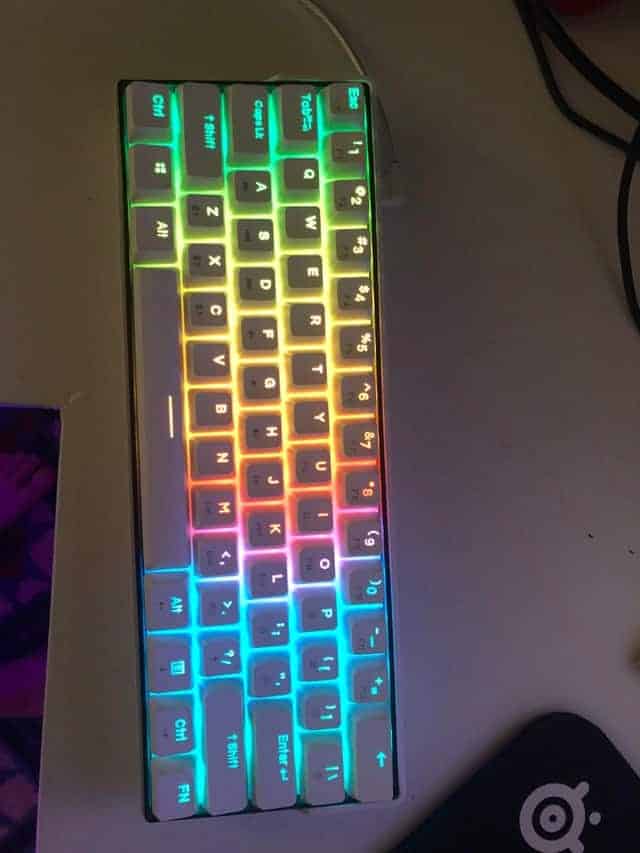 The Kemove Shadow & Snowfox are brand new keyboards from Kemove that finally offers the hot-swappable feature. I have not been able to get my hands on one of these keebs yet, but I'll be sure to review it for myself and update the post accordingly.
The Shadow and Snowfox refer to the same keyboard, but with different colors. The build is the exact same but they offer it in different colors with some cool sounding names for advertising purposes.
The keyboard is offered in several different switch types, such as the Black, Blue, Brown, and Red Outemu switches. Outemus are a cheap Cherry MX knock-off, so the quality of the switch won't be the best, but if you need a hot-swappable 60% layout you can easily swap the switches out to whatever kind you prefer.
The Shadow was made to be in direct competition with the widely popular Anne Pro 2. The Shadow one-ups the Anne Pro 2 by offering the hot-swappable feature at the same price or in some cases, a slightly cheaper price. If you're looking for a hot-swap 60% keyboard, the Kemove Shadow could be an awesome pick for you.
You can pick up one of these beasts on Amazon for a decent price in the mid-to-low price range.
7. The Hexgear Gemini/Dusk: Drop CTRL, but Cheaper?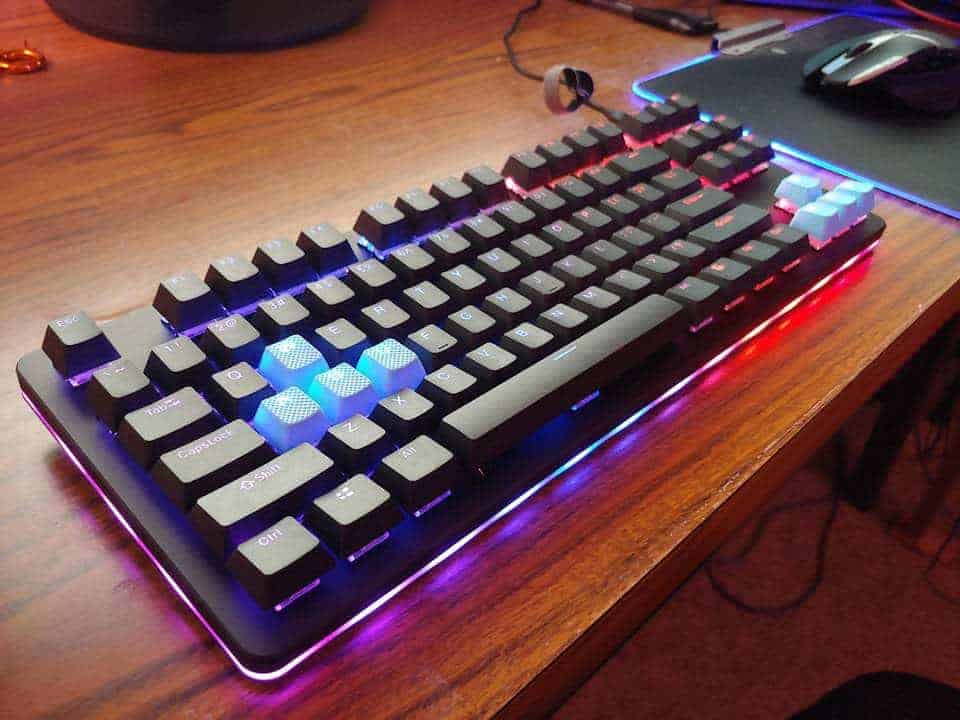 The Hexgear Gemini/Dusk is another new and exciting hot-swappable mechanical keyboard. This keyboard was made to be a more affordable version of the Drop CTRL, mentioned earlier in this article. The keyboard has a very similar build to the CTRL, but is around $40 cheaper and blacked out compared to the grey aluminum case of the CTRL.
The layout is tenkeyless and many of the features are the exact same as the CTRL, such as PBT keycaps and USB-C detachable power cable. The Gemini/Dusk does allow you to order your keyboard with different Kailh BOX switch types, similar to the CTRL.
I personally have not had a chance to get my hands on the Gemini yet, but we are exciting to see how it matches up to the CTRL. If it's on-par or better, this keyboard will be an absolute steal at its current price point. More detail to come on this.
8. Input Club RE:Type, A Future Release Hot-Swappable Keyboard
With similar features to the K-type, the RE:Type is Input Club's shot at redemption. We're hoping they will be able to fix a lot of the lackluster features found in the K-type, such as better stabilizers and make the programmability a little easier.
This product was originally slated to release in 2018 but was delayed to "give the engineering team additional work time". Maybe this means they will release a great product once the keyboard is complete.
There has been no news about when this product will launch, or what status it's at in the design process. Hopefully we can get some news soon about this product.
Hot-Swappable PCBs for a Custom Keyboard
For those of you that are looking to build a custom keyboard, finding a hot-swappable PCB can be quite difficult. The most difficult part is finding the PCB when it is in-stock, as the parts tend to sell out really quick. Usually the easiest PCB to find is one for a 60% layout, the other layouts need a custom plate and custom case meant to fit those PCBs, specifically. We recommend checking out the latest group buys for those components.
A couple of sites that we like to check are KBDfans and Banggood for 60% hot-swappable PCBs. For those of you looking to purchase a PCB for a 65% or 75% hot-swappable PCB, we recommend checking out the latest group buys on https://mechgroupbuys.com/.
Conclusion
Picking out a hot-swappable is a really fun process because they are starting to become more and more common. It seems like every month we hear about the release of a new hot-swappable mechancial keyboard. Hot-swappable keyboards are perfect for those who don't have the equipment, space, or time to solder their keyboards, and want to try out a ton of different switches on their keyboards.
Without a doubt our favorite hot-swappable keyboard at the moment is the Drop CTRL, but due to the high price-point, I could see how that option may not be feasible for most. For those on a budget, we highly recommend you check out some other really cool builds including the GMMK Compact, Keychron K6, and the Kemove Snowfox/Shadow.
We also have a guide on how to remove and replace the switches on your hot-swappable keyboard so make sure to check that out as well.
Happy Typing!