A few years ago, Drop released their own mechanical keyboards, the Drop ALT and the Drop CTRL. The ALT is a 65% layout, whereas the CTRL is a tenkeyless layout. They are both priced around $180-$230. This seems exorbitantly high for a mechanical keyboard. Are they worth it?
The Drop ALT and CTRL are hot-swappable, have a completely aluminum case, feature double-shot PBT two-toned keycaps, different choices of switches between Cherry, Kaihua, and Halo switches, programmable RGB, key remapping through QMK, and have dual USB-C ports. These features make both keyboards worth the price.
As companies start to develop and manufacture more feature-packed mechanical keyboards, the prices of mechanical keyboards can range from $50 all the way to $250. How do we know that something is worth buying when it costs almost five times more?
What is the differences between the Drop ALT and the Drop CTRL?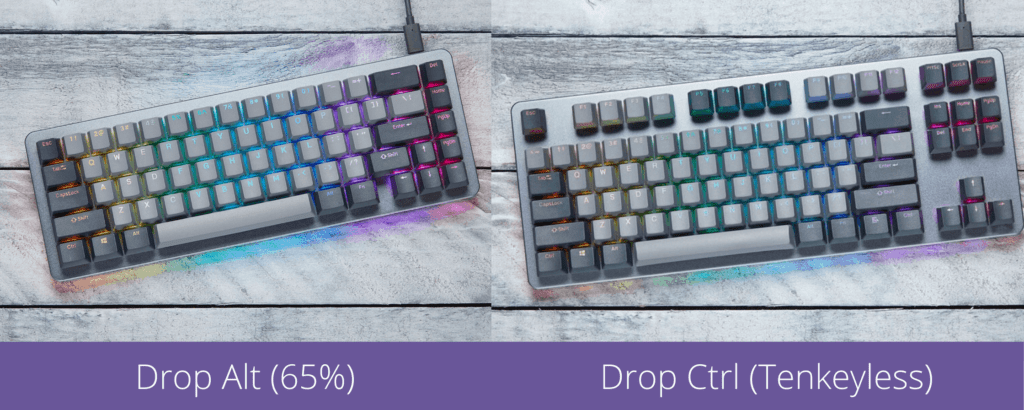 The Drop ALT is a 65% mechanical keyboard made of full aluminum. It has 67 keys, including the arrow keys and several navigational keys. With the QMK software, it is possible to remap these keys to whatever the user needs, so they are not limited to just navigational keys on the right side. Both models feature a solid aluminum frame, and the weight reflects that. The low profile version weighs about 25oz, and the high profile version weighs 43oz.
The Drop CTRL is a tenkeyless or 80% mechanical keyboard. It features 87 keys, including the arrow keys, navigational cluster, and function row. Basically, it is a full-sized keyboard with the right side (number pad) chopped off. It is available in two versions, low and high profile. The low profile version weighs 34oz, and the high profile version weighs about 68oz. 
What are the similarities between the Drop ALT and Drop CTRL?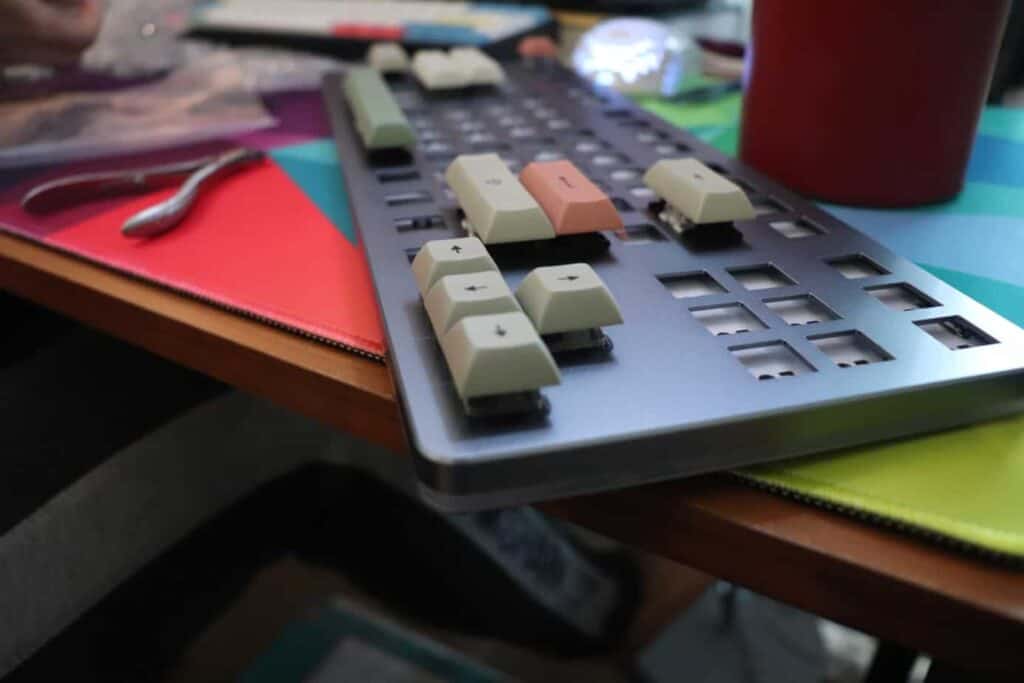 Overall Design
There are two different versions in terms of design. The ALT and CTRL feature a low-profile version where the mechanical switches are exposed due to the floating keycap design. The low-profile design is flat and has magnetic feet that attach to the back of the keyboard to raise the inclination of the keyboard.
The other version is the high-profile version with a taller case that covers the switches. This case has a 6 degree angle built in with no option to customize it. Both versions are available as barebones or prebuilt. Barebones means that it comes with the case, PCB, and stabilizers only with no switches or keycaps. Of course, it does come with the accessories such as the USB-C cable, keycap puller, and switch puller.
For either low profile or high profile, there are two color options available: space grey and black. The space grey color resembles more of a silver look.
Programmable Software
The software that the Drop ALT and Drop CTRL use is called QMK. The QMK configurator is built in through the Drop website. You can look at it through the QMK firmware configurator. 
This configurator allows you to edit and then save your configuration. To load it onto your mechanical keyboard, you will need to flash your mechanical keyboard. The instructions for that can be found here. You will need a small pin. 
The software is very powerful and allows you to make many layers to suit your needs. The LEDS are customizable for each individual key and for each individual LED for the underglow as well.
Switch Options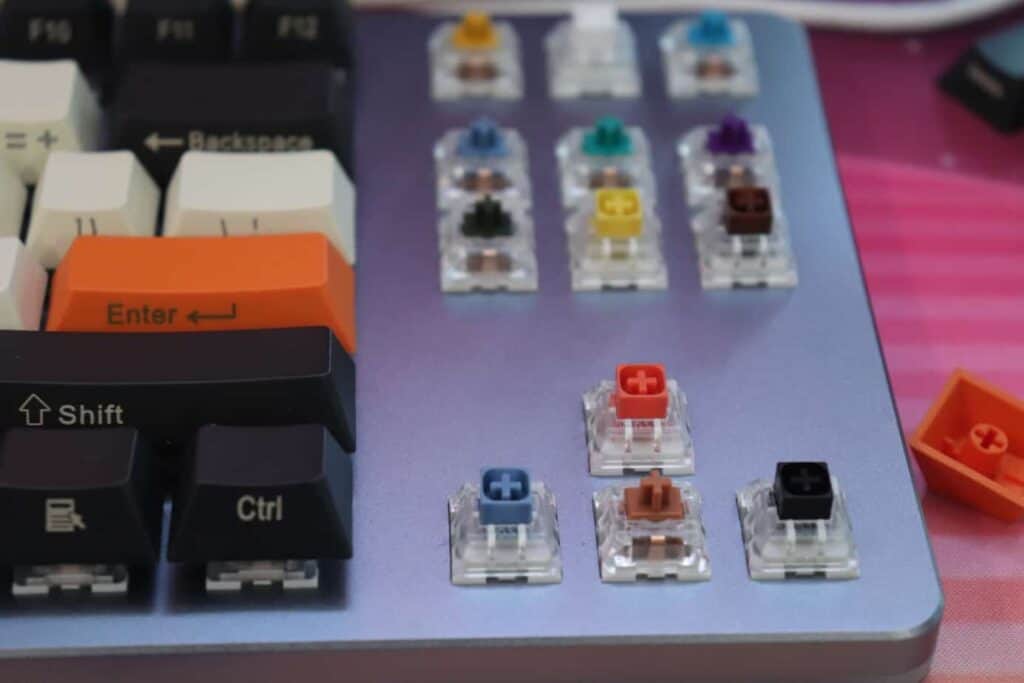 If you choose to purchase the pre-built Drop ALT or Drop CTRL instead of the barebones versions, there are many switch options available.
For Halo switches, you can choose between Halo Clear and Halo True. These are both tactile switches. The Halo Clear has a heavier spring weight than Halo True. The tactile bump in both switches are quite nice and tall. In the future, you also have the option to create Holy Pandas using these Halo switches with Yok Panda switches.
For Kaihua, you can pick between Box White or Speed Silver. The Box White switch is a clicky switch that has a crispy click with the clickbar mechanism. It is also a box switch, which is IP-rated to IP56, which makes it waterproof and dustproof. The Speed Silver switch is a linear switch that has a shorter travel distance than other switches. These are recommended primarily for gaming.
For Cherry, you get the option of Cherry MX Blue or Cherry MX Brown. Blue is a clicky switch and brown is a tactile switch. For Cherry switches, there is an upcharge due to the cost of these switches.
Amazing RGB Lighting
The Drop ALT and Drop CTRL feature individual LEDs for each keyswitch but also have LEDs surrounding the sides for an underglow effect. All of these LEDs can be programmed via the QMK software. There are pre-programmed effects that can be cycled through using FN+A or FN+D.
These effects are the default rainbow breathing, red wave, red wave + white backlight, pink and blue, yellow, red, green, purple, and white. It is possible to decrease the brightness and increase it via keyboard shortcuts as well. Using FN+Z, you can cycle through between key lights only, key light and edge light, or just edge light by itself.
High-Quality Keycaps
The keycaps used are doubleshot shine-through two-toned PBT keycaps in dark grey and light grey. They shine through light wonderfully and have very clean legends with no disconnections anywhere.
It is not explicitly stated, but these keycaps resemble keycaps made by a company named Tai-Hao. These keycaps can be found on the Mechanical Keyboards website in a variety of different colorways. 
Downsides to the ALT & CTRL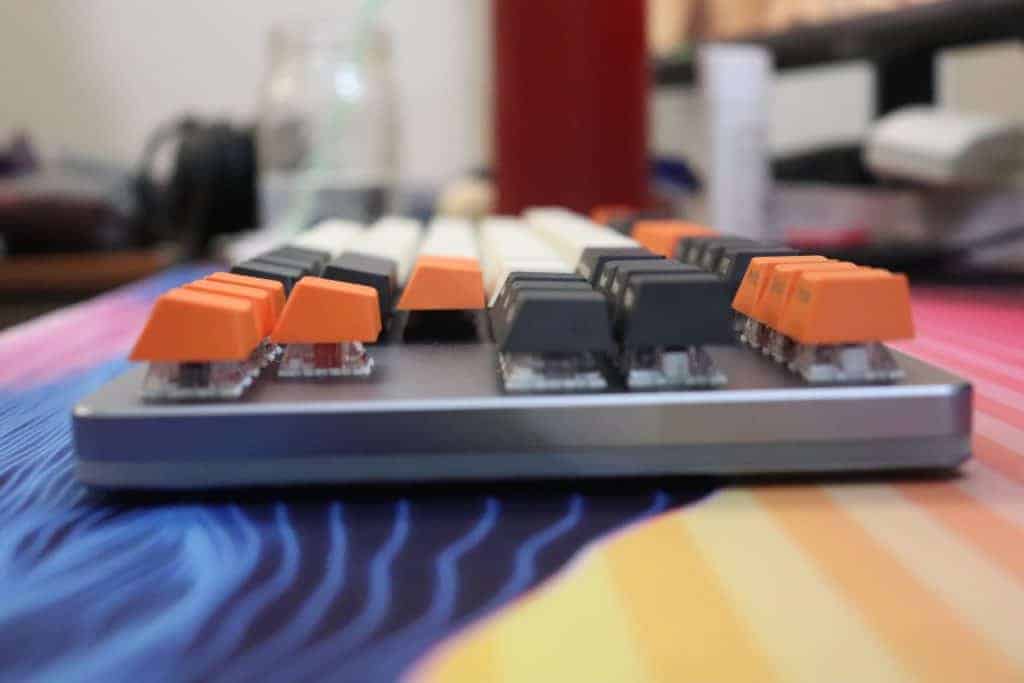 Support Only 3-Pin Sockets
The drawbacks of the Drop ALT and Drop CTRL is that the PCB hot-swappable sockets only support 3-pin switches. If you wanted to use 5-pin switches on it, you would have to clip the extra plastic legs off of your switch. After clipping these plastic pieces, the switches now have to be plate-mounted.
High-Power Requirements
Another drawback is that it is hard to find custom cables that are compatible with the Drop ALT and Drop CTRL due to its high power requirements. The cable length is limited to under 5 ft, so many coiled cables would not be able to supply this keyboard.
Frustrating RGB Software
The last drawback is that the RGB will reset to its default configuration of rainbow breathing unless you flash the ALT or CTRL to your preferred colorway. It's an easy process, but many other mechanical keyboards can save to their last preset. This one does not.
Are Keyboards from Drop Worth It?
The Drop ALT and Drop CTRL are full of features that make it worthy of its price point. They include hot-swappable switches that allow you to pop out and push in mechanical switches as you want to. It makes it easy to repair broken switches or just experiment with new ones. 
They both have a full aluminum case, which in custom keyboard kits, can cost anywhere between $300-$400, depending on the keyboard size. It also has software that makes it super convenient to reprogram keys, remap keys, and change RGB lighting that is user-friendly to use. Some mechanical keyboards don't come with software at all or don't have software that is so powerful and customizable or easy to use.
The keycaps are high-quality PBT. Many mechanical keyboards come with cheap and thin ABS keycaps.
The Drop ALT and Drop CTRL have a lot of the benefits of completely custom mechanical keyboards that cost almost double their price and take half a year to a year to get to your doorstep after you join the group buy. Through Drop, you have the benefit of knowing your order will be fulfilled and secured without worrying about the seller never delivering.
You can find the Drop ALT & Drop CTRL on Amazon for a competitive price. The products are also available on the Drop website as well, usually for a cheaper price.
Who is Drop?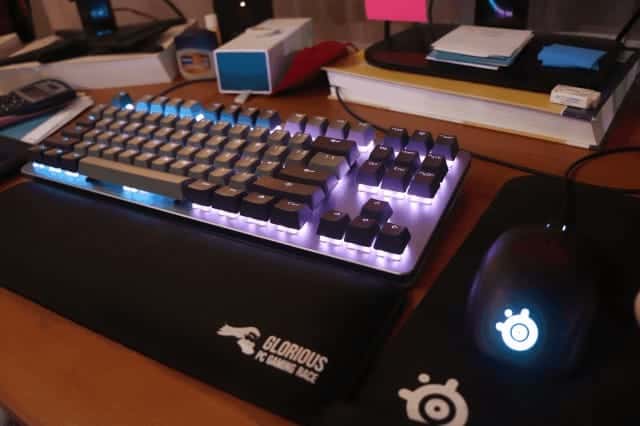 Drop is an e-commerce company that is located in San Francisco, California. They were founded in 2012 by two college students who saw a gap between the consumer and the sellers within small hobbies such as mechanical keyboards, knives, headphones, and more. There were unreliable group buys, failure to provide a prototype model prior to selling, and disorganized forum posts to organize these seller-initiated storefronts.
Initially, the company was named Massdrop. In 2019, they changed their name to Drop. Drop uses forums, polls, and community discussions to decide what products and what existing manufacturers they can partner up with to provide high-value and high-quality items at a lower cost.
Drop also has a design side of it called Drop Studio. This studio decides what product would interest their clients the most through input from customers on Drop. They have a large team that will design it. Then they can reach out to their manufacturers to develop the product using the best materials and technology. These products are usually made in collaboration through big name manufacturers such as Sennheiser, JVC, Koss, Hifiman, Audio-Technica as well as with designers such as OLKB, MiTo, and Zambumon.
Through the Drop Studio, the Drop CTRL and Drop ALT were designed and created. These mechanical keyboards are sold through rounds where there is a pre-order time period, usually several months. After the pre-order period is over, then Drop will start the manufacturing process and delivery follows soon after. They also offer free shipping and free returns.
Conclusion
The Drop ALT and Drop CTRL are worth the price. They are packed full of features and enable a beginner to mechanical keyboards to really dive within the hobby of custom mechanical keyboards for about $200. The price of custom mechanical keyboards range from $300 to upwards of thousands of dollars when you consider the price of the keyboard itself, the switches, and the keycaps. 
With the hot-swappable sockets, you can experiment with different switches without having to solder and desolder switches. You can learn different mods with your keyboard such as lubing switches, lubing stabilizers, modifying switches, and changing up keycaps. It is a great way to enter the hobby for an extremely affordable price.