The Logitech G915 TKL is a premium low-profile gaming keyboard that utilizes Logitech Lightspeed wireless technology for low-latency action.
Logitech is no stranger to top-tier gaming peripherals. Is the G915 TKL the latest and greatest in a long line of top-tier tech?
Let's find out if the Logitech G915 TKL with Lightspeed will take your game to next level.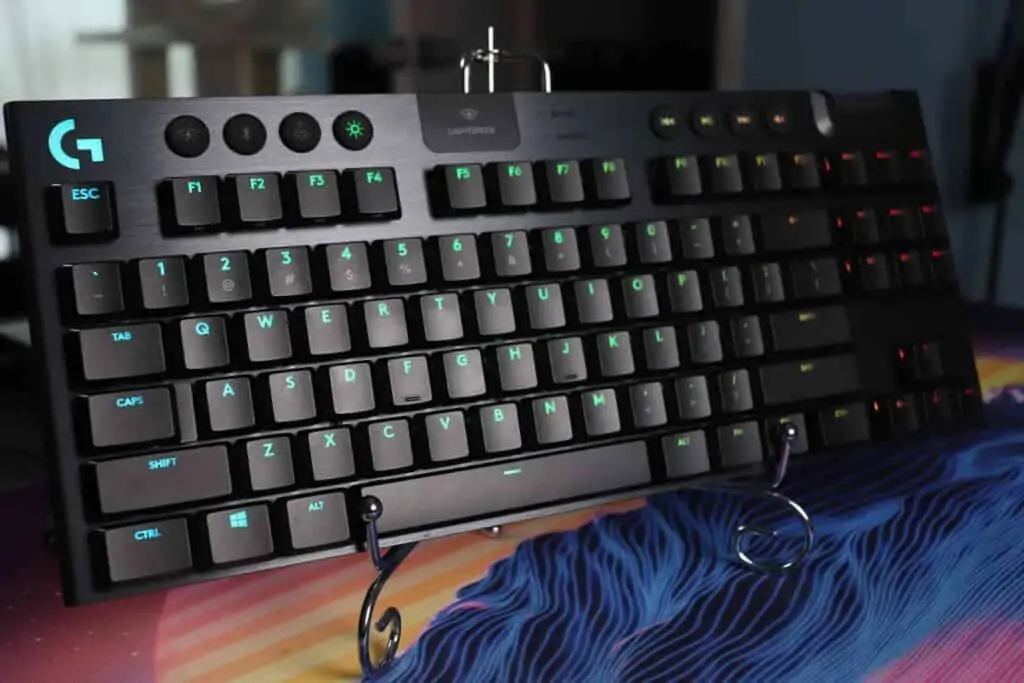 ---
The Main Takeaway
The Logitech G915 TKL is a low-profile gaming keyboard that fills the need for a super-fast, low-latency gaming keyboard. With both a micro-USB cable and Logitech's own Lightspeed Wireless technology paired with Kailh Low-Profile switches, the G915 TKL takes gaming to new heights.
---
In The Box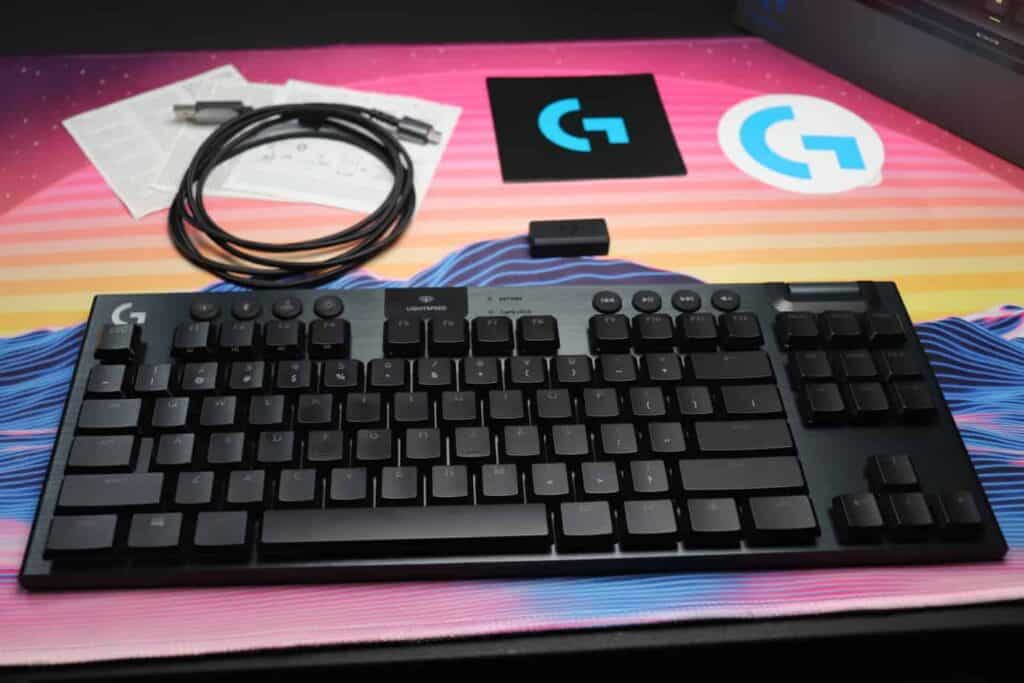 The Logitech G915 TKL Keyboard
Braided USB-A to micro-USB cable
Lightspeed Receiver
USB Extension Cable
Manual
Logitech G Sticker
---
Build Quality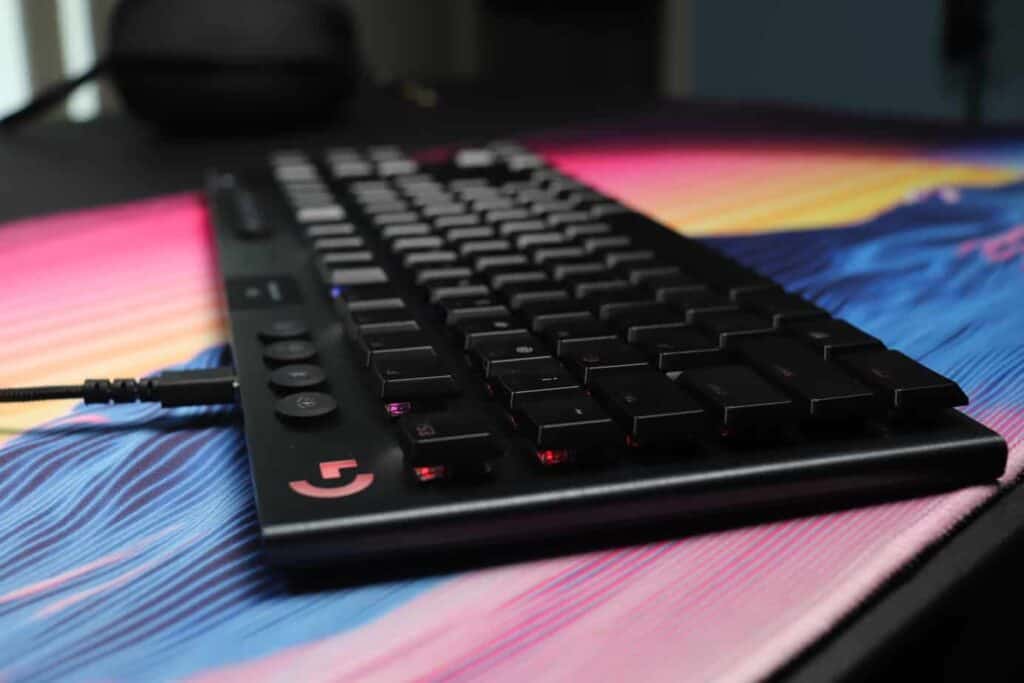 With the Logitech G915 TKL and its build quality, looks can be deceiving.
As a standard TKL layout, the footprint is much more compact than a full-sized keyboard and will allow you to bring your mouse closer to center.
As a low-profile keyboard with "floating keycaps" design, the switches are visible under the keycaps which could mean easier cleaning, but also more dust than a traditional higher-profile case.
The G915 TKL is topped with brushed aluminum for a premium look and feel.
Upon closer inspection, the case is actually mostly plastic. This may be to ensure there is no interference with the wireless signal.
The plastic build quality, however, is actually quite sturdy and solid, showing no signs of flexing, creaking, or shifting while typing, gaming, and even mashing keys in a rage or panic.
Under the short ABS plastic keycaps are Logitech GL switches.
You may notice, however, that these are in fact Kailh-branded Low-Profile Choc switches, which should have a lifetime of at least 70 million keypresses.
On the rear of the keyboard lies the micro-USB port. While the placement is convenient and should support most custom cables, it is disappointing to see micro-USB being used on such an expensive, premium gaming keyboard.
The bottom of the keyboard sports a battery hump, six rubber anti-slip pads, two sets of kickstand feet, and a storage port for the Lightspeed receiver.
And a partridge in a pear-tree.
The rubber pads ensure the keyboard won't move while gaming, and the two sets of adjustable feet stay put and give you a 4-degree or 8-degree tilt respectively.
At the side of the board lies minimal branding, featuring the G915 logo embossed onto the rounded, brushed aluminum.
The angles and low-profile nature should make the G915 TKL pretty easy to use even without a wrist-rest.
The included battery is said to be able to last up to 40 hours with RGB on full-blast, and rechargeable from zero to 100% in 4 hours. Your mileage, of course, may vary with time and usage.
Overall the board itself seems reliable, and provides a minimal, clean aesthetic while still feeling premium and modern.
The Keycaps
The Logitech G915 TKL comes with flat, uniform, low-profile "Choc" style keycaps.
These keycaps are made of doubleshot ABS plastic, with translucent legends that won't rub off and will allow the RGB to shine through in full brilliance.
Shine isn't always desirable, though. Not shining through keycaps, but shine on keycaps.
Though ABS is more flexible than PBT plastic, the ABS plastic keycaps may also attract more finger oils than PBT keycaps.
This causes ABS caps to become shiny, glossy, and slick to the touch in a matter of time.
Greasy, oily, crumb-covered covered fingers and unwashed hands should avoid using these keycaps without first being cleansed.
Though there are low-profile keycaps available with the traditional Cherry-style cross-shaped stem, the G915 TKL keycaps instead feature two plastic prongs that plug into the Kailh switches.
The prongs are not quite as strong as you would hope, so if you aren't careful while removing these caps, you could risk snapping one off.
We recommend getting a wire keycap puller, or even making one yourself.
When removing the caps, be gentle and try wiggling them off rather than forcefully yanking or pulling.
The keycaps spacing is tighter than on most low-profile keyboards, which makes the typing and gaming experience quite easy and comfortable.
Although the keycaps are all standard sizes and spacing, they may be difficult to replace.
The flat, uniform profile will be easy to adjust to if you are familiar with using a laptop or other low-profile keyboard.
The Switches
Logitech chose to equip the G915 TKL with "Logitech GL" switches. Once removing the keycaps, you will find that these switches are actually Kailh brand Low-Profile "Choc" switches.
The Black version of the G915 TKL comes with three switch choices: clicky Blue, tactile Brown, and linear Red switches (read the differences here).
The White version only seems to come with tactile Brown switches.
Blue switches offer a satisfying "snap" and "click" when pressing the key, which is often preferred for typing satisfaction and feedback.
Red switches are smooth and feel consistent from beginning to end, with the end of the keypress or "bottom-out" being the only form of tactile feedback.
These are usually preferred for smooth, fast gaming.
Brown switches are a compromise between the two, offering both a tactile bump for feedback, without the audible click or sharp snap.
Tactile switches are usually a good middle-ground, balancing the smoothness of linears with the feedback of a clicky switch. Of course this is not always the case.
Since Kailh Low Profile switches are shorter than normal switches, they require less force, less distance, and less time to register or "actuate" a keypress.
While the switches may feel a but mushy at first, they are quite responsive and easy to adjust to.
Unlike some other low-profile switches, and even other Kailh switches, pressing the key off-center does not result in stickiness or difficulty actuating the keypress.
The Kailh Low-Profile switches should be an excellent choice for fast gaming, and even typing, providing both speed and reliability.
Since optical switches rely on infrared sensors rather than metal contact pins, they are actually removeable without the need to de-solder, but may require you to open the case.
As any tampering with the case and replacing or lubrication of these switches will void the warranty, any modifications will be done at your own risk.
For more information on switch types, check out our guide comparing switch types, and our article explaining low-profile switches.
The Stabilizers
Logitech includes standard low-profile Cherry-style stabilizers with cross-shaped stems that are not pre-lubricated.
While the included stabilizers only display a slight amount of rattle and wobble, they are still some of the better stabilizers available on a pre-built low-profile keyboard, including the Keychron K1V4.
The stabilized keys do not sound overly noisy, including the long spacebar stabilizer. Everything seems fairly solid, especially for a mass-produced gaming keyboard.
Having good stabilizers is important for the overall typing experience. Unstable, rattling stabilizers are an annoying distraction and could make your gaming or typing session unbearable.
Even worse, an unsecured stabilizer wire could "pop" or become separated from the housing, making the key unusable until the wire or housing is fixed or replaced.
Like the switches, the included stabilizers should be fairly easy to remove and modify if you so desired, but doing so will result in voiding your warranty, so proceed at your own risk.
Mode Keys, Media Keys & Scroll Bar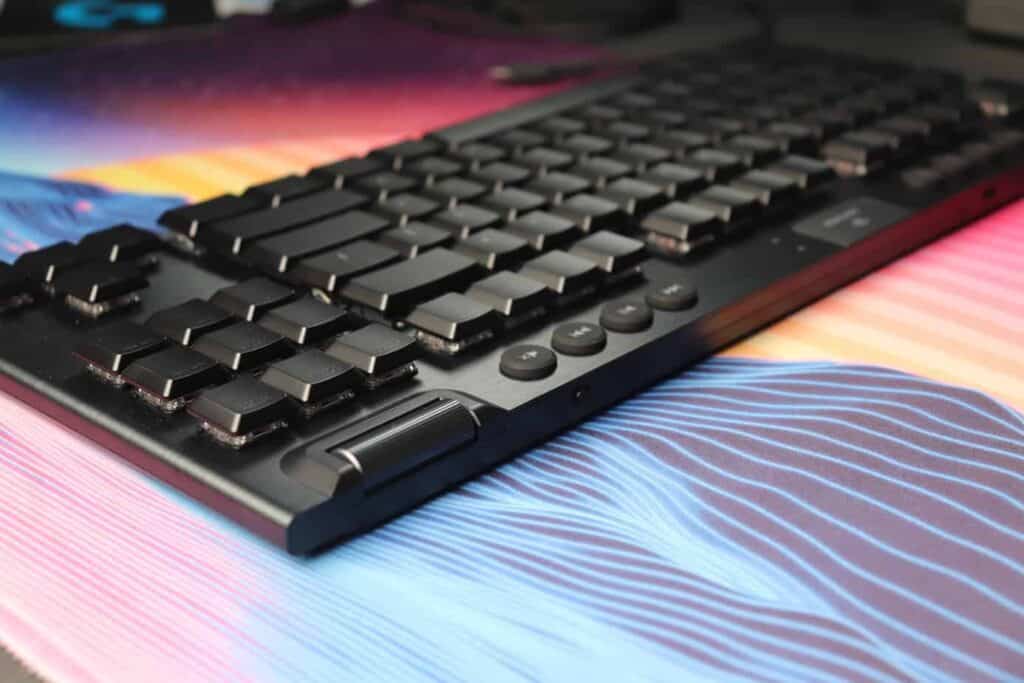 Along the top of the G915 TKL, are two sets of circular buttons and a long scroll bar.
The first set of buttons are dedicated mode buttons.
These buttons are:
Lightspeed Button – to toggle Lightspeed wireless connectivity
Bluetooth Button – to toggle Bluetooth connectivity
Game Mode Button – to turn off the Windows and Menu keys
Brightness Button – to adjust brightness of RGB lighting
The second set of buttons are dedicated media keys.
You get the standard Play/Pause, Next Track, Previous Track, and Mute buttons to control music and media playback.
Scroll Bar
On the upper right hand corner of the G915 TKL lies one of the best features to ever grace a keyboard, Logitech or otherwise: the Scroll Bar.
The G915 TKL sports an edgeless "infinite" scroll bar, which has horizontal ribs for more grip and control while adjusting volume.
The scroll bar is satisfying to use, and spins smoothly and silently.
A scroll bar is easier and more convenient to use than a conventional knob because the length and horizontal orientation of the scroll bar requires less dexterity and fine motor skill to use.
You simply brush your hand up or down. If you need to adjust volume on your keyboard while gaming, it's best to do it with the quickest and easiest movement possible.
A knob would also likely be contradictory to the low-profile design.
The scroll bar helps solve both of these issues.
Ultra-Fast Lightspeed Wireless
Although the Logitech G915 TKL does include a micro-USB cable and Bluetooth connectivity, it is very likely that neither of those options is the reason why you are looking at this keyboard.
Neither is the modern way to game.
Logitech Lightspeed. This is the way.
Logitech Lightspeed is a proprietary technology similar to 2.4ghz wireless, but is reported to offer 1 millisecond speed and response time.
On paper, this means same speed as a wired connection with 1000hz polling rate – the standard "high speed" of a gaming keyboard.
In practice, a multitude of factors will influence this speed, like having a clear line of sight between keyboard and receiver, or using a USB 3.0 vs 2.0 port, but the difference should be negligible in most situations.
At the end of the day, the Logitech G915 TKL's Lightspeed technology, used in tandem with the low-profile Kailh switches, means the G915 TKL may just be one of the fastest and most reliable wireless gaming keyboards available today.
The RGB
Would the Logitech G915 TKL really be a gaming keeb if it didn't have RGB?
Of course not, and thankfully Logitech is known to have some of the strongest RGB lighting effects in the game with Lightsync technology.
Lightsync allows for full per-key RGB customization and lighting effects with 16.8 million colors, and the ability to sync lighting across all of your Logitech RGB devices.
There are seven on-board lighting effects, which you can select by holding the lighting mode button and pressing numbers 1 through 7.
Two additional profiles, accessed by keys 8 and 9, can be customized with G-Hub software.
Press the lighting button alone to control brightness levels.
The RGB lighting will turn off if left inactive, but the amount of time can be adjusted within G-Hub software.
To show off the brilliant RGB, the G915 TKL makes use of two methods: keycaps and switches.
The doubleshot keycaps all have translucent backlit legends that allow the G915 TKL's multicolored lighting effects to shine through in all its gamer glory. Choose white lighting for a classier effect.
The low-profile, floating keycap design means the RGB shines through the switches as well, which can be seen from the side, providing an additional level of beautiful lighting for your keyboard.
The White colorway should be much brighter and more vibrant than the Black version, as white and silver deflect and reflect color and light much better than black and grey do.
The battery should provide you with up to 40 hours with full RGB, and more lights show you when your battery is running low, and you can even game while charging, so you won't have to worry about going dark.
Logitech G-Hub Software
Logitech G-Hub is the software used to control all of Logitech's gaming peripherals, including (but not limited to) mice and keyboards.
Upon installation, G-Hub will recognize your G915 TKL as long as it is connected.
G-Hub will show you your keyboard's battery-life, and you can also use it to control when the lighting turns off with inactivity.
While you cannot remap the keys in G-Hub, the software does allow you to program your function row, and store up to three layers of functions.
In editing Game Mode, you are able to decide which keys stay active, and which keys are disabled when you press the Game Mode key. By default, "Windows", "Fn", and "Menu" keys are disabled in this mode.
G-Hub of course also allows you to edit lighting profiles, game and application-specific profiles, as well as sync lighting and control all of your Logitech G gaming peripherals.
What Would Make The G915 TKL Better?
The G915 TKL is admittedly impressive for a wireless gaming keyboard, but with such a premium price, can it be a better value? What can be done to improve the G915 TKL?
A Lack of USB-C Power Cable
In the modern age, it is disappointing for a premium peripheral with a premium price to offer an outdated component like micro-USB.
Especially on a premium gaming keyboard from what is arguably the most recognizable peripherals brand in the world.
USB-C not only offers a modern universal standard across devices, but also just an improved quality-of-life consideration.
PBT Keycaps Would Be A HUGE Upgrade
The doubleshot keycaps included with the G915 TKL are not the worst thing in the world, but they are far from the best. Especially for a keyboard at this price point.
As mentioned above, ABS keycaps tend to slick and shine over time faster than PBT keycaps do.
PBT tends to be textured and more "dry", and resists becoming shiny and slick for longer than ABS does.
PBT keycaps would be more ideal for longevity, as there are not many available keycap options that are durable, backlit, and resist shine.
Cherry-style Stems
Kailh currently offers two types of Low-Profile "Choc" switches: 2-prong stems like those offered with the G915 TKL, and an updated version with a more universal Cherry-style cross-shaped stem.
Cross-shaped stems would not only improve durability of keycaps, but provide more keycap options as well.
---
Alternate Option: Logitech G Pro X Wireless Hot-Swappable Keyboard
While there aren't many contenders in the "low-latency wireless gaming keyboard" class, if you don't like low-profile keyboards, the next best option also comes from Logitech.
The G Pro X Wireless is a gaming keyboard that features hot-swappable switches.
Though the wireless may not be Lightspeed, it is still a very low-latency 2.4ghz wireless connection.
The 3-pin Kailh hotswap sockets means you can swap out any 3-pin "plate-mount" switches without having to solder or de-solder.
While the G Pro X uses "Logitech GX" switches, these may also be re-branded Kailh switches.
Other compatible switches include Gateron 3-pin switches, Kailh Box switches, and the Holy Panda/Glorious Panda switches, among others.
The bottom-row keycaps are not standard sizes however, namely the "Spacebar" and "Ctrl" keys, so finding compatible keycap sets will be challenging.
Still, for a fast wireless keyboard with hotswap, there are few better options than the G Pro X Wireless TKL.
Check out the G Pro X Wireless directly from Logitech's Online Store.
---
Conclusion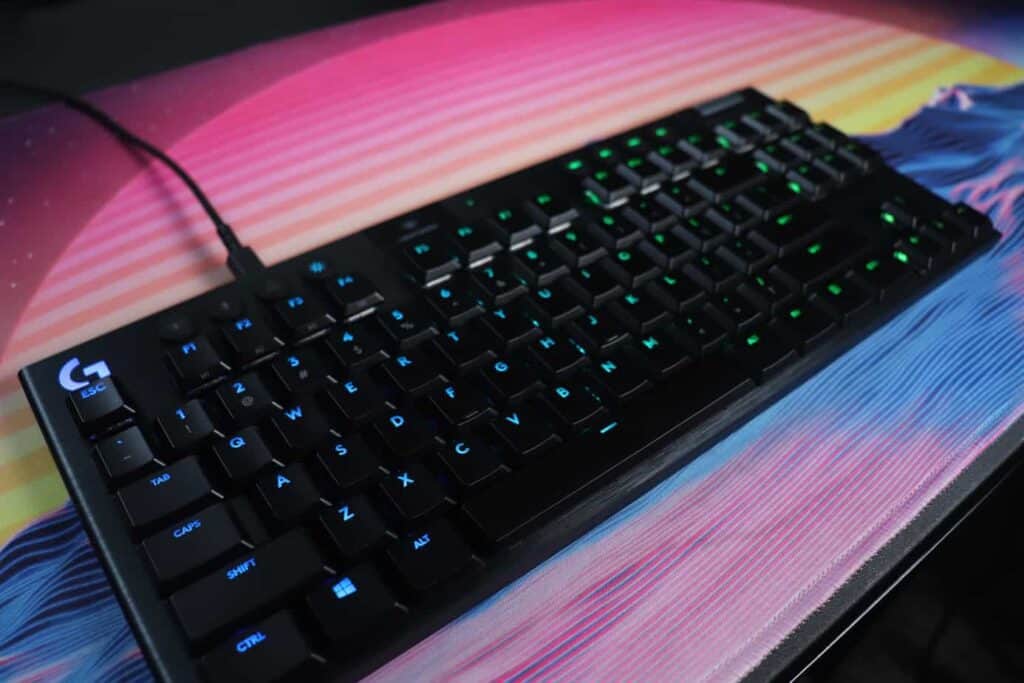 The Logitech G915 TKL is a low-profile powerhouse gaming keyboard that does not fail to deliver on its promise of reliable speed and wireless gaming performance.
Though it's not the perfect premium peripheral, despite the premium price-tag, the G915 TKL is still one of the best options on the market in its class; Very few keyboards can lay claim to the same level of wireless speed or match its feature set.
Whether you're a professional gamer or just play like one, the Logitech G915 TKL is ideal if you are looking for a fast wireless option and don't mind a shorter keyboard or a higher price tag.
Not willing to spend that much on a gaming keyboard? Check out our guide to the best budget gaming keyboards, and give your wallet a break.