An underdog favorite, the Elecom Deft Pro is a premium top-mounted trackball with a ton of buttons and connectivity options for productivity and gaming.
Let's see if the Deft Pro is clever enough to find a place on your desk.
The Verdict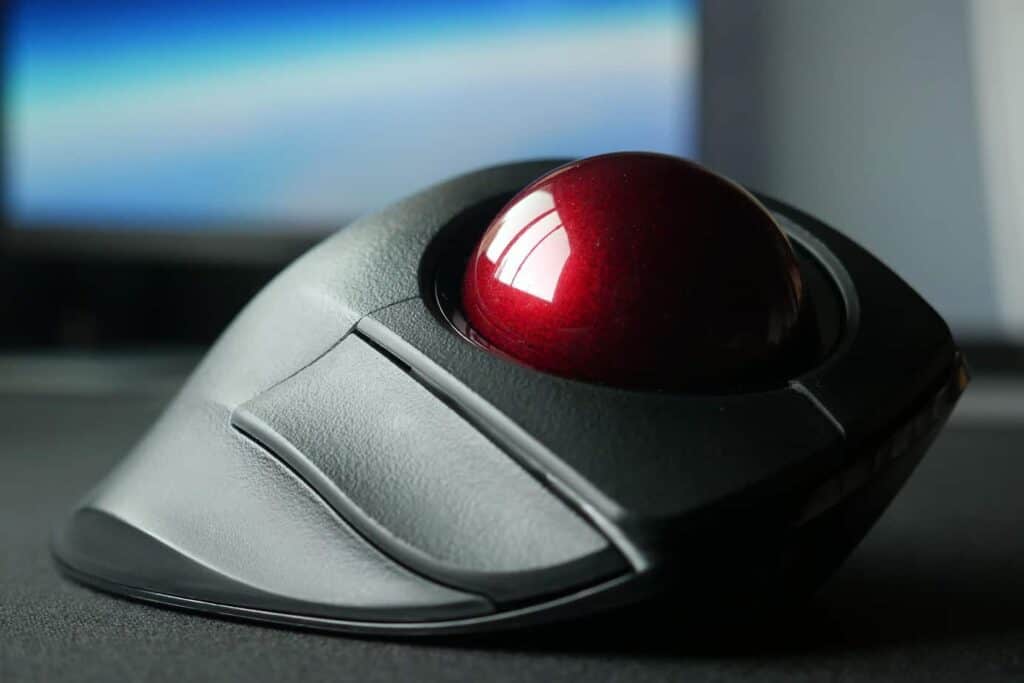 Elecom's Deft Pro Trackball packs a ton of features into an ergonomic size and shape that isn't too "Huge" for your desk.
As a rare ergonomic finger-ball, the Elecom Deft Pro's comfortable design fits most every hand size, even larger hands exceeding 20cm in length.
The Deft Pro features six buttons and a scroll wheel which are all programmable, allowing for up to 10 programmable functions. Gesture support is also included.
The button layout may take a while to get used to, and it may take a while to find an ideal layout for you that utilizes all of the buttons.
The Deft Pro also uses not one, but 3 total connectivity options, with your choice of USB cable, Bluetooth, and 2.4ghz wireless connections. A single AA provides you enough power for over 300 days on low-power mode.
Though the overall build quality is good, quality control issues such as misshaped bearings and stiff scroll wheels may affect how smooth and easy to use the Deft Pro is for you.
If interested, you can find the Elecom Deft Pro on Amazon.
Is The Deft Pro Comfortable?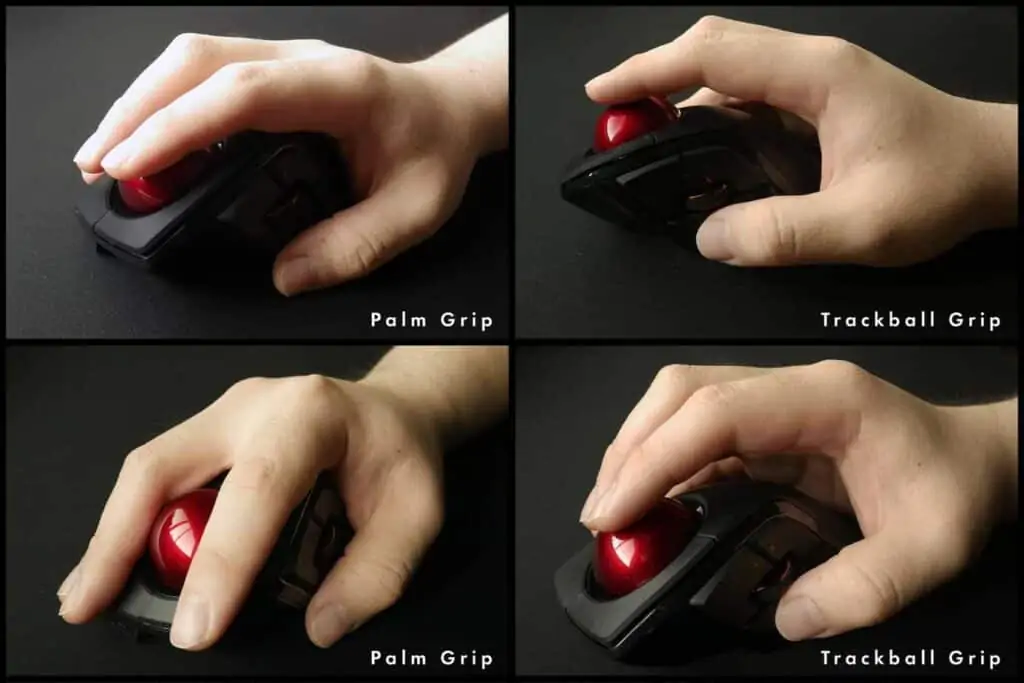 The Deft Pro will be quite comfortable for most hands, especially depending on size and grip style.
Average to smaller sized hands should have no trouble with palm-grip or a relaxed "trackball grip" that involves hovering your fingers over the trackball, similar to a claw or finger grip.
Larger hands will most likely find that palm grip leads to your fingers being too long for the buttons, and will force you to use a modified claw grip anyways.
In general use, most people will probably find hovering or a relaxed grip is the easiest and most comfortable way to use a top-mount trackball.
The overall shape is very curved which lends to the ergonomics, allowing your hand to cradle the trackball and be less pronated.
Over-pronating, or having your palm flat and parallel to the desk, may lead to pain, strain, and even RSI, so ergonomic trackballs like the Deft Pro may help in prevention and management.
Unlike the Elecom Huge, the Deft Pro does not include any padding or foam.
The lack of foam actually make the Deft Pro more comfortable and useable for a greater number of people, as you ideally won't have a change in elevation between your wrist and elbow.
Ease of Usage
The Elecom Deft Pro is relatively easy to use, but the non-traditional layout may take some getting used to.
While most people are used to a traditional 3-to-5 button layout consisting of a scroll wheel between right and left clicks, and possibly two navigation buttons and additional function buttons.
The Deft Pro's default layout assigns left click, scroll, and navigation buttons to your thumb, while right click is assigned to your middle finger.
Your index, middle, and maybe even ring finger will be used to roll the trackball. A sixth function button rests under your ring finger.
You can choose to use your pinky or not, depending on your preferred positioning. In most cases, your pinky will just rest on the side.
With so many buttons and possible functions, it may be difficult to find the most ideal and efficient layout for you.
The design however does allow you to use a more traditional layout using your index and middle fingers, or even just assign all relevant clicks to your thumb.
Regardless of how many fingers you use to roll the ball, you will probably find it easiest to use with pointer-speed acceleration turned on.
Acceleration allows you to use both precise small movements as well as speedy movements with a single spin or roll of the trackball.
Acceleration proves to be especially important while gaming, but you may find the layout awkward to game with at first.
Build Quality
Build quality is solid and sturdy, as is the case with most Elecom trackballs.
Despite being a full plastic build, there is no creaking or flexing of the housings.
Weighing in at 162 grams, and a trackball size of 44mm, the Deft Pro isn't the largest trackball on the market, but the overall size certainly isn't very compact either.
The plastic is hard but textured which feels comfortable without being overly slick or smooth.
The clicks are crisp, but the buttons may be more or less difficult to click depending on where you press.
The scroll wheel provides a satisfying ratcheting feel, but is a but stiff which makes it hard to use middle-click unless assigned to a separate button.
The trackball rests on three relatively large 2.5mm "artificial ruby" bearings. To remove the trackball, push it through the access hole on the bottom of the device.
While these bearings are usually fairly smooth, some units may have bearings which are not perfectly spherical.
This causes the trackball to feel rough, as if the bearing is grinding or scraping, especially when tracking in a lateral, side-to-side movement.
Though the trackball may feel rougher at first, it may feel smoother as your finger oils spread over the ball and the bearings are broken in.
Under the trackball is also the Elecom gaming sensor, which provides tracking up to 1500DPI.
You can set tracking speed with the included software, as well as set power mode and tracking sensitivity on the mouse itself.
On the bottom of the trackball are the power switch, DPI button, wireless mode switch, USB receiver port, trackball access hole, and battery door.
The battery door is difficult to remove, but thanks to the long battery life, hopefully you won't have to remove this too often.
Style
The Deft Pro's design is about "function" first and "form" second.
From every angle, the purpose-driven design language is front and center.
The curves are shaped to fit perfectly within the contours of your hand and palm in a natural position.
On the left side are multiple buttons arranged around a horizontal scroll wheel that comprise the broad inner face. The radial layout makes each button fairly easy to access, and the centrally located scroll wheel makes navigation convenient.
Sculpted into the outer side are a series of concave ledges perfectly shaped for your fingers to rest on. Even large hands should find adequate support for each finger, though length could potentially be an issue.
On the top lies a deep red orb that stands in bold contrast to the black. The black and red colorway fits well with many aesthetics both in the office and at home.
Professionals and enthusiasts alike can appreciate the classic yet timeless "bred" color combination that is somehow both subtle and bold at the same time.
Connectivity & Software
As an Elecom "Pro" trackball, the Deft Pro features three connectivity options: Wired, Bluetooth, and 2.4ghz Wireless.
The wired mode is straight-forward, and you only need to connect the device with a micro-USB cable. A battery is not needed in this case, and the provided cable allows you to use the Deft Pro even if your battery runs out.
The Deft Pro uses Bluetooth 4.0 on-board. The signal is acceptable for casual use, but you may notice the latency and lag while gaming.
To connect the Bluetooth simply make sure the Deft Pro is turned on, toggle the thumb-switch to blue, and press the pairing button on the bottom of the device.
The 2.4ghz Wireless mode is probably the easiest and fastest connection, and most ideal option if you are looking to cut cables but value low-latency.
To connect the 2.4ghz mode, simply make sure the Deft Pro is turned on, toggle the thumb-switch to red mode, and connect your USB receiver to your computer or device.
The receiver is already paired, so it should be an easy plug-and-play.
Elecom Mouse Assistant Software
The Elecom Mouse Assisstant Software is very simple and somewhat dated, but gives you everything you need in a straight-forward presentation.
The Deft Pro has six buttons and one scroll wheel, which provide ten programmable functions and gestures. Set functions via dropdown menus, and gestures in a separate tab.
You are also able to set pointer and scroll speed, but you may want to make sure mouse acceleration is also turned on in your Operating System's mouse settings.
The software paired with the many buttons provides a number of layout possibilities that can either provide an ideal option, or far too many options.
Why You Should Trust Me
For the last decade I have used trackballs as my mouse-of-choice, and so far the Logitech M570 has been the king of ergonomics and ease-of-use.
The M570, however, features an extremely simple design that makes you want more out of your trackball, so the last 5 years have been filled with searching for the perfect ergonomic productivity-driven trackball.
While Elecom's HUGE Trackball gets full marks for functionality, after months of use it was clear the ergonomics were sacrificed in favor of comfort.
The Elecom Deft Pro might not have a subjectively ideal layout compared to the HUGE, but its connectivity options and more compact, more contoured shape give the Deft Pro a real edge in ergonomics that your body may prefer.
Conclusion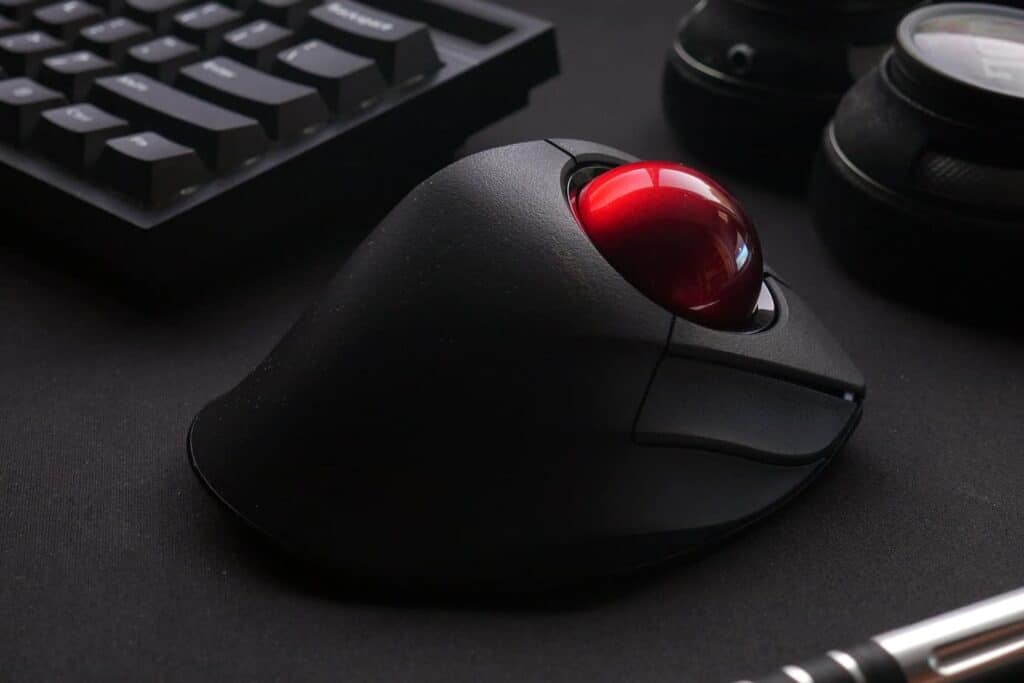 The Elecom Deft Pro Trackball proves to be a worthy trackball for productivity and even gaming.
With multiple multiple connectivity options, and ergonomic shape, and enough buttons to keep all your fingers busy, the Deft Pro offers a ton of premium features to meet even the most demanding professional or enthusiast.
While the Deft Pro trackball may not be perfect, it may be the most ideal solution if you are looking for a top-mounted trackball that balances elegance, ergonomics and efficiency.
Not the trackball you're looking for? Check out our guides to Elecom Trackballs and How to Choose A Trackball Mouse!