The Elecom HUGE Trackball is exactly what it sounds like – a really, really big trackball.
Elecom's biggest trackball also happens to be one of the most functional and productive options available, and one of the most thoughtfully designed as well.
The size and shape is not for everyone, though. Chances are, if you are even considering this mouse, you have a larger hand or seek a comfortable ergonomic solution.
Is it the right trackball for you? Let's see what makes the Elecom HUGE such a powerhouse.
The Verdict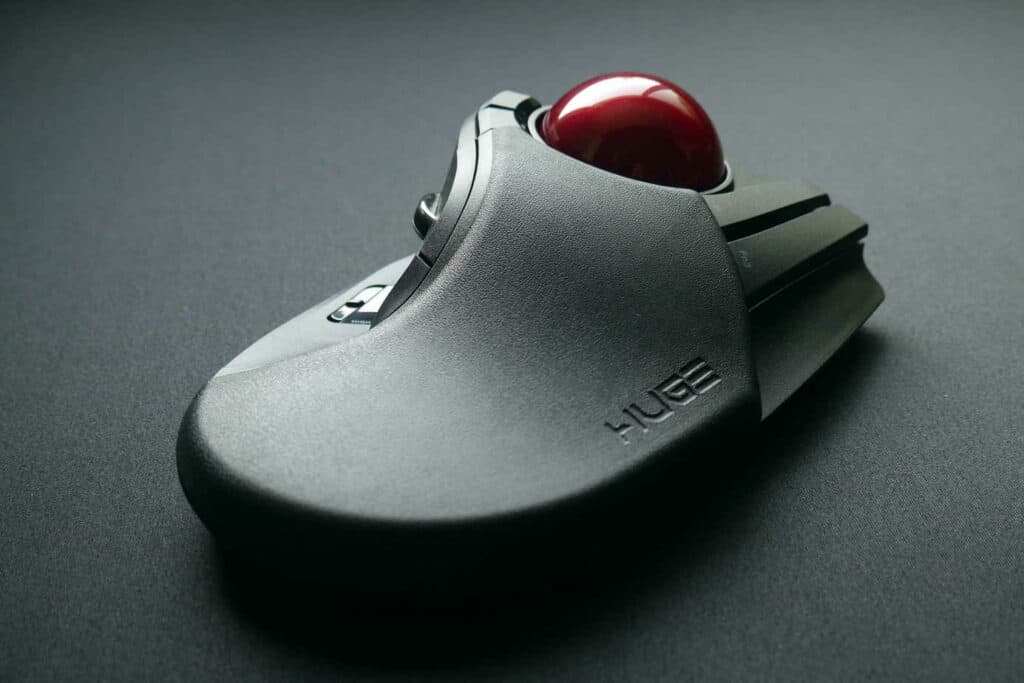 The Elecom HUGE Trackball is one of the most unique trackballs on the market, sporting an extremely atypical ergonomic layout and shape with a top-mounted trackball.
The HUGE also sports a comfortable built-in foam wrist-pad that really adds to the comfort level and premium feel, but might make the trackball a bit too tall for some users.
This pad is also a big reason for the size, and not the overall ergonomic shape being designed for larger hands.
With a fast 2.4ghz wireless connection and adjustable DPI levels and power usage, the Elecom HUGE packs a ton of top-tier features into a reasonably priced package.
It isn't perfect though, as the layout and size will definitely take some getting used to, even for seasoned trackball veterans.
The wireless signal can also be choppy sometimes depending on which port you plug the receiver into, and if there are any other signals or I/O speeds interfering with the wireless strength and latency.
You may even have bad luck with the quality control on your first unit..or two. For me, third time was the charm.
If you have a big hand, the Elecom HUGE is a great fit. Smaller hands may find this particular trackball on the troublesome side, but can still be very comfortable after an adjustment period.
The Elecom HUGE Trackball, while innovative and very functional, may need a new revision and improved quality control before being able to truly compete with the likes of Kensington and Logitech.
If the Random Number Generator gods are on your side, however, you may end up with one of the most efficient, productive, and thoughtfully designed trackballs on the market.
Let's see just how big of a deal the HUGE really is. You can find the Elecom HUGE on Amazon.
Is the Elecom HUGE Comfortable?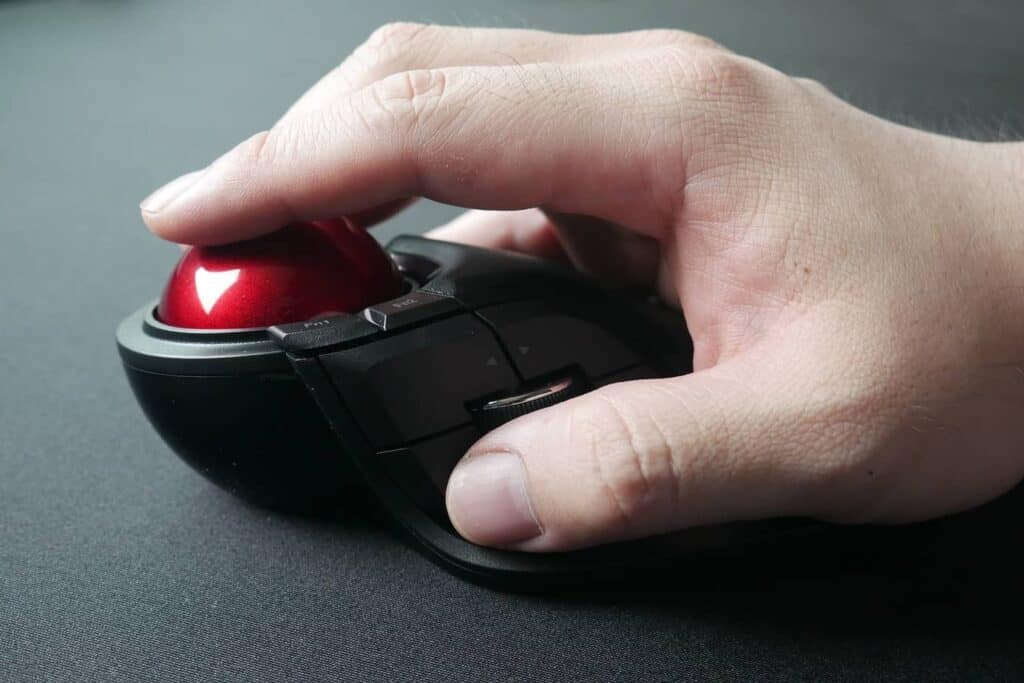 If you have a big or even average-sized hand and have been looking for a functional, productivity focused trackball, the Elecom HUGE can be a very comfortable fit.
In terms of comfort, the shape of the HUGE trackball allows many hands to rest a more ergonomic position than other similarly sized trackballs.
If you are a have tried a Kensington Expert and found it to be too symmetrical to be comfortable, the Elecom HUGE's ergonomic design may be what you're looking for.
The integrated foam wrist and palm-rest is made of a plush memory foam that is supportive but not overly stiff.
The pad certainly makes resting your palm quite comfortable, but the added height and thick ledge may dig into your forearm and even force you to elevate or hover your elbow.
This could lead to added discomfort, so you should always consider your own body's ergonomics first before trying to conform to a peripheral's predetermined shape.
Adding another padded armrest to help with support and elevating your elbow may be helpful in reducing this discomfort.
But hey, your palm is quite comfy, though.
The ergonomic shape and layout may feel more natural and intuitive after a while, as it did for me.
Great For Big Hands
Again, this trackball may be better suited for larger hands.
If you have a hand that is 20cm in length or greater, you may have noticed that many mice, ergonomic or not, are just not shaped well enough for your hand or finger length. Especially when using palm-grip.
Here's the catch. Though the HUGE is pretty huge, it's not actually designed for huge hands.
If you are looking to palm-grip this trackball, you may find the that, like most other mice, your fingers overshoot the buttons.
For the most comfortable position, you should try a relaxed claw or finger grip, and even try rotating the whole device slightly counter-clockwise.
After a couple of days to adjust, you may find your hand naturally resting on the HUGE comfortably, without thinking much about it.
The HUGE isn't necessarily uncomfortable for smaller hands, but you may need to reach further to hit certain buttons.
Ease Of Usage and Layout
The Elecom HUGE has a very unique, ergonomic button layout that feels a bit unnatural at first, but becomes quite intuitive the more you use it.
As with many top-mounted trackballs, your index finger is meant to roll the ball, and not really interact with the buttons. On the Elecom HUGE, most of your fingers are expected to multi-task.
The button layout, especially the index finger function keys, may definitely feel unnatural to use as first. If it feels like the position is unnatural or uncomfortable, try slightly turning the trackball counter-clockwise.
Your index and middle fingers are used to roll the large trackball.
Your index also operates two smaller programmable function buttons, while your middle finger also handles right-click.
Your ring finger operates a programmable function, while your pinky takes it easy on the support ledge.
You can choose to use your ring finger for both right click and function, but your pinky may have a hard time actuating them.
Your thumb takes over several duties, acting as the primary left click, scroll and middle click, and two function buttons, as well as the DPI adjustment switch.
Millions of years of evolution and preparation have led your thumb to this very moment and its purpose is true.
This may all sound extremely functional and productive, but the reality is that certain hands will have a harder time adjusting to this setup.
While certain buttons may feel easy to access, like the left click, wheel, and right click, you may also find other buttons in much less convenient placements.
The Build Quality
Despite being an all plastic build, the Elecom HUGE feels sturdy and well built, though can be a bit creaky if you try to flex it. Under normal circumstances, the trackball is quite sturdy.
The ball itself is a large 52mm deep red globe that spins fairly well, despite the artificial ruby bearings not being perfectly spherical.
This ball is not as smooth or weightless at it could be, but will still roll quite well.
This integrated rest and larger ball are the main reasons for the device's size.
Though it may look like it is sized more for a foot than a hand, the Elecom HUGE is more like a DEFT Pro with bigger ball, lesser connectivity, and a bunch of memory foam attached to it.
The HUGE Trackball weighs in at 260 grams without batteries, but despite the weight it can sometimes still move or slide around slightly on a deskmat depending on how much pressure is being put on the palm rest.
The buttons are a standard ABS plastic with textured feel, but the clicks may not feel very consistent between buttons. While the buttons are quite long, only a specific area is really clickable.
Elecom quality control seems to be lacking in some areas, as the clicks can feel "off-center" and difficult to click, and the scroll wheel can feel quite sticky.
I personally went through 3 different units before finding one with no QC issues.
A more savvy user could open the trackball up to modify these issues, but for everyone else it requires a return or exchange if the feeling bothers you.
The Unique Styling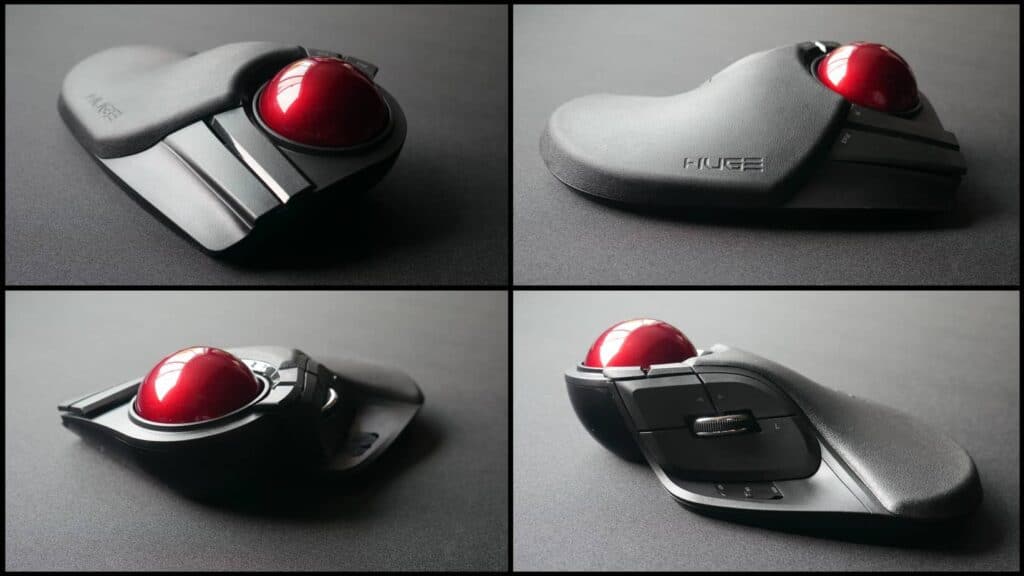 The style and design of the HUGE trackball may not be for everyone. It features a very asymmetrical, shape that may spark curiosity and demand attention.
If you have used the legendary Microsoft Trackball Explorer, you may see some similar design cues.
The HUGE is certainly an example of the "form follows function" design philosophy.
As large as it is, the HUGE trackball actually has all the right curves in all the right places. With both organic and industrial shapes, this trackball's unique design is well suited for both professionals and power-users alike.
The colorway is a bold and beautiful black and red. The "Bred" colorway is both elegant and professional, but also a bit stark, edgy, and high-tech in nature.
The deep red orb in the center seems as though it is always watching you.
The Japanese design sensibilities really shine through on this trackball, with shades of cyberpunk.
With the right setup and red accents, this trackball has presence and will make a gorgeous addition to your desk.
Poor Connectivity & Simple Software
While the wired version of the HUGE has excellent connectivity, the wireless version's 2.4ghz can be quite unstable.
At times, the connection will seem strong and clear with no latency.
Other times, you may experience lag, skipping, or twitching in your mouse movements, even if the receiever is within 12 inches of the mouse with a direct line of site.
The HUGE seems to have this erratic behavior regardless of battery power, DPI setting, or power setting, and even if there are no other wireless signals being transmitted.
A strong connection will resume if you lift your HUGE trackball off of the desk and closer to the receiver to re-establish a clear signal.
When putting your PC to sleep, your PC may wake suddenly and immediately after reaching the resting state.
Setting wake from sleep permissions to not resolve the issue, and the only solution seems to be unplugging the receiver completely from your PC.
This strange defect occurred on the first unit I tried, and I found no other solutions than to replace the entire trackball as replacement receivers are not available and there is no way to pair a donor receiver (unlike Logitech's Unifying Receiver tech).
The Elecom Mouse Control Software is a bit dated, but allows you to customize the trackball's layout and button assignments.
You can set pre-programmed functions or record your own macros.
For Linux users, you can program your layout with "xinput".
It is a very simple and straight-forward software that isn't bloated, but also lacks some features that competing brands offer.
Why You Should Trust Me
After using a variety of regular mice that were either not ergonomic or too small to hold for my hand, I started to notice fatigue and strain in certain parts of my hand, most notably around my thumb joints and tendons.
Fearing De Quervains and RSI, and being a sculptor and designer, I decided to try trackballs, which try to solve these problems through form and function.
After trying close to a dozen trackballs over the last decade, and more on the way, I hoped that the Elecom HUGE would be the trackball in its penultimate form and the prototype by which to judge trackballs in the future.
What I hoped would be the pinnacle of productivity and ergonomics is a mouse I want to love that suffers from lack of reliability, consistency and features found in trackballs that cost half as much as the Elecom HUGE.
Conclusion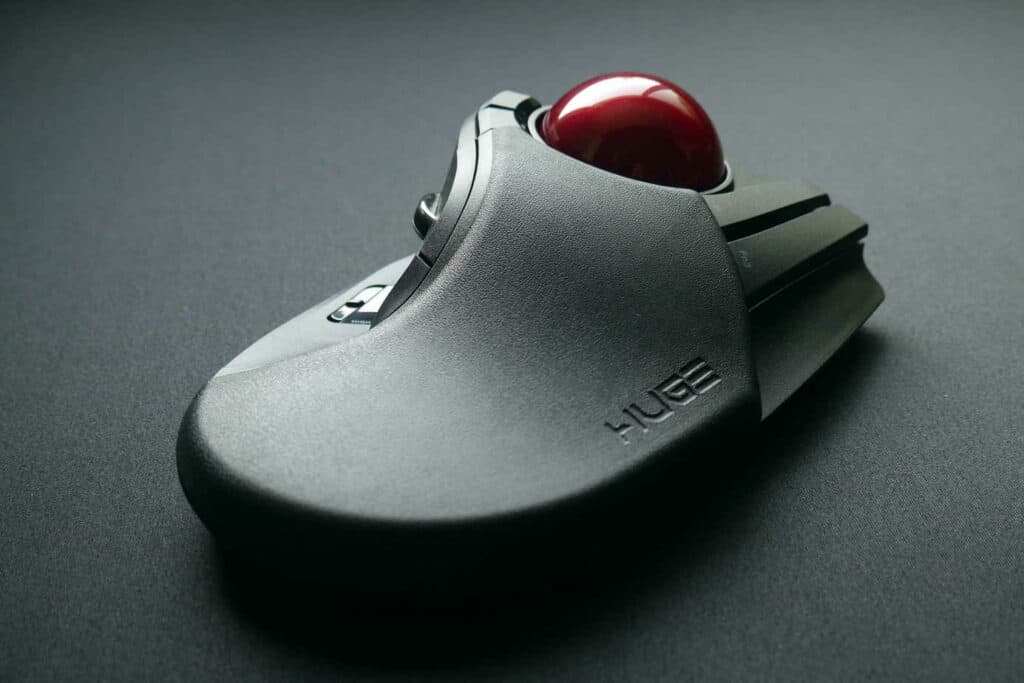 The Elecom HUGE proves to be a very productive mouse that is well-designed but suffers from quality control issues.
If you can find one with no issues, especially the wake-from-sleep and unstable wireless signal, the Elecom HUGE trackball could in fact be a welcome addition to your desk.
In practice, this entry from Elecom proves to be a trackball that may be better in concept than it is in execution.
With so many programmable buttons, a comfortable wrist-pad, and functional ergonomic layout, the HUGE might be everything you ever wanted in an trackball if you can get your hands on a good one.
Not the trackball you're looking for? Check out our guide on how to choose a trackball, as well as our complete guide to Elecom trackballs!
Thank you for reading and have a nice day 🙂