The Logitech M570 is a simple, comfortable, reliable, and affordable trackball mouse.
With a thumb-operated trackball located on the side of the mouse, ergonomic design, and reliable 2.4ghz wireless connection, the M570 is an excellent entry into the world of trackballs.
Is the Logitech M570 the right trackball for you?
Look into the crystal-blue ball and let's see what the future may bring.
The Verdict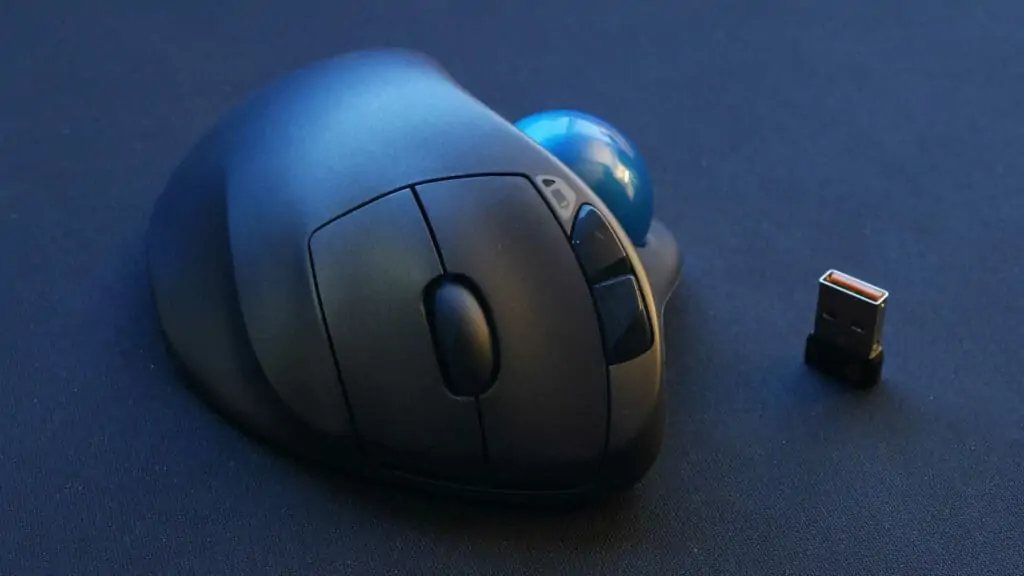 Debuting in 2010, the M570 is a community favorite and a long-time staple on desks everywhere.
While it might not the be the prettiest peripheral, its shape and size, familiar feel, and long battery life lend to its longevity in the market.
Let's take a closer look at why this trackball is so popular.
In The Box
M570 Mouse
Logitech Unifying Receiver – this tiny 2.4ghz USB receiver connects your device with a strong and fast connection, and allows you to pair up to 6 devices with a single receiver. It stows away on the bottom of the mouse for added convenience.
AA Battery – a single AA battery delivers power for up to a whopping 18 months of battery life!
User Documentation + Warranty Info – a quick-start user guide in multiple languages. Logitech also provides a limited 3-year warranty.
Build Quality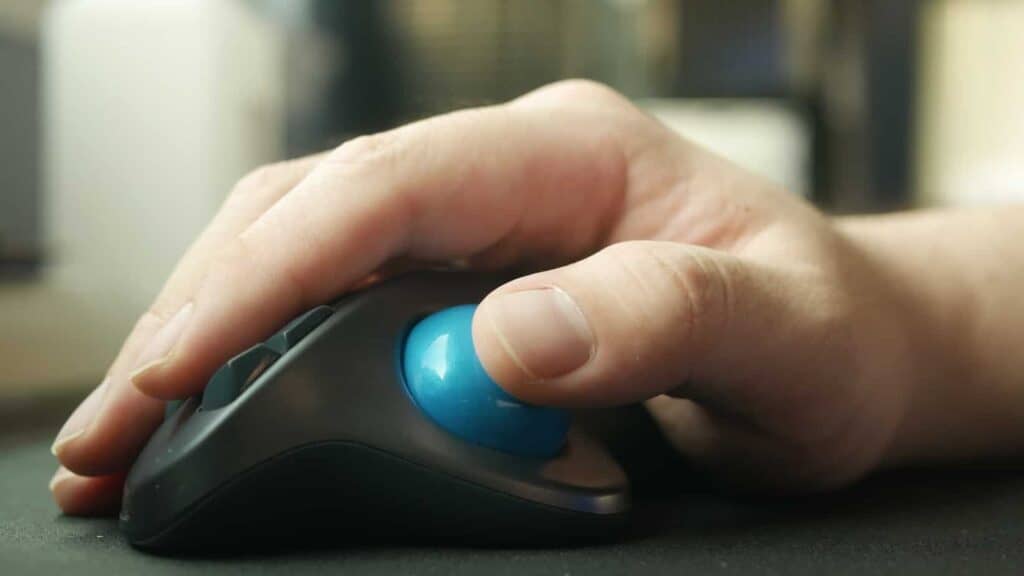 The build quality, while nothing too impressive, is very sturdy and well-assembled.
I have been using my personal M570 for over 6 years, with no issues whatsoever.
The design is sturdy but not overly heavy, weighing in at 114 grams without batteries, and 138 grams with a single AA alkaline battery.
This makes it solid enough to not move around the desk or desk mat while using it, but still light enough to be somewhat portable.
Coming in a full plastic build, the mouse doesn't creak or flex during use and doesn't feel cheap.
The trackball itself is also plastic and only about 1.25″ in diameter, but feels fairly appropriately weighted.
It accounts for roughly one-fifth of the overall weight, weighing in at 26 grams or just under one ounce.
On the top of the trackball are your standard two buttons with scroll wheel, two function buttons that are used for web browser navigation by default, and a small battery life indicator that will shine green when turned on, and red when your battery is running low.
On the bottom of the trackball are a power switch, battery compartment, USB receiver slot, 3 anti slip pads, and a hole that you can use to pop the trackball out for cleaning.
Under the trackball are the sensor and three plastic bearings that allow the trackball to glide and rotate. They aren't the smoothest, but are reliable and long-lasting.
The bearings can always be modded or swapped out later on (at cost of your warranty, of course).
Since the the trackball physically glides over these bearings, they can accumulate a lot of grime or crust that you may have to clean off with a q-tip.
Make sure to remove the ball and clean the bearings regularly if you notice the movement becoming less smooth.
A lot of the gunk will be from dust in the air, debris that may find its way through the cracks, and oils on your hands that find its way onto the ball.
Remember to wash your ball, too.
A clean, smooth ball is a happy ball, after all.
Style
The M570 isn't really going to win any style awards, but this mouse is less about flash, and more about form following function.
The colorway is actually quite nice.
The mouse itself is finished in a matte gunmetal grey, and the trackball is a deep blue that plays off of the cool-grey contours.
When it comes to design, the silhouette is actually quite sophisticated. It can be described with minimal curves, but is thoughtfully sculpted and shaped around the curvature of your hand.
It is neither over-designed nor over-thought. Everything has a purpose, from the ridges that support your fingers to the dorsal fin that houses the trackball.
The curves are softer and not too extreme, allowing it to feel comfortable for smaller and larger hands alike. Unlike some other ergonomic mice, the M570 won't cause your hand to cramp up.
It is not an over-pronounced design, discerning itself from the rest of your peripherals while not necessarily drawing too much attention to itself.
You may have a harder time matching this with your setup for that reason, unless you see it more as an accent piece.
Comfort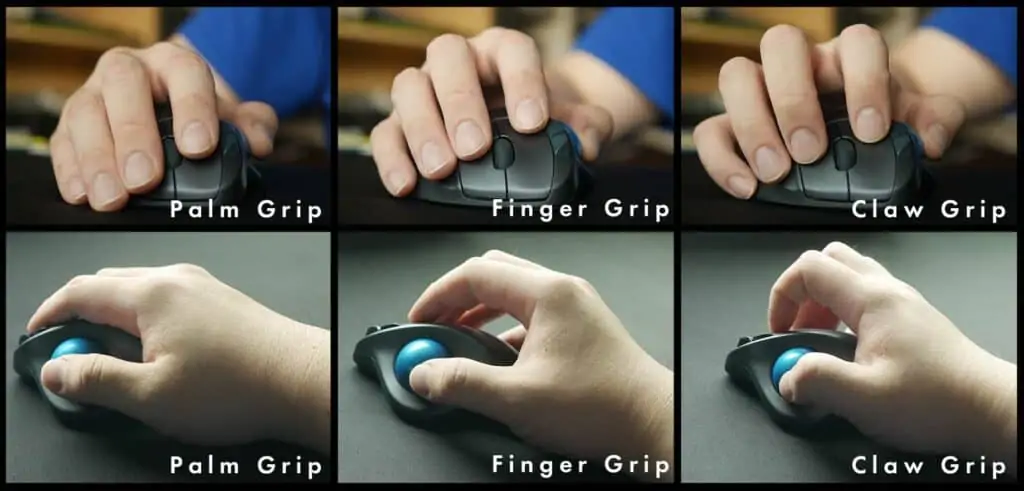 Comfort will depend on the hand of the holder, but this should prove to be an extremely comfortable and intuitively designed option.
The shape and contours promote palm-grip, and indeed it can be held comfortably in the palm of your hand very comfortably for long periods of time.
You don't have you force your hand to conform to the shape of the mouse.
You can just plop your hand down on the mouse, and somehow, it just fits.
Another great feature that adds to the comfort of this mouse is inherent in the design.
The buttons are arranged in a traditional manner, with a scroll wheel between the right and left clicks.
Since the mouse is also the same relative size and shape as an ergonomic gaming mouse, you not only able to palm-grip, but use claw-grip and fingertip-grip as well.
Any position that you are used to one your current mouse, you can also use comfortably on the M570.
You might even be able to game on it.
Ergonomics
Ergonomics are all about long-term, sustainable comfort and injury prevention, and it's where the side-mounted trackball shines.
By being a thumb-driven trackball, the design is meant to be used comfortably and specifically in your right or left hand.
The trackball itself is just the right size.
Large enough for bigger hands and thumbs to use, but not so big that a smaller thumb needs to stretch or strain itself.
The size and spacing around the ball allow for a very comfortable and natural range of motion for hands and thumbs of all sizes.
The buttons are easy to click, but not light in tactile feedback. The scroll wheel and navigation buttons are easy to reach with your index finger, and placement feels very natural.
Unlike many top-mounted trackballs, you do not need to conform your hand and finger gestures to reach all of the buttons. Placement feels very organic and intuitive.
The ridges that are sculpted into the side of the mouse guide your fingers into natural positions and the mouse is extra wide, supporting even the largest of hands.
The curved shape allows your hand to rest an an angle, rather than pronated and completely parallel to the desk.
You want to keep all of your joints in natural positions in order to avoid Repetitive Strain Injuries that will cause you pain and keep you from working, gaming, and enjoying time at your computer.
A trackball like this can be a great way to help.
While the M570 does provide a more natural angle, adjustable angles may improve the ergonomics. You can achieve something similar by using a foam wedge or doorstops to adjust the angle yourself.
Connectivity
The M570 is a wireless trackball, using a 2.4ghz wireless USB receiver and powered by a single AA battery. The 2.4ghz is very reliable, with a strong connection and very minimal, imperceptible latency. It is rare to experience lag, latency, and jittery cursor movement.
There are some factors that could affect your connection quality, like direct line of sight, objects in the way, too many signals on the same frequency, and even using storage devices in adjacent USB 3.0 ports.
If you want to ensure a strong signal, then use the closest and most direct USB port, and even consider using a USB extension cable if your tower is further away.
Software
Logitech Setpoint Mouse and Keyboard Software is a relatively light and simple application that is actually optional for the Logitech M570.
Setpoint allows you to customize button layout, assign functions, and adjust pointer speed.
You can also set orientation of the mouse and change directionality of your inputs, which could be useful but also quite confusing.
The Logitech M570 only comes with 5 buttons (2 clicks, scroll wheel, and index-finger navigation buttons), which Windows supports by default.
If the M570 had more buttons or a scroll wheel that had horizontal scrolling as well, Setpoint would be more of a necessity.
If you do need to set a custom layout or set alternate functions, it can help add increased functionality to an already outstanding mouse.
Along Setpoint is Logitech Unifying Software, which allows you to connect up to 6 wireless Logitech devices to a single 2.4ghz wireless receiver.
If you use other Logitech wireless mice, like the MX Master series, this helps you use the same mouse across multiple devices, or multiple devices on the same computer, increasing productivity.
It also means if you lose the receiver, you can just buy a new one and re-pair the connection.
Conclusion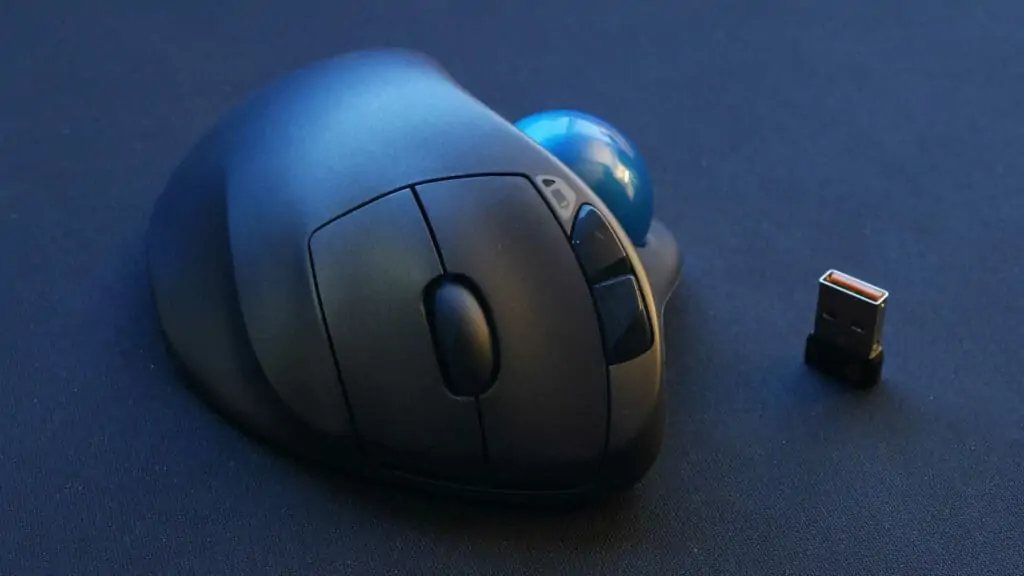 The M570 has proven to be one of the best choices for thumb-operated, side-mount trackballs.
It boasts well-designed ergonomics, a simple-yet-sophisticated style, and solid set of features that has led to it being a part of many setups around the world for over a decade.
With its comfortable shape, intuitive feel, and affordable price, it may be worthy of being your new right-hand man.
Will it find its way onto your desk?
Get it on Amazon for a great price.