If you're looking at trackballs, you might notice that there are more than few options.
Side-mounted, top-mounted, ambidextrous, ergonomic, big ball, small ball, premium, basic…with so many flavors, how do you choose what's right for you?
I've been using trackballs for over a decade as my primary work-mouse, and even occasionally for gaming.
After trying so many trackballs, I hope that this guide will help you find one that will find a lasting place on your desk.
How Much Should You Pay For A Trackball?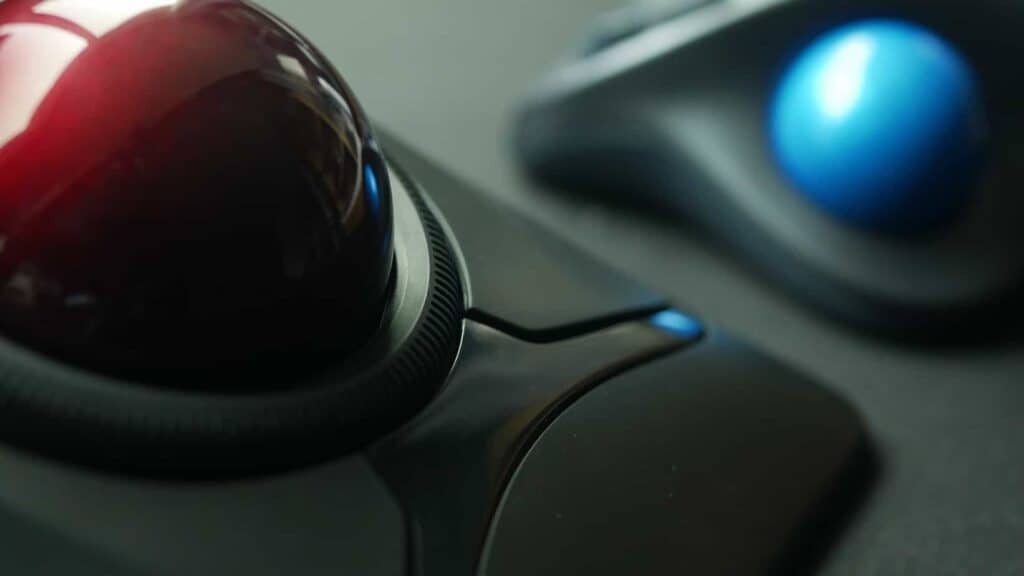 You don't have to pay a lot for a trackball at all.
Just like with gaming mice, trackballs can be quite affordable, but a few models can also be fairly expensive.
Many excellent basic trackballs can be had for between $30 and $50, including the fan favorites Logitech M570 and Kensington Orbit with Scroll Ring.
Thankfully, trackballs tend to be much more affordable than gaming mice.
Trackballs are not meant for competitive performance, and don't require the same high-sensitivity sensors, weight-reducing design, or fancy RGB.
This means you can get a great trackball for a more reasonable price than a premium gaming or productivity mouse.
Even the more premium options can be had for under $100, with a little room to spare as well.
What Are You Paying For?
Trackballs in general, and especially the ones mentioned in this guide are all excellent value when price-to-performance ratio is concerned.
In the case of the M570 (a trackball that will constantly be referenced), you get a strong 2.4ghz wireless connection, a ridiculously long battery life, programmable buttons, 3-year warranty and an ergonomic design.
Trackballs are about solving problems, so they are also well-designed to prevent and solve problems that are evident in regular mice.
These issues include placement freedom, ergonomics, accessibility and RSI prevention.
When you pay more for a premium trackball, you are getting improved build quality, smoothness, added comfort (like integrated wrist-rests), and customization in the form of adjustable angles and functionality-buttons.
Does Trackball Position Matter?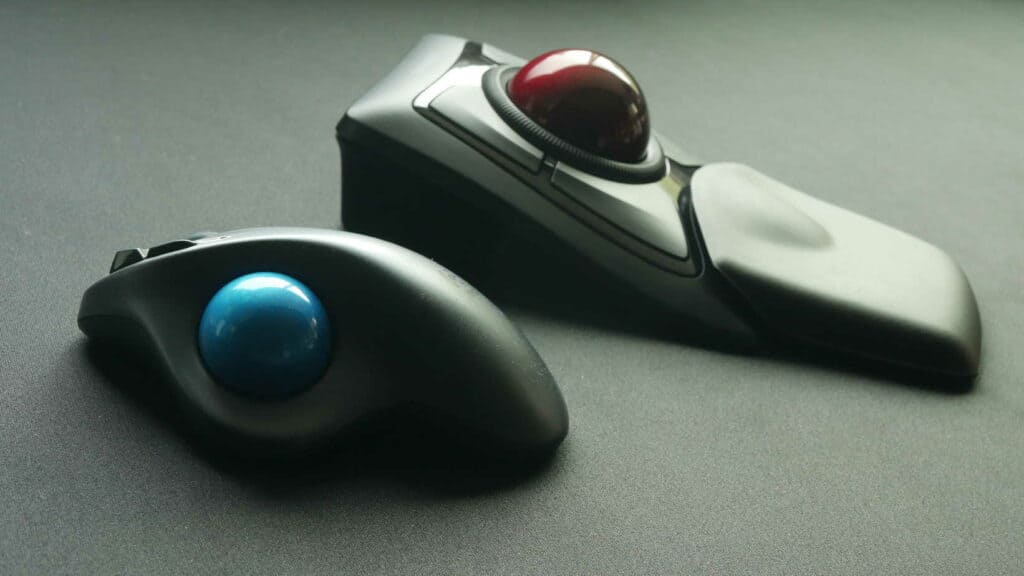 Trackball position matters depending on how you want to control the cursor.
Side-mount Is best for thumbs.
If you choose to use your thumb, your best choice is to get a side-mounted trackball meant for your thumb.
"Thumb-balls", as we call them, are ergonomically shaped and thus more ideal for long-term one-handed use.
Side-mounts typically also have a more traditional layout of buttons, so you may feel more familiar with a thumb-ball than a top-mount trackball.
You may find it difficult at first to get used to a thumb-ball, especially if you have smaller hands, due to limited range of motion.
Top-mount is best for everything else.
You should choose a top-mounted ball if you would prefer to use your fingers or other methods to control the trackball.
Finger-balls come in both ambidextrous and ergonomic shapes, so you aren't locked down to one style, and won't have to sacrifice comfort.
Top-mounts may feel more intuitive to you if you are familiar with using trackpads, joysticks, and touch-screen devices.
If you don't have the dexterity required to grasp or control a regular mouse, a top-mounted trackball could also be a great option for you.
For more info on thumb vs finger trackballs, check out this article.
Does Trackball Size Matter?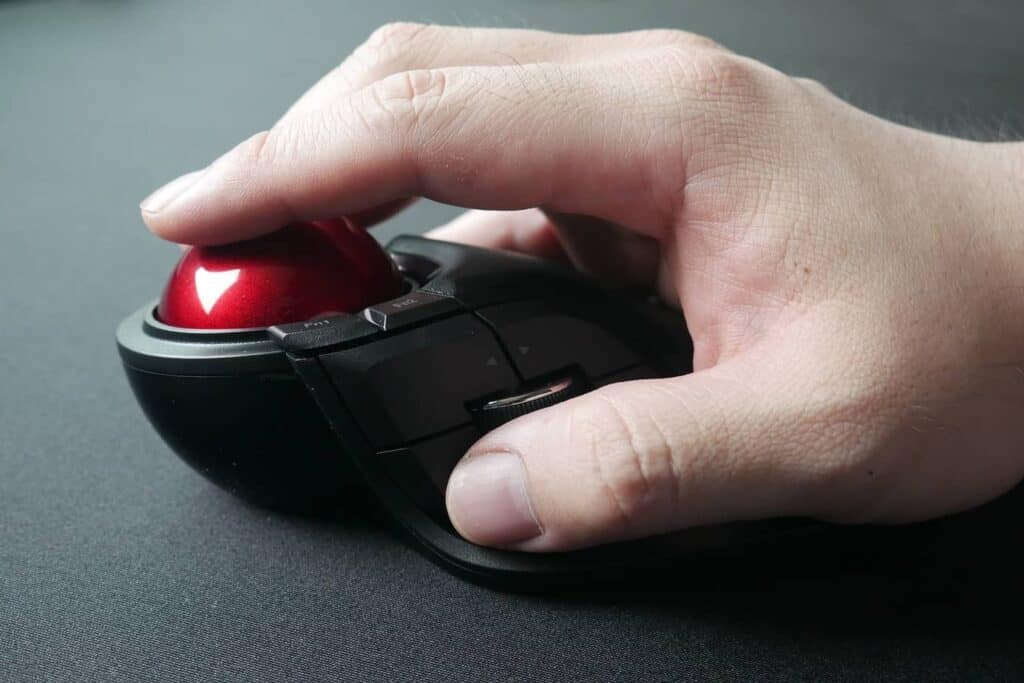 Size does matter. This is undeniable.
Larger diameter trackballs mean a greater range of motion required to rotate the globe and move the cursor, but also means more precision and control over a thumb-ball.
Bigger mean more control for you because greater surface area and diameter allows you to make movements less suddenly.
A smaller ball is typically meant for use with thumbs, but some top-mount one-finger trackballs also use smaller sizes.
Your thumb will have better control over a small trackball because your thumb has greater range of motion and strength than your index finger.
Smaller balls have less surface area, and thus a smaller movement warrants a greater change in position.
Ergonomic vs Ambidextrous
Just like with a regular mouse, you have options in terms of the trackball's overall shape and design.
Ergonomic and Ambidextrous designs each have their benefits and disadvantages, and define comfort in different ways.
Ergonomic Trackballs are for comfort
Ergonomic trackballs tend to be much better at giving you natural hand positions and maximize the usage of your digits.
With a more traditional button layout and ergonomic design, you are still able to choose your grip style as you would a normal mouse. Palm grip is still preferred, though.
By reducing your angle of pronation, and bringing your hand position closer to normal, ergonomic trackballs look to reduce wrist pain and the dangers of RSI and long-term computer use.
Ambidextrous Trackballs are for convenience
Ambidextrous, symmetrical trackballs are ideal for convenience and increased accessibility.
You have a few choices when controlling a top-mounted symmetrical trackball:
Palm down, wrist planted. Controlling the trackball with fingers and wrist motions.
Palm up, wrist hovering. Using your whole arm to control the trackball for a greater range of motion
Freestyle. If neither of the above methods works for you, for physical or ergonomic reasons, you can use a top-mount trackball any way you see fit.
No hands? no problem. Want to use your feet? Just make sure to clean the trackball when you're done.
Wired vs Wireless Trackballs: How To Choose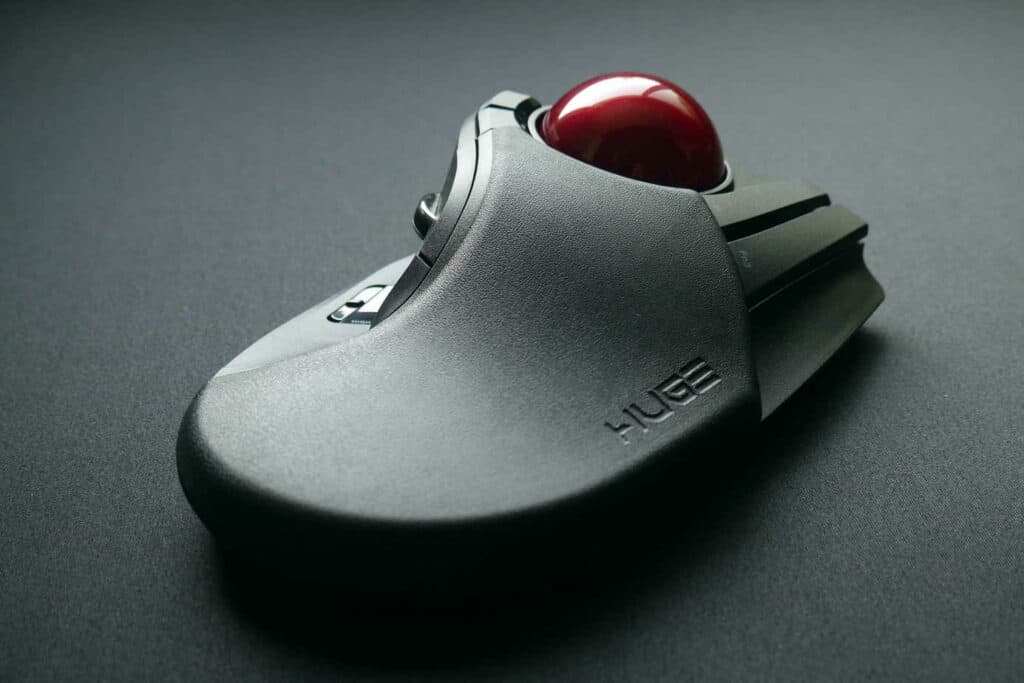 Wireless connectivity, and more importantly fast wireless, is usually a premium feature at a premium cost in gaming mice. This is not the case with trackballs.
From cheaper trackballs to more expensive options, you have wired and wireless options at every price point.
Wired Trackballs
Wired trackballs offer the most reliability.
You won't have to worry about the battery running out having other signals interfere with your usage when you are always connected directly.
Wired trackballs also tend to be slightly cheaper when there are multiple options available.
Of course as with all wired peripherals, you are more limited in your placement and reach, being tethered to your device.
You also have to deal with more cable management. You can always find a way to hide or personalize your cables though.
Wireless Trackballs
Wireless Trackballs give you freedom in placement, and a cleaner aesthetic.
2.4ghz wireless is common on trackballs. You don't have to settle for a slow, latent Bluetooth connection.
While Bluetooth is of course an acceptable option, the Big 3 tend to roll with fast 2.4ghz connections.
You get a compact USB receiver that often docks on the bottom of the trackball for convenience.
In the case of Logitech's Unifying receiver, you can also pair up to 6 devices with a single receiver.
A few premium trackball models even offer dual-mode wireless, and some like the Elecom Deft Pro offer all 3 options in one device, so you never have to choose or worry about running out of power.
Finding The Right Fit For Your Hands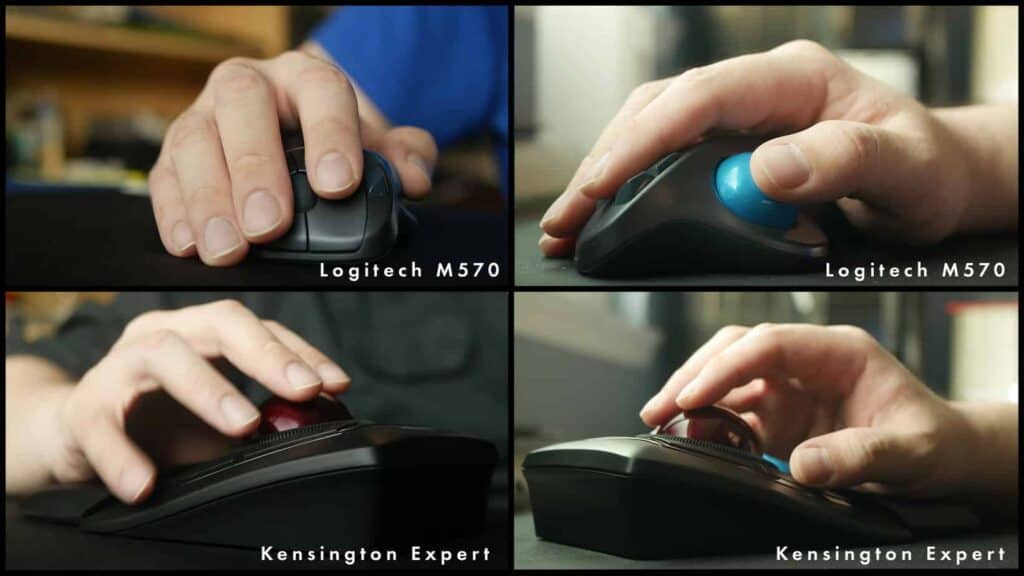 Trackballs are not always "one-size-fits-all".
If your hand is on the smaller or larger end of the spectrum, you may find that some trackballs require too much range of motion or awkward ergonomics. It is important to consider your hand size when looking at a trackball's design.
Smaller hands should consider placement and size.
For smaller hands, you will have to consider ball size and placement.
Thumb-balls are designed to work with one hand, are shaped for "average" sized hands.
Depending on a trackballs' shape, you may find it fatiguing and tiresome to operate thumbballs.
Ergonomic fingerballs and top-mounted trackballs may be a better choice for you as they allow for greater range of motion and usage options.
Larger hands may need more space.
You know it means when you have large hands? Large trackballs.
Larger hands may simply find that some trackballs are still too small to use.
Some thumb-balls may offer too little range of motion, or that the size and shape is too restricting.
Some hands may even overshoot intended buttons, forcing you to be more mindful of your dexterity.
Are wider options better?
Wider is better for not only big hands, but small hands too.
You may see that some of these trackballs are quite wide, especially the ergonomic designs.
The wide shape is so that your entire hand, and every finger, can be supported.
Your hand will not be moving the sensor, so you are also not required to grip a trackball like you would a traditional mouse.
If your hand will be resting in a certain shape for extended periods of time, it should be supported in a natural curved position.
Support is especially important for larger hands, as smaller mice may cause your hand to cramp or hold unnatural, uncomfortable positions that may lead to strain or injury in the future.
Do you need adjustable tilt?
Premium trackballs that are focused on ergonomics may include a way to customize and set the trackball's angle and tilt.
This is so you can have a more natural, more comfortable, more safe position.
Pronating, or having your palm face down, is an issue that leads to RSI and Carpal Tunnel.
Being able to go vertical sometimes can help your longevity, but not all trackballs give you the option.
You don't necessarily have to spend a lot on this ergonomic feature, though.
Trackballs are stationary by default, so ballers everywhere have found affordable ways around this.
Trackball users hacks for this include cutting your own foam wedges, using doorstops, and even 3-D printing for DIY angle adjustments.
Ball-bearing material matters.
So far we have been talking about the big balls. What about the little balls? Those are important too!
The material that your ball bearings are made of are a huge factor when it comes to smoothness and friction-free flow.
Some bearings roll, and some do not. Some stop rolling from getting dirty and gunked up.
While some trackballs have bearings that make the trackball feel weightless and easy, others may cause the trackball to feel rough and difficult to move.
The good news is, you don't have to live with the ball-bearings you were given. You can choose to modify them, or change them out entirely.
Who Makes The Best Trackball?
While there may be several trackball brands under the sun, Logitech, Kensington, and Elecom are your current "Big 3".
Logitech Is Best For Thumb-Balls.
Logitech leads the way with the ergonomic thumb-ball. Choose Logitech if you want to use your thumbs.
For over 10 years Logitech's M570 design has been the archetype for the wireless thumb-operated side-mount trackball. Logitech bring new features to the lineup in the adjustable M575 and MX Ergo trackballs.
Kensington Is Best For Top-Mount.
Kensington is king of the top-mount. Like Logitech, Kensington has set the bar for its category and excels at ambidextrous finger-operated trackballs.
Kensington trackballs are large but extremely smooth. The bearings make even the larger trackballs feel as light as a feather.
The bearings exhibit very little friction and Kensington trackballs come in a variety of shapes and sizes.
Elecom Is A Great Function-Driven Choice
Elecom is a good choice for functional, ergonomic trackballs (especially for large hands).
Ergonomic trackballs like the Deft and Huge trackballs offer alternative layouts with 8 programmable buttons. Every finger has something to do, and some fingers even multitask.
Elecom even offers tiny thumb-operated trackballs that sit over your finger like a ring.
Elecom uses "synthetic ruby" for its bearings. They could be smoother, but can always be modified.
Elecom's track record isn't as solid as Logitech or Kensington, but offer options that neither has.
---
Trackball Recommendations
Here's a quick roundup of our top trackball recommendations.
We chose our top picks from a long list of contenders, so you wouldn't have to filter through them yourself.
Tried and tested, of course.
Logitech M570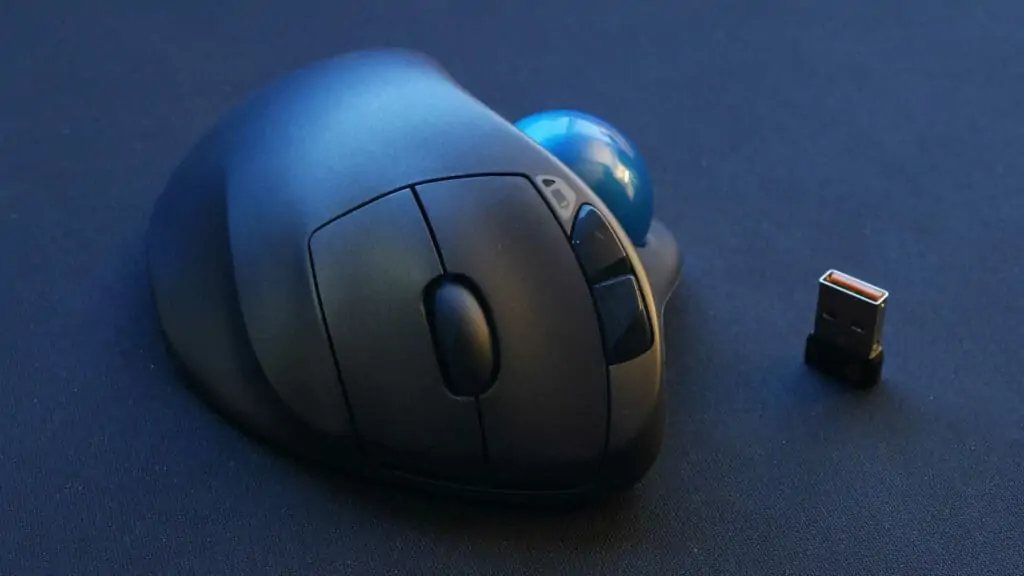 I will never stop recommending the Logitech M570, unless Logitech discontinues this exemplary mouse.
With a near-perfect ergonomic shape, programmable buttons, strong wireless, and long battery life, the M570 is the best value trackball on this list, and has been for over a decade.
Get it for a great price on Amazon.
Kensington Expert
The Expert is Kensington's flagship trackball, but is still more affordable than Logitech's premium offerings.
With 4 programmable buttons, large trackball with scroll-ring, and detachable plush wrist-rest, the Kensington Expert is a bold addition to any desk.
The design is professional and tasteful, and the shape is convenient for you to use in either hand.
The build quality is also sturdy and hefty, and won't shift around on your desk.
The Expert also comes in wired and dual-mode wireless versions, with the wireless version that sports a deep red trackball reminiscent of HAL 9000.
Make sure to check out the Kensington Expert on Amazon.
Elecom HUGE Trackball
The HUGE is Elecom's largest trackball, and is one of the most functional and productive on this list.
While considered one of the flagships (the true title going to the Elecom DEFT Pro), the HUGE trackball is still a fairly affordable mouse, with the wired version almost half the price of the premium Logitech and Kensington trackballs.
Well suited for multiple hand sizes, but especially larger hands, and provides a comfortable integrated memory-foam wrist-rest. Comes in both wired and 2.4ghz wireless varieties.
The HUGE one may take some getting used to, but is a very good option if it fits your hand.
Get the Elecom HUGE for a great price on Amazon.
Why You Should Trust Us
As a daily trackball user for well over a decade, and daily PC user for the past 25 years, I have tried many different models for purposes ranging from gaming and design to productivity and ergonomic solution.
Trackballs have helped me with improving strain, pain, and preventing further damage. After over three decades, I am still free from RSI and have not had any significant or notable long-term pain stemming from PC and peripheral use.
As a bigger and taller person, I have discovered just how important things like comfort, convenience, and considerate design are for every life. I have used design as a method to solve problems.
As a designer, I am motivated by problem solving and critical thinking to discover solutions to any issue which may present itself, including those which affect our daily lives.
As a tech enthusiast, reviewer, and nerd, I want to use all my knowledge and experience to help you make the best decision for your needs, for your health, and for your wallet.
Conclusion
Trackballs may not be for everyone, but many who choose a trackball never look back.
While using a ball to move rather than the mouse itself will take some getting used to, eventually the trackball feels just as natural and intuitive as a mouse, if not more.
Trackballs come in many shapes, sizes, and colors. With so many options, which do you choose? Thankfully, you are a person of culture.
No matter your choice, choosing a trackball means choosing comfort and a strong connection that will last and stand the test of time.
As with any relationship, a lasting bond requires the perfect fit, and hopefully this guide helps you find a match.
Thank you for reading, and we hope you find your match.