The 1stPlayer Lang MK8 is a budget-friendly mechanical keyboard with a wire selection of Gateron switches.
It's also hot-swappable in exactly 13 of their switches, which means you can swap out switches to your liking to match your gaming needs.
This article will cover whether this keyboard is worth it for the price, unboxing, all of the features and more.
The Verdict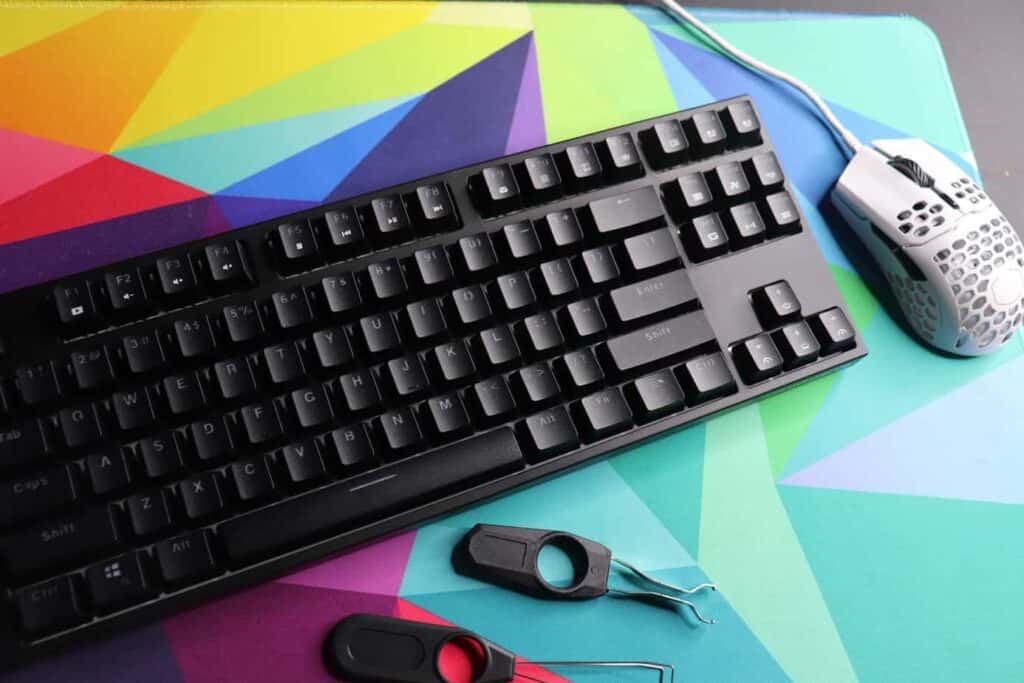 The 1stPlayer Lang MK8 is a tenkeyless compact mechanical gaming keyboard that is super budget-friendly and has some pretty cool features to go with it.
Although its price isn't listed in USD, this keyboard runs for a little bit under $50 after the conversions are done. Originally, it's priced at RM 189. You can check it out using the link here or the button down below.
The overall experience of this keyboard is super impressive, especially for the price.
The Gateron yellow switches are smooth and offer a nice resistance. The stabilizers are not rattly at all, especially in the spacebar. The board has bright and vibrant RGB with useful sublegends for the secondary functions.
Also, it has 13 hot-swappable sockets in the gaming keys, spacebar, left and right shift, enter, and backspace. Pretty cool.
If this board is available in your area, definitely check it out and give it a go.
---
In The Box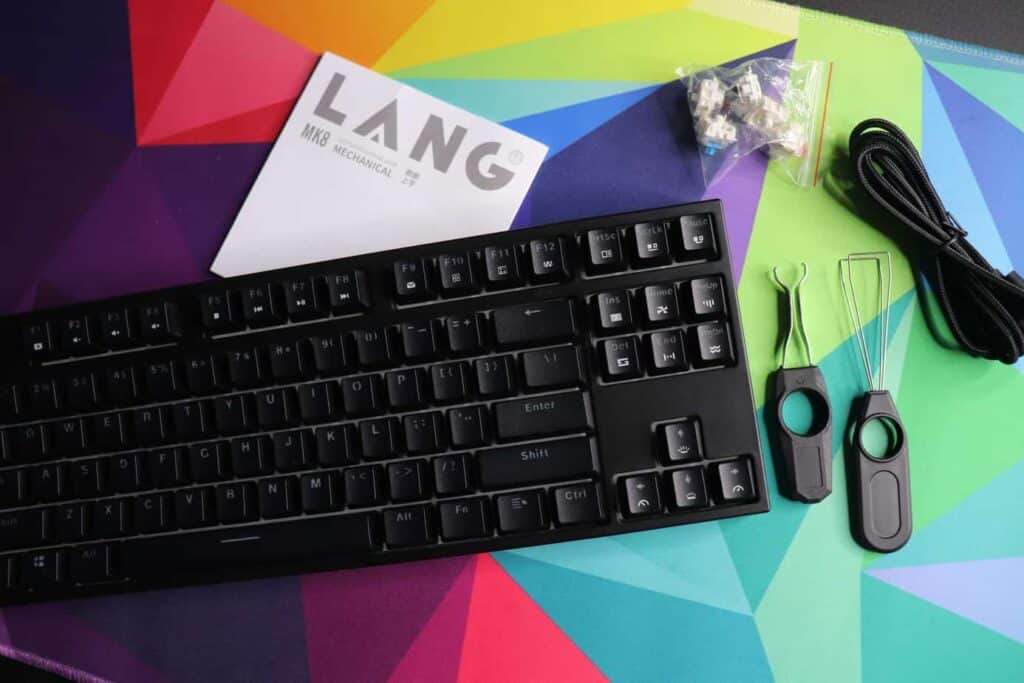 Surprisingly for the price, there are a lot of accessories in the box.
Manual – The manual doesn't tell you much. I spent a long time searching for which 13 keys were hot-swappable, but then realized that the sticker on the back of the board told you that.
Gateron switch sampler pack – An assortment of Gateron brown, blue, red, black, and yellow.
Wire keycap puller – Not much to say other than they won't scratch your keycaps.
Metal switch puller – This one has a nice handle to make the process easier on the hands.
Black braided USB-C cable – A nice cable despite it being a budget board. No kinks and seems to be very durable.
---
Build Quality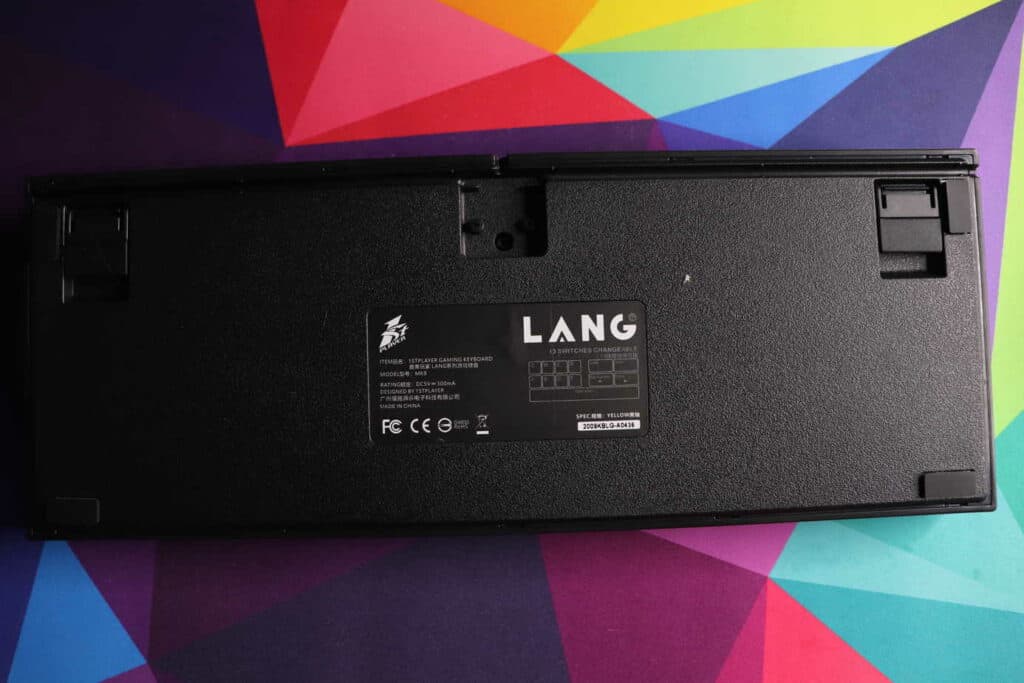 The 1stPlayer Lang MK8 is a well-built and sturdy board. Although there is nothing that screams aluminum about it, it doesn't flex under pressure.
There is slightly creaking since the plastic is getting twisted after all.
The entirety of the case is plastic with a metal mounting plate for the switches. The case resembles that of many other boards that we have reviewed such as the Epomaker EP84.
On the back, there are four rubber feet (six if you count the kickstands too), which prevent the board from sliding anywhere when in use.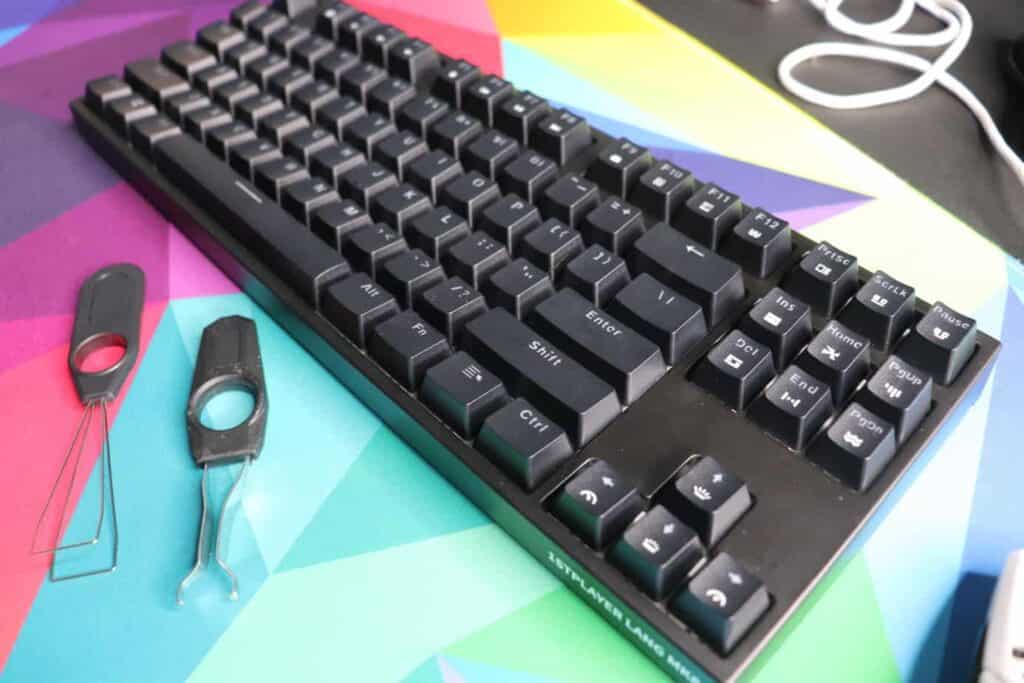 There are two kickstands that allow you to raise up the angle if you choose too. The keyboard already has a nice angle, so I've had no need to use those at all.
There is a routing channel for the cable to go up, left, or right so that you can route the cable whichever direction you choose.
On the front of the keyboard, there is a small branding that says "1stPlayer Lang MK8" so you know exactly what board you're using.
The Keycaps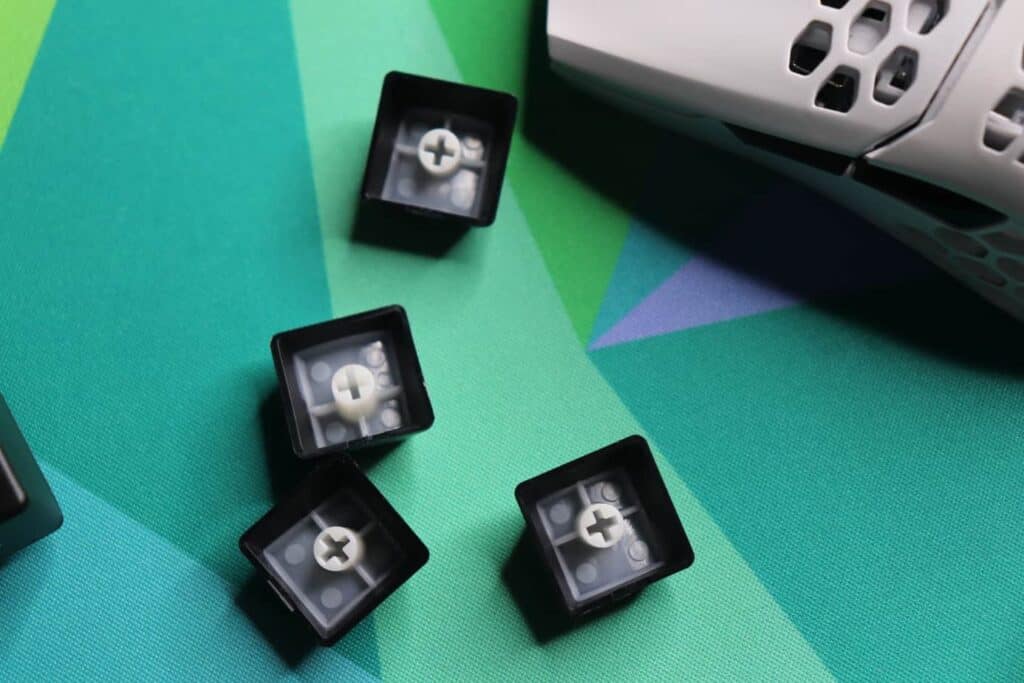 The keycaps on the 1stPlayer Lang MK8 are doubleshot with RGB shine-through. The material is not advertised, but they feel like PBT keycaps with their textured tops and oil-resistant feel.
The plastic is thick and is resistant to bending, especially the spacebar.
The legends are stenographic, which means there are separations in closed letters such as D and O. But that is common in budget keyboards.
There are sub-legends for the function row with secondary media functions as well as other functions to open up the internet, email, etc.
There are also sub-legends for the RGB effects, turning up and down brightness, slowing or speeding up the effect too.
The Lang MK8 doesn't have a floating keycap design, which makes it look clean. The RGB bounces off the backplate and appears to be extremely bright. There are 5 levels of brightness.
There is Windows Lock as well with FN and the Windows key, so you can game in peace without worrying about exiting your game window.
The Switches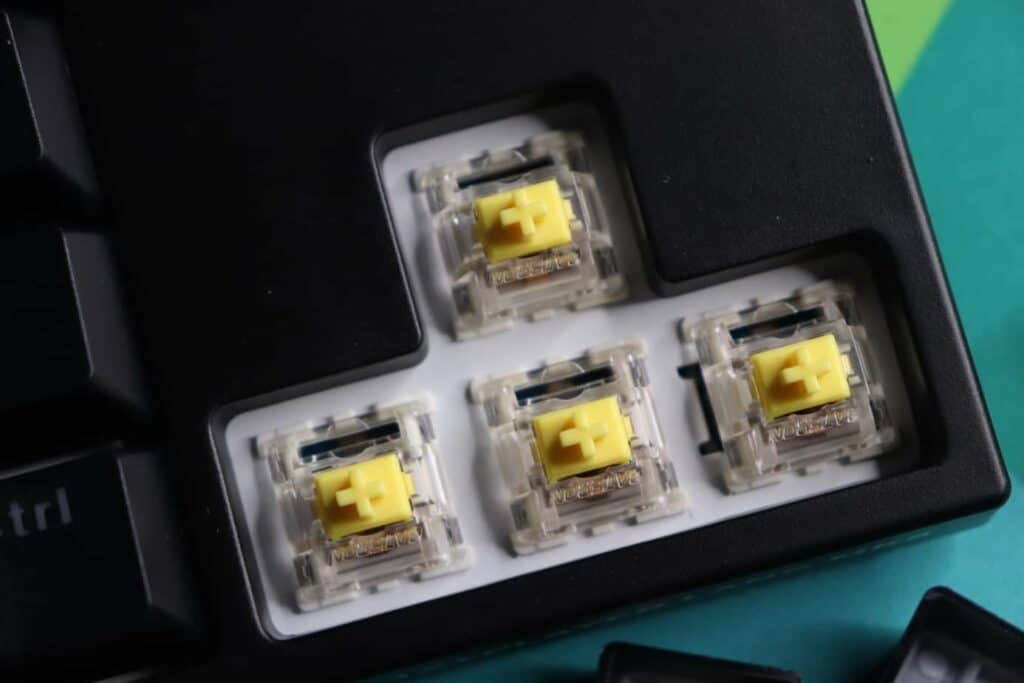 The switches that came with this model has Gateron Yellow switches. This is a rare feature, since usually we only see Gateron red, brown, and blue switches offered.
Gateron Yellows are considered to be one of the best linear switches on a budget by the mechanical keyboard enthusiast community
There are 13 hot-swappable sockets on the following keys: QWERASDF, spacebar, left shift, right shift, backspace, and enter.
These are perfect for gamers who use these keys often and want to experiment to determine what switch is right for them.
The hot-swappable sockets are 5-pin sockets, meaning you won't need to clip any plastic legs off when switching to new switches.
They are compatible with 3-pin and 5-pin switches, how convenient.
The Stabilizers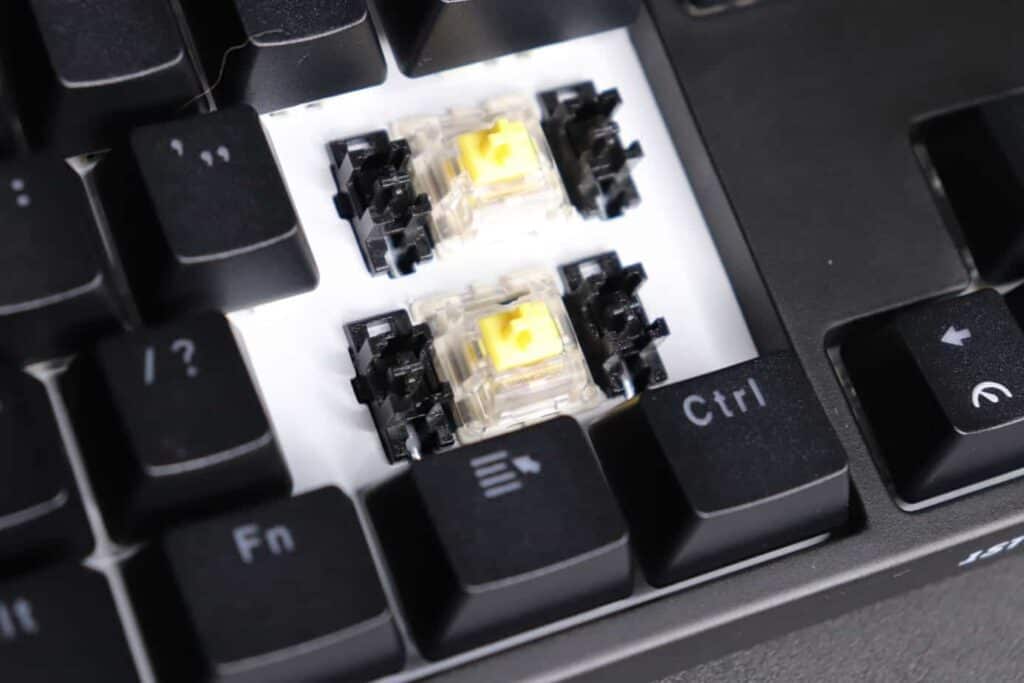 The stabilizers feel amazing for a board of this price.
They are black plate-mounted, Cherry-style stabilizers. Due to the hot-swappability of these keys as well, you can clip and mod them if you'd like. However, they don't need it.
The spacebar has no rattle or additional noise. A closer inspection shows that they are pre-lubed from the factory.
It seems more and more companies are paying attention to this, even the budget-friendly boards are getting lubed.
Any who, it sounds and feels wonderful on all of the stabilizers: left shift, right shift, backspace, enter, and spacebar.
The Gateron yellows combined with lubed stabilizers make this keyboard amazing to use.
The RGB Lighting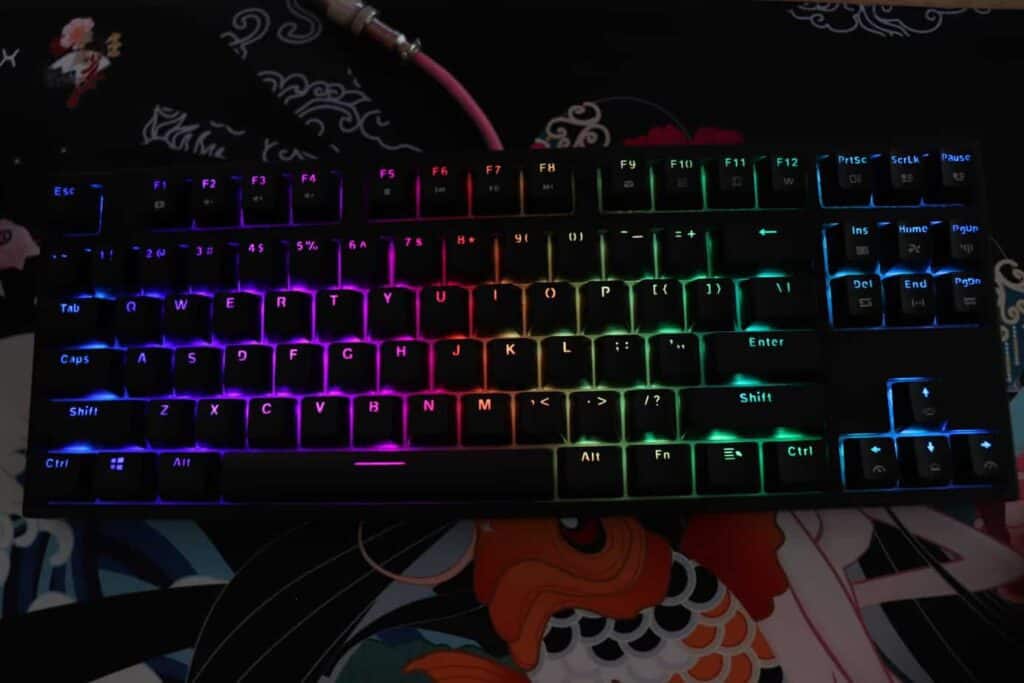 Alongside that, this keyboard comes with amazing RGB lights. Because of the doubleshot keycaps and the backplate, the lights appear bright and makes the keycaps easy to see in dim lighting.
There are a ton of preset effects that can be accessed by holding FN and any of the navigational keys.
Each key has a bunch of effects on it, so make sure you cycle through all of them to see which one is right for you.
You can speed up or slow down the effects as well using FN and left/right arrow.
Changing brightness is easy with FN and up/down arrow.
---
Conclusion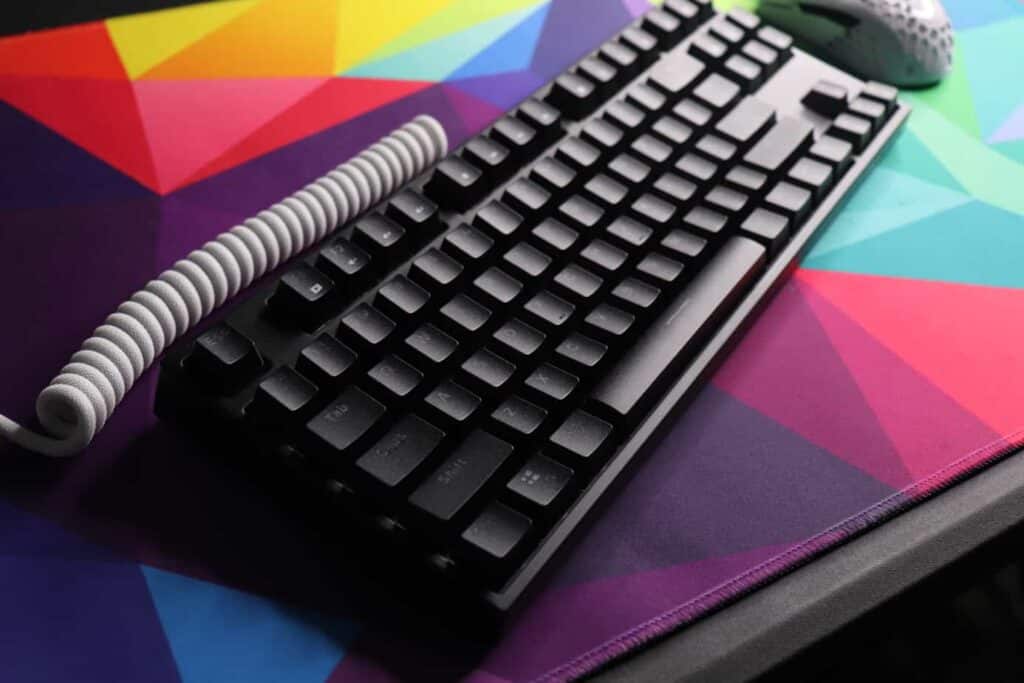 For a board of this price and this caliber, you definitely have to try it.
There are many marketing unknowns such as the keycap material, but they sure feel like doubleshot PBT plastic due to their textured tops and thickness.
The RGB lights look really good with a lot of effects to pick from. The Gateron yellow switch option is amazing and not offered by other mechanical keyboards.
The stabilizers are pre-lubed and sound wonderful with nothing to complain about.
Overall, if you're looking for a high-quality TKL mechanical keyboard, look no further. For this price, I high recommend it.