The Skyloong GK61 Pro keyboard is the first 60% keyboard with a knob on it without adding any additional bulk to the overall size of the keyboard. It is a budget-friendly keyboard that gives you the option to select different case styles, switch options, and connectivity as well.
Pictured below is the Skyloong GK61 Pro with the Blue Pink keycaps & ABS Black Case.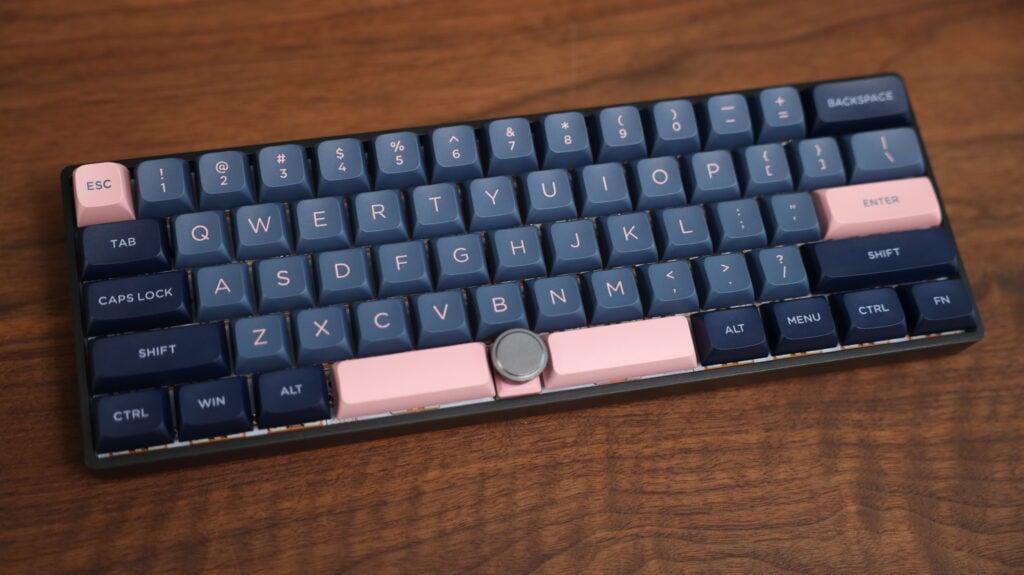 This article is sponsored by Skyloong. They did not review or edit it before publishing. These opinions are our own. Sponsors like them make it so we can host and write content on our website at no cost to you.
---
The Main Takeaways
At a first glance, the knob in the middle of the two mini spacebars may seem awkward and tough to reach. Upon using it, it actually is a very natural location for your thumb to rest while typing, so you can use the knob without lifting up your hand from its position already. You can use it with the left or right thumb, so you can use it even while gaming with just one hand.

Switch and Click, August 2023
General Usage: For general usage, it may be tough to get used to the 60% layout of the keyboard, especially if you use arrow keys or the function row in your every day lifestyle. Personally, it's very tough to not have arrow keys, even though they are accessible on a secondary layer. There is also software to reprogram your main layer to make certain functions more accessible. This keyboard would make for a great gaming keyboard with its small form factor and multi-functional knob.
Typing: Typing on this keyboard is nice and simple. The stabilizers are lubed fairly, and there's no ticking or rattling. Because the stabilizers are all small, the chances of getting a problem stabilizer is very low. There are two mini spacebars, but you can change one of them to act like another key such as backspace to improve your typing productivity. This way, you don't have to move your entire hand to press backspace when you make mistakes. The keycaps have a slight curve to them as well, and that may take some time to get used to.
Gaming: Because this keyboard is a 60% keyboard, it's very nice for gaming. The small form factor lets you move your mouse freely around your desk. This is mainly for FPS games. With games such as MOBAs or MMORPGs, the lack of function keys may actually hinder your gaming experience. In this case, a 75% keyboard or even a TKL may be better for you. While gaming, accessing the knob is easy. You can change your volume settings without having to leave you game and change tabs or go to settings.
Programming: Depending on how you program, a 60% keyboard is not usually recommended because of the lack of function keys, arrow keys, and the number pad. There are many limitations because you have a lot less keys. The GK61 Pro is completely programmable using the Skyloong software, so you can play around with that to make your life as a programmer easier for yourself.
SKYLOONG GK61 Pro
Use code switchandclick for 15% off
Check Price
As an Amazon affiliate, I earn a commission at no additional price to you.
---
In The Box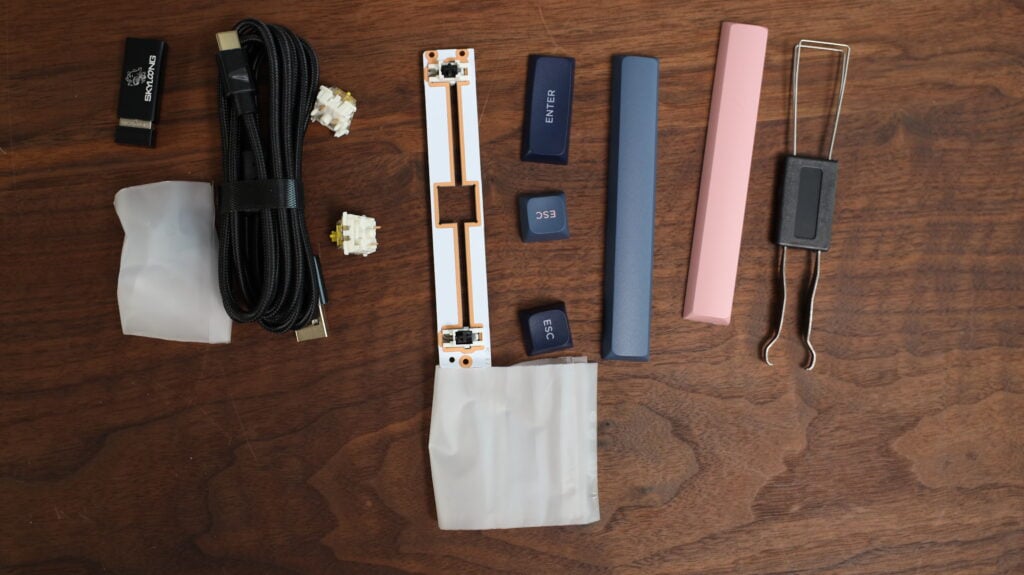 Parts In Box:
USB-C cable
Extra keycaps
Keycap and switch puller
Extra switches
2.4G dongle and adapter
Full spacebar insert
Felt carrying case (for the metal case version)
This keyboard comes with a lot of accessories. If you do not want to use the mini spacebars and knob configuration, you can change it out for the full spacebar insert instead. All you need to do is unscrew the current piece and screw on the new one.
The metal case version comes with a felt carrying case, where the ABS case version does not. It will protect your keyboard for any traveling, but it also doesn't have a convenient carrying handle either.
The switches that come with it will depend on the switches that you choose at checkout.
---
Build Quality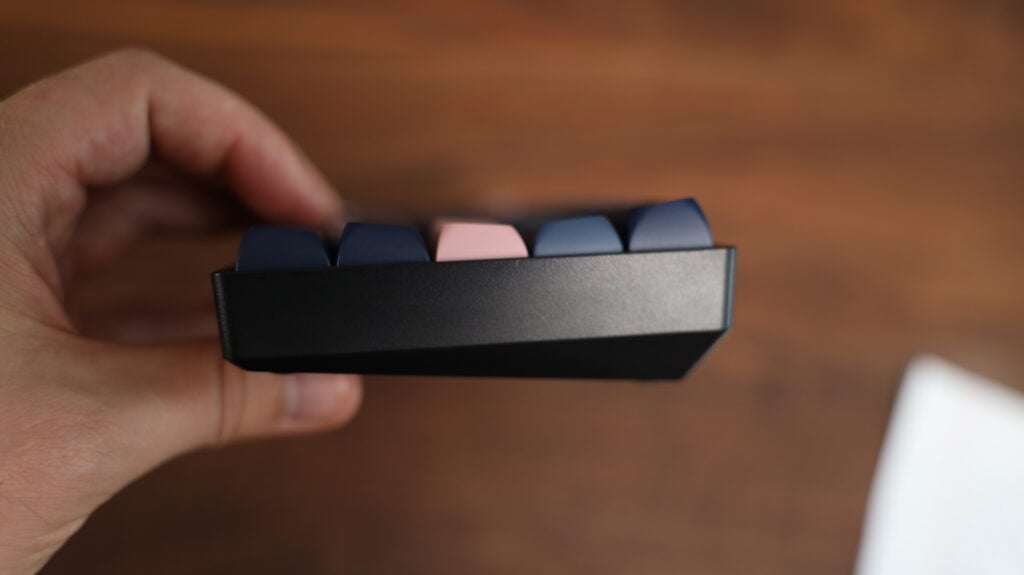 Material: ABS Case or Aluminum Case (costs more)
Flex: Barely any
Typing Angle: Fixed
Kickstands: None
Power Cable: Braided cable
The build quality on the metal version is extremely sturdy. The case is heavy and made of aluminum. The ABS case is similar to other GK61 cases that you may have encountered before. It's made entirely of plastic and doesn't have any kick up feet on the back either.
The plastic version still has some heft to it because of the included foams inside the case.
Layout and Size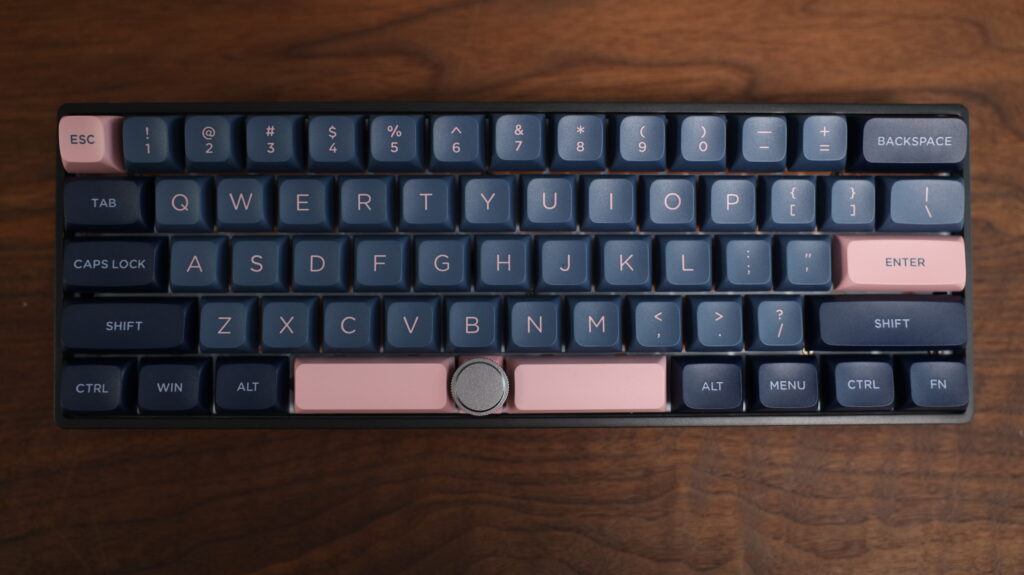 Layout: 60%
Length: 11.5in
Width: 4.02in
Thickness: 1.57in
Weight: 1.18lbs (depends on the version)
The GK61 Pro is a 60% layout with some additional keys for the spacebar module and the knob too.
A typical 60% keyboard has 61 keys. However, this one has 62 keys + a knob.
The knob is in a fairly easy to access place that's comfortable to use with either hand. Sometimes, I'll hit it while typing, but it doesn't mess with my workflow. There's also the option to replace the current spacebar module with a normal full spacebar too.
Because it's a 60% keyboard with standardized screws, you can take the PCB module and transfer it into another 60% case that's also standardized.
The Keycaps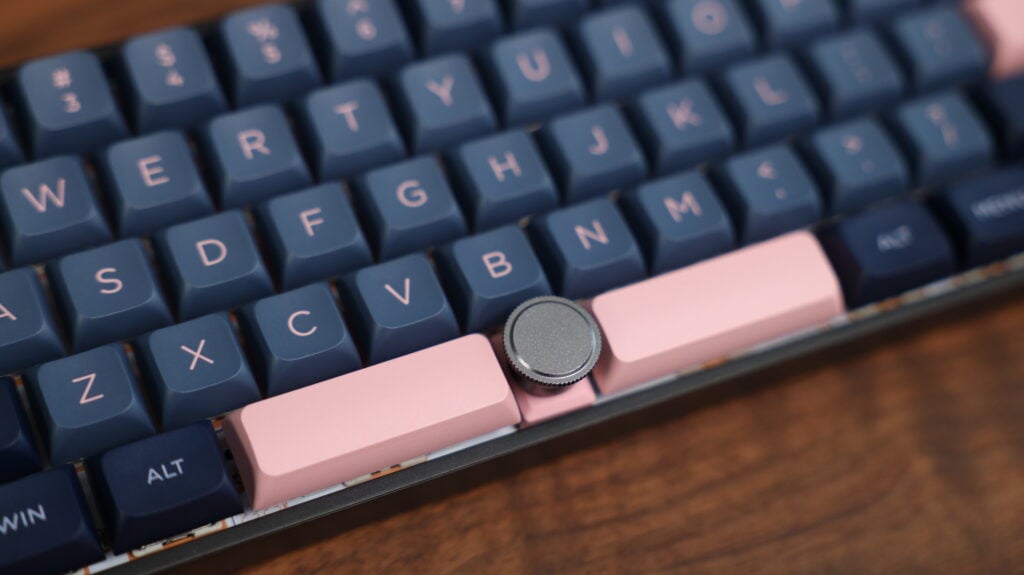 Keycap Material: PBT
Profile: Sculpted and rounded
Legends: Doubleshot
Standard Bottom Row: Yes
Aftermarket Keycaps: Yes, but look for a spacebars kit as well if you plan on using the small spacebars.
The keycaps are an unknown profile to me. While browsing the keycaps on their website, this keycap set with a GK5 profile seems like it would be the same keycaps.
I've never used GK5 profile before, it it is sculpted from row to row. It feels taller than Cherry profile as well.
The Switches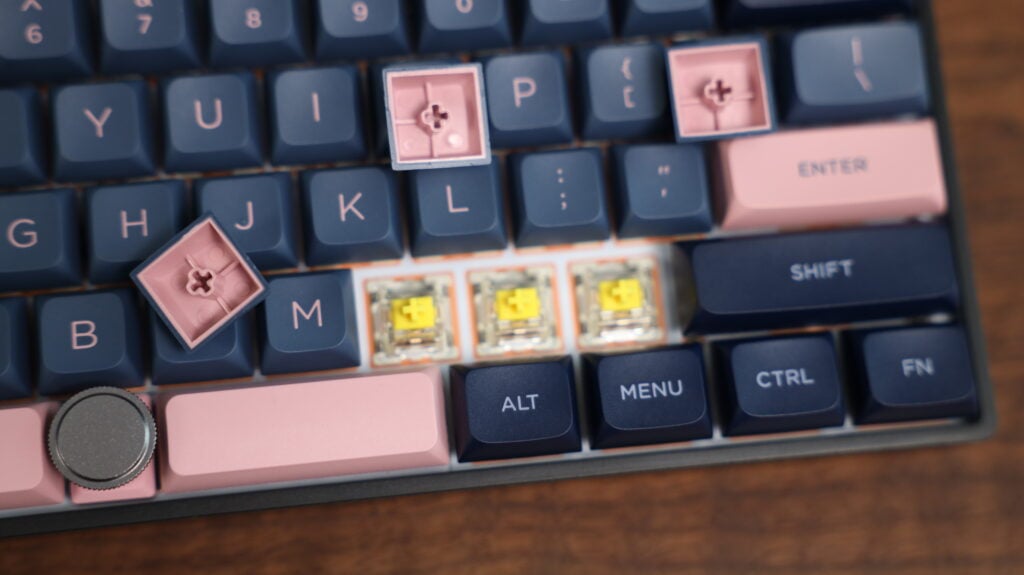 Type: Gateron Pro
Options: Yellow, Brown, and Red
Hot-Swappable: Yes
Lifespan: At least 50 million keypresses
You get to choose from 3 different types of pre-lubed Gateron Pro switches. There is no clicky option, so you will have to purchase and install those separately if you want to use clicky switches.
Inside the case you also get more silicone sound dampening layers, which adds to the nice thock of the keyboard.
It has a gasket-mount, but when typing on it, it doesn't feel much softer.
Stabilizers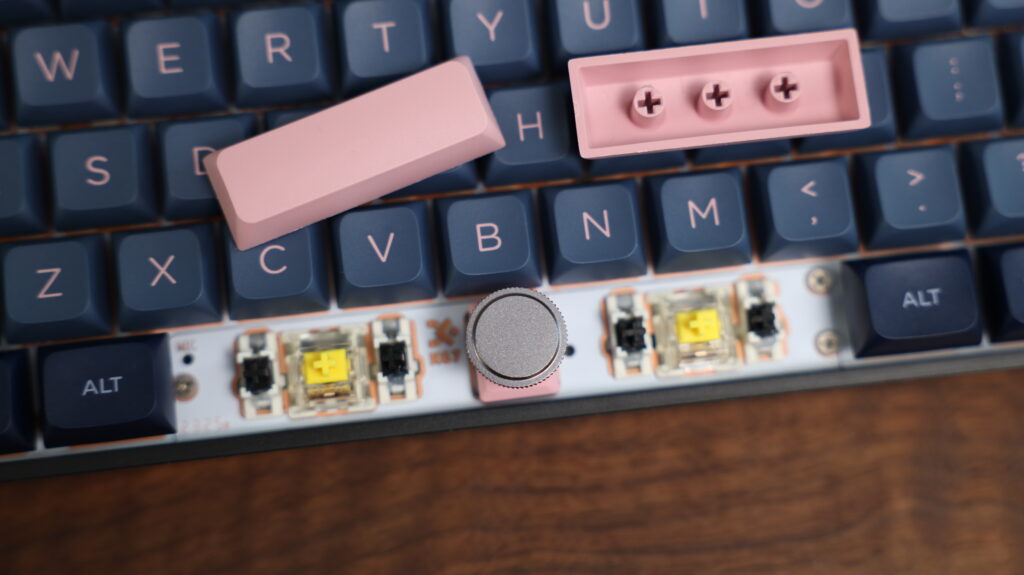 Type: Plate-mounted
Color: White housing with black stems
Unlubed/Lubed: Lubed
The stabilizers are all lubed adequately to not have any rattle or ticking. There are 6 stabilizers in total and then another one for the full sized spacebar as well.
The RGB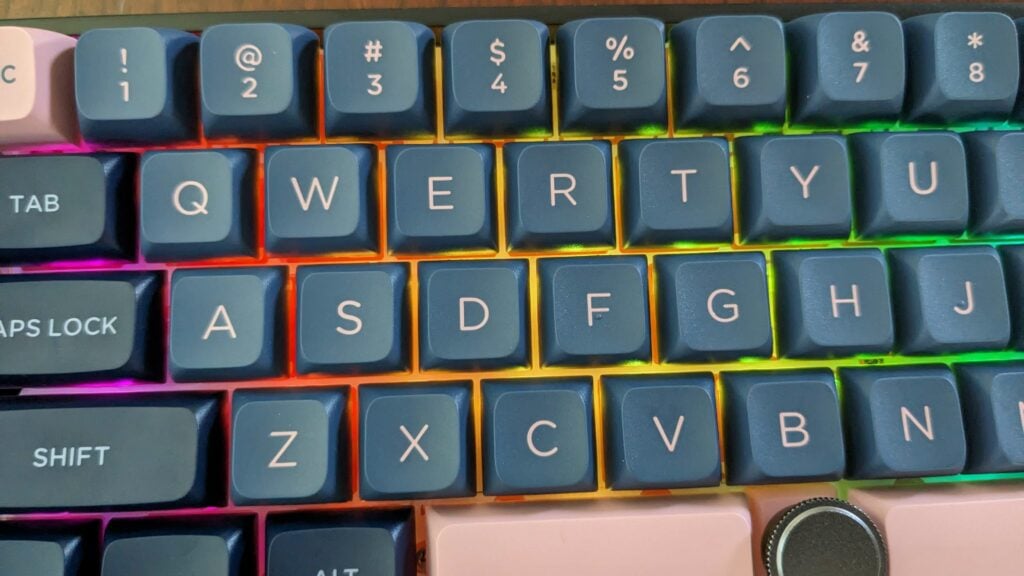 Color: 16.8M RGB
Per-Key: Yes
Underglow: No
LED Location: North-facing
Change Lighting Effects: FN+ left bracket or right bracket
Change Brightness: FN + comma or period
The RGB on this keyboard looks spectacular on top of the white plate. It bounces up nicely in between the keycaps even though they aren't shine-through keycaps.
The only downside would be using your keyboard at night, since you won't be able to see which keys you're pressing in the dark.
The Software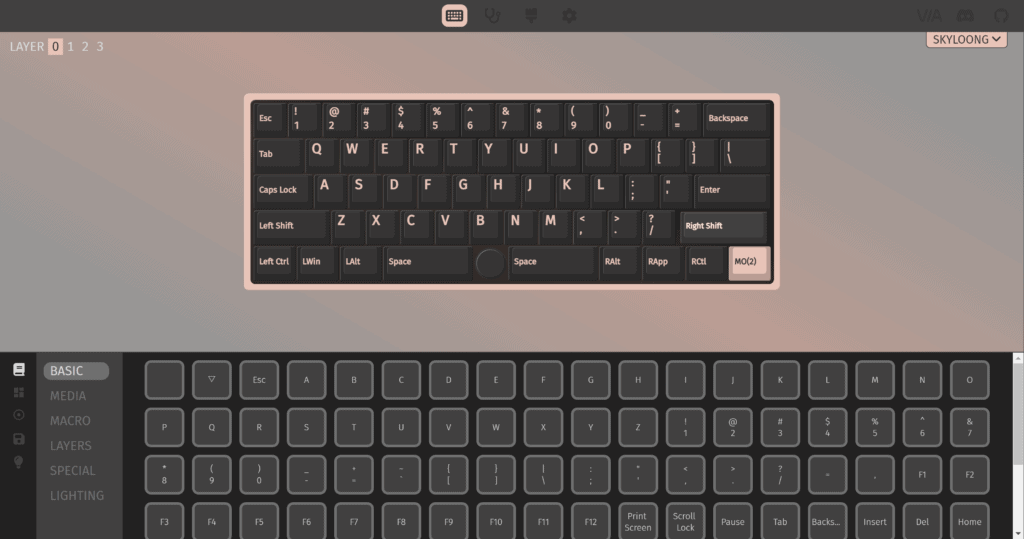 There is a version that uses QMK and VIA. This version only connects via wired mode.
The 3-mode version that has wireless connectivity can only use Skyloong's proprietary software. It allows you to program the knob, reprogram the keys, and make custom RGB and macros too.
Connectivity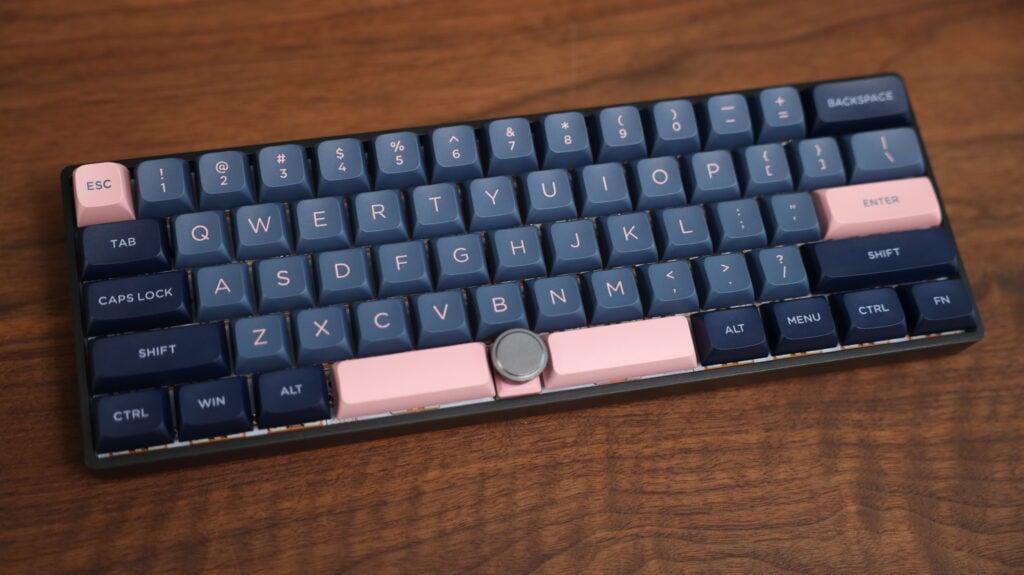 Port Type: USB-C
Wireless: BT and 2.4G
Latency: 1000Hz via 2.4G and 125Hz via BT
Compatibility: Mac and Windows
Number of Devices: Up to 3
USB Passthrough: None
The initial connection of this keyboard was a terribly difficult experience. I had to read the manual several times and try connecting many times. Just connecting the keyboard via the wire is not good enough to connect it to your PC, especially when it has BT or 2.4G mode turned on.
It might light up, but it'll have no outputs. I had to figure out how to turn off the BT and 2.4G modes to let the wired mode work.
Other keyboards I've used will automatically switch to wired mode when plugged in. This was a huge inconvenience that took 15-20 minutes to figure out.
---
Conclusion
This is a new take on the popular gaming keyboard, the GK61. Skyloong has added more functionality to its software availability, the knob, and upgraded the stabilizers and switch options to accommodate people who don't want to mod their keyboard.
The price ranges between $69 and $139, depending on the case, the connectivity modes, and the switches.
This keyboard is very affordable and is perfect for gamers who are looking to get a nice keyboard that sounds and looks good without breaking the bank.
SKYLOONG GK61 Pro
Use code switchandclick for 15% off
Check Price
As an Amazon affiliate, I earn a commission at no additional price to you.