Imagine a budget mechanical keyboard that's under $100, that feels exactly like a custom keyboard. That's the effect the Epomaker EK68 has on you.
It has all of the features of a custom keyboard (like a cushy gasket mount), but the price tag of a budget keyboard. Win-win?
---
The Main Takeaways
The Epomaker EK68 has some phenomenal features for the low price point it comes at. The keyboard has stylish keycaps, coming in the desirable double-shot PBT design, making it ultra durable. The case is also gasket-mount making for a bouncy typing experience. And the knob in the top-right ties it altogether for easy access to changing volume levels on the fly. Not to mention the tri-mode wireless is seamless to setup and use.
General Usage: For general usage, the EK68 gets the job done. It comes with a variety of features that make every day tasks ultra convenient. The keyboard is versatile enough that it will work for gaming, typing, programming, and use in the office without any major drawbacks. The only issue you may have with the keyboard is the 65% layout may be too small for some without the function row or number pad.
Typing: The typing experience on this keyboard is quite enjoyable. The gasket-mounted case offers a softer feel. The stabilizers and switches are lubricated and feel stable. But what really stands out about this keyboard are the keycaps. The color PBT keycaps really shine and make this keyboard truly feel like a custom.
Gaming: This keyboard is an excellent choice for the gamers out there. The smaller 65% design makes it great for FPS games where you can easily tilt the keyboard whilst playing and it gives your mouse more room to move around. For games that require a function row, however, you may struggle a bit. The 2.4 GHz offers a fast and reliable connection if you want to play wirelessly as well. However, there are no special features made specifically for gaming, but for most, it will work well.
Programming: For programming, the EK68 has your bases covered. The keyboard will not stand out too much in an office (although you may get curious coworkers), so it's not extremely flashy by any means. The keyboard offers a variety of controls for customization both built into the keyboard and with Epomaker's own software.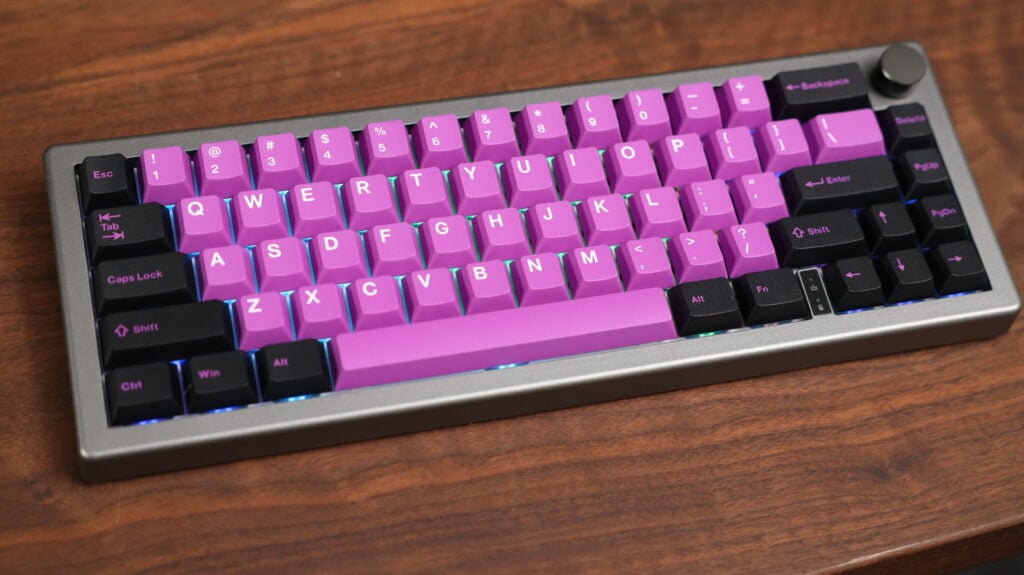 ---
In The Box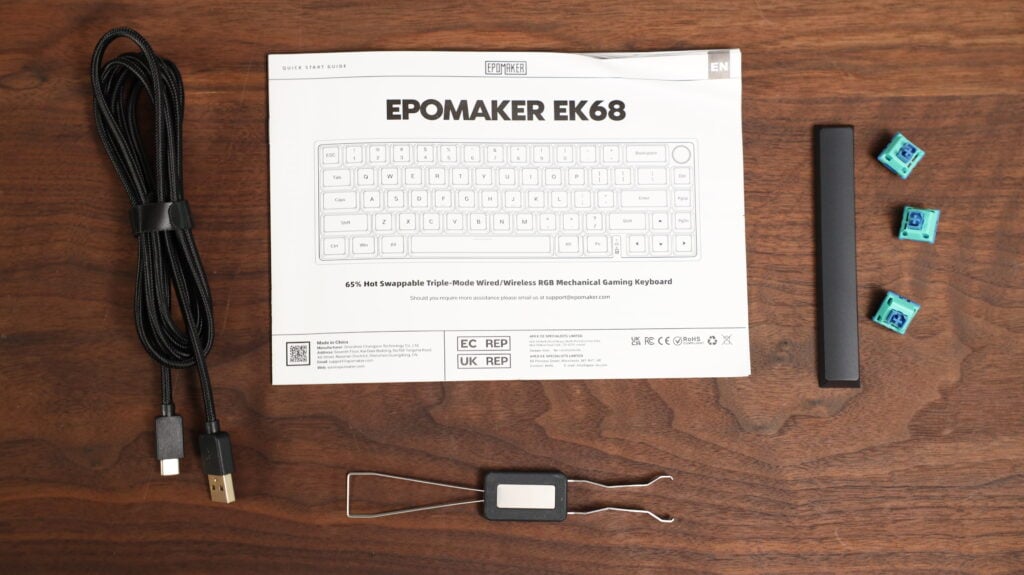 Parts In Box:
-Extra switches
-Braided cable
-Extra spacebar
-Keycap/switch puller
-Quick Start Guide
The Epomaker EK68 box comes with a lot of goodies packed in the box (in addition to the keyboard, of course). You get the usual quick start guide, which helps a lot with figuring out how the keyboard works, such as the RGB, hot-keys, and lower-level keys as well. You also get a few extra keycaps that you can swap in and out yourself in case any of them break on you in the future. To help you with that project, you get a keycap and switch puller. And to top it all off, you get a nice braided cable.
---
Build Quality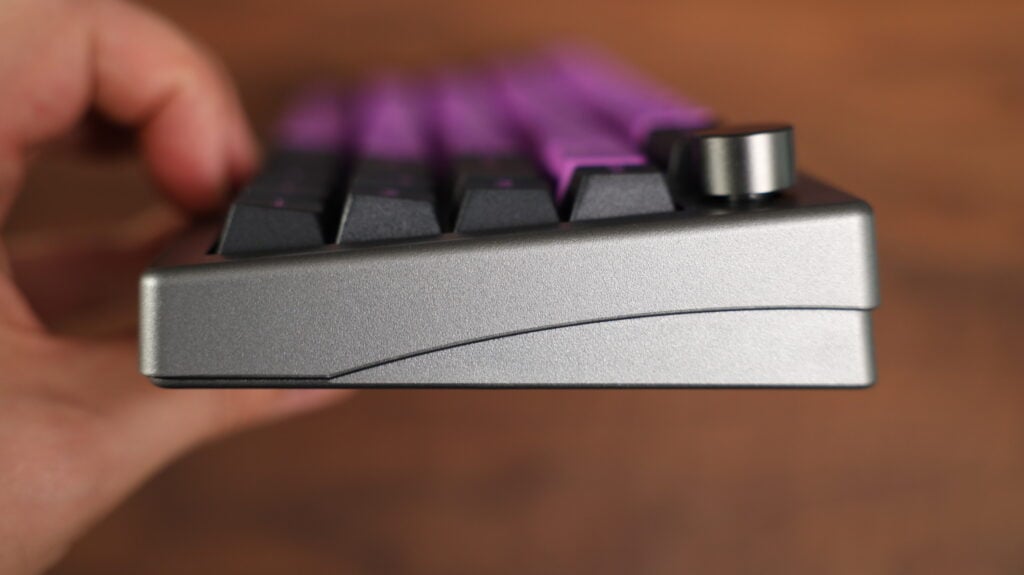 Material: Plastic
Flex: Yes
Typing Angle: 3 Angles
Kickstands: Yes
Power Cable: Yes
While in the photos this keyboard may look like it's made from aluminum, it's actually an all plastic outer case. The case itself is pretty sturdy considering it is made from plastic, though. The typing angle feels very natural and I enjoy the nice curved detail along the side. On the back of the case, you get double kick-up feet, giving you a total of three potential typing angles depending on your preference. You get four long rubber feet on the back which prevent any unwanted sliding even in the most intense gaming sessions. And located on the monitor-facing side of your keyboard is a slider for Windows/Mac, a slider for BT/2.4G/Wired, a 2.4 GHz dongle holder, and the USB-C cable slot.
Layout and Size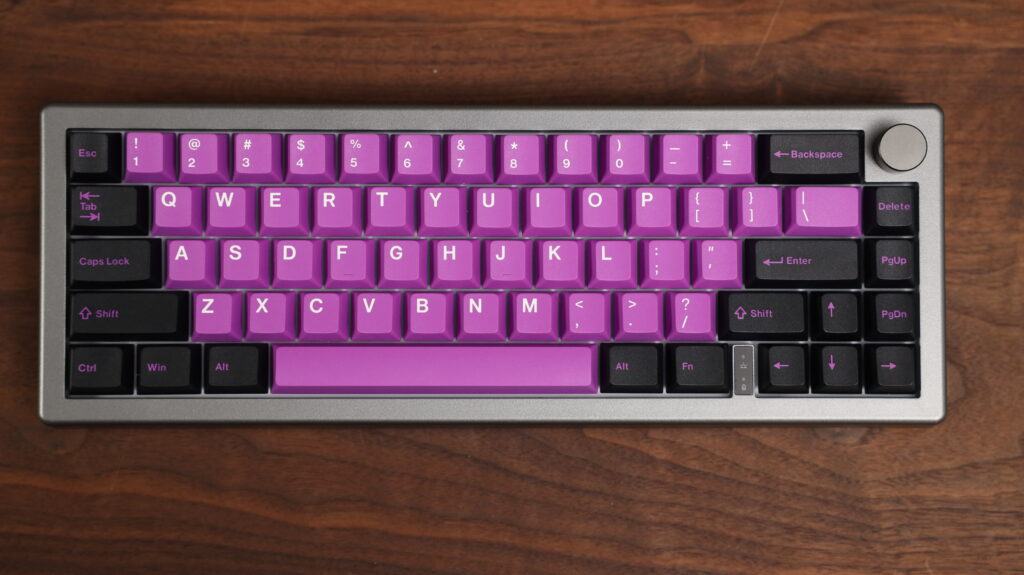 Layout: 65% with knob
Length: 325 mm
Width: 117 mm
Thickness: 41 mm
Weight: 0.8 kg
The size of this keyboard is a classic, 65 percent. This size is small and nimble, but still retains enough keys that it's usable by most people. The arrow keys located in the bottom left are super easy to access and I like that Epomaker chose to put a small gap between the left arrow key and the FN key, so you don't accidentally press the wrong key. They also took that small section and put a few lighted indicators for battery level and brightness, which are a very clever use of space. On the top right, you've got a nice knob with a tactile bump on every turn. The knob controls volume levels, which is super useful if you need to change audio levels mid-game or on the fly. Overall, the layout is really well thought out.
The Keycaps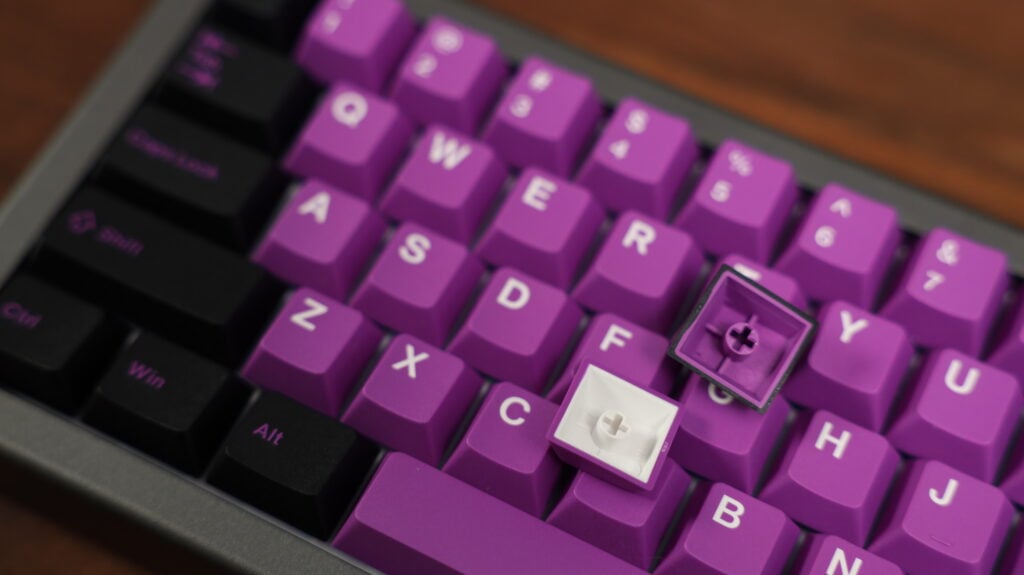 Keycap Material: PBT
Profile: Cherry
Legends: Double-Shot
Standard Bottom Row: No
Aftermarket Keycaps: No
The keycaps on this build are probably my favorite part. With the aluminum colored plastic case and purple keycaps, this keyboard really screams "I look like a custom keyboard", so when you're paying under $100 for this board, it makes it feel like it's worth a whole lot more. The keycaps are the ideal mix of PBT, Cherry, and double-shot to really boost the aesthetic and functionality of the keyboard. Not to mention, the PBT keycaps will last a super long time without wearing down or developing greasy fingerprints. Note: Our keyboard came with Cherry keycaps, but they also have an SA profile option if you like having taller keycaps.
The Switches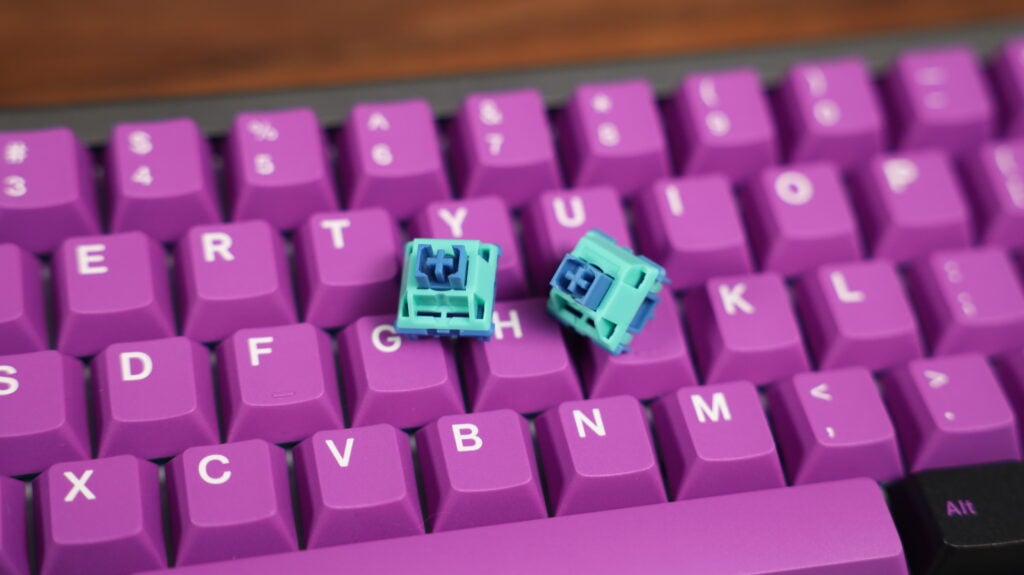 Type: Epomaker Switches
Options: Bluebird, Wisteria, Budgerigar, Flamingo
Hot-Swappable: Yes, 5-pin
Lifespan: 50 million keystrokes
Actuation Distance: 1.5 mm
Travel Distance: 3.7 mm
Actuation Force: 47 g
The switches in this build are a lot of fun. We go the Epomaker Bluebird switches which are a tactile switch with a relatively light actuation force (comparable to Cherry MX Red switches). The switches have a box stem and come factory prelubed which give them both a stable feel and a smooth experience. The switches are satisfying when they bottom out and produce a nice sound, albeit a little bit muted, which this keyboard is marketed as. I do enjoy that they are a bit quieter but don't sacrifice the feel. The Bluebird switches are quite enjoyable to type on, although I can't say much about their other options such as Wisteria, Budgerigar, and Flamingo as I have not tried them (although the names are getting pretty crazy nowadays).
Stabilizers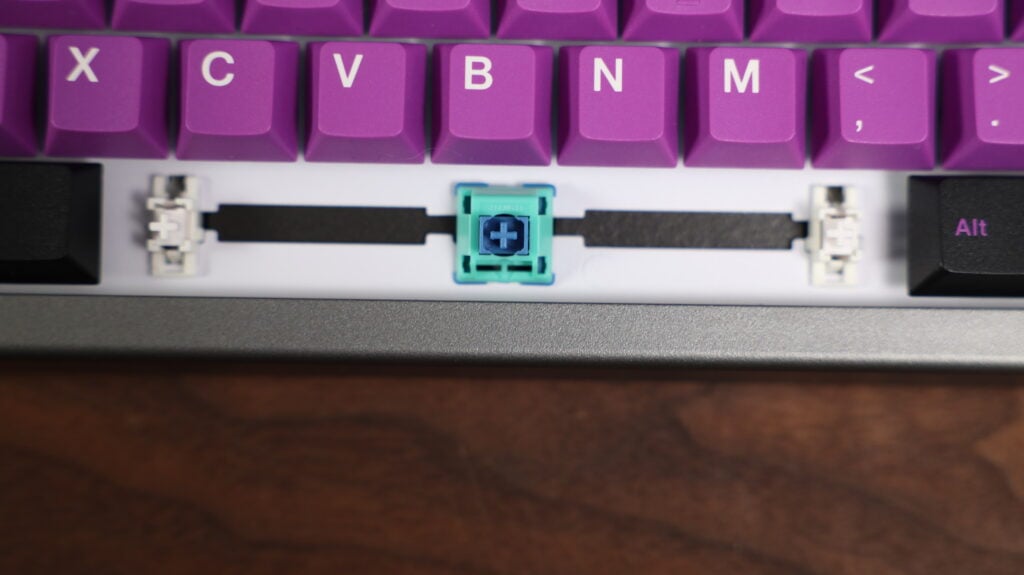 Type: Plate Mount
Color: Cream
Unlubed/Lubed: Lubed
The stabilizers are as standard as they get. They are plate-mounted and come prelubed. I don't have any complaints in terms of the quality or execution of the stabs, although it would be really cool if Epomaker opted for a screw-in version. The cream color is a nice touch instead of going with the default black color that most keyboards use nowadays, even though most people never even look at the stabs.
The RGB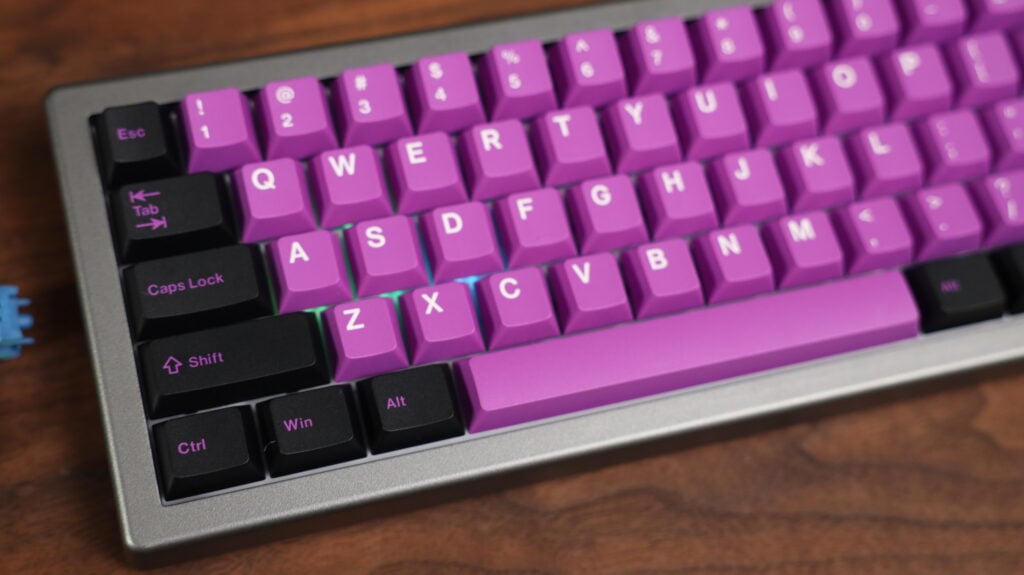 Color: RGB
Per-Key: Yes
Underglow: No
LED Location: South
Change Lighting Effects: Yes
Change Brightness: Yes
The RGB has a lot of functionality and options, but with the current keycaps, you really can't see it well. The RGB pokes out around the sides of the keycaps, but because the legends are not transparent, the light doesn't illuminate the letters when you type. Personally, I'm totally ok with that. If you want to the light to illuminate the legends, simply swap the keycaps with a different option or go with a different build (there are plenty of options that do that). The RGB is fully customizable using a variety of shortcuts using various combinations if FN+ Z/X/C/UP/DOWN… etc. The quick start guide will fully outline the different effects and controls making it super easy to use.
The Software
The software is Epomaker's own in-house software. You can find it for download here. It would've been nice if you could VIA or QMK instead as they are publicly sourced, but at least we get some form of software control. It's just not fun to have to install bloated software from a company instead of using more lightweight options that have been tried and tested by the community.
Connectivity

Port Type: USB-C
Wireless: Bluetooth/2.4 GHz
Latency: Unknown
Compatibility: Mac/Windows
Number of Devices: 3
USB Passthrough: No
The EK68 comes with tri-mode connectivity, which means you can connect via Bluetooth, wired, or 2.4 GHz. It's always nice to have the option between the three, and I'm happy to say it's becoming more of the standard nowadays. The Bluetooth can connect to up to three devices and you can swap between them easily using keyboard shortcuts. The 2.4 GHz dongle is attached to the case on the monitor-facing side next to the USB-C port, making it super convenient to grab and plug in when necessary. Although, I do wish it was magnetic. The USB-C cable is braided so you don't need to worry about it breaking anytime soon.
The Full Video Review
Coming soon.
---