The Marvo BigBang S1 is mechanical keyboard that comes in a Full/TKL layout loaded with enough RGB lighting to make any gamer blush.
Let's take a look at this keyboard and dissect it a bit.
The Verdict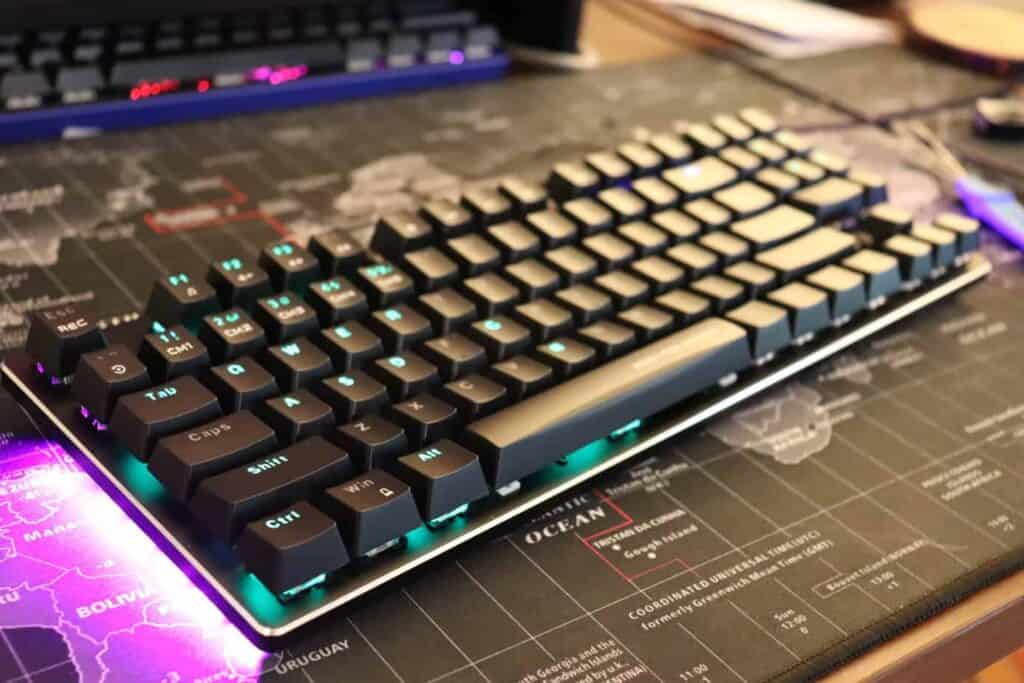 The Marvo BigBang S1 comes in a plastic case with a floating keycap design.
At first glance the keyboard looks a little cluttered with all of the different sub-legends, but there is some additional functionality not commonly found.
The overall build is pretty light which makes the keyboard feel a bit flimsy and produces a creaky noise if you try to twist the frame.
The overall design is very reminiscent of the Havit KB487L, which we just reviewed. They must use the same factory to produce the case.
The switches come from Outemu, which is a budget switch manufacturer. Although they are not the best in terms of quality, they are commonly used on other budget keyboards and have stood the test of time (or at least I think).
The keyboard is absolutely packed full of RGB lighting, including per key and sidelighting. This allows you to really customize the colors to your preferences.
If you're looking for a cheap keyboard with lots of RGB lighting and easy access to a numberpad, this could be a decent option for you.
---
In The Box
In the box, you get a few of the standard items. Here's what we got:
Plastic keycap puller: The keycap puller is made of plastic which is not the preferred type as it can scratch the sides of your keycaps. We typically recommend a wire keycap puller instead.

Owner's Manual: The keyboard allows you to set macros with the onboard firmware which is actually pretty cool. For that reason, the manual is really helpful if you want to set that up.
Build Quality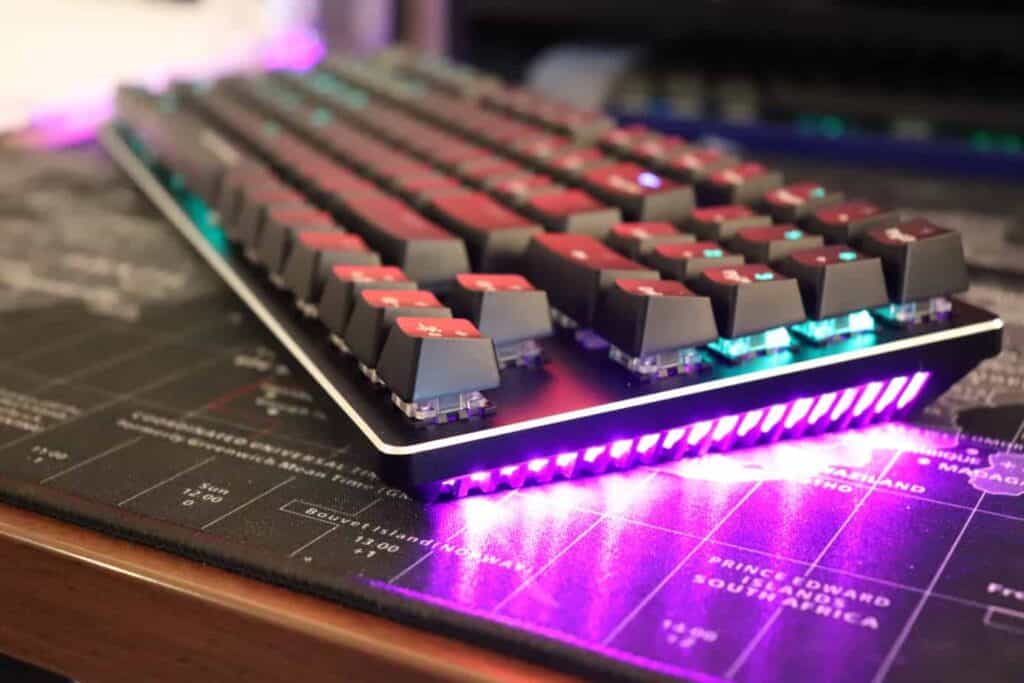 The floating keycap design of the case looks nice and adds a sleek element to the keyboard, but also makes it easier for dust and other junk to accumulate under the keycaps easier.
In addition, the keyboard will produce more noise on impact from each keystroke, leading to a noisier setup. Coming with Outemu Blue switches, that's a recipe for a loud keyboard.
The case is made entirely of plastic, which feels quite cheap and bit flimsy. I would have liked to see them use some metal in the case design or at least thicker plastic. But at the end of the day, this is a budget keyboard so you can't ask too much.
There are rubber kickstand adjustments, which allow for an extra typing angle degree. Most higher end keyboards come with two additional typing angles, but considering the price, it makes sense there is only one.
The layout is unique. Instead of the normal navigational cluster, this keyboard uses a numberpad instead. It's great for those who do lots of data entry or Excel-junkies.
The Keycaps
The keycaps are a thin doubleshot ABS plastic. The design allows the RGB lighting to shine through and illuminate the keycaps.
The keycaps develop a greasy shine to them after light usage, which is not ideal. Even with clean fingers it looks like I ate a bag of potato chips and started typing away.
For clear understanding of the lower layers, the keycaps have sub-legends that describe where the macro keys are located and how to access the media keys.
These can be useful if you want to change the settings without doing them directly from your PC.
The Stabilizers
It always hurts my soul a little bit when little care is taken with the staiblizers. On each keystroke, the stabilizers rattle away and make for an unpleasant typing experience.
The combination of the loud switches and rattle stabilizers make this keyboard a very noisy keyboard. Not the best for typing around anyone you don't hate.
At little bit of factory lube would go a long ways to improving the sound of the stabilizers.
The Switches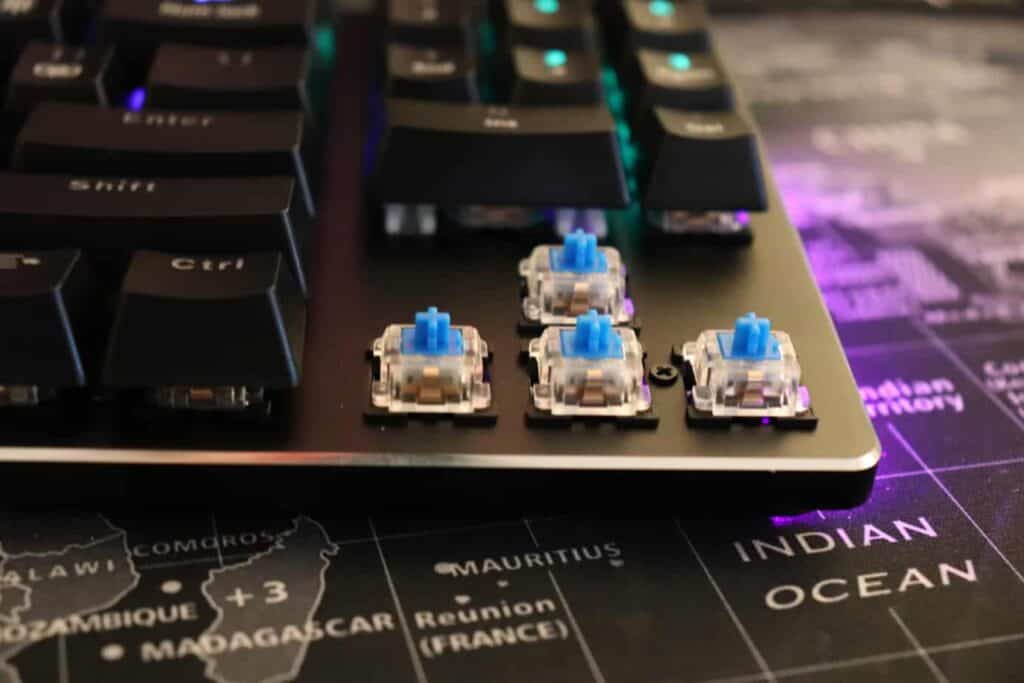 As mentioned before, the switches are an Outemu Blue switch.
If you enjoy a switch that clicks on each keystroke, it's not that bad of an option. I will say, this keyboard will not fly in an office setting due to the sound.
For that reason, this keyboard is for strictly home usage.
Outemu switches have a lifespan of 50 million keystrokes, so they won't break down anytime soon. Although they don't have very consistent quality, with a Blue switch it's hard to notice any variation switch-to-switch.
It would be nice if there was a quieter option, such as a Red or Brown switch.
Recommended Alternative: Keychron K4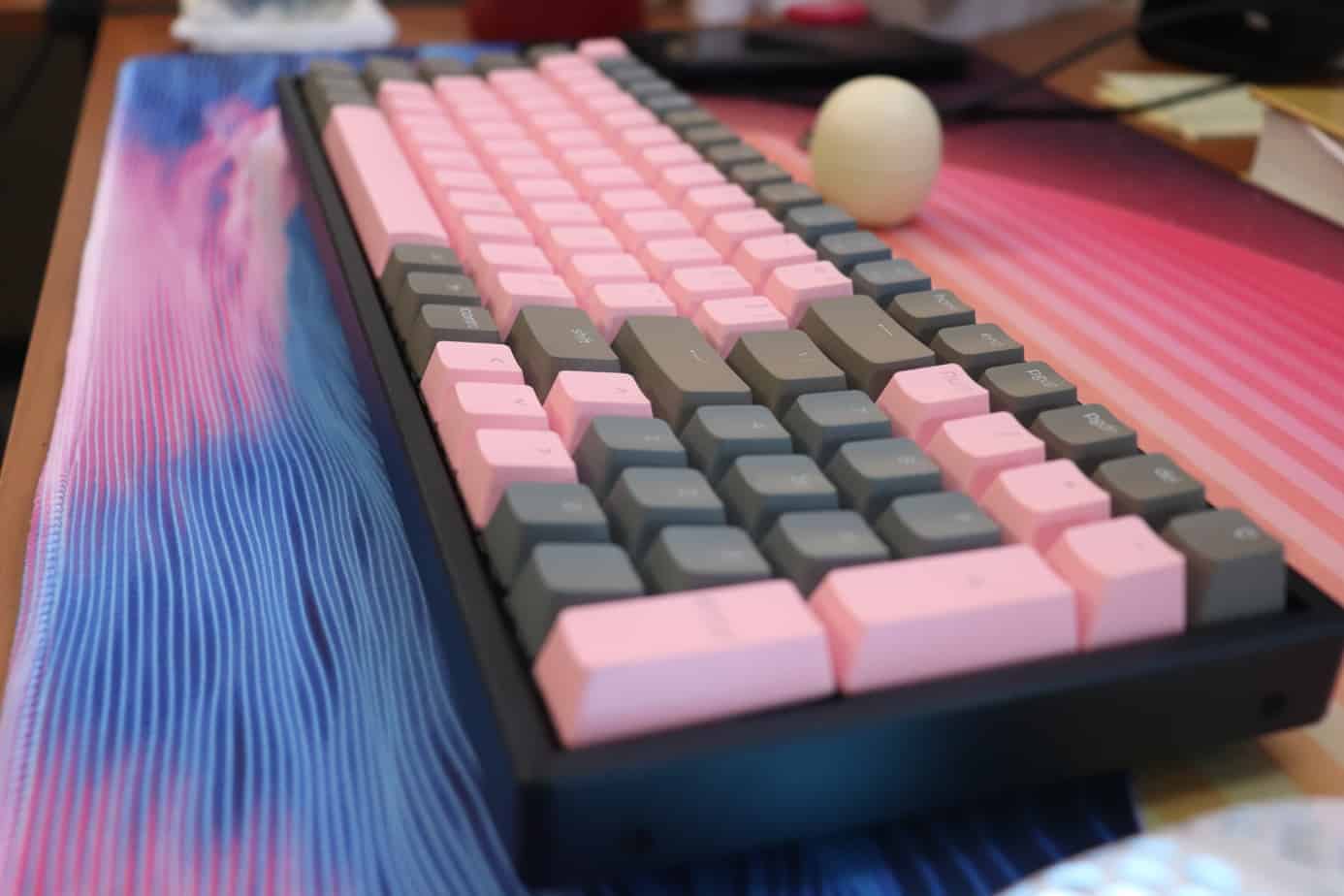 If you're looking for a similar layout, but want a keyboard packed with better features, the Keychron K4 is your best bet.
The keyboard has wireless connectivity, Mac/Window compatibility, and comes with an aluminum frame.
Not to mention the switches are from Gateron, which is a more reputable switch manufacturer.
The K4 is one of our favorites and for good reason. While the price is slightly higher, the amount of utility you get out of it much better.
You can find the Keychron K4 on Amazon for a good price.
Conclusion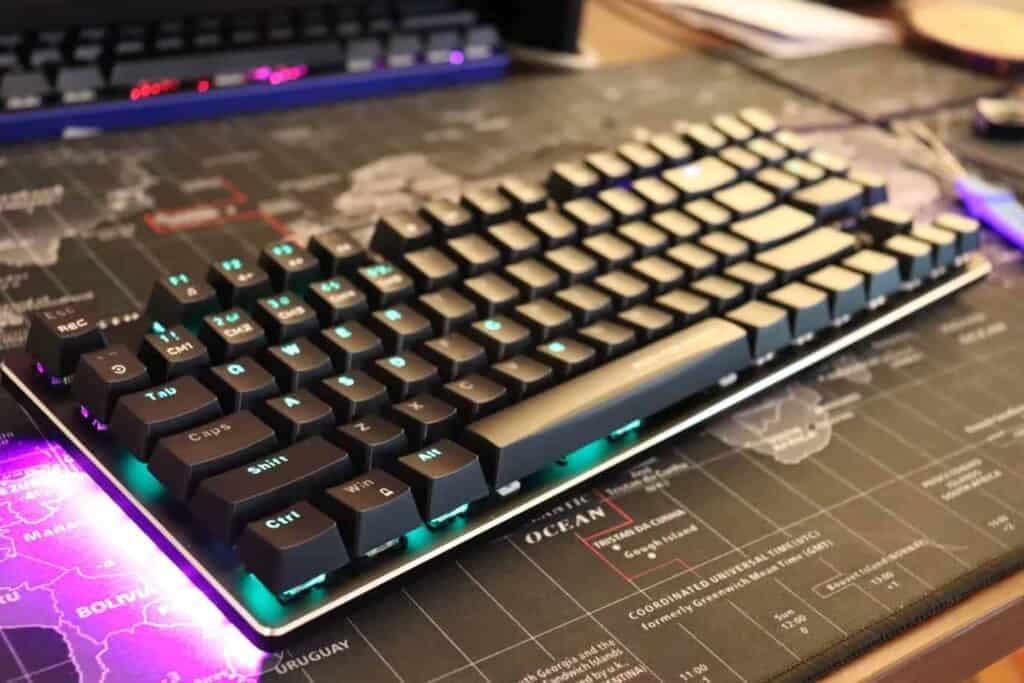 The Marvo BigBang S1 is a budget mechanical keyboard that has all of the RGB lighting you could ever want.
But is it worth it? That's up to you to decide. If you enjoy the layout and can overlook a poor typing experience, this keyboard could be acceptable for the purpose of gaming.
It wouldn't look too bad fully decked out with RGB lighting in a setup that matches it, but for actual usage it's quite uncomfortable.
There is some additional functionality to it, such as programmable keys, which is pretty cool. But it's difficult to overlook the issues at the root of the keyboard itself.
Happy Typing!