The Logitech M575 Trackball is an ergonomic side-mounted thumbball, and an update to the time-tested mainstay Logitech M570.
Is the M575 a worthy successor to a community favorite, or should Logitech not have bothered fixing something that wasn't broken to begin with?
Let's find out.
The Verdict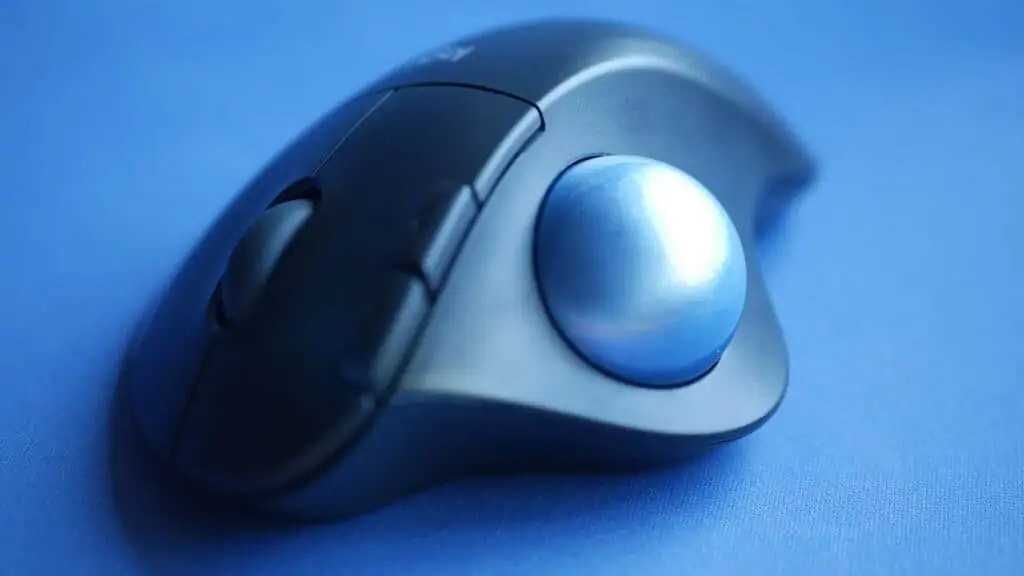 Logitech's M575 trackball mouse is a mid-range thumb-ball that is both comfortable and efficient.
Sporting an ergonomic right-handed design, the M575 is comfortable to use once you find the best position for your hand size.
The side-mounted thumb-ball and familiar 5-button layout make the M575 easy to use for trackballers, but also easy to adjust to for newcomers.
The build quality is strong and sturdy while still being as light as popular premium gaming mice, and rubber feet ensure the M575 won't slide around your desk or deskmat while you're using it.
The styling has been refreshed from the M570, and brings a breath of modernity to an otherwise classic silhouette. Black and White color options will match your setup perfectly no matter your aesthetic.
While the software is not required, Logitech Options lets you change the layout and button functions to let you customize your trackball even further.
Bluetooth and 2.4ghz Dual Mode connections are strong, and let you switch quickly between two devices for added convenience.
You can find the Logitech M575 on the official Logitech website, if you are interested.
Is the M575 Comfortable?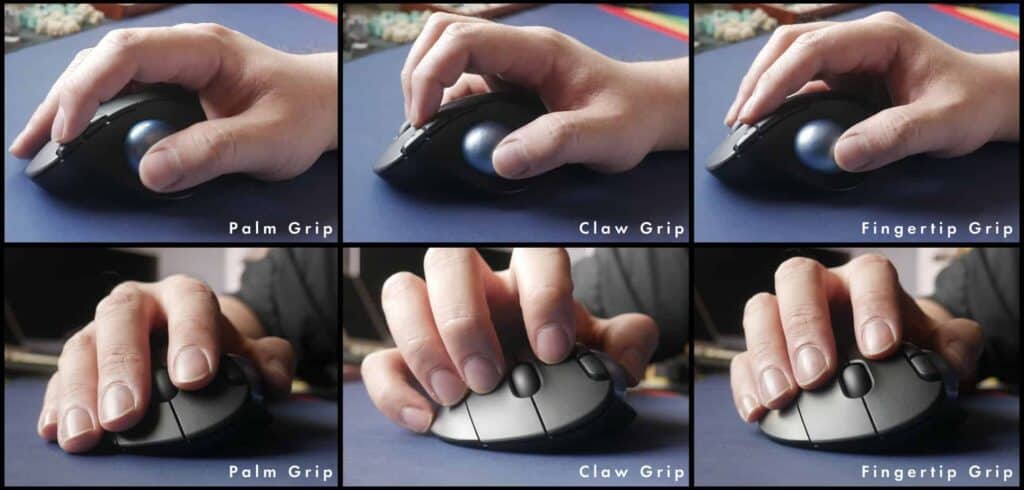 Yes…but not at first.
While the overall shape is very sleek and well designed, the M575's curve has a hump that feels very noticeable in hand.
If you are expecting to just be able to plop your hand down and have the M575 "just fit", you may be in for a rude awakening.
The hump at first is uncomfortable, unless you employ a little trick common among trackball users: slightly turn the trackball counter-clockwise.
For some reason, this trick seems to make some trackballs feel more comfortable and ergonomic, especially for larger hands.
Additionally, this maybe be the purpose of that pronounced hump. It encourages you to find the most ergonomic placement and orientation for you.
When the M575 is rotated counter-clockwise, the curve of this hump seems to naturally follow the curvature of your palm directly under your knuckles.
This acts as an ergonomic "guide" to help find a natural shape for your hand, supported and bent at the joints, and following your hand's contours.
The problem with this is that it may take a bit of time before you can adjust to using the trackball comfortably and intuitively, without much though about how it feels in your hand.
Once you find your sweet spot though, the M575 becomes one of the most comfortable ergonomic trackballs on the market.
Larger hands may also be forced to place your palm in a position that forces your fingertips past the buttons.
This was somewhere that the older M570's design really shines.
Thankfully, the M575 allows for a multitude of mouse grips, and not just palm-grip.
The M575 lacks a way to tilt the trackball for an even more ergonomic position, but this is a feature reserved for the flagship MX Ergo trackball.
Ease of Use and Layout
As is the case with all of Logitech's ergonomic trackballs, the M575's layout utilizes a side-mounted thumbball and allows your fingers to use the buttons much like on a normal mouse.
The Trackball
The trackball is located on the side, and is meant to be operated with your thumb. If you are familiar with thumb-balls like the M570 or Jelly Comb, the M575's trackball should be just as easy to use, and just as smooth.
Even gaming is possible with the M575, but it may take an adjustment time to familiarize yourself with using a thumb-ball with precision and speed.
If you have never used a thumb-ball before, it may definitely take some getting used to.

Why do you your thumbs hurt? Because you haven't used them before.
But in all seriousness, you should be very cautious if using a thumb-ball causes you any pain or strain, especially in your thumb joint and surrounding tendons and ligaments.
While some muscular fatigue may be normal at first while adjusting to a new input and control method, you should not risk De Quervain's or any other form of stress related injury.
Stop usage and seek help from a medical professional if strain is causing issues for you.
The Button Layout
The buttons are arranged in a traditional 3-button layout with scroll wheel in the center, and two function buttons that are also meant to be clicked by your index finger.
The buttons are also fairly wide, and take up just over 1/3 of the overall length. The size and shape of the buttons allow you to use any grip style you like with relative ease and full access to all 5 buttons.
Out of the box and by default, the two function buttons are set to back and forward navigation commands, but everything can be easily reprogrammed with the optional included software.
Still, you can choose to use the unit without software as it is completely plug-and-play.
Switch Between Multiple Devices
Since the M575 also uses both Bluetooth and 2.4ghz wireless connections, you are able to quickly change between multiple devices with the press of a button, located on the bottom of the trackball.
Build Quality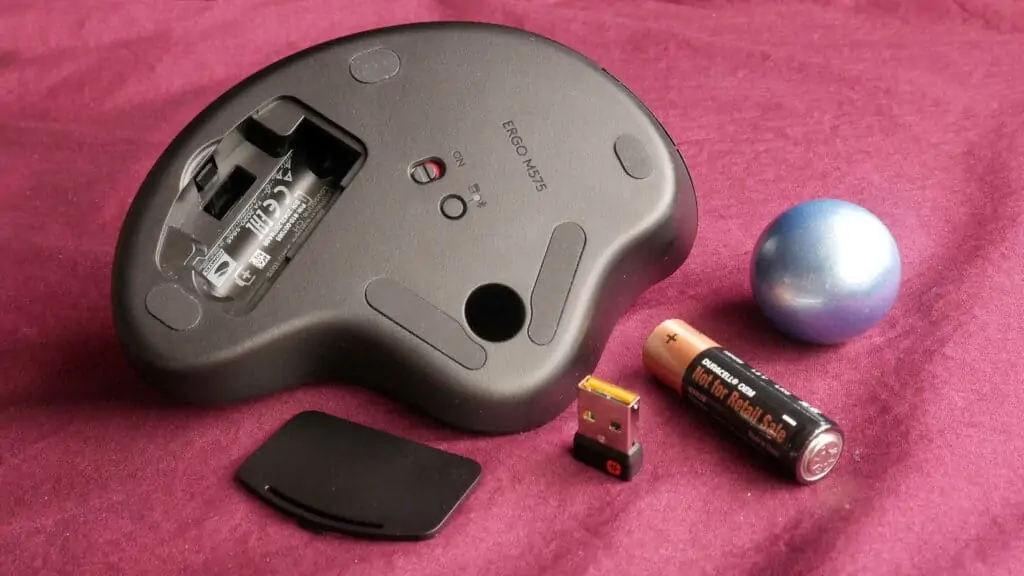 The M575 is a fully plastic construction, but feels solid and does not seem to creak at all unless really forcing it. The matte texture and is smooth to the touch but not slick or gritty, and the trackball does not feel particularly cheap.
The M575 weighs 153 grams, with the ball itself weighing 26 grams, or roughly 1/6 of the overall weight with battery installed.
Despite the light weight, anti-slip rubber feet found on the bottom help keep the M575 from moving around the desk while in use.
Also found on the bottom of the trackball is an on/off switch, a bluetooth/2.4ghz toggle button, trackball access hole, and the battery door.
Under the battery door you will find not only a compartment for a single provided AA-battery, but a handy storage port for the USB Unifying Receiver.
On the side of the M575 lies the thumb-ball, measured at 34mm which is the same size as the M570 and MX Ergo trackball mice.
This also makes the trackballs interchangeable between devices should you want a different color, but could also affect tracking calibration.
Under the trackball lies the optical sensor as well as three bearings that provide easy trackball operation.
On top of these bearings are nodules that may act as further stabilization points for the trackball to glide over.
The optical sensor is pre-set to 400 DPI, but you can choose to go all the way up to 2000 DPI.
While only a fraction of the tracking sensitivity of the Logitech G Hero sensors, 2000 DPI is more than enough for trackball use.
The top of the mouse features a normal three-button layout, and two extra funtion buttons to the left side by your index finger.
The Clicky Switches
The button switches are clicky and have a medium-heavy weight, but resting your fingers completely while in palm-grip could cause you to accidentally click. This is especially true if you are heavy-handed.
Lately, some mouse users have reported double-clicking in many of Logitech's mice offerings in both the normal lineup and gaming lineup, mainly those that use certain Omron brand switches.
Though I have not had this problem with any of my Logitech mice in years of usage, it is a prevalent issue that you should be aware of, as it is a risk taken with all mouse and trackball purchases, as well as anything with a switch.
Thankfully if this happens to you, Logitech provides a 1-year warranty that covers all defects, as the switches are rated at 3 million clicks before failure.
The Scroll Wheel
The Scroll Wheel is primarily made of rubber, which feels pleasantly smooth while still providing enough grip.
The wheel turns very easily with tactile stepping that happens in steady constant intervals to let you feel just how much you are scrolling.
The middle click function is actually quite soft and silent, and is very satisfying to use without being overly loud.
It would be nice to get an "infinite scroll" free-spinning mode to the scroll wheel, but the tactile stepping feels familiar and practical.
Using middle click to activate fast scrolling and using the trackball to scroll up and down quickly is just as effective, albeit at the cost of satisfaction and convenience.
The Styling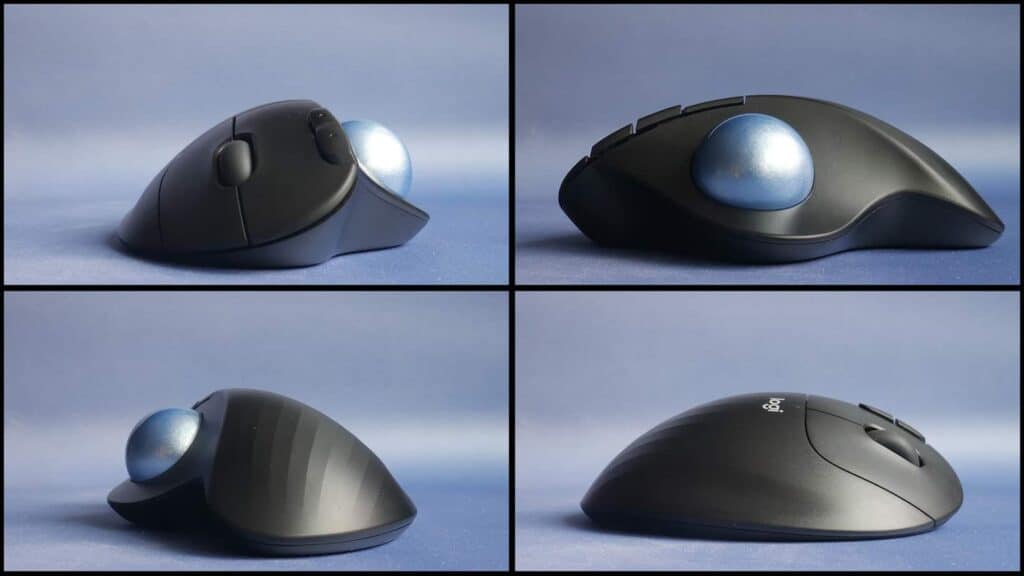 Attempting to improve on the simple yet effective design of the M570, the Logitech M575 trackball uses both sculpted curves and hard edges to bring a sense of modernity to an otherwise perfect design.
Subtle ridges running along the top of the M575, a design cue taken from the popular MX Master 3 wireless productivity mouse, breaks up the surface with highlights and shadows and brings a bit of detail to an otherwise empty surface.
A small sculpted cutout acts as a ledge for your pinky to sit on comfortably.
The overall shape is wide, and the silhouette when viewed from top down is made up of elegant, consistently rounded curves.
The wider buttons and rounder curve, however, also means that your ring and pinky fingers have less area to rest on than its predecessor the M570.
Two Color Choices
The M570 is offered in two colorways: Graphite and White.
The Graphite colorway is essentially a dark grey color with light metallic blue ball.
It can match many workstation setups, and provides a very professional look that is both subtle and safe.
The White colorway is a rare, unexpected choice from Logitech.
The White plastic paired with light blue ball is extremely clean and compelling.
A beautiful colorway that screams youth and modernity, and pairs amazingly with Mac setups and lighter aesthetics alike.
Connectivity and Software
Logitech Options is a productivity-driven software that allows you to customize how your M575's layout, functionality, and sensitivity.
By default, the M575 is plug and play and should be comofortable enough to use for most people as-is.
Should you feel the need to change anything about the M575's settings, or pair it with another Unifying Receiver, you can do so easily with Logitech Options.
Ironically the options are a bit limited compared to what you can do with an MX Master 3 or even with Logitech's gaming mice.
Connectivity is a breeze with the M575, because you get not only one but two wireless modes in Bluetooth and 2.4ghz.
This means that you not only get flexibility in devices, but the toggle button underneath the M575 lets you switch between two devices with ease and speed.
The provided AA battery should last you for up to 24 months of power. Two years of use on a single AA battery is extremely convenient in the age of daily phone charging.
You can also use your own rechargeable AA battery to ensure you don't need to buy a new pack of batteries every time the one in use eventually runs out of juice.
Why Should I Listen To You?
I've been using trackballs every day for more than ten years. For the last six years, my daily driver trackball has been the Logitech M570, which is the big brother and precursor to the M575.
After becoming very familiar and comfortable to the nearly perfect shape, size, layout, and feature set of the M570, even the most minor change to the design featured on the M575 is very noticeable and instantly apparent.
Conclusion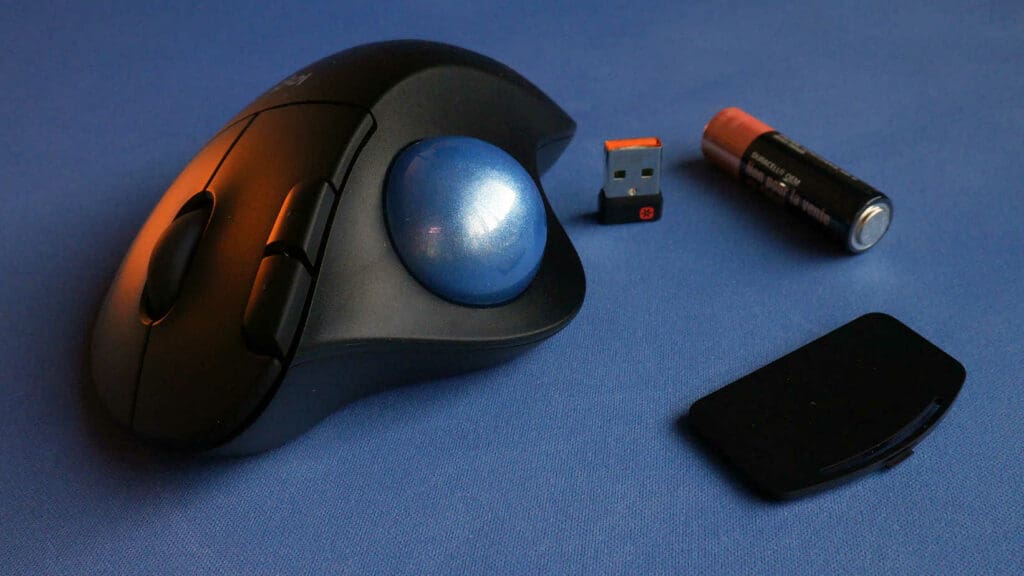 The Logitech M575 proves to be a welcomed addition to the Logitech trackball lineup.
While it may not be perfect in terms of shape or ergonomic design, the addition of Bluetooth, modern styling, and an unexpected white colorway all make the Logitech M575 a great addition to your desk.
Fitting right in between the M570 and MX Ergo, the M575 is a solution that could act as not only a gateway to a larger world of trackballs, but also possibly the only trackball you will need for the next several years.
If you don't need the Bluetooth or modern styling, check out the even more affordable Logitech M570.
Thank you for reading, and I hope this helped you learn a little more about the M575 trackball from Logitech.
You can find the Logitech M575 here.
If you're still not sure if the M575 is the right trackball for you, check out our guide on how to choose a trackball mouse.