For over a decade, Logitech has been the king of thumbballs. Where Logitech lacked in function and productivity, they made up for in form and ergonomics.
Elecom strikes back with the EX-G Pro trackball. A near-perfect thumbball with the trifecta of form, function, and flawless design.
Lets' find out if the Elecom EX-G trackball is the right choice for you.
The Verdict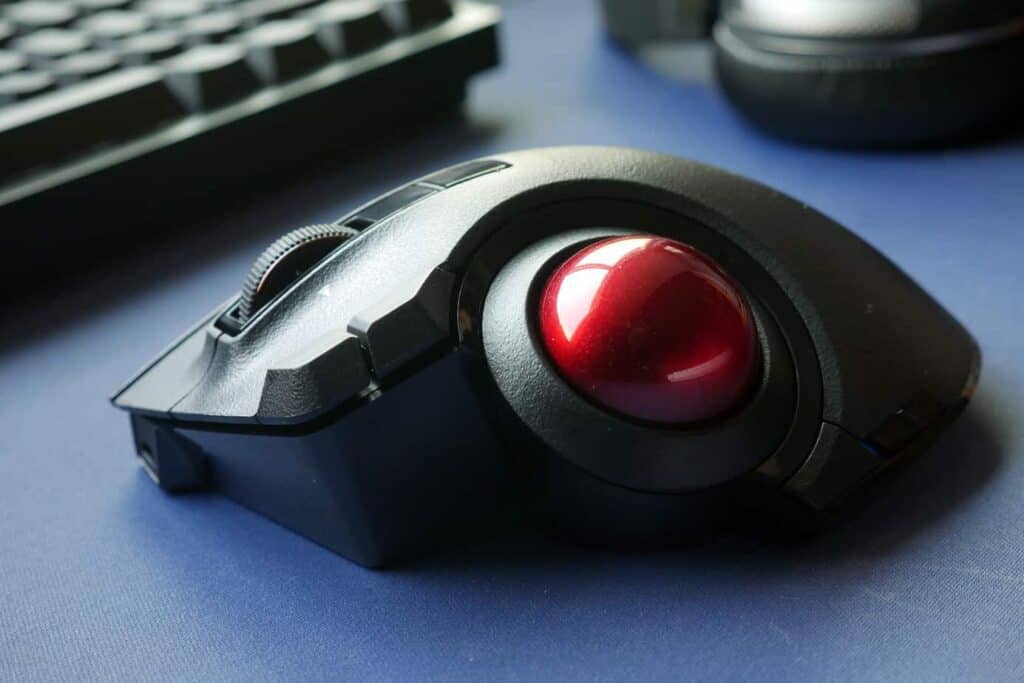 Elecom's EX-G Pro trackball is a near-perfect thumbball with only a few minor flaws holding it back.
The EX-G pro is well-built, using thick sturdy plastics in a combination of textures.
The overall shape is very comfortable and supports a variety of hand sizes and mouse grips. The tilt angle is more shallow than other thumbballs, so using the trackball could cause your thumb to bump your hand.
The EX-G Pro is designed for peak performance and functionality, and the smart shape paired with sharp black and red colorway fits well on any professional's desk.
Productivity and connectivity are the EX-G Pro's strong suits, with 10 total functions and 3 connection modes including wired, 2.4ghz, and Bluetooth wireless.
The EX-G Pro is powered by a single AA battery, which is completely unnecessary in wired mode. The battery will provide you with months of battery life.
The Elecom EX-G Pro trackball is the perfect fit for anyone looking for a productive thumbball with a bold design.
Is The EX-G Pro Comfortable?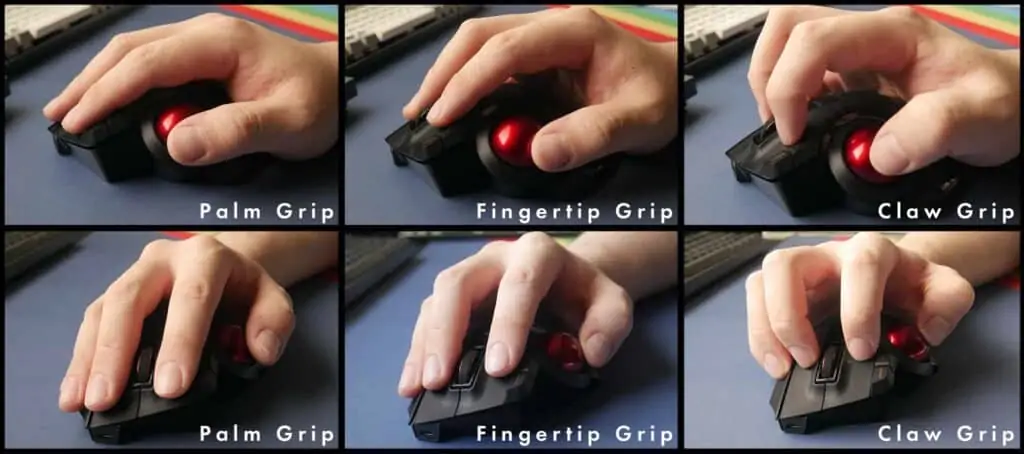 Elecom's EX-G Pro is a very comfortable trackball that is sized appropriately for nearly all hand sizes.
The angle of tilt is not as ideal as some other competing thumbballs, but this also makes the EX-G more accessible for more people.
Your thumb, hoever, may collide with the side of your hand due to the angle of the ball and lack of extra tilt.
The size and placement of the trackball also makes large sweeping motions less ideal for thumbs due to the range of motion.
The wide shape and shallow angle lend themselves well to a variety of mouse grips, including palm, claw, and fingertip grip.
Palm grip is comfortable, but as usual the trackball can be turned slightly counter-clockwise to make it more comfortable.
Claw Grip and Finger grip may actually make the EX-G Pro's ball easier to roll, and may make it harder for your ring-finger to accidentally click the function buttons.
The two index-navigation buttons are easy to reach with your index finger, and make navigation convenient.
The scroll wheel provides middle click, as well as both vertical and horizontal scrolling.
Ease of Usage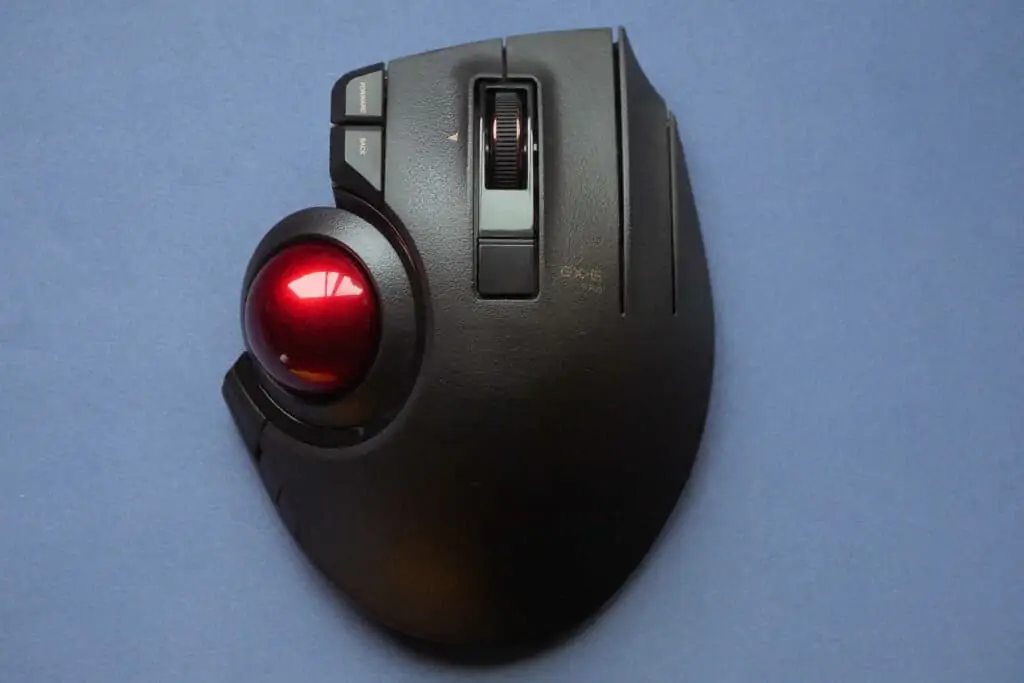 The layout is very easy to adapt to.
On top of the typical 5-button design, you get 3 extra function buttons that can add to your workflow.
These buttons make for a total of 10 different functions that can be customized into commands, keystrokes, or even gestures.
Be default, you get the 5-button layout pre-programmed.
This means right and left clicks, middle click and scroll functions, and a pair of navigation keys to go back and forward. The rest of the functions will have to be set yourself by downloading the Elecom Mouse Assistant software.
The default setup is very comfortable.
A popular choice is to map the rest of the keys to media playback functions, including "pause" on the thumb function, "mute" on the middle function, and "volume control" on the horizontal scroll function buttons.
The button placement and layout is logical, and each button is easy to reach. More buttons would likely overcomplicate the EX-G Pro.
Make sure to adjust DPI, pointer speed, and mouse acceleration to tune for precision and speed. This will give you control in not only small movements but speed in large movements as well.
Depending on your preferred workflow and intended purpose, the Elecom EX-G Pro can give you a ton of functionality at your fingertips.
Check out our guide if you want to know how to use a trackball more efficiently.
Build Quality
The Elecom EX-G Pro features a full-plastic build with textured top-housing and glossy bottom-housing.
Weighing in at just under 150 grams with a 34mm trackball, the EX-G pro feels nice and hefty.
The plastic is sturdy and feels thick, and the EX-G Pro doesn't creak, flex, or move around the desk.
Even when a large, heavy hand is resting on the trackball with weight applied, the plastic does not creak, flex, or give way.
The bottom of the trackball features the power switch, DPI button, Bluetooth pairing button, battery door, and USB-receiver port. large rubber feet prevent the trackball from moving on a number of surfaces including wooden desks and cloth deskmats.
On the bottom, you'll also find the trackball access hole. If you pop the trackball globe out from this hole, you will find three bearings and an optical sensor.
The gaming sensor lets you set tracking sensitivity up to 1500DPI in three set intervals via the DPI button. A flashing light indicates your DPI level, with three flashes meaning 1500DPI.
The Elecom EX-G uses clicky tactile switches sourced from Omron. There have not been any widespread defects like double-clicking, but this has been dependent on Japanese vs Chinese made parts.
You may run into quality control issues like sticky scroll wheels, scratchy bearings, or volatile behavior in wireless mode.
Scroll wheel is rubberized and ribbed for added grip, and the scrolling has a slight tactile ratcheting effect. Scrolling and clicking the wheel is relatively easy, though a free-spin mode would be a game-changer here.
The 34mm ball size is easy to roll with a single thumb, and the bearings seem to be much smoother than on my Deft Pro.
Style
As with all of the top-shelf Japanese-designed Elecom trackballs, the black and red design is just plain cool and techy, with subtle gold accents adding to the premium feel. Combines strong straight lines and confident curves.
The hard-surfaces flow well into one another and blend well, despite having multiple form languages bashed into a design that is both classically inspired but timeless and modern.
The inner left side of the EX-G Pro seems more like hard-surface modelling, using circles and lines to build a hard-edged form.
The outer right side, in contrast, is much more sculpted featuring organic shapes and curves to make the perfect fit under your palm and fingers.
The top housing has a mottled texture similar to an orange peel. The finish is matte black and feels nice for added grip under your palm.
The bottom housing is all glossy black plastic. It attracts a lot of fingerprints, and will scratch even if cleaned with a microfiber.
Glossy plastic isn't ever a practical choice for peripherals that see heavy use, but it does add a nice visual contrast and premium quality. After all, who doesn't like shiny things?
The deep red orb contrasts the black, with subtle gold accents along the scroll wheel and top housing.
Overall, the Elecom EX-G is thoughtfully designed despite not having a uniform design language.
The black and red colorway will go well with most tech-centric setups.
Connectivity Options
The Elecom EX-G comes with a variety of convenient connectivity options. Having so many options really show the versatility of the trackball design.
You can choose between the following options:
1. Wired Mode
The most straight forward mode and most reliable, all you need to do is connect your micro-USB cable and you are ready to roll, no battery required.
USB-C would be more ideal in a top-tier thumbball, but it's better than having no wired option at all.
2. 2.4ghz Mode
2.4ghz wireless mode is almost just as easy as wired mode.
First plug in your receiever.
Make sure the Elecom trackball is turned on, and toggle the thumb-switch to red mode. That's it.
The receiver s already paired, so it is also a simple plug-and-play experience.
The latency is low, but the signal may be poor due to range, poor line-of-sight, and using a USB 3.0 port.
If your receiver is close and in-view, your cursor will be smooth and fast.
If not, then you may have a cursor that lags, jitters, jumps, and is just plain unusable.
3. Bluetooth mode
The Bluetooth mode may not have the low-latency signal that 2.4ghz or wired connections do, but you do have improved range and reliability.
Latency is acceptable for most cases except competitive gaming. The device may go to sleep after a few minutes of inactivity, and re-establishing the Bluetooth connection could take a few moments.
To pair your EX-G Pro in Bluetooth mode, first make sure your mouse is turned on.
Flip the thumb-switch to blue mode, and press the "pairing" button on the bottom of the device.
You can now select your trackball from your Bluetooth setup menu.
The Software: Elecom Mouse Assistant
Elecom Mouse Assistant Software is a bit outdated in terms of the UI design, but the software is straight-forward and simple to use.
All of the buttons which you can customize can be set via drop-down menus.
You can also set gestures in a differnt tab, and a "presentation mode" that could be handy for the office.
Downloading the software is necessary if you want to take advantage of the 3 extra buttons that are otherwise unassigned out-of-the-box.
Why You Should Trust Me
After looking for a replacement for the M570, which has proven to be one of the most effective trackballs in terms of shape, design, and usability, the Elecom EX-G Pro has really impressed me.
On my quest to find the perfect productivity trackball, the Elecom EX-G Pro has become one of the best options I have ever tried.
After using primarily thumb-balls for the past 6 years, and trying to find a worthy successor to the M570, the EX-G Pro is possibly the most productive thumb-ball I have used in the last decade.
After using the EX-G Pro for several weeks, I don't want it to leave my desk.
Conclusion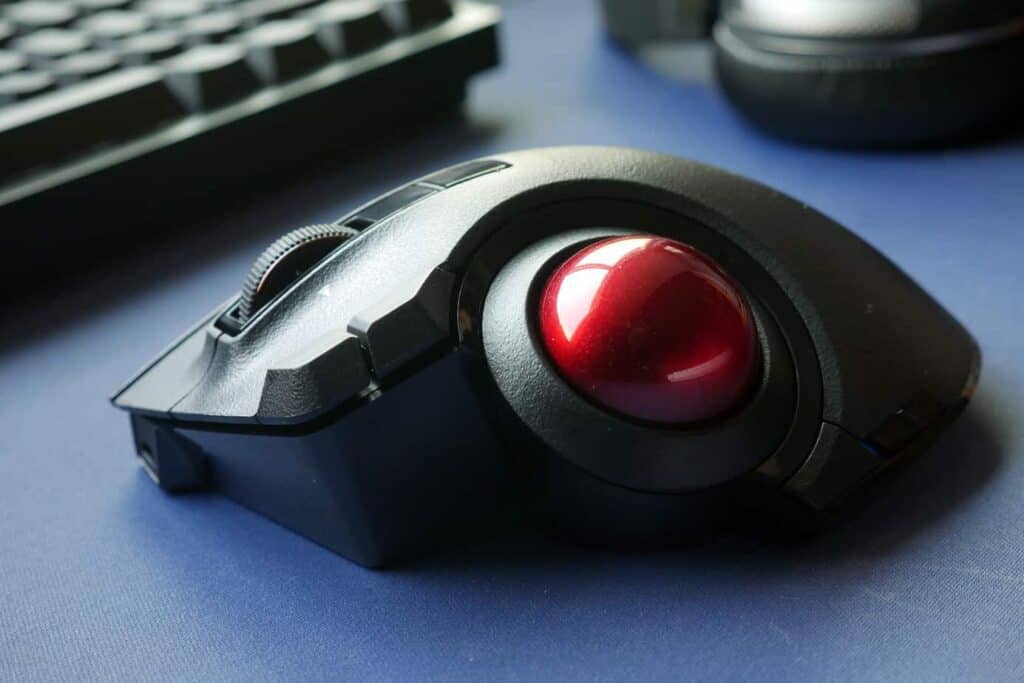 While all of the Elecom trackballs are well designed, the EX-G seems to be the best of the bunch as far as ergonomics and functionality are concerned.
While the angle is more shallow and less ergonomic than other thumbballs may be, the EX-G Pro's functionality outweighs the flaws and outshines the competition.
The Elecom EX-G Pro balances style, productivity, and power all in one trackball, and is one of the best thumbballs available on the market.
Not the trackball you're looking for? Check out our guides on Elecom Trackballs and How to Choose a Trackball.
Thanks for reading, and have a pleasant day 🙂