If you want to take your keyboard to the next level by improving the aesthetics and feel, a new set of keycaps can be a great investment.
Razer PBT keycaps makes upgrading to a new keycap set really affordable and easy, with a mix of different color options to create a unique style for your mechanical keyboard.
Most prebuilt mechanical keyboards come with ABS-plastic keycaps which shine quickly by attracting skin oils and fingerprints, which also feeling flimsy and thin. Razer PBT keycaps solve this problem by making their keycaps out of a better material that thicker, rougher in texture, and lasts much longer.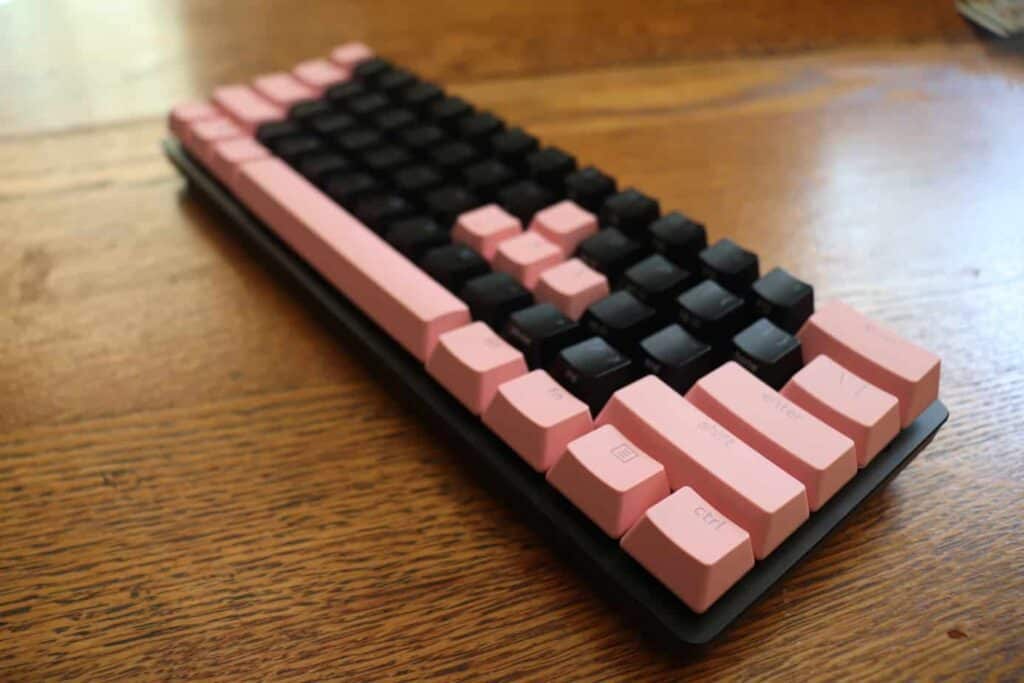 Should You Get Razer PBT Keycaps?
After using the Razer PBT keycap upgrade set for multiple months now in Quartz Pink, these keycaps have proven that they are durable, high-quality, and look like new, even after months of consistent use.
The Razer PBT keycaps are available in four different colors: quartz (pink), black, mercury (white), and green. They all feature the same fonts among their legends, making them extremely easy to be mixed with each other on the same keyboard.
For people who are looking to purchase an affordable PBT keycap set without breaking the bank, these keycaps are a good option to look at. Unlike many PBT keycaps out there, these feature shine-through legends that allow RGB to shine through evenly among them.
You can find the Razer PBT keycaps on Amazon, where you'll be able to look at the variety of different colors and find what would work best with your keyboard.
Pros of the Razer PBT Keycaps
Affordable price that is more budget-friendly
Thick plastic walls on each keycap
Durable PBT plastic reduces shine and grime
Shine-through doubleshot legends allow RGB to shine through brightly
Full set that is compatible with ANSI and ISO with all standard layouts
Clean and simple no-frills font
Includes additional stabilizers for Razer keyboards
Cons of the Razer PBT Keycaps
Is not compatible with non-standard layouts such as 65%, 75%, and 96%
Lighter keycap sets allow other colors to shine through, making it look too bright
Some colors with the colored keycap sets don't allow enough contrast, making reading the legends difficult
Font may be too thin for some people and can be difficult to read
Includes only stabilizers for Razer keyboards and not other stabilizer styles
Doesn't look good if your keyboard doesn't support RGB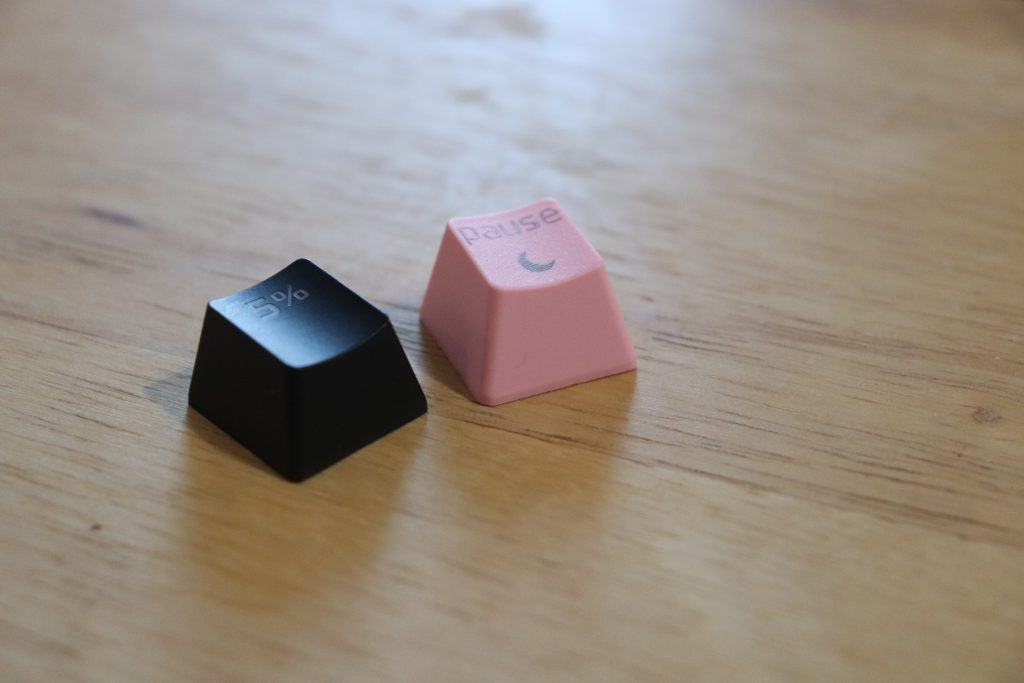 What Makes The Razer PBT Keycaps Unique?
Thick PBT Plastic Walls
PBT plastic is less common in most big brand keycaps. They feel higher quality than ABS. To read more about PBT vs ABS, see this post we wrote.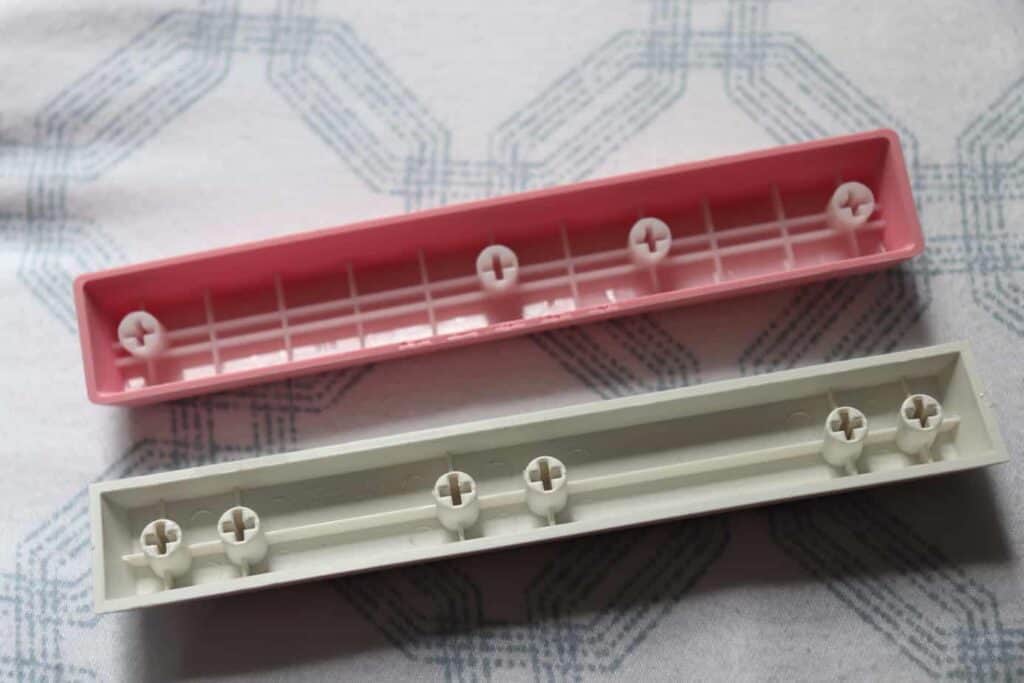 The Razer keycaps are between 1 and 1.5mm, depending on the side that is being measured. Compared to ABS keycaps, the difference is obvious.
Razer PBT keycaps do not flex under pressure, and the reinforcing structural beams within the larger keycaps such as the space bar run throughout the entire keycap interior. Although the keycap thickness is less than other brands, the reinforcements prevent any flexing of the keycap.
On each keycap, there is a rough texture on the underside of one of the walls. This is due to the manufacturing and molding process. On the surface, these imperfections are unnoticeable.
Common OEM Profile
The Razer keycaps have an OEM profile to them. Many prebuilt keycaps come with this profile, meaning you'll be no stranger to the way that these keycaps feel when using them.
OEM keycaps are sculpted, meaning they vary between row to row. The profile reduces the distance between keys and makes for a comfortable typing and gaming experience.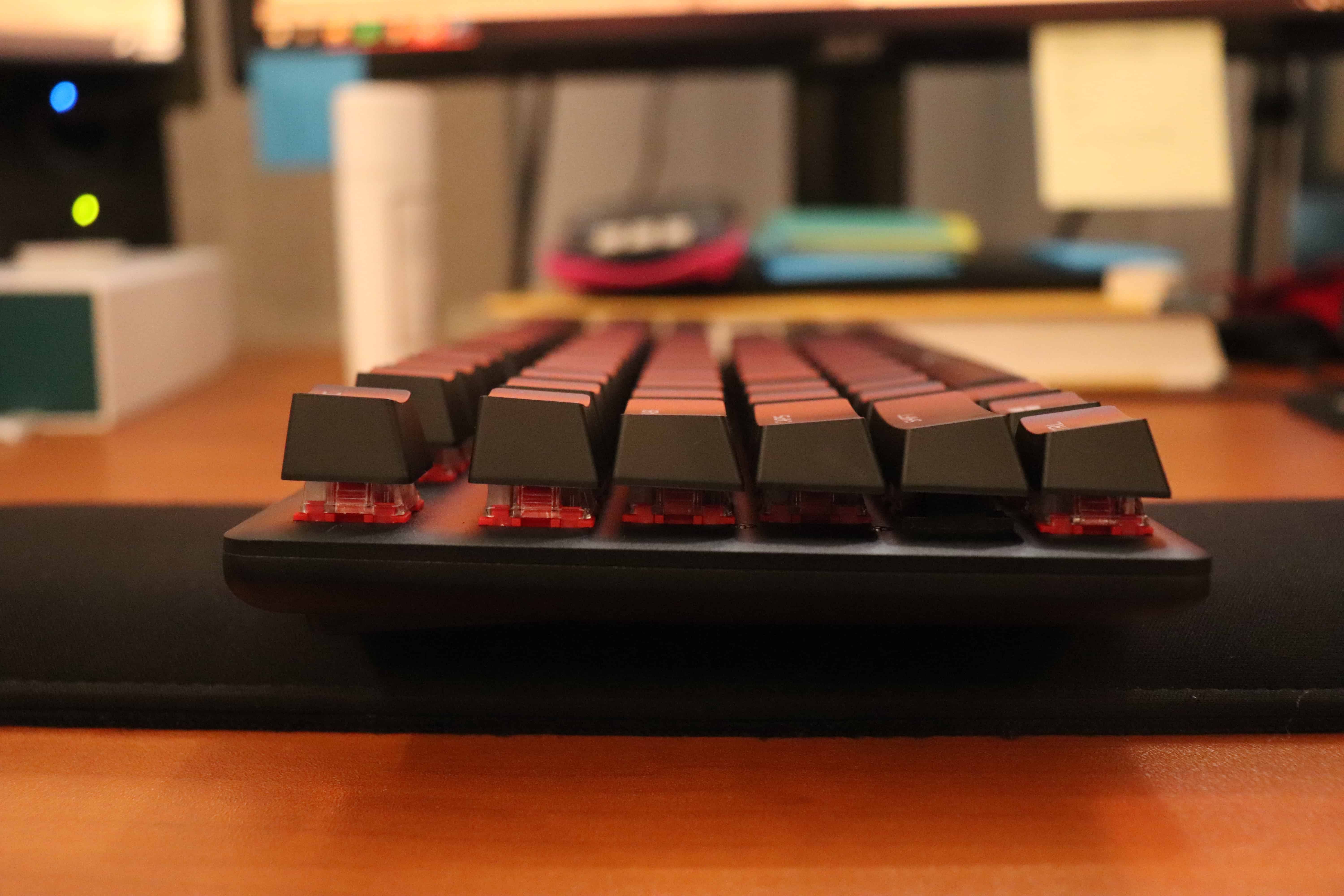 Doubleshot Shine-through Legends
Razer's PBT keycaps features doubleshot injected molding, which means two layers of plastic were molded together to allow different layers to be created.
One layer is the overall molding of the keycap, while the other layer reinforces the keycap, provides the cross-shaped stems to attach to the switches, and make up the legends.
This allows light to shine through more evenly with no interruptions or muddiness of it.
This also means that even after years and years of wear, the legends won't fade or disappear because they are a layer of plastic.
A downside is that, without RGB lighting, the legends are low-contrast and are hard to see in the daytime and night time.
Professional and Simple Fonts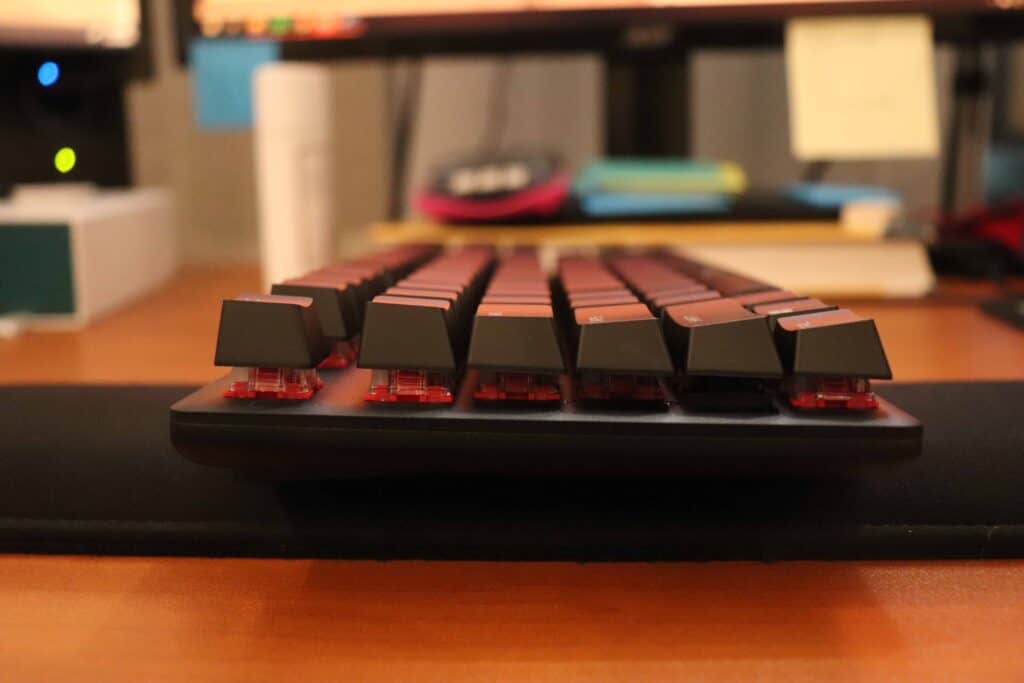 Razer moved away from their "gamer" fonts and towards a more professional look.
The new legends are are connected. The alphabet is in all capital letters, and the modifiers are written in all lowercase letters.
The numbers and symbols are side by side as well as keycaps with two symbols.
The sub legends, unfortunately, are not doubleshot and therefore, do not let light shine through. When you're using your keyboard at night, it may be difficult to use the media functions on the top function row.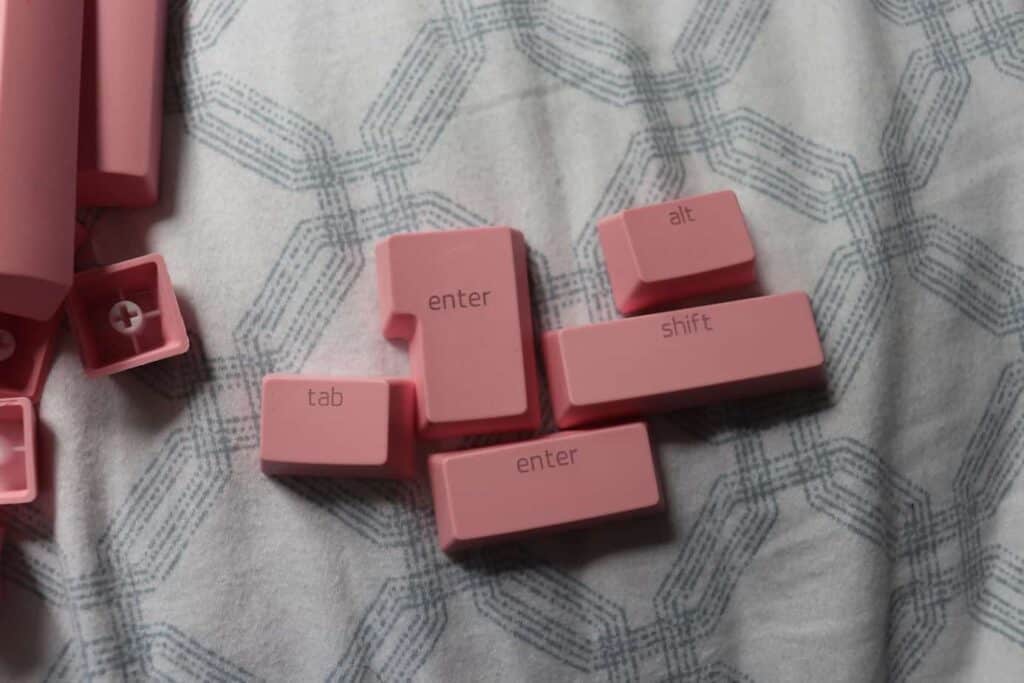 Compatible With All Standard Layouts
The Razer PBT Upgrade Sets feature 120 total keys. They are compatible with ANSI and ISO layouts, so whether you live in the US or UK, don't fret because you'll still have your pound key and dollar sign.
It has two different sized spacebars, the big enter key, and more.
These keycaps are compatible with all mechanical switches that feature a cross-shaped stem with a snug fit.
The following layouts would be compatible with this keycap set: 60%, tenkeyless or 80%, and full-sized. To see whether your keyboard would be compatible, see our size guide and our guide to determine keycap compatibility.
Additionally, although the Razer Blackwidow does not feature a standard bottom row, Razer does take this into account and provides keycaps that fit this uncommon layout as well.
The Razer bottom row has a small FN, Menu, and Window key than the standard bottom row. For Mac users, you're out of luck because this keycap set only supports Windows keys.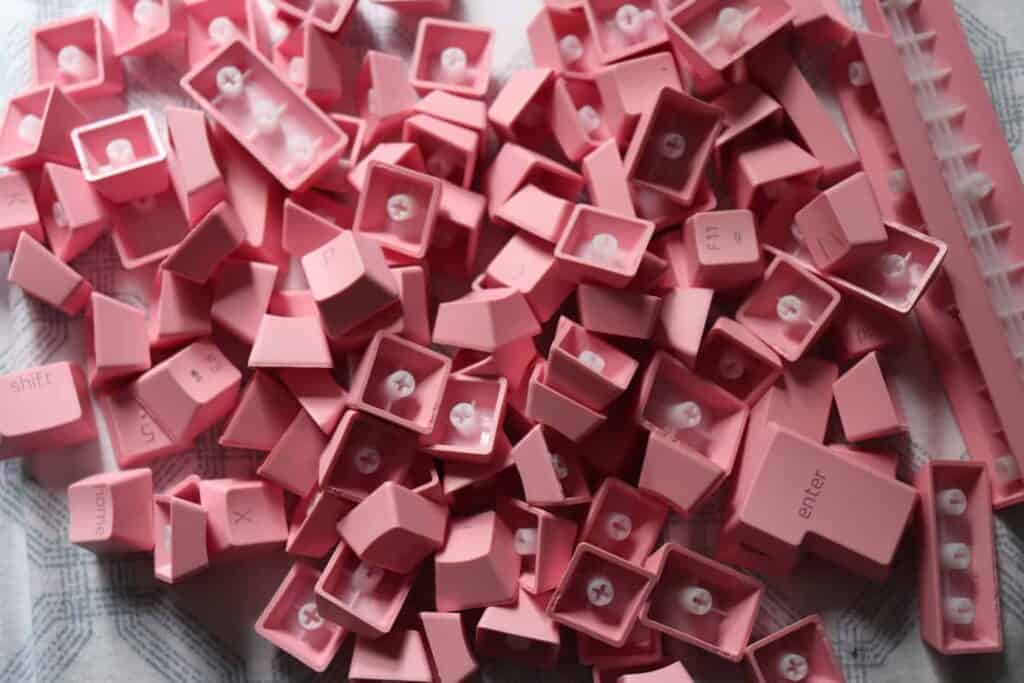 Additional Razer Stabilizers
If you're ever in a situation where your stabilizers break on either your Razer Blackwidow or Huntsman, this keycap set includes many sets of stabilizers that are compatible with both models.
They provide them in very clean packaging and include links to guides on the Razer website that show you how to install them.
The Razer stabilizers are Costar-style stabilizers. However, they may not fit with other layouts with Costar stabilizers. These are compatible with the Razer Blackwidow keyboards. You can read more about the different stabilizer types here.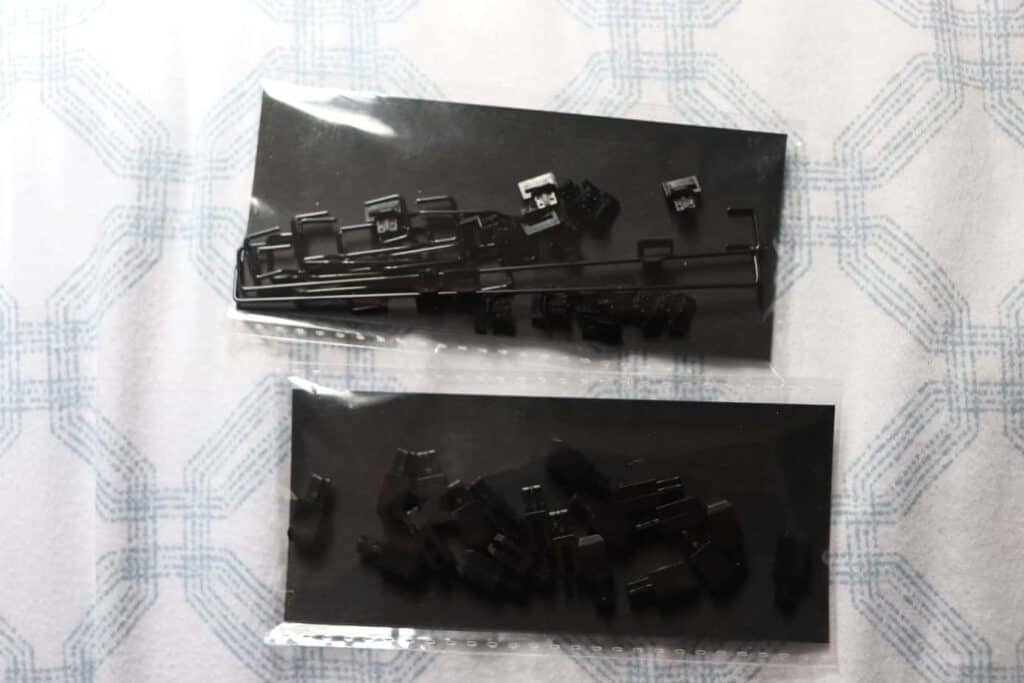 Better Than Its Competitors
After comparing these Razer PBT keycaps to other keycap sets around the same price point such as HK Gaming, YMDK, and HyperX Pudding PBT Keycaps, the Razer ones are better in overall quality and consistency between keycaps.
They have much cleaner legends and doubleshot molding, which other keycap sets at this price point do not have. Instead, the other keycap sets have separations in letters such as O, Q, and numbers such as 8, 9, and 0.
Compared to the HyperX Pudding keycaps, these are much thicker. However, they do allow less light to shine through.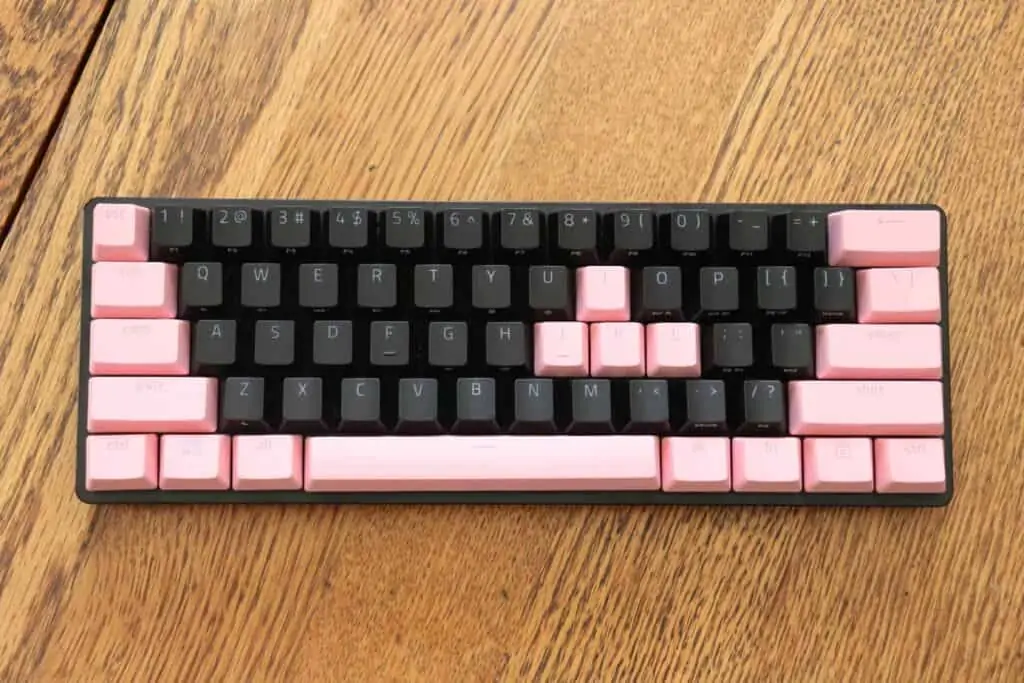 Other Keycap Sets to Consider
For this price point, there are other keycap sets to consider as well, such as the HK Gaming Chalk/9009, HyperX Pudding keycap sets, and YMDK PBT keycap sets in a variety of different styles and colors.
HK Gaming Chalk/9009/Symbiosis
The HK Gaming keycaps feature a Cherry-profile, which can be considered to be more comfortable because they are lower than OEM keycaps.
The sets come in three different colorways right now: a multi-color Chalk set, a simple classic 9009 set, and a unique blue/yellow/grey set. Each set has 139 keys for compatibility with almost all layouts, including non-standard layouts.
The downside is that they are not shinethrough, but they do feature dye-sublimated, clean legends and smooth PBT plastic.
This set is extremely comfortable and nice to use if you are looking for keycaps that do not need to have RGB lighting shine through. They are compatible with 60%, 65%, 75%, TKL, full-sized, and more.
To check out the different sets and prices, see it on Amazon here for a competitive price.
YMDK Keycaps
YMDK makes a variety of different keycaps in different profiles, sizes, and colors.
If you are looking for variety and to explore new keycaps, YMDK is a nice way to do that for a budget.
Their keycaps vary from ABS to PBT, from standard layout to non-standard, and Cherry profile, OEM profile, and DSA profile as well. YMDK produces doubleshot shinethrough keycaps and dye-sublimated keycaps.
To see all of the different options on Amazon, click here.
HyperX Pudding Keycaps
HyperX Pudding keycaps have a unique design that may not be for everybody. The goal of these keycaps is to let as much light shine through as possible.
These keycaps have PBT top for the area your fingers touch with ABS sides to allow more light to shine through.
Pudding keycaps make your keyboard look like a lightshow, especially with different colored effects.
The legends are disconnected for certain letters and symbols, but they do allow RGB to shine through.
These are available in black or white. Pudding keycaps are relatively thin and flimsy compared to Razer's keycaps, but without this thinness, they wouldn't be able to do their duty very well.
To check these out on Amazon, see here.
Things to Consider Before Buying Keycaps
Before purchasing keycaps, there are so many things to think about. Different aspects of keycaps will affect the sound and feel of your keyboard.
The different things to look at before purchasing a keycap set are:
Material – ABS, PBT, POM, etc.
Profile – Cherry, OEM, SA, DSA, XDA, etc.
Legends
Layout and Compatibility
We have an in-depth guide that looks at all of the different profiles and materials for keycaps.
The most common profiles are OEM and Cherry. These are both sculpted, meaning each row varies from the next. With uniform keycaps, which are less common, each row and each keycap is identical.
Many aspects of keycaps all boils down to personal preference. Some prefer the gamer fonts, some do not.
Compatibility is the most important thing to look at after determining your preferences. Make sure your keycap set will fit your keyboard by looking at each key in the set/kit and compare with the current keyboard layout that you have to ensure a good fit.
Conclusion
The Razer PBT Keycap Upgrade Set has a lot of good features that signify durability and quality. For the price that they are at, they are very much worth it.
We also have a ton of other great keycap recommendations in our favorite keycap sets post.
Razer PBT keycap sets come with doubleshot PBT-plastic material with shine-through legends in four different colors (black, pink, white, and green). These sets support all standard layouts in ISO or ANSI. They also include stabilizers for their Razer optical and mechanical keyboards.
If your current keyboard has an ABS keycap set, and you want to switch to something better feeling, these are a great option to consider. It has many keys, is compatible with the common layouts, and are unique.
Razer PBT keycaps can be bought on Amazon in their four different colors for a very affordable price.
Happy Typing!