If you're looking for an 1800 compact mechanical keyboard, but you're struggling to find the right one for you, look no further. We put together a guide to help you pick out the perfect 1800 compact keyboard with recommendations on which are the best and why.
The best 1800 compact mechanical keyboards of 2020 are:
Cherry G80-1800
Keychron K4
Leopold FC980m/FC980c
iQunix F96
TKC1800 Keyboard Kit
What is an 1800 Compact Mechanical Keyboard?
1800 compact keyboards (AKA compact full-size) are an uncommon layout that packs as many keys as possible into a small area. They are similar to full-sized keyboards, expect they smush together the number pad and home cluster to minimize space used.
This makes the keyboard more compact and portable since they are not quite as wide as a full-sized keyboard. You usually save around an inch of space by moving to this layout without having to remove any keys, so it only minimally impacts the typing experience. In addition, having the number pad be packed in closer makes it so you don't have to reach as far to grab the mouse.
The 1800 compact is one of the most efficient keyboard layouts because of the way the keys are laid out. Unfortunately, this keyboard size is not widely used. There aren't many keyboards available in this size, so we did our best to research all the available models online and compile them together in this article.
Keep in mind that some 1800 compact keyboard layouts remove some of the home cluster keys while others do not. Be careful when buying one of these and make sure all of the keys you want are there because not all of the layouts are exactly the same, and there are definitely some small differences between the keyboards on the list.
If you enjoy using a number pad and can't live without one, the 1800 compact layout is the smallest size keyboard you can go without getting rid of it. Many people find this keyboard to be their "sweet spot" for that reason.
Keyboard Size
# of Keys
Number Pad
Home Cluster
F Keys
Arrow Keys
Number Keys (Top Row)
Full Alphabet
Full-Sized (100%)
104
✔
✔
✔
✔
✔
✔
1800 Compact Full-sized
190-104
✔
X(Some might)
✔
✔
✔
✔
TKL
(87/80%)
87
X
✔
✔
✔
✔
✔
Group Buys and Custom Keyboards
Since the 1800 compact keyboard is not produced by many companies, group buys and the custom keyboard market tend to fill the demand for a lot of the people who fall through the gaps. If none of the keyboards on the list interest you, we recommend looking at signing up for a group buy or looking for custom keyboard kits instead of purchasing a prebuilt board. This allows for more customizations and you get the opportunity to find an interesting layout that appeals to you. We included one of our favorite keyboard kits on our list as well to give you a nice starting point.
1. Cherry G80-1800
The Cherry G80-1800 is a basic 1800 compact keyboard that comes standard with your choice of Cherry MX switches. You also get to decide between a white or black colored case. This would make an excellent keyboard for working in the office or any other professional environment. The keyboard places the entire home cluster on top of the number pad, so you have access to all of the standard keys that would on a full-sized keyboard.
I am a fan of how the arrow keys are slightly spaced apart from the number pad and the alphanumeric keys so you can easily find them whilst typing. In addition, it comes standard with PBT keycaps, so no need to worry about a shine developing over time.
Overall, this is an excellent keyboard for the price and is good for someone who places a high priority on the feel of a keyboard above anything else. Might not be the best keyboard for someone who wants something flashier with RGB lighting. But then again, that aesthetic is not for everyone.
Check out this link to look at the price on Amazon.
2. Keychron K4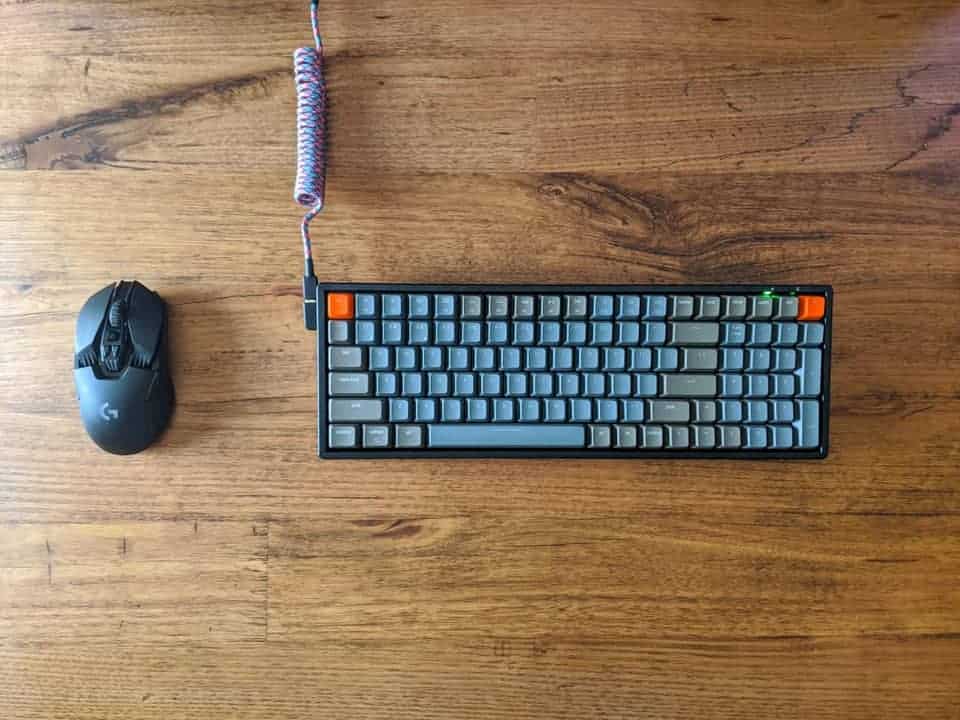 The Keychron K4 is another widely available 1800 compact mechanical keyboard prebuilt. This keyboard is the only one on the list that is wireless and features Windows/Apple compatibility. The keyboard comes in a light grey/brown aesthetic, with a boxy rectangular look to it. You have your choice between Gateron Red, Blue, Yellow, and Brown switches, so you can really customize how the keyboard feels. This keyboard also has RGB LED lighting so you can type easily in the dark.
The layout is slightly different than the G80-1800, as the home cluster is laid out horizontally instead of the usual 3×3 grid layout. This conserves space and makes the keyboard even more narrow. In addition, there are also some addition keys to control the RGB backlighting of the keyboard. It make take a little while to get used to this layout, but the keys aren't used too often anyways so it shouldn't impact the typing experience too much.
Some of my main criticisms of this keyboard, and Keychron keyboards in general, is how high the front of the keyboard is. This can be uncomfortable or even painful on the wrists and is difficult to use without a wrist rest. With a wrist rest it's slightly better, just be ready for the keyboard to be a little bit higher in the front than usual.
Overall, it's a great keyboard that's absolutely packed with features. If this sounds interesting to you, you can check it out on Amazon for a relatively cheap price.
3. TKC1800
The TKC1800 is a bit different from the other two on the list. If you are more DIY inclined this will be a good option for you because it will require you to assemble the board. That's right the TKC 1800 is a keyboard kit in the 1800 compact layout. The kit comes with a plastic case, an anodized aluminum plate, and PCB with customizable LED colors. You'll have to order the switches and keycaps separately, so you'll be able to customize that aspect of the keyboard.
The TKC1800 allows you to pick out your choice of color for the kit, plate, and PCB as well, so you can really personalize this board to your tastes. If you find this keyboard kit interesting, you can find it on the thekey.company website, available for order today.
The overall layout of this board is similar to the Cherry G80-1800, where the home cluster is placed directly on top of the number pad. Making this keyboard slightly wider and taller than a tenkeyless board, but not quite as wide as a full-sized board.
Additional Keyboards
Other 1800 compact keyboards we enjoy are the Massdrop F X XMIT, Leopold FC980m/c, and the iQunix F96. Either due to their limited availability or high price tag, we decided not to include them in our main list but mentioned them here so you can check them out if none of the other keyboards on the list interest you. These keyboards come with some interesting switch types as well such as Topre/Hall Effect switches. Keep in mind they may not be available for order year-round.
Conclusion
1800 compact keyboards are an awesome keyboard layout that balances space and functionality very well. These are great for people who need the number pad, but don't like how bulky and cumbersome full-sized keyboards are. We hope our list helped you pick out a 1800 compact keyboard that fits your needs.
As you can see, this is not the most common layout so there are not many options available, but as mentioned before you can always look for group buys and purchase a custom made 1800 compact keyboard through one of those services instead.
Happy Typing!