Ordering a new keycap set for your mechanical keyboard is one of the best ways to give your setup a facelift, but what if you have a Mac computer and want keycaps that allow your backlight to shine through? Backlit Mac keycaps can be almost impossible to find, so we put together all the resources where you could find backlit Mac keycaps.
There are not many places that currently sell backlit keycaps for Mac. The only two places that have backlit keycaps for Mac in-stock are maxkeyboard and Keychron. Another option is buy a keyboard with Mac backlit keycaps and scavenge the keycaps off.
We'll go into more detail about what's currently available and give you additional alternative options we recommend for keycaps.
Where to Find Backlit Keycaps for Mac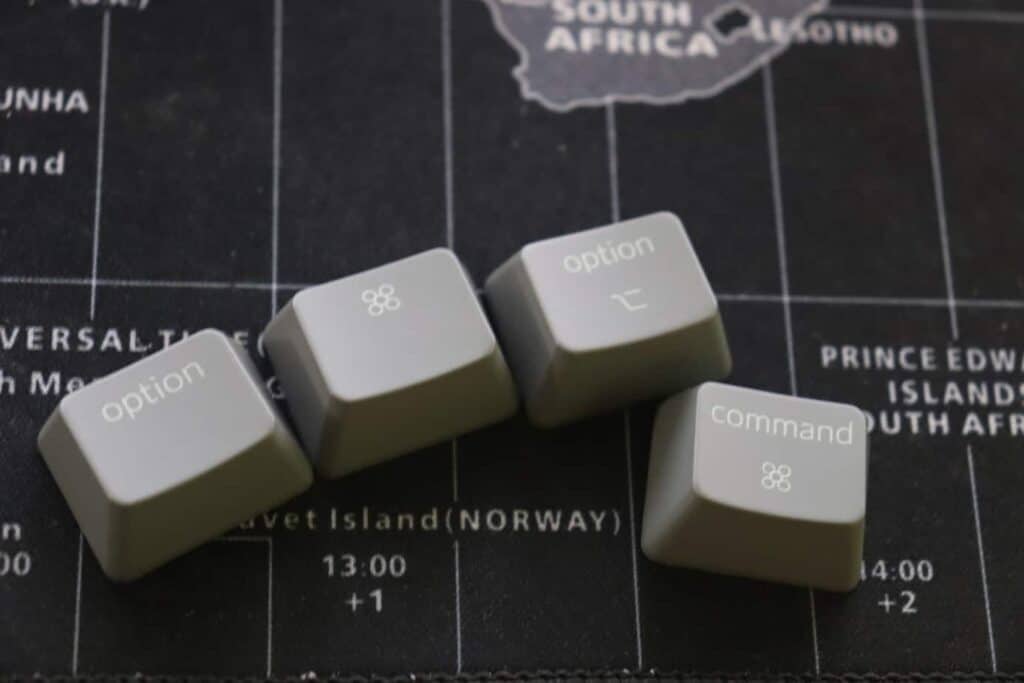 Finding a keycap set for Mac that has all of the necessary Mac modifier keys is quite difficult to do, but to find a backlit keycap set for Mac is even more difficult. After doing tons of research we've narrowed down to only a few different sites that will sell backlit keycaps with Mac modifier keys. Not the largest selection, unfortunately.
Site #1: Maxkeyboard.com
The first site, maxkeyboard.com, is probably the go-to if you need to swap out the Window's modifier keys on your keyboard with Mac keycaps.
Maxkeyboard.com sells standalone backlit Mac modifier keys on their site. They come with several different legend designs depending on how minimalistic or information-packed you need them to be. The legends range from the normal Mac aesthetic all the way to a gamer-looking aesthetic. You can order a Mac keycap with Windows sub-legends, Windows with Mac sub-legends or all Mac keycaps.
The actual colors are quite limited, however, as they only sell backlit Mac keycaps in a black or off-white colorway. If your current keycap set is black or white, you can order the modifier keys off of maxkeyboard.com and swap out the Windows modifier keys with the new Mac modifier keys.
Site #2: Keychron.com
Keychron is the only site that currently sells backlit keycaps for Mac made with PBT plastic. Most keycaps typically come in ABS plastic, as they are the easier to manufacture and mass produce. PBT plastic on the other hand is usually more durable and long-lasting.
With ABS plastic, the legends will wear off quickly and develop a greasy shine as they are used, PBT keycaps will look the same as they are used. Basically, PBT keycaps are usually better than ABS, which is what makes this keycap set such a great option. You can read more about ABS vs PBT keycaps here.
The PBT keycap set that Keychron offers comes in a stylish white, grey, and orange design. The keycaps are backlit and come with both Windows and Mac modifier keys which makes them an excellent option for someone who uses a Mac computer.
The only downside? The keycap set is specifically made for their K2 model which is a compact 75% keyboard. A 75% keyboard is much smaller than the standard full-size or tenkeyless layout, as a 75% keyboard does not have a number pad or the navigation cluster.
This means you cannot order this keycap for any size other than a 75% keyboard, which probably won't help 90% of the people reading this article. You can read about the differences between 75% and normal keyboards in our size guide.
However, you can scavenge the modifier keys from this keycap set and use them in addition with another set. Not exactly ideal, but our options are limited here, so I'm trying to give some outside-the-box options for you Mac users.
What Keyboards Come with Backlit Mac Legends?
As you can see from the previous section, backlit keycaps for Mac are extremely limited on the internet at the moment. Your best bet is to buy modifiers keys separately and hope they match your current set.
You do have another option, which is to buy a new keyboard that comes with Mac backlit keycaps and use that keyboard instead of your current one, or simply scavenge the keycaps. While it doesn't make a whole lot of sense to buy an entirely new keyboard just for the keycaps, it is another option for those who are willing to go the extra length for backlit Mac modifier keys.
We'll list a few keyboards that come with backlit Mac keycaps so you can find the best deals out there.
Azio USB Mechanical Backlit Keyboard for Mac
The Azio USB mechanical keyboard is one of the few mechanical keyboards out there that comes in full-sized layout with backlit keycaps and Mac modifier keys. The keyboard itself is pretty barebones, it comes with a bright white colorway with Kailh Brown switches and a white backlight. The keyboard also comes in a wireless or wired option.
The top plate of the keyboard is aluminum with a volume wheel in the top right, so you have access to some super useful media keys when trying to change music on the fly. The keyboard also comes with a wrist rest to help improve ergonomics and comfort.
I personally have not used this keyboard, but it looks like a decent option. You could potentially order the keyboard just to steal the keycaps, but that decision is ultimately up to you.
You can find the Azio USB on Amazon for a decent price through this link.
Velocifire M87 Mac
The Velocifire M87 is also an option for a backlit keyboard that has the Mac modifier keys. The keyboard comes in a more compact tenkeyless layout, so there is no number pad. Overall, the price is quite a bit cheaper than the Azio USB and has a similar build with a Brown switch and aluminum top plate.
Although we personally haven't tested out the M87, we've tried another keyboard from Velocifire, the TKL02WS, and found it to be a really good budget keyboard. The TKL02WS ranked #2 in our favorite mechanical keyboards under $50. Although we can't say for sure that the M87 is just as good as the TKL02WS, we've had good experiences with Velocifire in the past.
We definitely recommend you checkout the Velocifire M87 on Amazon for a super affordable price.
Keychron K2, K4, K6, or K8
Keychron offers a ton of different RGB backlit keyboards that come with the Mac modifier keycaps. These keyboards can be an excellent option for someone looking for a backlit Mac mechanical keyboard. We've reviewed every keyboard in the Keychron lineup and compared them in this post.
Each keyboard is basically the same except they all come in different sizes. The keyboards feature wireless/wired connection, compatibility with Mac/Windows, and a few have the option for hot-swappable sockets which allow you to change out the switches without desoldering.
Keychron keyboards are a highly recommended although some of the strange layouts might not be for everyone. You can check out the Keychron K2, K4, and K6 on Amazon. The K8 is currently available only on Kickstarter.
Conclusion
Finding keycaps for a Mac keyboard that are backlit is a difficult task. I put together every resource I could find after scavenging the internet. There is definitely a big gap in the market for any keycap manufacturer that wants to start producing this style of keycap, but until then, we're stuck with the limited options available.
Your best bet is to order the Mac modifier keycaps off of maxkeyboards.com or if you have a 75% keyboard, get the PBT set currently offer on Keychron.com. Otherwise, you may need to find a brand-new keyboard such as the Azio USB, Velocifire M87, or the Keychron K2/K4/K6/K8 and scavenge the keycaps.
It's a barren world for backlit Mac keycaps, so let's make the most of what's available.
Happy Typing!