You may be wondering what the heck USB passthrough is or why your keyboard has two USB ports on it. We'll go over what USB passthrough is, if you should get a keyboard with it, and our favorite keyboards with USB passthrough.
USB passthrough is a feature on some keyboards. Keyboards with USB passthrough will have an extra female USB port that you can plug other USB devices into. USB passthrough on your keyboard is easier to access and is a shorter distance away than your PC. USB passthrough is often used for your mouse, headset, or thumb drives.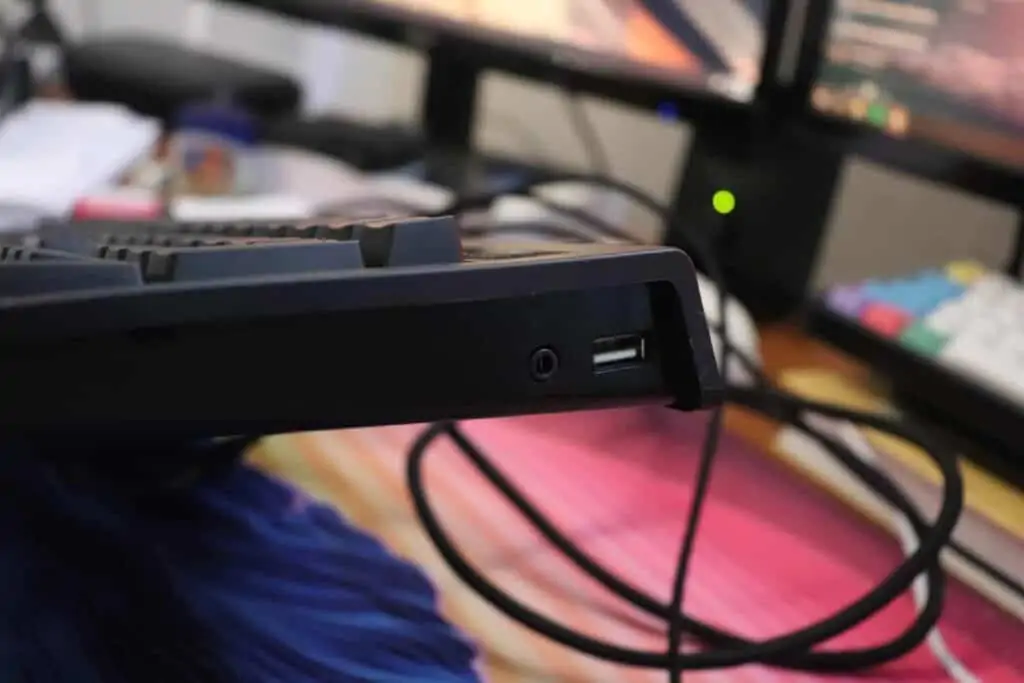 We'll go into more detail about USB passthrough and determine if this feature is really necessary or even recommended on a keyboard.
What is USB Passthrough?
USB passthrough is a super helpful feature that generally comes standard on higher end gaming keyboards. The USB passthrough makes plugging in additional USB devices breeze, especially devices with a shorter cable. If you're gaming, you can plug a standing microphone straight into your keyboard. If you don't want to reach for your PC you can plug in a thumb drive. The usability of the USB passthrough is super convenient and pretty self-explanatory. You can if your keyboard has USB passthrough if you have an extra female USB port on the side of your keyboard.
What is Auxiliary Passthrough?
Some keyboards also have the option for auxiliary passthrough. This is used to plug speakers directly into your keyboard instead of your PC. The concept is exactly the same as USB passthrough, but with an auxiliary cable. Pretty cool, huh? The auxiliary pass through is much less common than USB passthrough, but can be equally as helpful.
Why Does my Keyboard Have 2 USB Cables?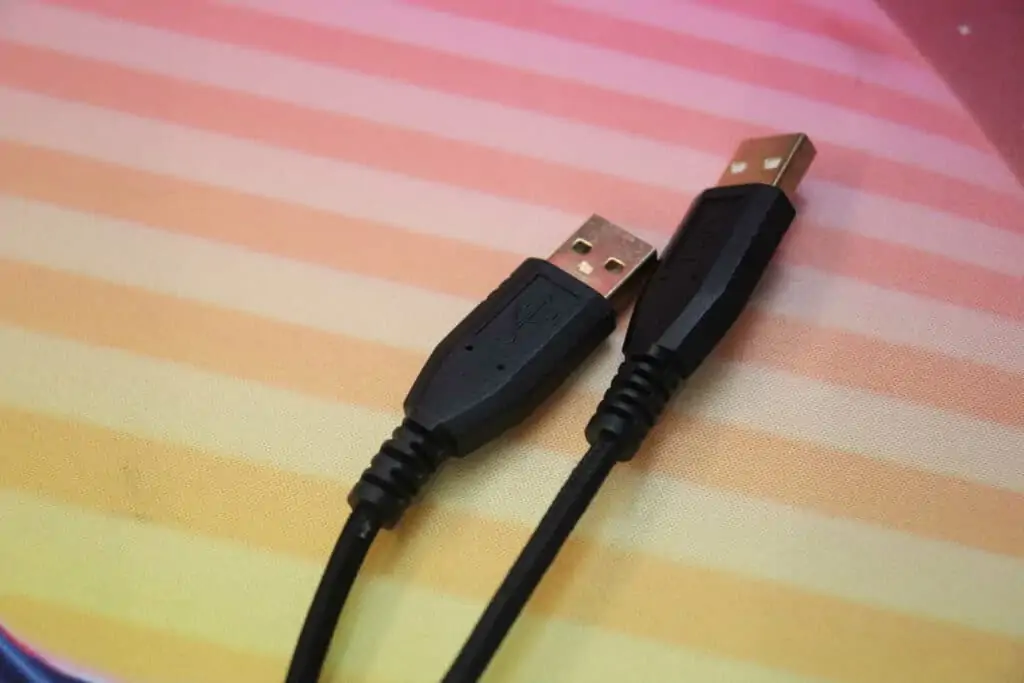 Keyboards with USB passthrough will require you to plug in two male USB power cables. One of the USB cables is for powering your keyboard and the other is to provide power the passthrough port for an additional device such as a mouse, headset, or thumb drive. If your PC does not have room for an additional USB port, you should be able to power your keyboard with just one USB port, just keep in mind you won't be able to use the USB passthrough feature on your keyboard.
What Should You Use USB Passthrough for?
There are so many different devices you can plug into your USB passthrough port. I'll list below some of the most common uses.
Mouse
Microphone
Thumb Drive
External Hard Drive
Speakers
Any other USB powered device
Should I Get a Keyboard with USB Passthrough?
USB passthrough is not for everybody. There are some definite upsides and downsides to getting a keyboard with USB passthrough. The main upsides are of course the convenience factor, it's super easy to plug in additional USB devices, it's also very helpful on a keyboard you don't plan on moving at all. USB passthrough can also help with cable routing and make your desk space look much cleaner since you won't need to route the cables all the way to your PC.
The main downsides of USB passthrough is the keyboard is much harder to move around. A keyboard with USB passthrough means the power cable will always be non-detachable. A non-detachable cable makes it much harder to pack up your keyboard and take it on the go. Additionally, a non-detachable cable is much more difficult to repair or replace, so if the keyboard is damaged, you might need to throw out the entire board.
Deciding if you want USB passthrough usually comes down to if you want a non-detachable cable or not. Generally high-end gaming keyboards will have a USB-passthrough and non-detachable cable, while high-end keyboards made for typing will exclusively have a detachable cable. A cool benefit of having a detachable power cable is that you can swap the factory cable out for a custom USB cable to really spruce up your keyboard and desk setup.
Benefits of USB Passthrough
Easy to plug in devices
Great for stationary keyboards
Better cable management
Downsides of USB Passthrough
Non-detachable cable is bulky
Difficult to replace damaged cable
Can't use custom USB cables
Best Keyboards with USB Passthrough
Now that we've gone over our thoughts on USB passthrough, we threw together a few keyboard recommendations that have USB passthrough. I'll admit we're not the biggest fans of the feature because we generally enjoy detachable cables since we're constantly reviewing keyboards and the detachable cable makes it a breeze to switch them out.
Regardless of that, here are some of our favorite mechanical keyboards with USB passthrough that we've gotten our hands on and reviewed in the past.
1. Logitech G512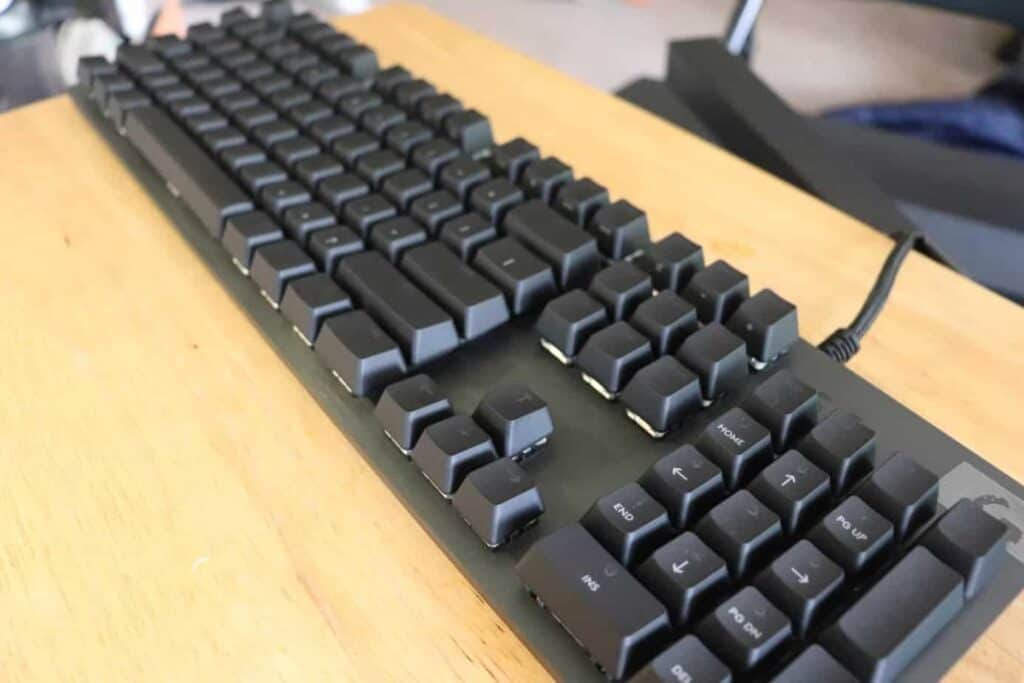 Our favorite keyboard with USB passthrough is the Logitech G512. The Logitech G512 is a sleek full-sized mechanical keyboard. The keyboard is a clean black color with black keycaps as well. For a full-sized keyboard it feels relatively compact with the case being just large enough to contain all of the keys.
The back of the keyboard has a nice ribbed design to it with six rubber feet and some kickstands for height variability. The keyboard feels sturdy and is well built. Overall, the keyboard is quite nice and the typing experience is pretty good for a gaming keyboard. The Logitech Kailh switches feel slightly scratchy and the stabilizers are slightly wobbly, but it's not too bad.
You can find the Logitech G512 on Amazon through link for a good price.
2. SteelSeries Apex 7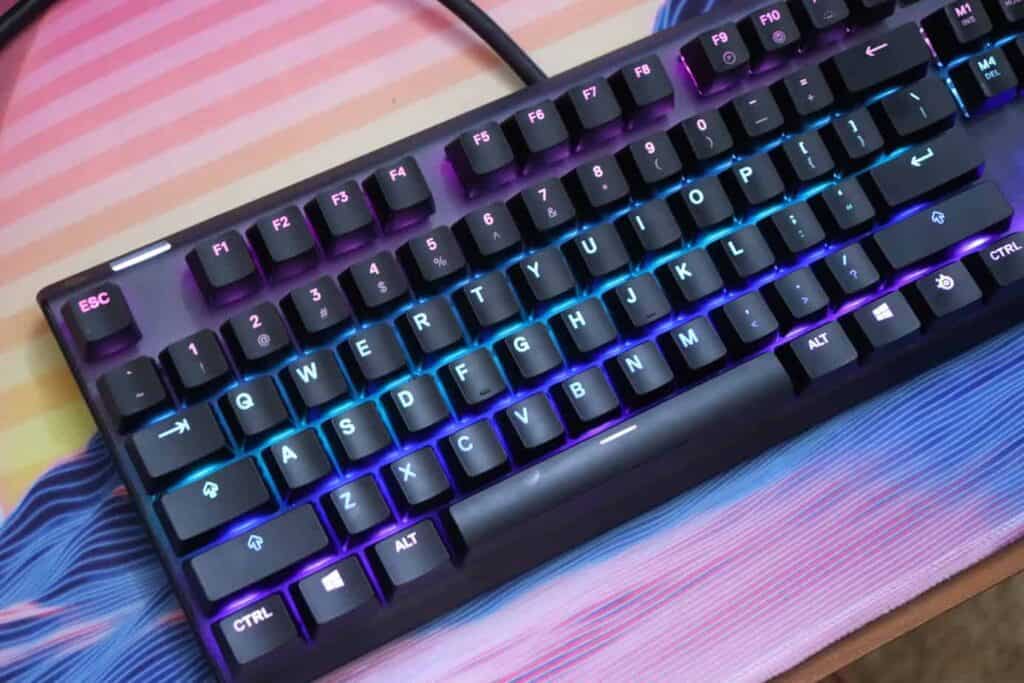 The Steel Series Apex 7 is another keyboard with USB passthrough and is absolutely loaded with features. The keyboard has media keys with a screen, several programmable keys, and macro keys. The keyboard is plastic with an aluminum top plate, and feels kind of rickety, so the overall case quality is not the greatest. We ordered our Apex 7 with the Steel Series Red switch, which is a linear actuating switch similar to the Cherry MX Red and feels almost exactly the same.
The keyboard has a small screen for cycling between media options such as sound, and several different RGB color options. The media screen is a pretty cool feature, but in reality, is not the most useful for quickly switching between options, but we have to credit Steel Series with the creativity in the design. The keyboard also has a small scroll wheel in the top right along with a small button to operate the screen functions.
The Apex 7 came with one of the nicest wrist rest pads I've ever used before. It attaches to the keyboard magnetically which makes it incredibly easy to put on and remove. On top of that, the wrist pad is made of a nice leather-like material that is incredibly satisfying to touch and provides good wrist support. Much better than the cheap plastic wrist rest that usually comes with Corsair keyboards. You can check out the Apex 7 through this link on Amazon.
3. Corsair K70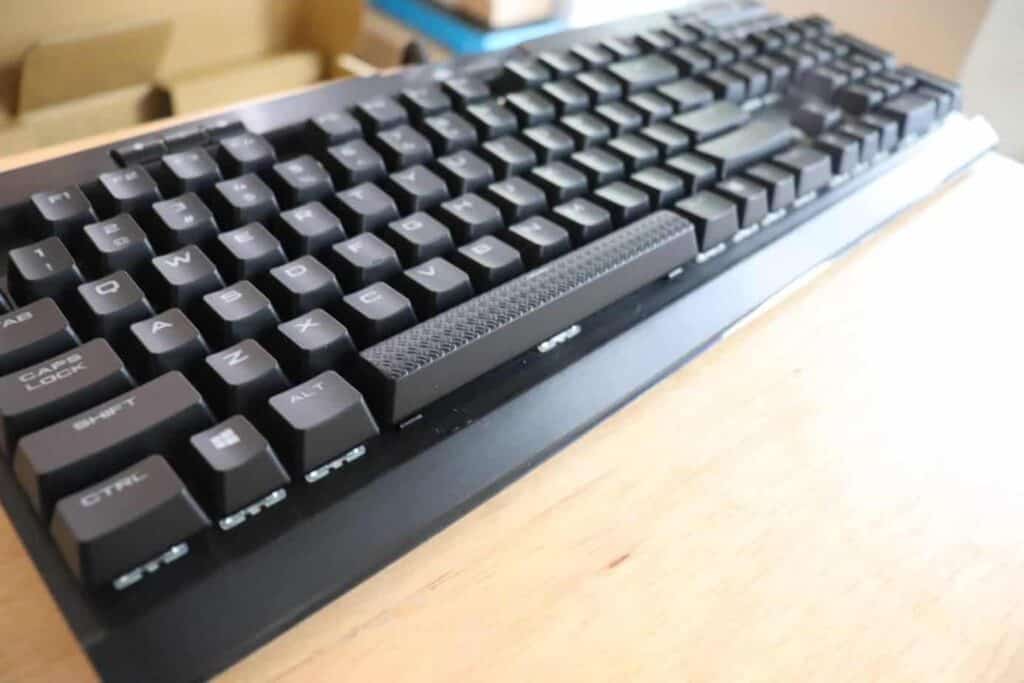 Coming in last on our list is the Corsair K70. The K70 is popular mechanical keyboard primarily used by gamers. It features a full-sized layout that is extra-large due to the wide frame of keyboard extending beyond the keys, making this keyboard is an absolute unit. The keyboard has a metal top plate, with the rest of the case being made from a plastic material. The keyboard has a textured spacebar, a standard feature of keyboards from Corsair.
The overall aesthetic has a "gamer" look to it. The keycap font is definitely made with that demographic in mind. The K70 also come outfitted with RGB and lots of different lighting options, so if you enjoy customizing your light settings, this keyboard can be exciting. There are also dedicated media keys on the forehead of the keyboard so you can adjust different media settings on the fly.
If you're interested in the Corsair K70 you can check out the price here on Amazon.
Conclusion
USB passthrough can be a super helpful feature for many people. It can be great for conveniently plugging devices into your keyboard instead of your PC and can help a ton with cable management. There are some downsides as well, such as being stuck with a non-detachable power cable. So, if you want USB passthrough, there are definitely some downsides. If you plan on using your keyboard in the same spot 100% of the time, USB passthrough can be incredibly helpful.
We recommended three mechanical keyboards with USB passthrough, the Logitech G512, SteelSeries Apex 7, and the Corsair K70. These are all decent picks for keyboards with this feature.
Happy Typing!