Amps are a great way to improve your audio setup to get more out of your headphones and ultimately have a better sounding device.
Trying to find the right amp can be complicated process, as there are tons of options out there to choose from.
Let's take a look at what to consider before buying your first amp.
Before Buying – Decide If You Even NEED An Amp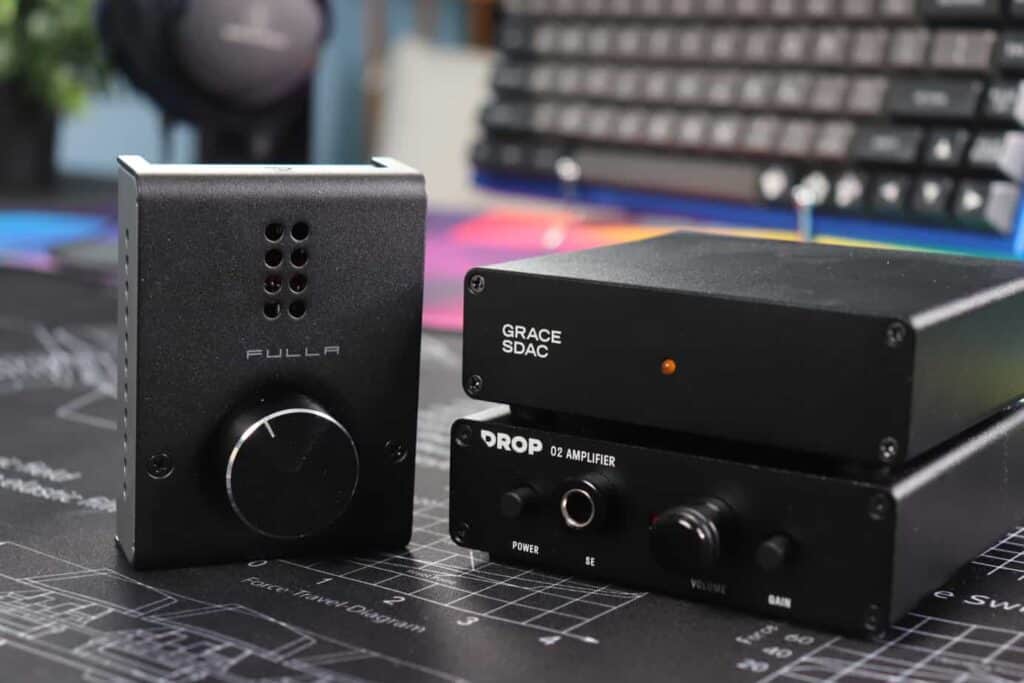 If you get an amp, the sound on your headphones will instantly get 1000x better right? …Right? Unfortunately, that's not always the case.
There are a few factors at play here that you need to understand before picking out an amp or it could be a futile purchase.
Impedence is probably the biggest factor, so let's start there.
Why Impedance Matters
Impedance is a measure of how much power your headphones need, measured in ohms.
This is important because some headphones require more power than your computer or phone can supply so they need an amp.
In other cases, some headphones may just benefit from the additional power from an amp but their impedance is low enough that they don't need an amp to run.
If headphones are not getting enough power they will not only sound very quiet but sounds won't be present.
If a pair has an impedance of 80 ohms or higher they will probably need an amp.
With an impedance higher than 32 ohms your headphones could potentially benefit and sound closer to the manufacturer's goal.
In this case, an amp is not needed to run the headphones properly.
Improved Sound – Sometimes
With an increase of power, sounds that may not have been present before now may be easier to hear.
The increase of power removes any bottleneck restricting the headphones of power so they can sound how the manufacturer intended them to.
Although amps may improve the sound for audio devices such as headphones or earbuds, they don't do it for all of them. A cheap pair of earbuds won't benefit as much as a higher-end headset.
Amps also won't be able to benefit you if you are using Bluetooth headphones. They add additional power through a cable so Bluetooth headphones can't receive additional power unless you use one.
Play Music At Louder Volumes
If you find that you are using the majority of your volume scale an amp could be very beneficial. Not only will an amp provide you a greater scale due to more power but at higher values, there is usually more distortion in the sound.
As a result of not listening to music at as high of a volume, there will be far less if any distortion in the sound. This is usually more of an issue when plugging in headphones into something like a console, remote, or phone.
How Much Should You Spend on An Amp?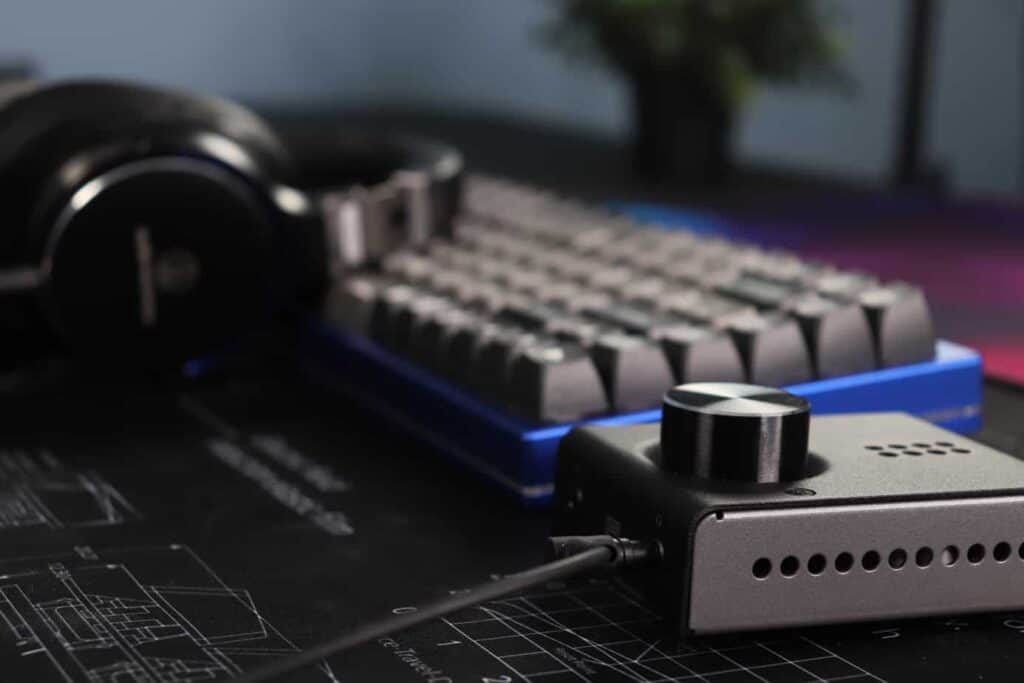 If you are new to the audiophile hobby a great place to start is around the $100 price point as there are some great value options at the price that will give you all the power you need while entering the hobby and then if you upgrade your headphones later down the line.
Spending more than $100 to $200 on an amp is only worth it if you have really power-hungry headphones or if there are specific features that you want or you want an integrated DAC as well.
Overall there is not a limit or specific amount you should pay, just as long as you are getting the features that you want or need.
Make sure when buying an amp you are comparing with other options to make sure you are getting the right amp but this guide will also provide you with plenty of great options.
The Different Types Of Headphone Amps
Portable vs Desktop Amp
Portable amps in contrast to desktop amps are designed to work with phones and be compact so they can be used on the go.
Portable amps have batteries and some even support Bluetooth so there is less clutter which is especially important while traveling.
Desktop amps have far more features compared to portable amps and deliver more power but they are both good for different situations. The desktop amp segment also has far more variety for the customer so if you want a specific amp, for example, one with surround sound there are plenty of options on the desktop side.
You can find out more here on how portable and desktop amps compare in this article.
Cheap vs Expensive
The difference in price for amps does not affect the basic functionality but the number of extra features, power, build quality, and the overall experience.
More expensive amps will deliver more power, but many people won't need this extra power. There are many great value options that deliver plenty of power.
Compared to cheaper amps, more expensive amps will have more outputs, internal DACs, screens, surround sound support, and much more.
More expensive amps will usually have better buttons, a nicer build with materials like metal, and smoother dials.
Expensive amps may be worth it for some people because of the nicer build, which may not only look better, but feel better.
More expensive amps will have nicer unboxing experiences with fancier boxes, a better presentation, and more.
Overall with headphone amps, it is about striking the right price for what you need.
There are many price points and what you pay for you will get. There will eventually be a point of diminishing returns
Gaming Amps
Gaming amps are specifically designed to give an edge for gamers.
They mainly differ with the feature of mic inputs and most support 7.1 virtual surround sound.
The support for a mic input is essential for those with a gaming headset because while plugging in their headphones into the amp they also need to plug in their mic input.
Gaming amps often improve the sound of the mic which means not only are you improving your own sound experience but also those who are listening to you.
7.1 surround sound can greatly add to the immersion of a game especially if it is a more open map.
Competitive shooters don't necessarily need to benefit from having surround sound and most pros actually use stereo.
The 7.1 surround sound of gaming amps is much better than the system that gaming headsets.
The clarity and accuracy of where something is coming from on gaming amps are very good so you can hear what room and floor someone is in rather than just hearing more or less where the enemy is.
A gaming amp is the best way to make regular headphones into both gaming and regular headphones as gaming amps also function like regular amps.
They are great for those who play a lot of video games but also like listen to music as the gaming amp can function as a regular amp and still improve the audio.
Do You Need A DAC?
A DAC could greatly improve your setup, although it's not a necissity.
Computers and phones have DACs built into them, but a dedicated DAC will do the job better. An amp can connect directly to your device and use the built-in DAC from there.
Even if you may want a DAC there are many amps with them built-in. All gaming amps have a DAC built in to control all the directional processing like virtual surround sound. Higher-end amps will use DACs for a variety of features.
There are many reasons to want a DAC. DACs can process directional audio, interpret a lot of information for high-fidelity audio tracks, and more. To process Hi-Res audio you will need a DAC either built into an amp or that is a dedicated device. For more information check out our Amp vs DAC article
Overall you almost always don't need a DAC but when you are investing in a premium setup. A DAC may greatly improve the setup that you are using but
Recommended Amps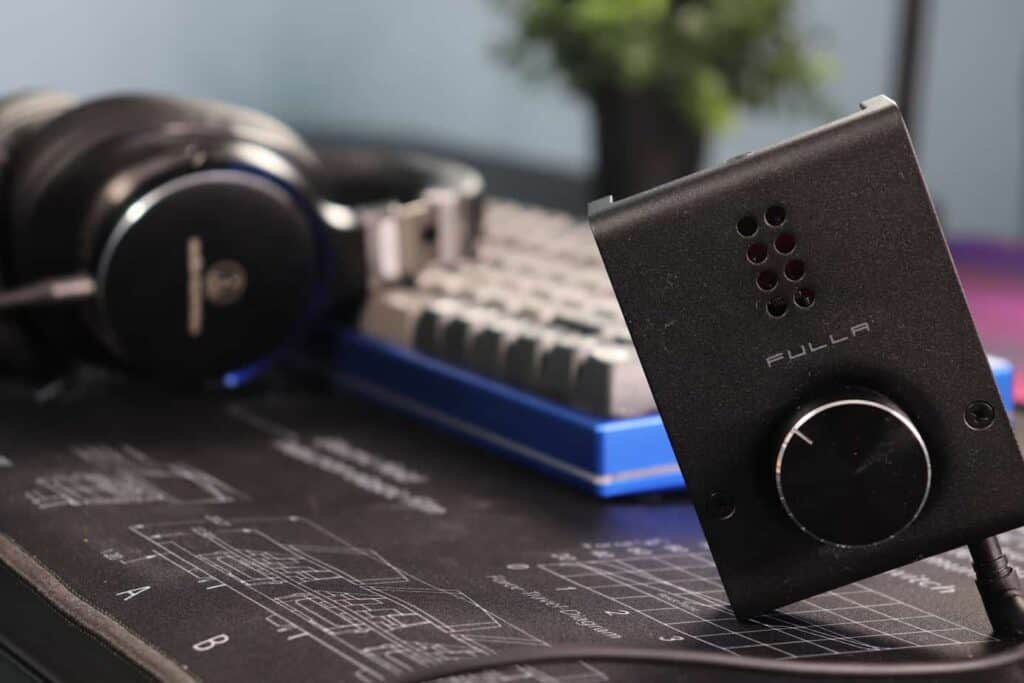 Best Value Amp
If you are starting an audio setup or need more power for your headphones then Schiit's Magni 3+ and Heresy are great options for the price. They are some of the most popular amps especially for those entering the audiophile hobby.
Between the two there are a few slight differences with the Magni 3+ having a slightly more impactful bass. The method in which they process sound is different but the power delivery is identical between the two.
Both amps are almost exactly the same with the same inputs, outputs, metal construction, and design. The only major difference that is noticeable is the silver casing of the Magni in contrast to the black with red accents on the case of the Heresy.
Both are about $100 and deliver great performance for the price. They compete with amps at higher price points. For many either of these may be the last option that you may need.
Best Amp Under $200
At a higher price point of $200, Schiit delivers the Magnius. The Magnius provides plenty of power for the majority of headphones.
It delivers performance that beats most of the competition at the price and even competes with amps at higher price points. The power from the Magnius can power very premium amps that cost thousands of dollars and require a lot of power.
There are plenty of outputs so you can connect XLR pre-outs, your headphones, and speakers. If you want to use IEMs the Magnius is amazing for them with a very small if any noise floor and a gain button to change modes.
You can power a variety of audio devices on your desktop all with this single device and easily connect this amp to any DAC to further upgrade your setup in the future.
The build is all metal with not the thickest metal possible but it is definitely sufficient and won't be a concern. The long term of Schiit's products is also pretty good so quality overall is not a concern.
The sound stage that it delivers is perfect with no distortion and great precision. It allows a lot of separation and provides a balanced, clean sound.
With the Magnius you can upgrade to much more powerful headphones in the future and the amp that you own will not be a concern. Combining it with its respective Modius DAC from Schiit makes it a great competitor to our next option from Monoprice.
Best Amp Under $500
In the $500 price range there is a lot of competition and plenty of options.
Monoprice with their Monolith THX AAA Amp and DAC combo delivers some of the best performance out of any amplifier under $500.
The Monolith AAA delivers a lot of power that is clean at the same time. For the vast majority of headphones, this amp delivers phenomenal performance and more than enough power. In addition to the great performance, it has a number of great features.
Monoprice's Monolith has plenty of outputs for headphones and speakers. Since this is an amp and DAC combo that means you don't need to buy a DAC because there is one already in this. That means not only is a great option for an amp but it also competes with many expensive amp and DAC stacks.
The THX AAA has a small screen on the front. This screen can be used to change EQs, edit the dynamic range, see the current output, and more.
Changning the EQ isn't as in-depth as something like the Peace software but it is nice that you edit on the device itself. Changing the dynamic range allows you to compress the highest and lowest part of the range which may be useful for some to hear songs in a different way.
Another thing you can do is enable a DIRAC setting to feel more immersed in the music you are listening to as if you are in the middle of the music rather than watching people perform it. The sound stage will be wider but on the downside, you will probably hear less bass and there is a slight boost in the treble.
Overall this is a great amp with a number of features that allow you to have a great listening experience but can also alter how your headphones sound. Regardless if the amp had these features, the performance is one of, if not, the best for this price category.
Best Portable Amp
For those who want a portable audio setup, FiiO's Q5s is an excellent option. The Q5s is the best way to improve the audio solution of your phone or laptop.
The Q5s delivers fantastic audio quality and a solid amount of power. With the right headphones, you will notice much better audio compared to a laptop and especially a phone. Not only will there be an increase in quality but FiiO provides a lot of interesting and useful features with this amp.
One of the defining features is Bluetooth 5.0. The Q5s has a battery life of about 9 to 25 hours. This feature is really useful because on the go you will only need a cable from your headphones to the amp.
The Q5s can be used in both desktop and portable situations. There are plenty of outputs considering it is a portable amp in addition to multiple adapters and accessories.
The Q5s isn't just an amp but also a DAC. This may not be as good as the integrated DACs of desktop amps or dedicated DACs but it is better than regular phone and computer audio. Also, the Q5s supports Hi-Res decoding for those who listen to lossless quality tracks.
FiiO's Q5s has a modular design. There are a number of amp modules that you can swap in and out, sold by FiiO. There are amp modules for earbuds only and some that are good for providing maximum power with minimal distortion.
The only negative is the price. Due to things like Bluetooth support and the small form factor this amp costs about $350. In conclusion, this is a great product but it has a large price tag to go along with it.
Best Portable Amp on a Budget
FiiO delivers another great option with the FiiO A1 at a much lower price point.
The A1 has many reduced features compared to the Q5s in order to have a greatly reduced price. For example, the A1 does not support Bluetooth and only has support for one input and output.
Even though the price is far lower in comparison to the Q5s and other high-quality portable amps, it still delivers a great amount of power to run premium headphones.
The A1 lasts for up to 13 hours. The audio is definitely a step up compared to onboard audio from something like your phone and will deliver more power so you can use more premium headphones.
The built-in EQ is another feature that you might find useful. You can adjust the level of bass with a button on the device. There are four EQ options, in total.
The A1 is quite small and compact. There is also a removable clip on the back of the A1 so it is easier to move around with the amp.
In general, the A1 is very easy to bring around, and it delivers a bit cleaner audio with more power over a mobile integrated solution. The A1 is a great budget option and provides good value.
Best Gaming Amp
If you want the best gaming amp there are two main options depending on your use case. The Creative Labs G6 and the Sennheiser GSX 1000. In a variety of different fields, they trade blows and deliver different features.
Both are dedicated headphone amplifiers but include an integrated DAC as well.
One key feature that they share is virtual 7.1 surround sound. This is a way to take the level of immersion for games to a new level. It isn't great for competitive shooters but in open-world games or racing and flight sims, it can make you feel like you are there in the game.
Sennheiser the best method for virtual surround sound and allows you to customize things like how much reverb you hear or where you want to hear the majority of the sound coming from.
Depending on your preference you can either control the EQ and other settings on a screen with the GSX 1000 or through software with the G6. The screen is nice because it tells you your volume and allows you to change things easily but doesn't allow as much customization.
Both have about the same audio quality but with the 7.1 surround sound mode on the G6 can process more information. This isn't the biggest stereo is probably the best mode for most people to listen to music on.
Conclusion
There are plenty of reasons to get an amp or not. Amps can be bought for a variety of situations and available for purchase at many different price points.
I hope this guide showed you how to improve your setup and the best amps to go with to do so.
To a future of better audio!