Are you looking at purchasing a new keyboard? Perhaps you want one that can easily adjust volume levels on the fly. Volume wheels can be a great option, but the question is, are they a gimmick or worth getting?
We'll discuss what we think of volume wheels and if you should get a keyboard with one installed.
While volume wheels can make changing the volume levels on your computer very easy by raising/lowering the sound by just scrolling the wheel, they unfortunately tend to not be very useful. Volume wheels built into a keyboard are not very reliable and can fail or act sporadically at any moment. If you want a volume wheel, it's recommended to get a separate detached volume wheel. With its own dedicated connection, the volume wheel will be more reliable and can be placed anywhere on your desk.
Although they are not very useful, volume wheels can still be a great fit for some people. We'll go more into the details of the different types of keyboard volume wheels and look at some of our favorite keyboard choices.
What is a Keyboard Volume Wheel?
A volume wheel is a circular wheel built into the keyboard structure that when spun, will adjust the sound levels output by speakers or headphones.
The volume wheel can be useful for those who constantly need to adjust their sound levels and don't want to go into the settings on their computer. It can be used by gamers, streamers, audiophiles, and anyone who listens to music while working from their computer.
Most keyboards do not come with a volume wheel installed, they instead have dedicated media keys to change the volume levels. Other keyboards have them placed on lower layer so they can be activated when pressing FN + one of the F keys. Both styles are easy and efficient to use.
Many people enjoy the feel and convenience of a volume wheel, as it can be much more enjoyable to use instead of just pressing a key. Spinning the volume wheel lets you act like a DJ for a short period while changing your sound levels.
Just keep in mind, you might get auditory feedback when using the wheel and changing the settings may not always move smoothly. Sometimes the wheel doesn't respond at all when attempting to change the sound levels. Other times it may jump up or down too much.
Not All Volume Wheels are the Same
It's important to note that not all volume wheels are the same exact style. Most volume wheels are vertical and are spun by rotating clockwise to increase the volume and counterclockwise to decrease the volume.
There is another style that is horizontally mounted inside the keyboard, and you can only see a small rounded part. The horizontally mounted volume wheel is different in the design and feel, to change the volume levels you roll the wheel up and down respectively.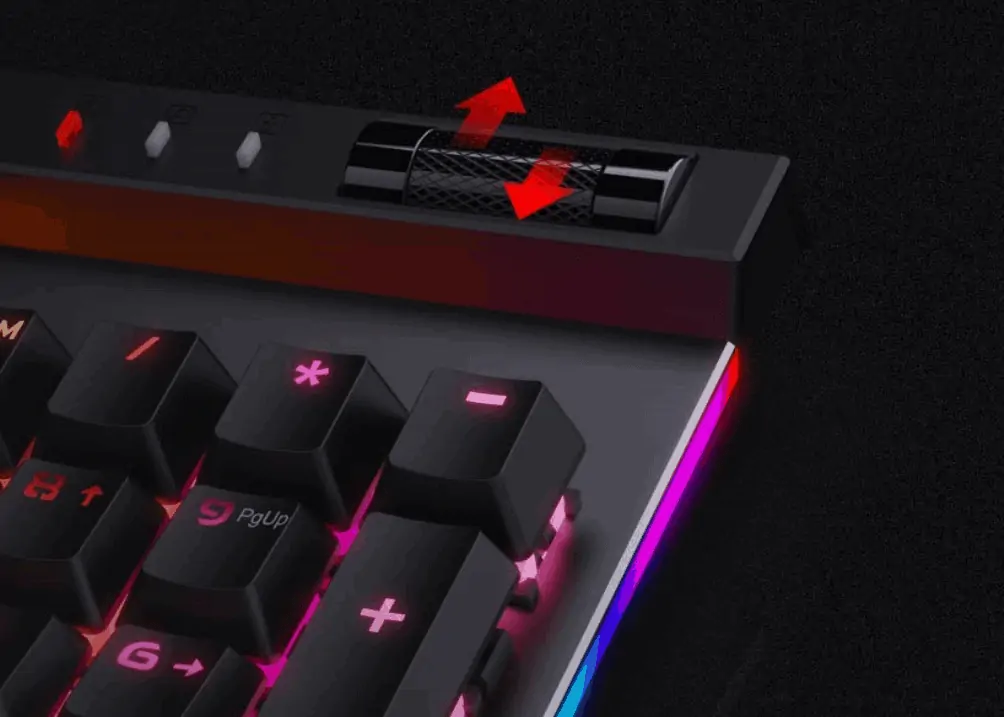 Neither style is considered superior to another, as they both are entirely dependent on what the user prefers. The vertical style is activated by rotating the wheel with your index finger and thumb, while the horizontal wheel is rotated by running just your index finger across it.
Because of this, the horizontal style is easier to spin. However, it is also easy to jam. If any sort of debris gets inside the horizontal wheel, it can be very difficult to fix and may require you to remove the wheel to clear out the debris.
Issues with a Keyboard Mounted Volume Wheel
Due to several quality issues with keyboard mounted volume wheels, it's difficult to recommend someone to buy these keyboards. Due to the fact the volume wheel needs to share the same USB input of the keyboard, it can create many problems.
In addition, these keyboards will sometimes require additional software installed on your computer to get them to work properly. Nobody wants to go through the trouble to download software that will bog down their computer just so they can properly use their keyboard.
Some of the possible issues include:
Volume wheel movement does not register.
Volume changes jump up and down more than it should.
The user gets some auditory feedback when adjusting sound levels.
Keyboard software does not work properly.
Get a Separate Volume Wheel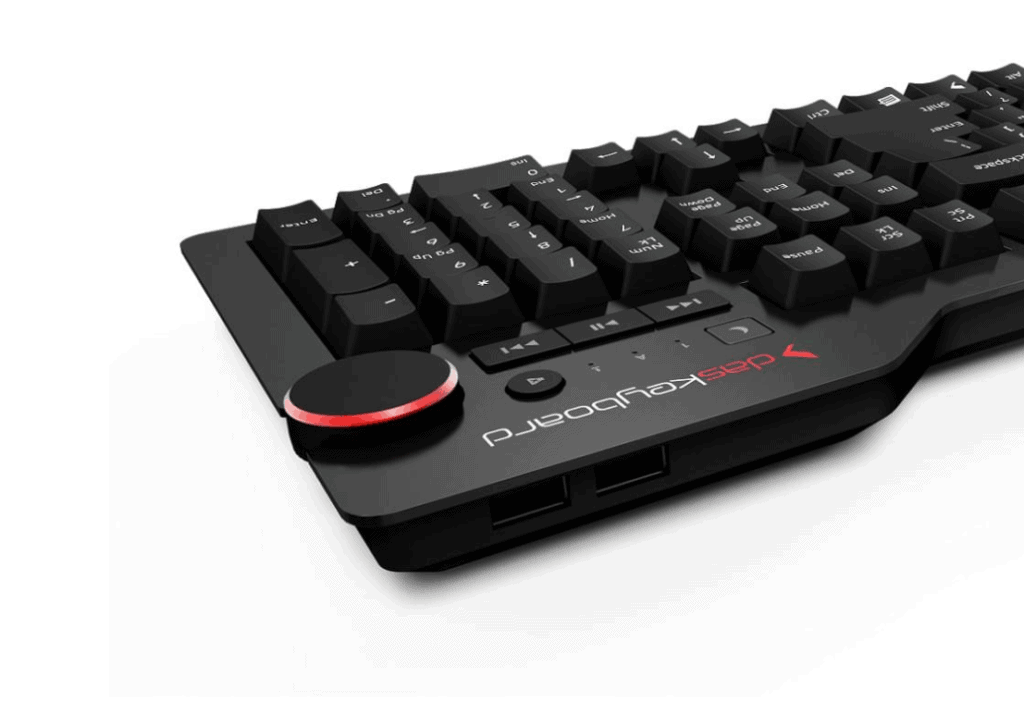 If you still want a volume wheel, but a keyboard mounted volume wheel no longer sounds appealing, consider purchasing a separate, independent volume wheel. By having a separate volume wheel, you will see that the volume changes are more reliable and responsive. Since your keyboard and volume wheel will operate on separate USB inputs, the volume wheel will work more consistently, and the wires will get crossed less, hypothetically and literally speaking.
For the true audiophiles out there, consider getting a headphone amp and a volume wheel. Like the world of mechanical keyboards, this can get pricy and is quite the rabbit hole!
The benefits of a headphone amp are the volume controls are completely independent of the keyboard and will provide the highest quality sound possible. When your music reaches its peaks, the headphones don't receive enough power and the sound gets distorted. With a headphone amp, the headphones will receive enough power and the sound will be much cleaner.
Best Keyboards with A Volume Wheel
If you're still dead-set on a keyboard with a built-in volume wheel, we'll go over some of our favorite picks with this feature that are not too gimmicky and that are reliable.
#1 Pick: Das Keyboard 4 Professional
The Das Keyboard 4 Professional keyboard is our number one pick. This keyboard is quite expensive coming in at $169, but the quality and craftsmanship are high. With a vertical style volume wheel, this is the most reliable keyboard on the list.
In addition to the volume wheel, there are some cool and unique features such as a USB 3.0 hub with two ports. It's incredibly uncommon to find a keyboard with USB 3.0 ports, most keyboards are lucky to have 2.0 ports or any additional ports at all. USB 3.0 is 10x as fast as 2.0.
Also, there is an adjustable detachable footbar that also doubles as a ruler for taking measurements on the fly. Useful for both engineers and artists, or anybody who needs a straight edge.
You have the option between Cherry MX Blue and Brown switches, so whether you enjoy loud and clicky switches or a simple tactile switch, there are options for you.
#2 Pick: Redragon K550/K580
The Redragon K550 and K580 are both excellent picks and come standard with a horizontal style volume wheel. These keyboards are a bit more affordable coming in at $60-$70.
If you enjoy lights on your keyboard, these keyboards come with several RGB lighting options including individual key lighting and general keyboard backlighting, which allows for a lot of customization.
These keyboards come with Cherry MX knockoff switches, Outemu's.
#3 Pick: Logitech G710
The Logitech G710 also comes with a horizontal style volume wheel and six programmable G-keys. An interesting pick for those who enjoy a keyboard with lots of programmability and customization.
The Logitech G710 comes outfitted with Logitech's own proprietary switch that is tactile and silent, similar to the Cherry MX Brown.
Conclusion
While volume wheels can be an interesting and novel to have on your keyboard, they tend to be gimmicky and not reliable. If you really enjoy using a volume wheel, we recommend buying a separate volume wheel altogether.
If you are still determined to buy a keyboard with an integrated volume wheel, we recommend the following three keyboards: Das Keyboard Professional 4, Redragon K550/580, and the Logitech G710.
Thanks for taking the time to read this article, and as always, happy typing!