The Nuphy Nutype F1 is a portable and compact portable low-profile mechanical keyboard with Bluetooth features that are just meant to be paired with slim and sleek Apple laptops or Surface Books.
This review will go over whether this product is worth it or not for the price, who it's for, unboxing, and all of the features and benefits to help you decide if you would want to purchase it or not.
The Verdict
The Nutype F1 is a portable keyboard that is designed to be paired with Apple Macbooks and Surface Books for users who are looking for a mechanical experience yet still want to enjoy the compactness of their keyboard.
The price is comparable to Apple Magic keyboards and the Microsoft Surface keyboards, but is it fun and easy to use?
The Nutype F1 may have dedicated arrow keys, but it had to sacrifice the convenient location of the right shift to do so. Now, the right shift is another key further.
Alongside this, the Fn key is on the left corner, where Control usually is for Windows users. But it's perfect for Mac users, who may already be used to this layout.
Overall, the experience of this board is optimized for Mac users, but not Windows users. If you are a Mac user who uses the left shift exclusively and want a mechanical keyboard with fun RGB effects, then this is a nice keyboard to consider for you.
If you are interested in checking out this board, it's available in various different languages on the Nuphy website.
---
In The Box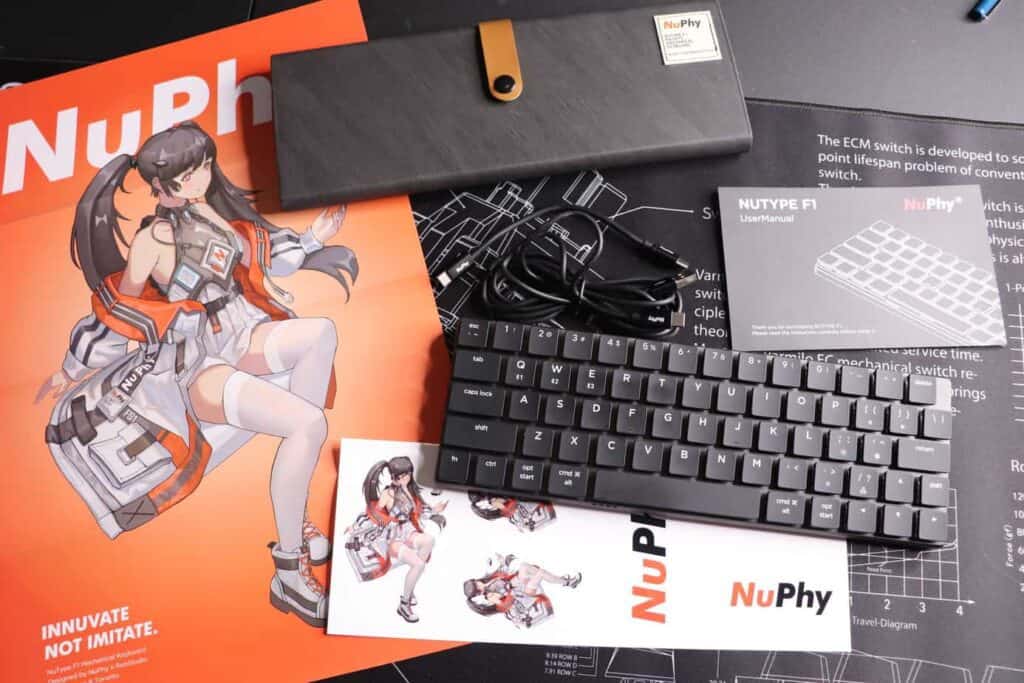 The unboxing of this keyboard was one of the most exciting and fun unboxings I've done this year.
Inside the box, you get the following items:
Keyboard – the star of the show, although you won't see it until after you get through its carrying case.
Hard shell carrying case with a magnetic bottom that attaches to the Nutype F1 – super stylish, resembles Herschel bags, snaps to a close, neutral brown and grey colors.
Sticker assortment
Nuphy mascot poster
User's manual
USB-C to USB-C short cable – black and rubber, really convenient for using with laptops without all the tangle of a long cable
USB-A to USB-C cable – black and rubber, great for charging or when using with a PC
Plastic keycap puller – not recommended you use it since it's probably easier and better just to use your finger tips
---
Build Quality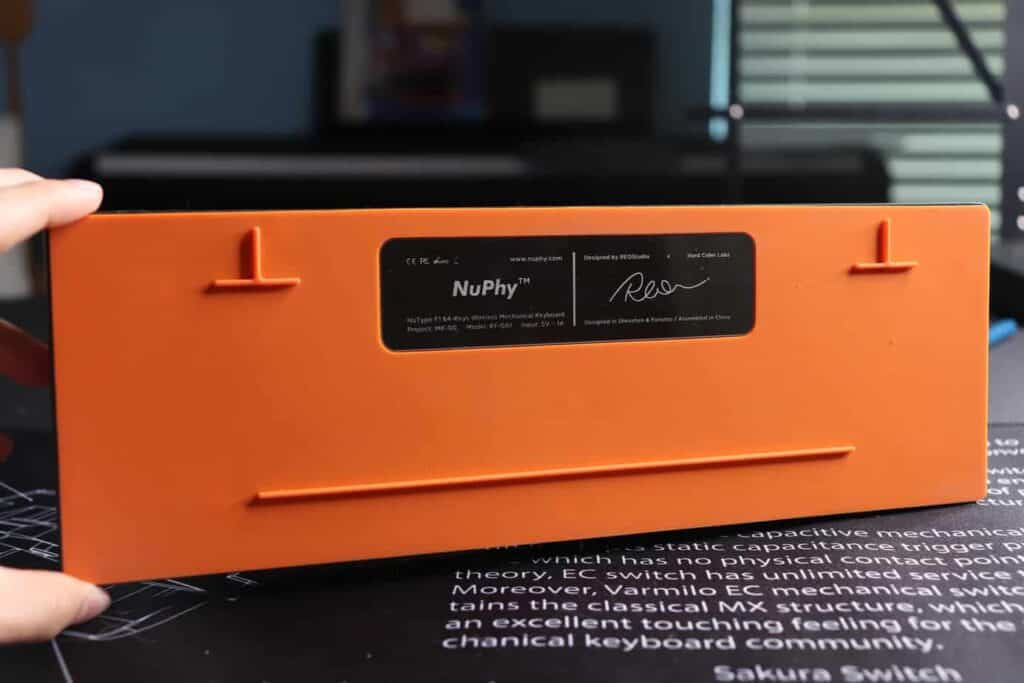 The case is made of a combination of rubber, aluminum, and plastic.
The bottom is made of orange rubber, so that you can place this keyboard on top of your laptop without worrying about damaging your laptop in any way.
The rubber shape at its base are specially designed to perfectly match the original keyboards of MacBook and Surface, so that there's no additional height added or any teeter-tottering when you place it on top.
Pretty good thinking since the intention is to place this board on top of your Macbook.
There is also a stylized metal plate on the bottom, with small rubber feet as well to prevent slipping.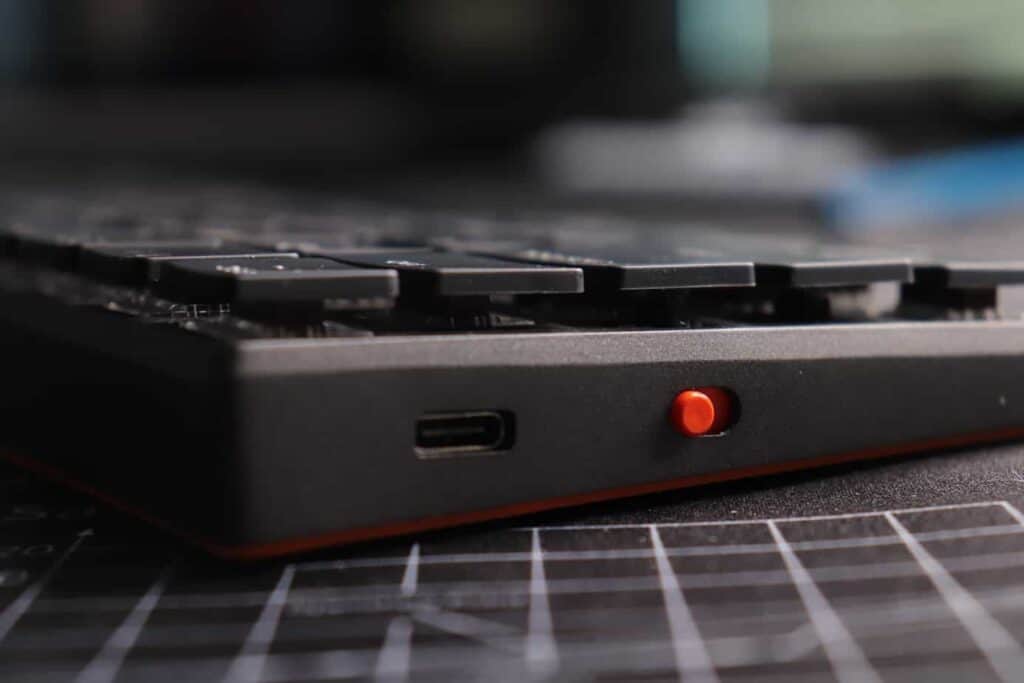 There are no kickstands, so you are stuck with whatever angle the keyboard has, which is extremely slight.
The accompanying accessories are nice to have and speaks to the thought that went into designing this keyboard.
The F1 is super sturdy and doesn't creak, bend, or flex when trying to twist and bend it.
The USB-C port is on the left side, along with an orange wired/off/Bluetooth switch. All easy to access, but without the manual, I would have no idea what they do.
Pretty straight-forward build quality, very aesthetic and durable. However, the downsides all come in the layout of the keys.
The Layout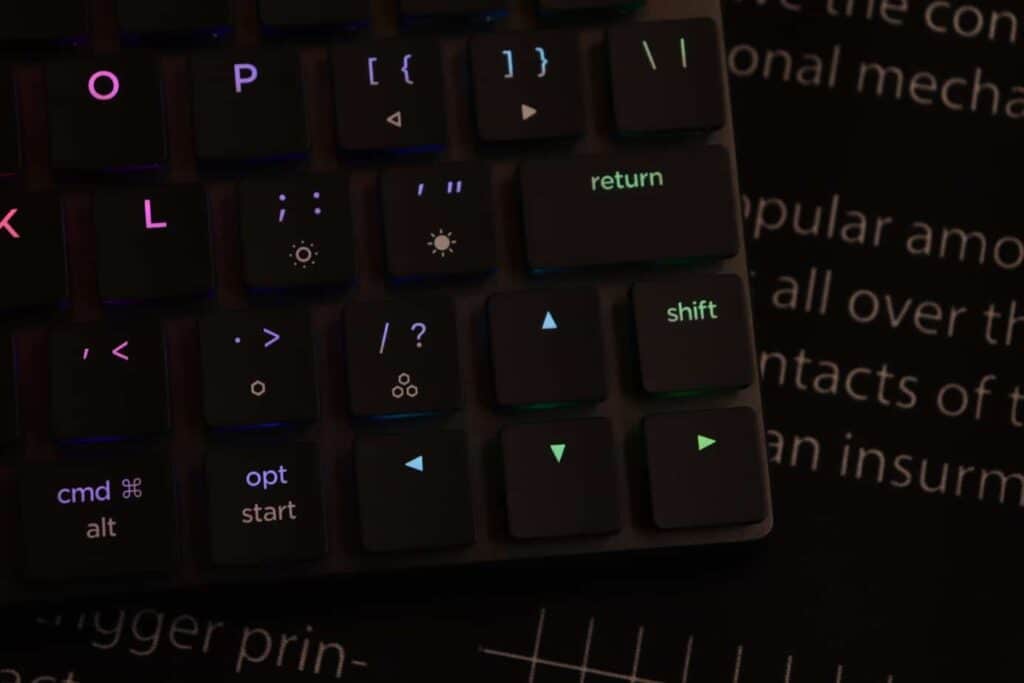 We've seen this layout all too often at this point, with keyboards such as the GK64 and SK64.
Although it's great having the arrow keys, it actually is really inconvenient for anyone who types using touch typing methods.
Because the right shift's usual location is now replaced by the up arrow key, more often than not, I find myself accidentally going up while trying to capitalize a letter or use a certain symbol.
So while testing this board, I have been trying to exclusively use left shift rather than having to deal with accidentally pressing up all the time.
It would definitely have been better if the arrow keys were just on the secondary layer with using FN to access it.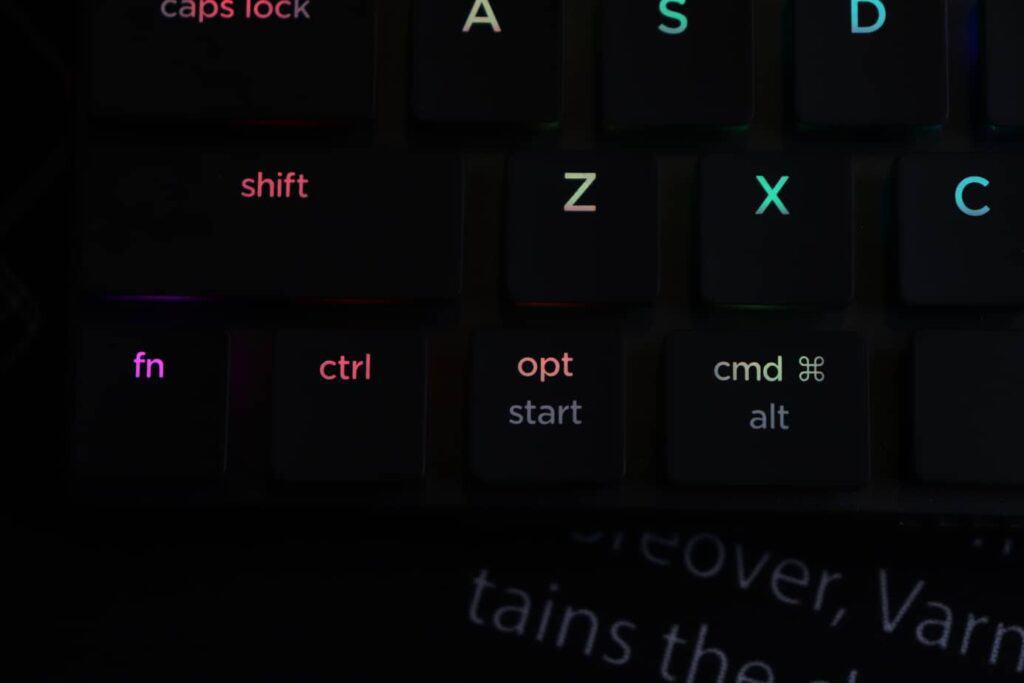 The FN is already in a great location on the bottom left to access the arrow keys in that manner anyways.
For Windows users, who are used to the CTRL being on the bottom left corner, it's inconvenient for people who use productivity shortcuts a lot.
I know I find myself copying, pasting, opening new windows, closing windows, all to realize that the left control has moved over one key. Old habits die hard.
Is this just nit-picking? It could be, but to someone who types a lot consistently, having to deal with these layouts is quite a pain.
Another small nitpick is the backspace, which happens to be a small key with some space leftover who blankness.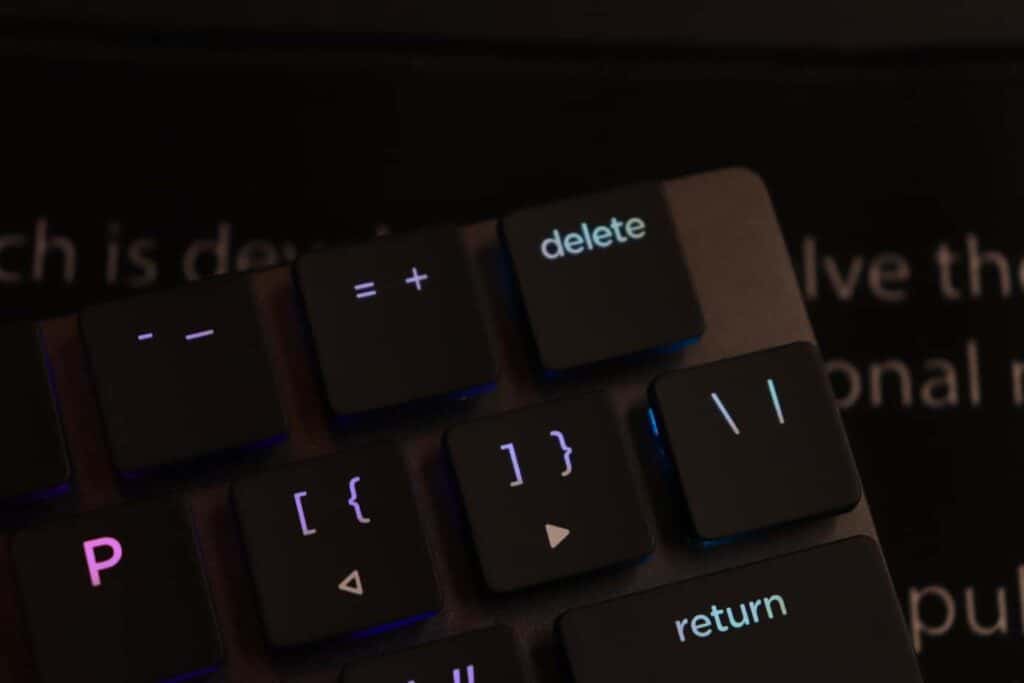 To the casual gamer, none of these things matter.
Alongside this, there are no secondary functions for keys such as Home, End, Insert, PgUp, and PgDn. At least in the manual or on the keycaps, it doesn't mention anything about this.
It is a 60% board, so you can access the Function layer on the top number row by holding Fn and pressing the number you'd like to use.
A lot of changes to get used to, but if you can adjust easily, by all means, take the leap.
The Keycaps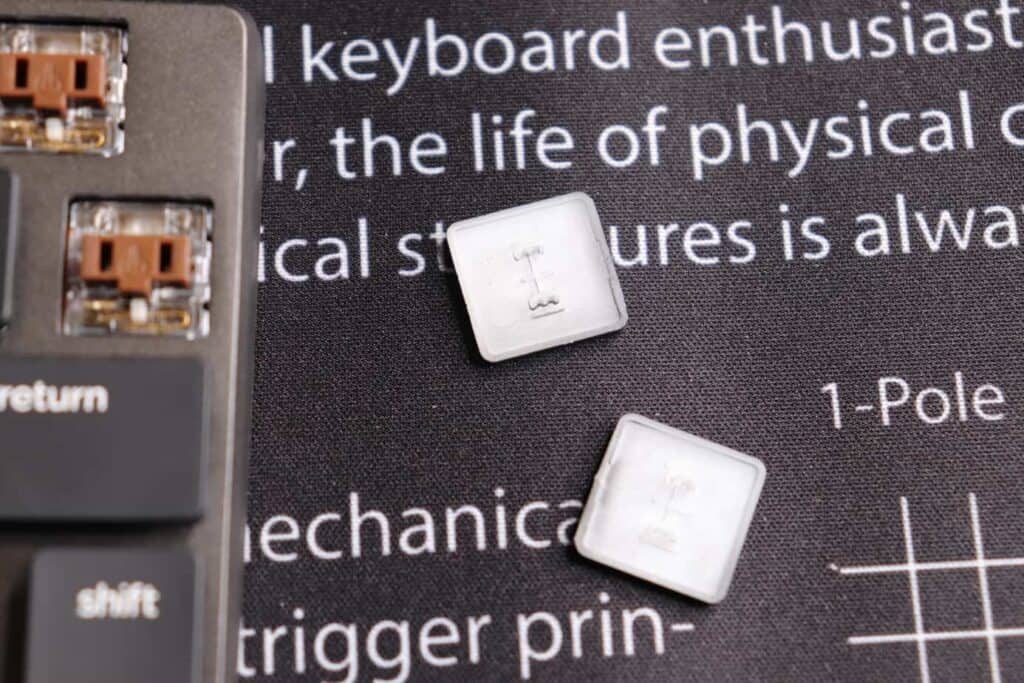 The keycaps are thin and made of ABS plastic, which will get shiny over time. They are shine-through and allow the RGB to shine through really nicely.
Alongside this, the legends are clean and simple, resembling Macbook keycaps very much.
Having a layout and Kailh Low Profile Choc switches with the two-pronged stem makes it extremely difficult to find replacement keycaps for this board.
Good thing Nuphy sells replacement keycaps though, and in different colors too.
There are sub-legends that also allow RGB to shine through, making them easy to see at night or in dim lighting.
The keycaps are extremely flat and uniform. The F and J keys do have little bumps to align yourself back to the home row.
Overall, the keycaps are clean and simple. They look very professional.
The Switches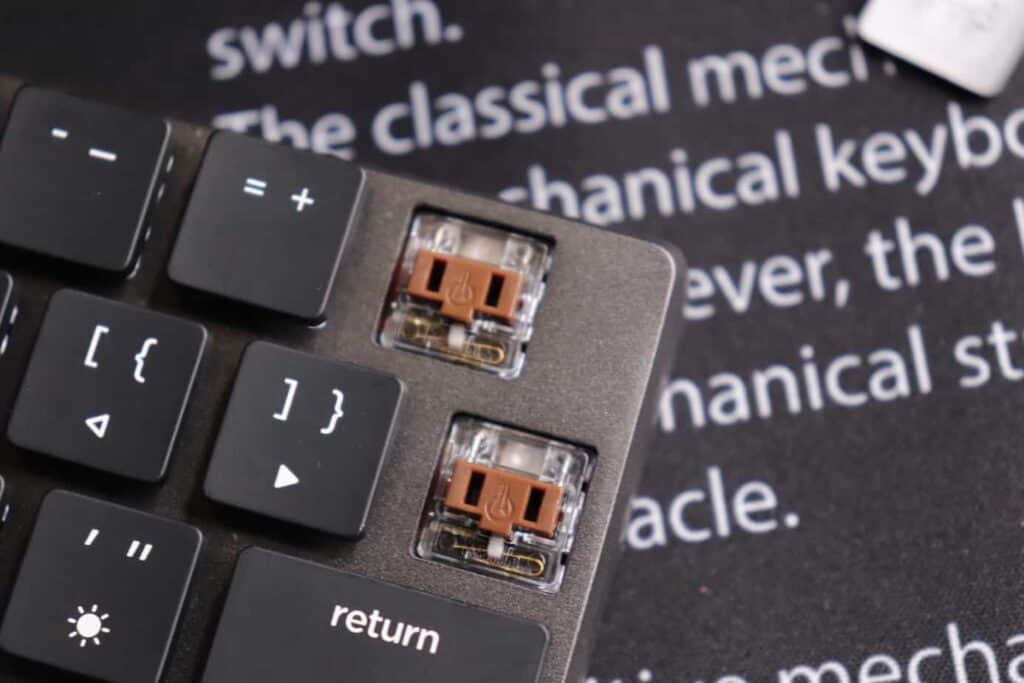 The switches are Kailh Low Profile Choc switches, available in brown, red, and white.
A tactile, linear, and clicky option to satisfy everyone's needs. We got the brown switches, and let me tell you, they can be quite difficult to type on.
If you're going for this board, I recommend linear switches. It'll make it much easier to type and make less typos.
On the brown switches, it's easy to miss a keypress or lift up before the key actually actuates. To compensate, I've been typing a lot more heavy-handed.
They have the two-pronged stems. Kailh does sell the cross-shaped low-profile switches nowadays, so someday it would be great to see that option.
That way, we can replace the keycaps if we want to.
Honestly, this keyboard would probably be more pleasant to use if the brown switches weren't so unresponsive. They tend to get stuck if you hit the key on the corner or too quickly.
The Stabilizers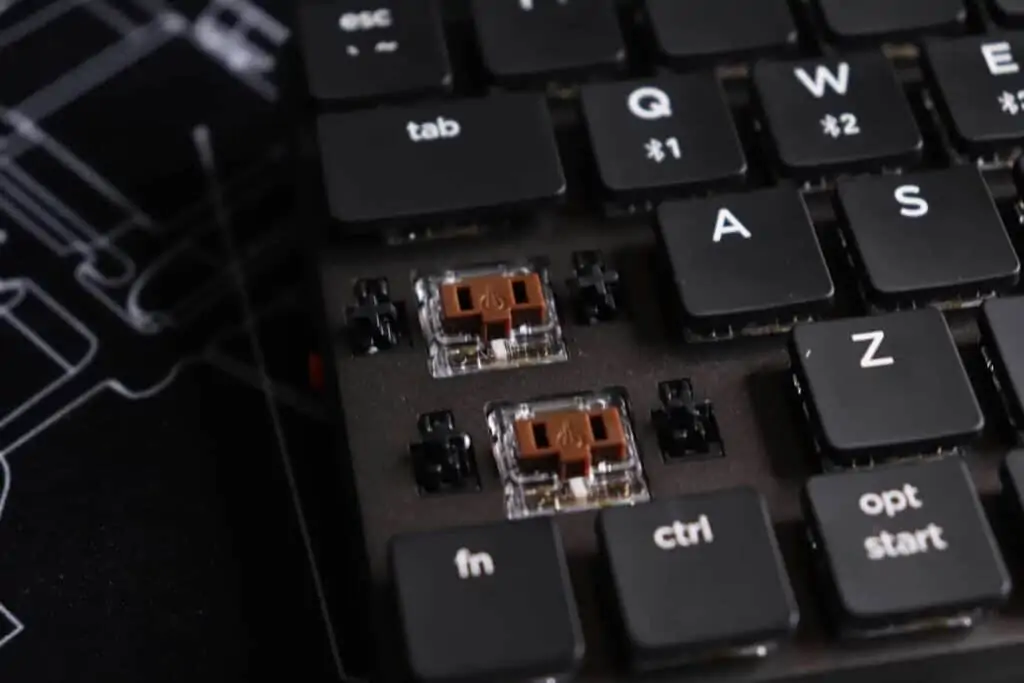 The stabilizers are very small, but they get the job done.
The stabilizers make additional click sounds. And if you shake the board, which I know won't actually happen in real life, they sound like maracas.
The keyboard has 4 stabilizer sets. They are on Caps Lock, left shift, spacebar, and enter.
Not much to say here, the keyboard, being low-profile, is relatively quiet. However, I wouldn't take them to a small lecture hall or the library.
The Features
The Nutype F1 has a bunch of cool features that make it great for combining with your laptop.
Bluetooth
The Nutype F1 has Bluetooth connectivity, and it can connect up to 3 devices.
To connect via Bluetooth, you first have to turn it on to Bluetooth mode via the side switch.
Then hold FN and Q/W/E to select a pairing mode. Each device corresponds to its individual letter.
The Bluetooth connects quickly and well.
Even without Bluetooth, the short USB-C to USB-C cable allows you to connect this board to your laptop without any hassle with the cable.
Mac and Windows Compatible
The board is Mac and Windows compatible with the top legends being for Mac and the bottom sub-legends for Windows.
There's also the option to swap Option and Command keys.
RGB Lighting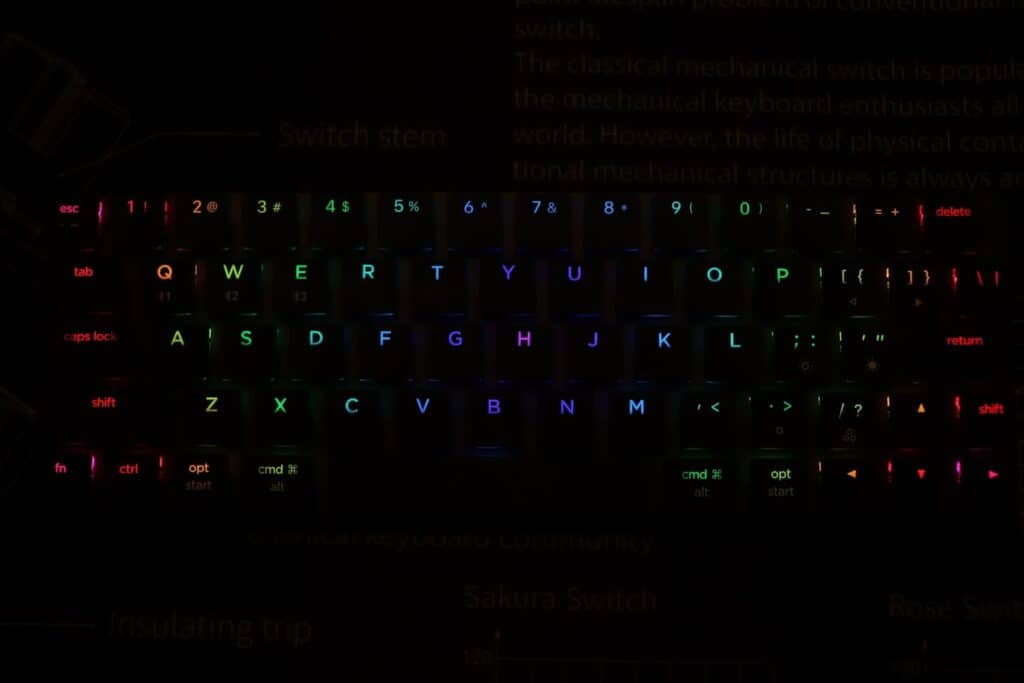 The RGB lighting on this board is really impressive and blows any Apple keyboard out of the water.
There are preset effects that can be rotated through via FN and the forward slash key. The period key will allow you to change colors within that effect.
There is also the option to decrease/increase brightness using semi-colon and apostrophe.
---
Conclusion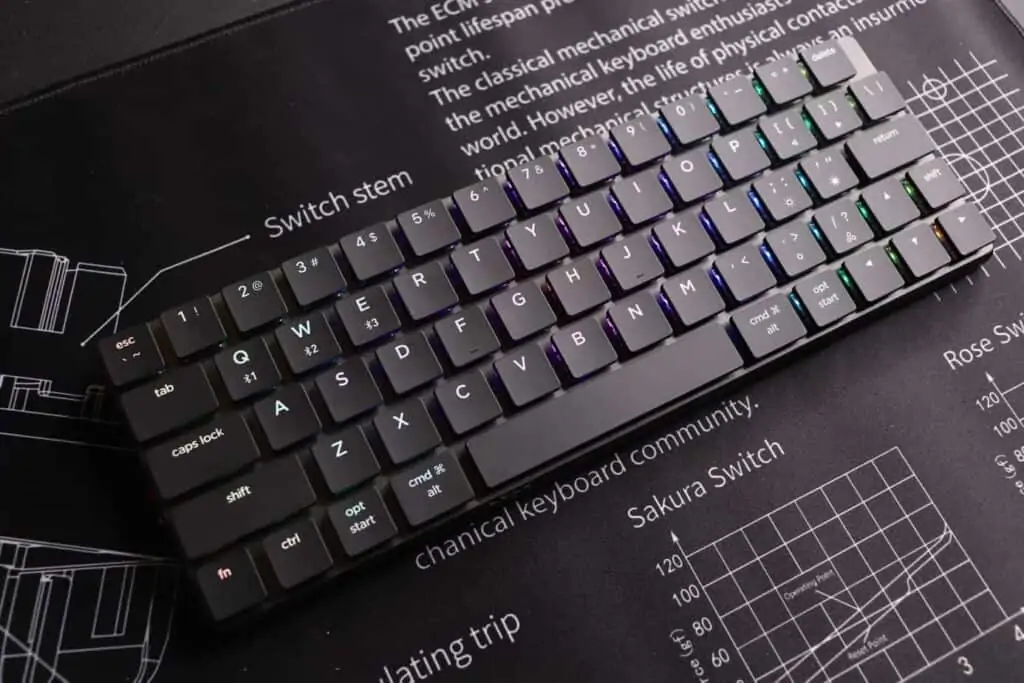 The Nuphy Nutype F1 keyboard is designed with Mac users in mind, with the bottom row being exactly the same as the Apple Magic Keyboard.
They downsides of this board include some layout changes, especially the movement of right shift a key further to the right.
The Bluetooth features and connectivity options make it perfect to place on top of a Macbook or Surface Book. The USB-C to USB-C cable lets you do that effectively without extra wires, or you can use Bluetooth.
The keycaps are clean and simple, and the RGB lighting is vibrant and has a variety of colors to pick from.
Overall, this keyboard is really great for casual typists who want a mechanical keyboard to pair with their laptop.
However, if you are used to touch typing, you may find yourself having a harder time adjusting.
The brown switches occasionally get stuck and cause typos, so I would recommend trying out the red switch instead.
Although it wasn't a great experience for me, you may find all of these nit picks for what they are, nit picks.
It is a unique keyboard, but there are too many limiting factors here, such as the right shift, lack of navigational keys on the secondary layer, the bottom row, and more (keep in mind I'm a Windows user who rarely uses her Macbook).
It may be perfect for you if you're looking for a low-profile portable mechanical keyboard to pair with your tablet, laptop, or phone.