The KiiBoom Moonshadow 81 is a 75% barebones kit, where all you need to add yourself are keycaps and switches. It is gasket-mounted with amazing RGB, and has finely tuned stabilizers already installed into the kit. There is minimal assembly required, and it really is a plug and play custom keyboard experience.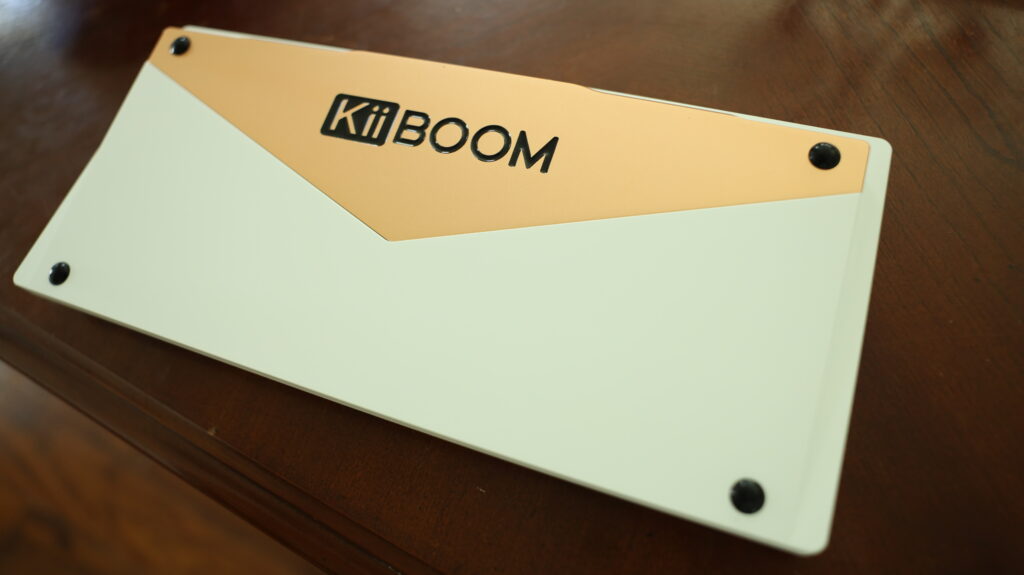 This article is sponsored by KiiBoom. They did not review or edit it before publishing. These opinions are our own. Sponsors like them make it so we can host and write content on our website at no cost to you.
---
The Main Takeaways
"This is one of the first keyboards I've ever seen where you can completely take apart the keyboard without using any screwdrivers or additional tools. All you do is unclip 2 clips on the top and the top case comes right off, revealing the internals quickly. This can be gimmicky, if you don't take apart your keyboard often, but overall, it does make modding your keyboard very fast."

Switch and Click, July 2023
General Usage: The Moonshadow 81 is amazing for general usage for everything from working, to typing, to gaming, although it excels primarily for typing purposes. The gasket-mounted feel is flexible and soft. The 75% layout makes it so you don't miss many keys while using it, and not to mention, it sounds fantastic. I've opted to use KiiBoom Matcha Latte switches and Drop DCX Latte keycaps.
Typing: The Moonshadow 81 excels for typing. The configuration that I chose to build it with features linear switches and Cherry-profile switches, which makes it ideal for long typing sessions personally. The finely tuned stabilizers make hitting spacebar more satisfying than ever before. You may miss the number pad if you do a lot of number entry on a daily basis.
Gaming: For gaming, I typically don't recommend custom keyboards because they don't come with highly competitive latency and special features such as Windows Lock that gamers may end up using more during gaming sessions. The height of the Moonshadow 81 may also get in the way of comfortable gaming sessions too.
Programming: Programming, like typing, will feel excellent. You get the option of QMK and VIA to customize the layout to your liking. However, if you do need the numpad or enter numbers often, this will hinder your productivity over time. It's up to you to decide if it's worth it to sacrifice the number productivity in exchange for a super satisfying typing sound and feel.
---
In The Box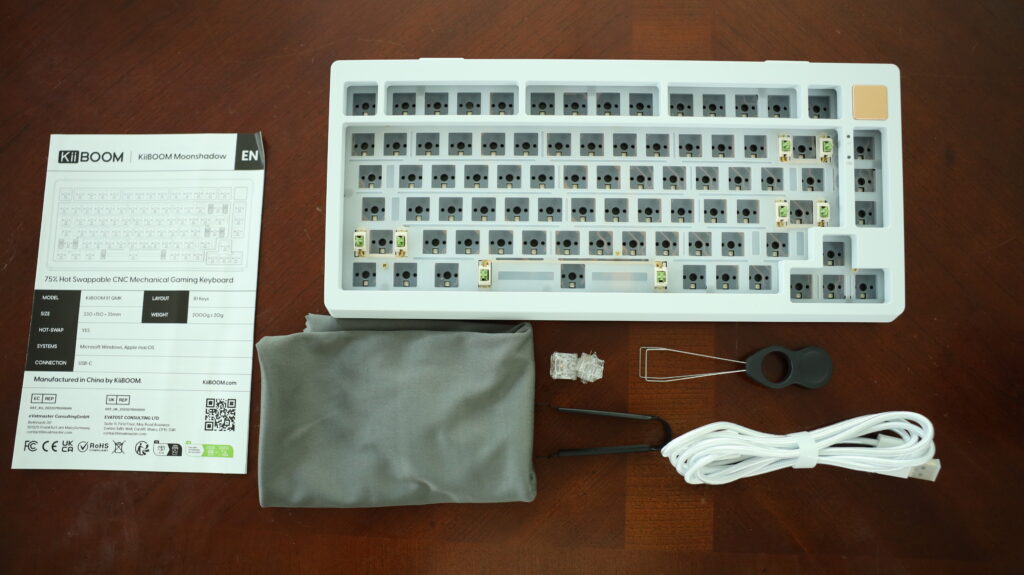 Parts In Box:
Large microfiber grey cloth
Switch puller
Wire keycap puller
White braided cable
2 switches (KiiBoom Crystal switches)
Moonshadow 81 keyboard
You get everything in the box needed to customize your keyboard. Since the case needs no screwdrivers or tools to take it apart, this is perfect. The microfiber cloth also lets you clean your case occasionally or cover your keyboard when it's not in use. Sometimes, I opt to use it as a coaster for my drink (That really is not a great use for it, but it's multi-functional.)
---
Build Quality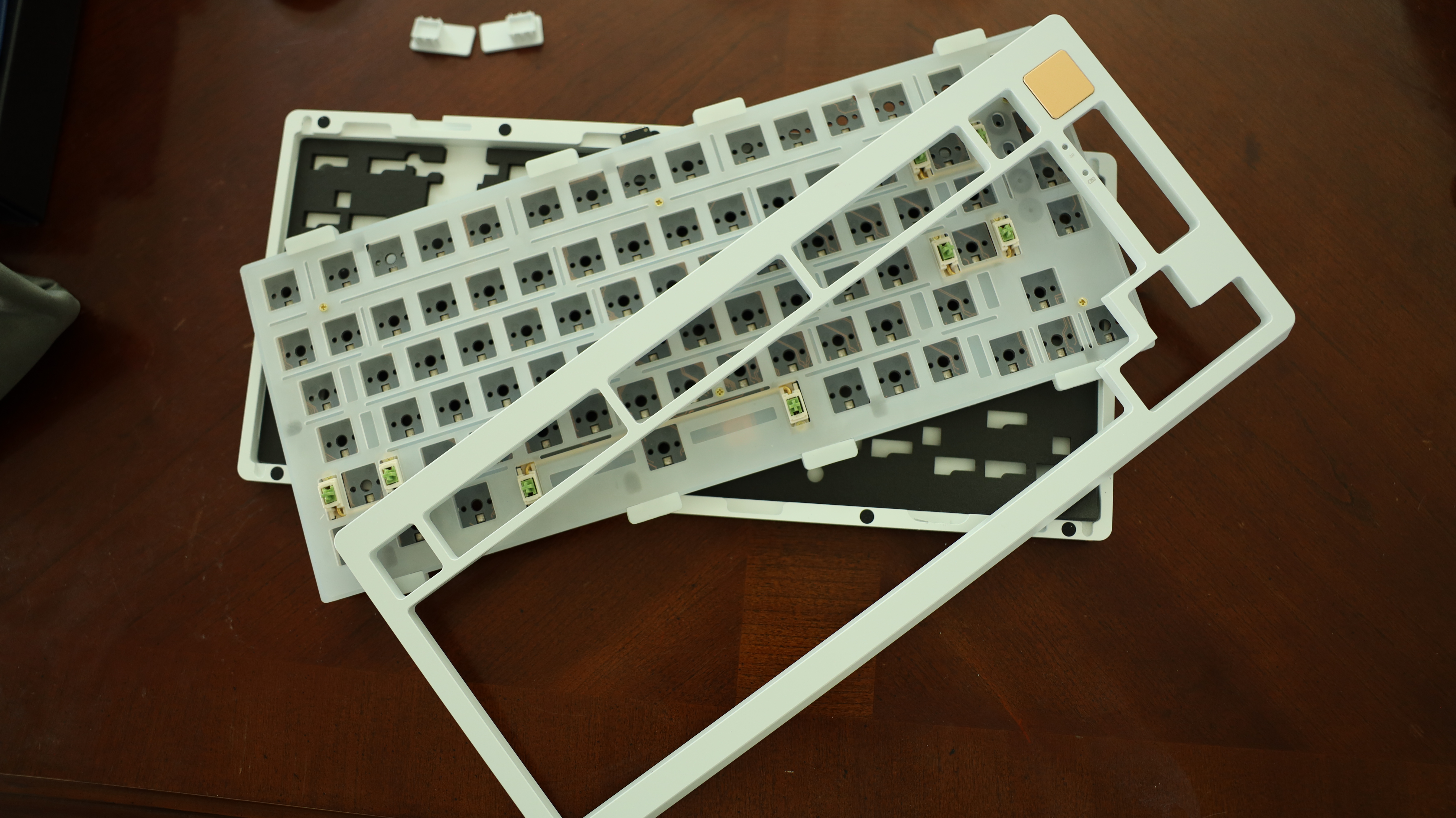 Material: Aluminum case
Flex: Gasket-mounted with plenty of flex
Typing Angle: Unknown
Kickstands: No
Power Cable: White braided straight USB-C cable
The build quality feels durable with an aluminum case with a polycarbonate plate and silicone gaskets for a nice flexible typing experience, no matter what switches you decide to put into this keyboard.
The clips that connect the top and bottom case are made out of plastic, so over time, with enough movement and repetitions, that could be the singular failure point. It's a specialized part as well, so it's difficult to replace. Other than that, the build quality of the case is sturdy.
Layout and Size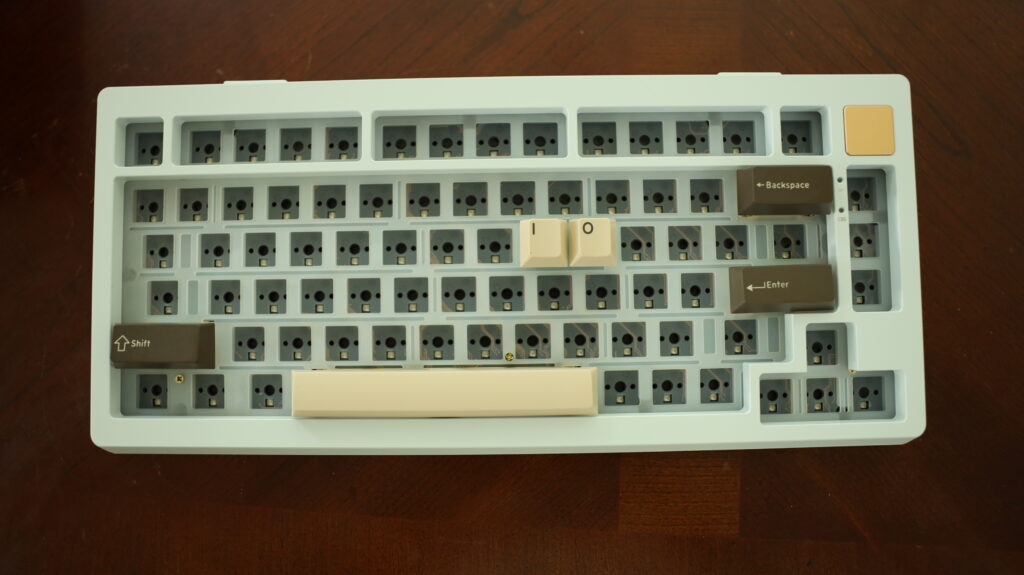 Layout: 75% exploded
Length: 32.2 cm
Width: 14.5 cm
Thickness: 2.1 cm
Weight: 1.818 kg
The exploded 75% layout looks fantastic. On the top right corner, there is a badge that doesn't have anything engraved in it. If you know how to customize these badges, you absolutely could, which is a cool idea. I'm not sure why there's nothing there, maybe in the future they'll add the ability to customize the badge to your liking before shipping it out. Either way, it does offer a unique look to the keyboard.
The Keycaps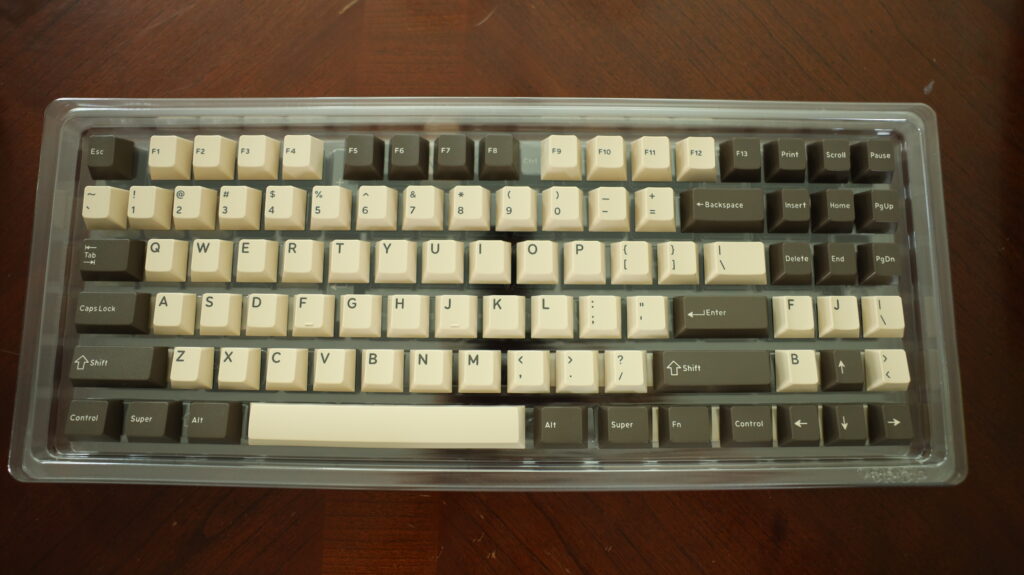 Keycap Material: Not included, but I chose DCX Latte, which is ABS plastic
Profile: Cherry profile
Legends: Doubleshot
Standard Bottom Row: No
Aftermarket Keycaps: Any keycaps that have 75% compatibility
It is very common to be able to find compatible keycap sets nowadays, as long as you search around and read the descriptions for 75% compatibility or look for the specific keys within the base kits, such as the 1u bottom right keys and the smaller right shift. Many websites such as Drop and Kinetic Labs will sell fully-compatible keycap sets with a variety of different layouts.
The Switches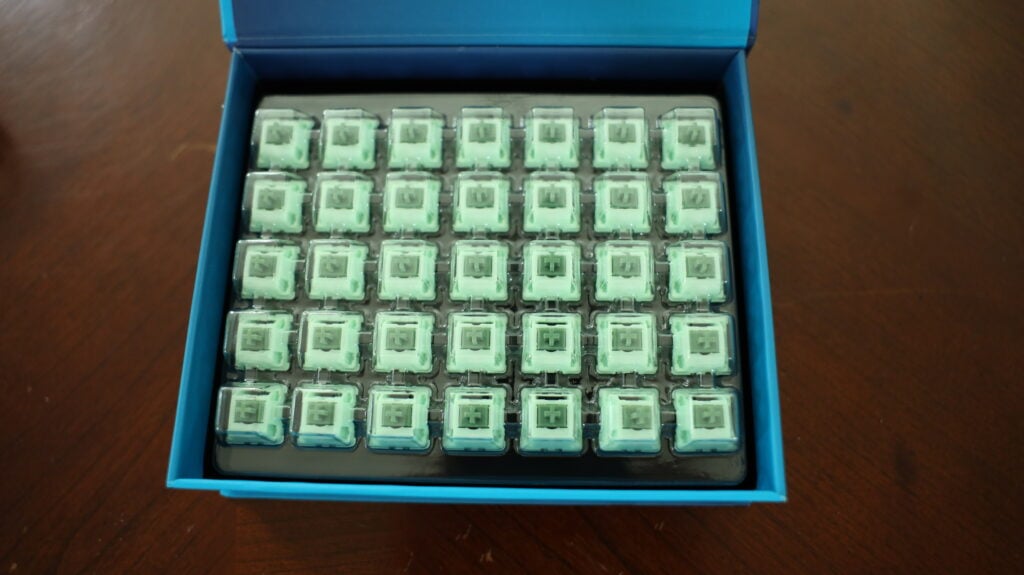 Type: 5-pin switches that are MX style
Options: This is ultimately up to you, but I opted for KiiBoom Matcha Latte switches
Hot-Swappable: Universal 5-pin hotswap sockets
Lifespan: N/A
Actuation Distance: N/A
Travel Distance: N/A
Actuation Force: N/A
The PCB features universal 5-pin hotswappable sockets with south-facing LEDS, so you don't have to worry about any keycap interference. There are many options you can go here. The KiiBoom Matcha Latte switches I used were pre-lubed nicely and sound fantastic. They come in packs of 35, so for a 75% keyboard, you would need 3 boxes. This also gives you a lot of extras in case anything goes wrong.
Stabilizers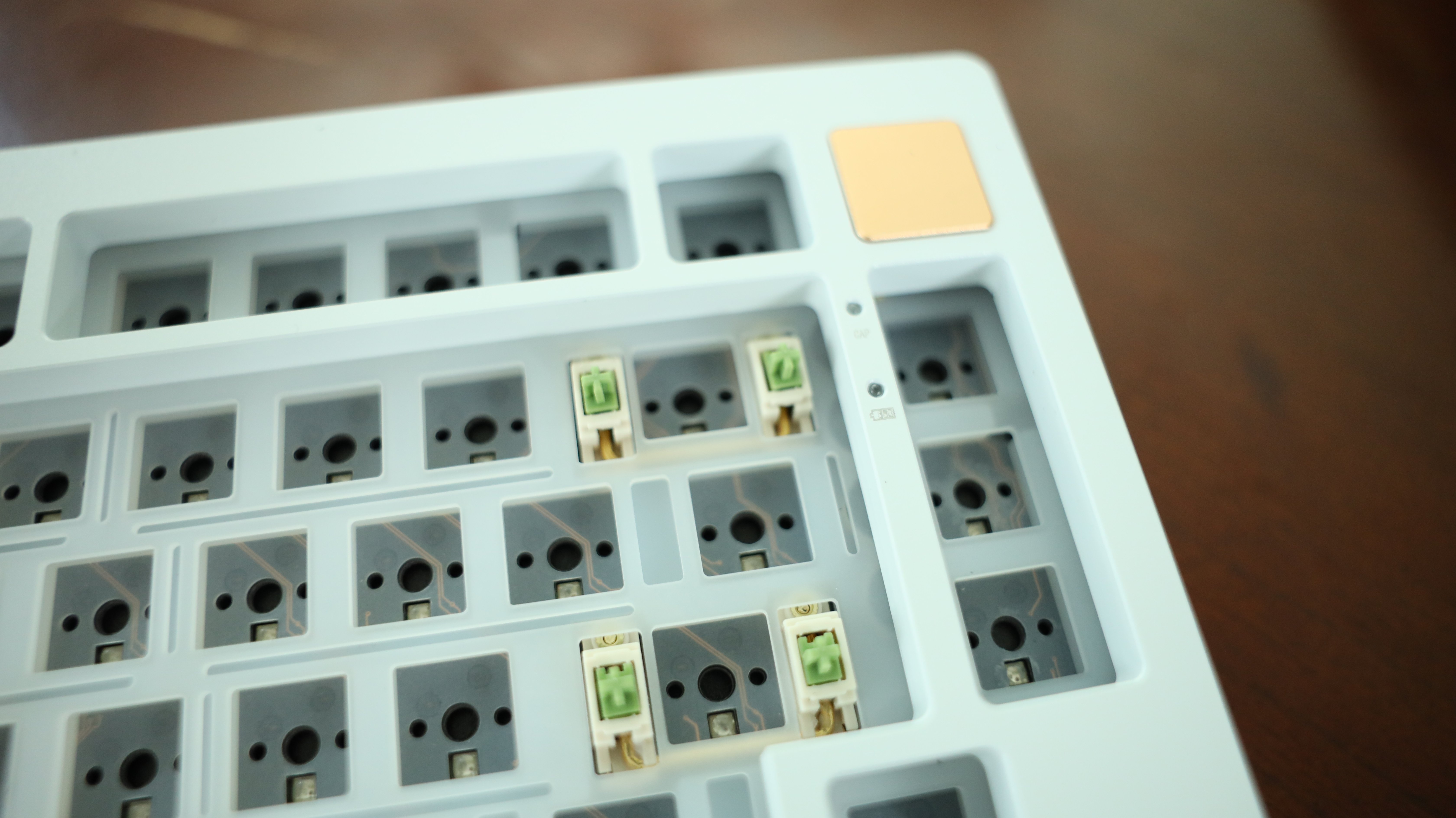 Type: PCB screw-in
Color: Matcha-latte colored
Unlubed/Lubed: Pre-tuned and pre-lubed as well
The stabilizers are fantastic right out of the box. If you do want to tune it even more, adding some Permetex dielectric grease to the spacebar stabilizers would make it perfect. All of the smaller keys are fine as is.
The RGB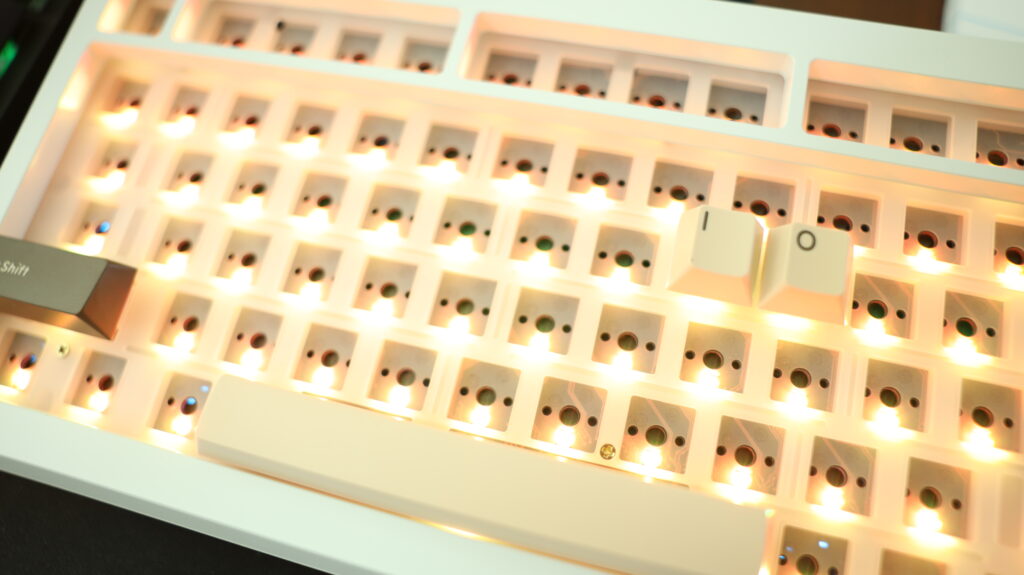 Color: All colors
Per-Key: Yes
Underglow: No
LED Location: South-facing
Change Lighting Effects: QMK/VIA
Change Brightness: QMK/VIA
The RGB looks good. Because it's south-facing, if you do install shine-through keycaps, it may end up looking a little funky since the legends of those keycaps tend to be on the top side instead of the bottom or middle. Other than that, with the keycaps I opted for, it shines brightly from underneath.
The Software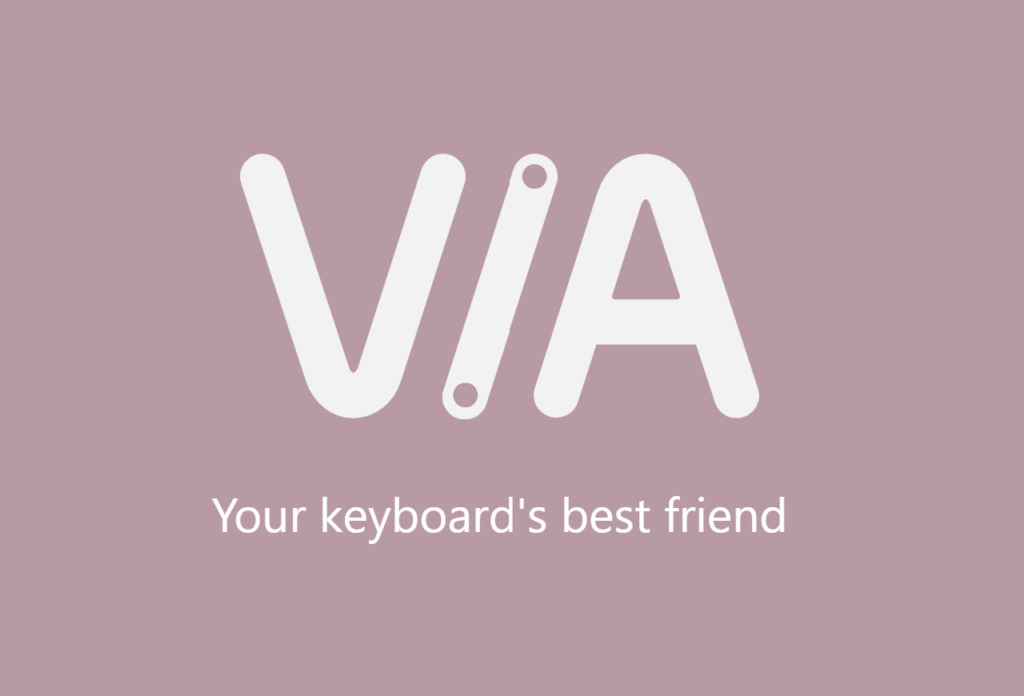 Name: QMK and VIA
Compatibility: Windows and Mac
Macros: Yes
Per-Key Lighting: Yes
Remap Keys: Yes
Onboard Memory: Yes
Profiles: 1 profile
VIA is my go-to for any keyboard customization. It's super easy to test your keyboard to see if you installed all your switches correctly. And you can use it just on the browser itself without downloading anything. That means, whether you're at home or in the office, you can pop open VIA, change something real quick, save it to your board, and move on. No installing software that your company or school may not let you install. It's super convenient.
Connectivity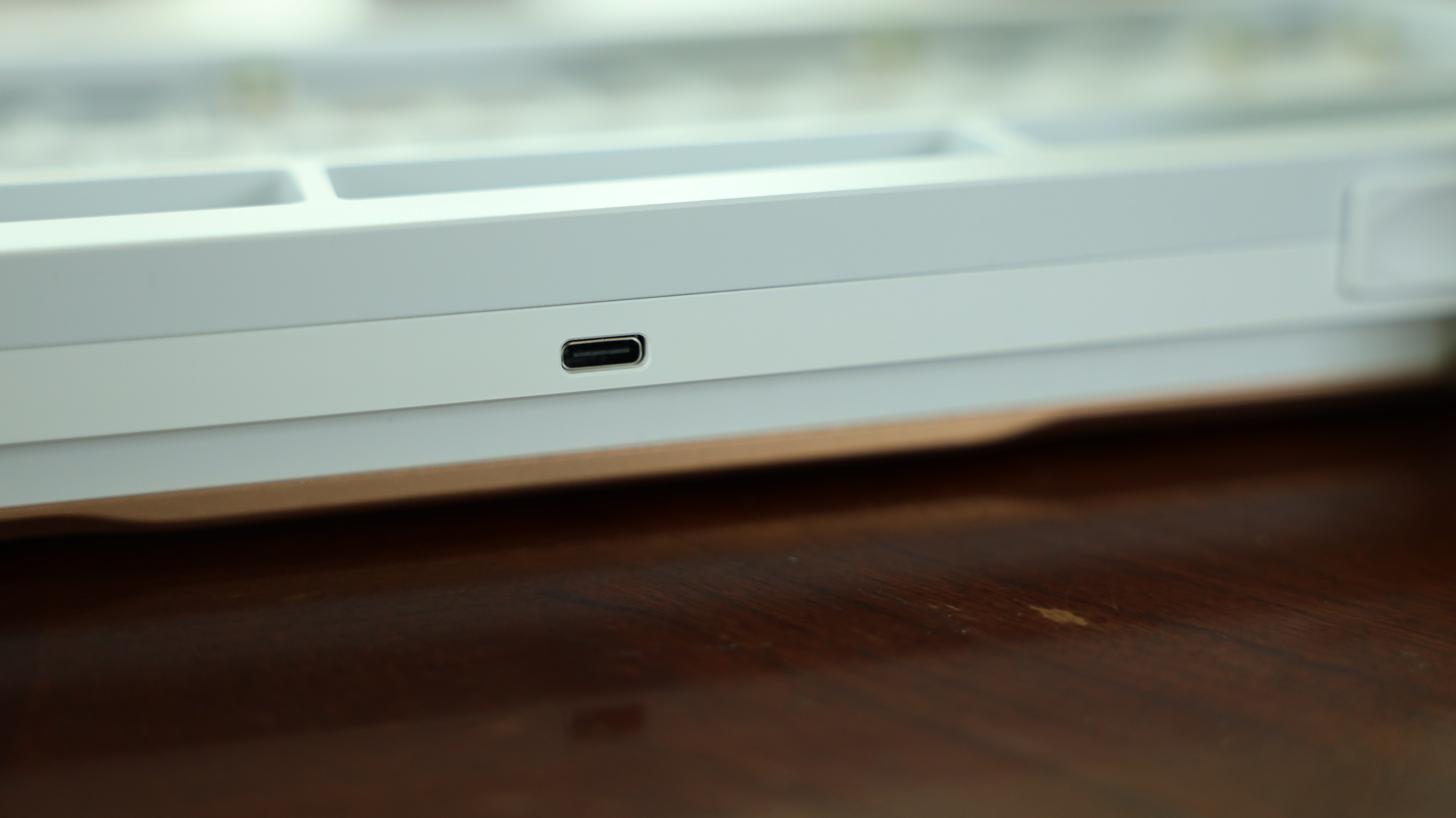 Port Type: USB-C
Wireless: No
Latency: Unknown
Compatibility: Mac and Windows
Number of Devices: 1
Cable Length: Unknown
USB Passthrough: No
Like most custom keyboards, there is no wireless connectivity or anything special. You get one USB-C port in the middle of the backside. And that's it. It's easy to access and accepts all USB-C cables since there's no cutout or anything.
Alternative Options
GMMK Pro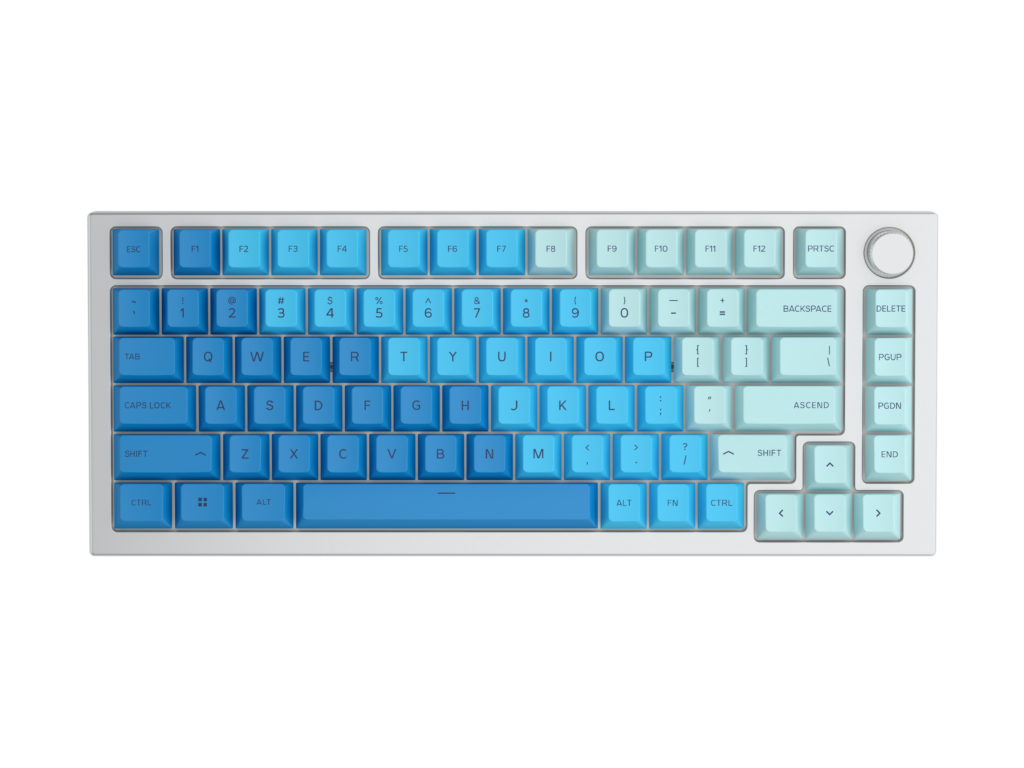 Why It's Recommended: The GMMK has a very similar feature-set, although the barebones kit does come with an aluminum plate stock which is not very flexible. It's a bit cheaper than the Moonshadow 81, but it is a pain in the butt to take apart and mod. The stabilizers also need some work before putting in switches and keycaps. If you are willing to go through more effort to mod your keyboard and want to save about $30, this is an option to consider.
Keychron Q1 Pro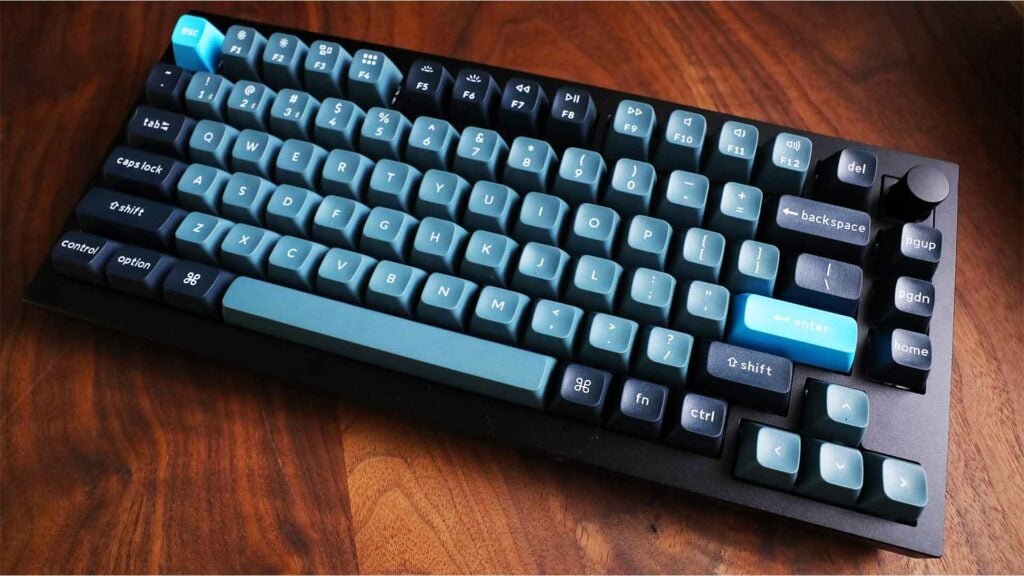 Why It's Recommended: For the same price as the Moonshadow 81, you can get a completely fully assembled keyboard that also is gasket-mounted, has a polycarbonate plate, and has Bluetooth connectivity as well. Keychron's stabilizers are not as cleanly tuned as the Moonshadow 81 though, and the design of the Moonshadow 81 far exceeds Keychron's aesthetic.
The Full Video Review
Coming soon. Check back on the YouTube channel for updates.
---
Conclusion
KiiBoom has got something unique happening with the Moonshadow 81. I would like to see a 65% come out soon to accommodate people who want to use a smaller keyboard footprint.
The technology or lack of technology they use to let you take apart the case without tools is super easy to use. It's definitely the first time I've seen such an easy process.
This barebones keyboard kit is a very nice one to get and use for a long time. It's also always available, so you don't have to enter a group buy and wait months and months to get it at your doorstep.