When browsing the Audiophile section on Drop, there are a variety headphones, amplifiers, IEMs, and more at different price points.
The Drop + Hifiman HE4XX planar magnetic headphones stand out at their semi-affordable price point, but are they even good?
This review will lay out all of the features of this pair of headphones and help you decide whether or not you want to take them for a spin.
The Verdict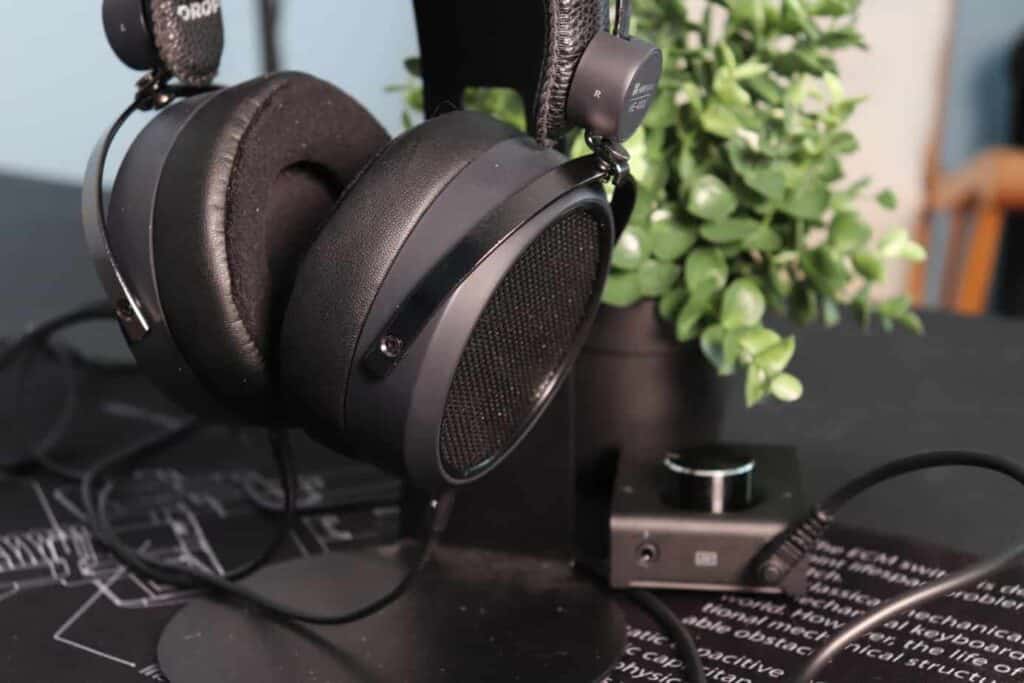 If this is your first pair of open-back or planar magnetic headphones, you will be in for a pleasant surprise.
These are drivable by a smartphone or motherboard sound card. However, the volume needs to be turned way up to drive them properly, and the sound quality isn't too amazing.
You need a DAC and Amp to properly use these headphones to their fullest potential, so make sure you save up some additional cash (about $75-$100 for a budget conscious DAC and Amp combo).
The Drop + Hifiman HE4XX is for people who enjoy listening to all kinds of music within a private space (not in public) or play games with rich sound.
You can find these headphones at Drop for approximately $160. You can also find them here on Amazon.
---
In The Box
Inside the box, there are extremely minimal accessories.
Headphones – The headphones themselves are the sole focus on this review, but at first glance, they are large and quite bulky.
Split 2.5mm to single angled 3.5mm cable – The headphones need to be plugged in on each ear cup. The cable itself is 1.5m (approximately 4.9ft).
3.5mm to 1/4in adapter – If you need to connect your headphones to an amplifier or musical instrument, this is convenient for you. However, you probably have a bunch of these laying around.
---
Build Quality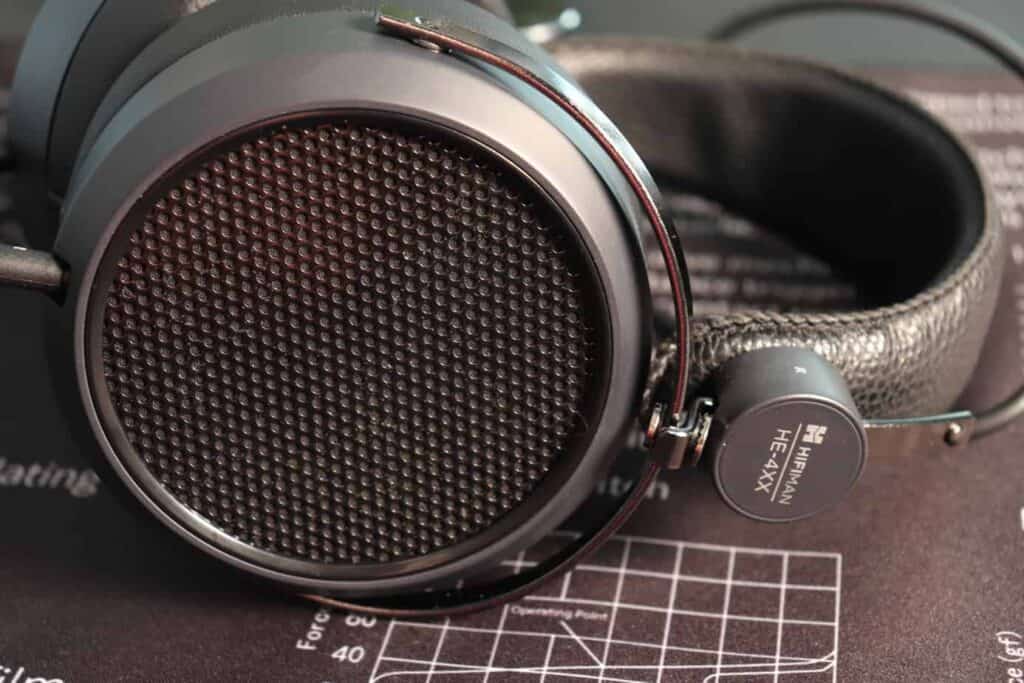 The build quality looks to be extremely solid. There have been many complaints that the side connections from the headband to the earcups are flimsy and tend to unscrew themselves over time.
This is a risk that needs to be considered. If you plan on keeping these safe in your home on a headphone stand, then you won't have to worry about them breaking apart.
However, if you plan on taking these places, throwing them carelessly into your backpack, and mistreating them, it's highly likely that they will break sooner than later.
The adjustment mechanisms are made of metal sliders going through a plastic piece that is screwed onto the side of the headband.
Comfort and Style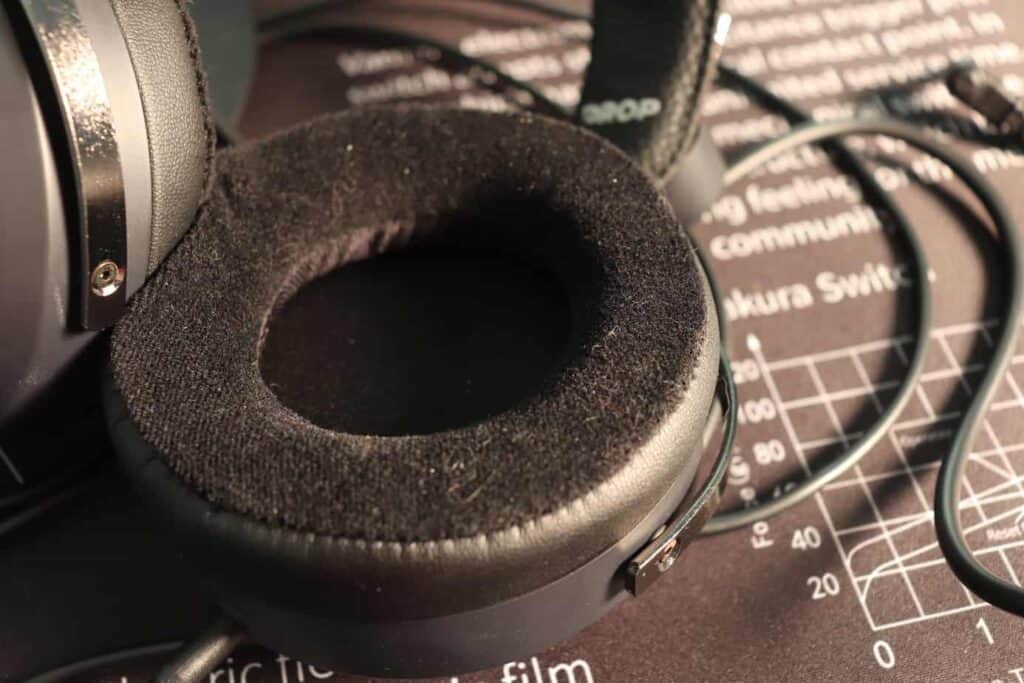 At the top, there is a leather stitched headband encasing a metal frame without much cushion (or any) at all. After an hour of listening, you will begin to feel this metal band dig into the top of your head. But within that first hour, they are extremely comfortable.
When first putting the Hifiman HE4XX's on, they are extremely comfortable. The ear cushions are made of a combination of velour on the part that touches your skin and leather on the circumference of the cushions themselves.
The ear cups are extremely deep, so your ears won't be anywhere close to touching the drivers.
They are really great with glasses and conform right around the frames. To some, however, this material can get scratchy or hot.
As for style, it's pretty much preference. These cans are gigantic on my head, which happens to be relatively small. I use the smallest headband adjustment settings on pretty much any pair of headphones or headsets.
Each earcup has about 30 degrees of swivel horizontally. And then they each have the ability to rotate 360 degrees. Of course, the cable will get in the way, but it's completely possible.
The big earcups look almost silly and stick out far on the sides as well. It probably takes a certain person to look good in these. But if you're just listening at home, you won't have to worry about looking silly.
As for clamp, they have a good level. If you bend over or move around, they don't move much on your head. But it's not so high that your head feels crushed either.
The sound quality more than makes up for how silly they look.
Sound Quality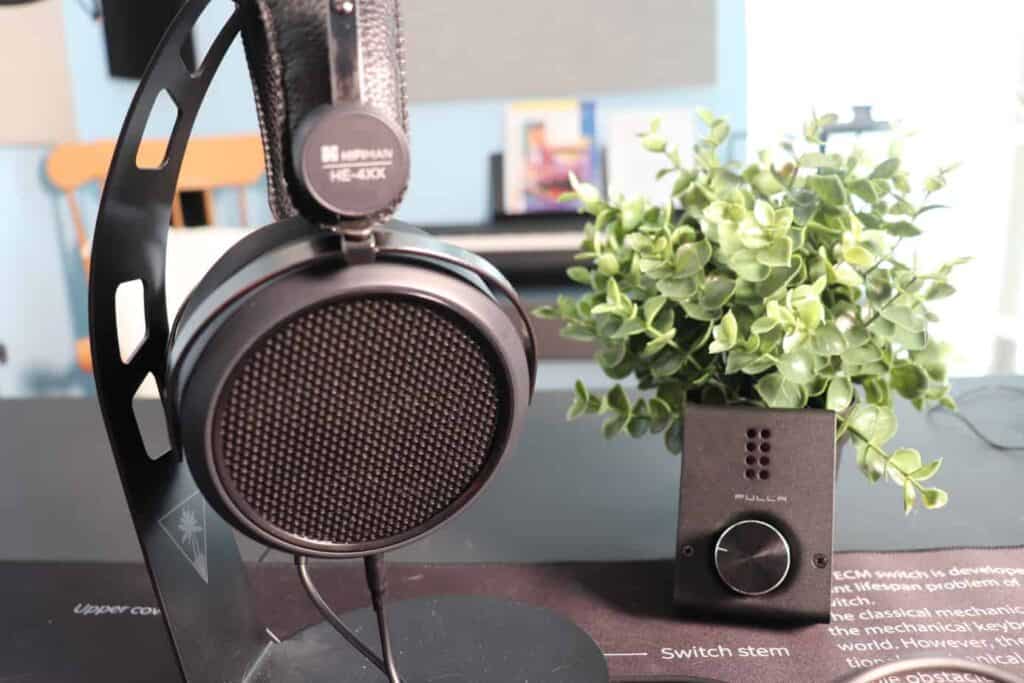 The Drop + Hifiman HE4XX headphones sound great with all sorts of different music genres.
The soundstage is extremely wide, and it feels like you're in the room with the music playing from nice speakers.
The bass is not as heavy as Audio-Techanica MSR7s or gaming headsets, but the mid-ranges are very good.
Overall, the sound is very clear and neutral. Not V-shaped like many gaming headsets out there.
Some users of these headphones report better as after a 24 burn-in period. Others have reported that nothing changes.
With string instruments, every pluck is heard. If you listen closely, everything is extremely clear and crisp.
Of course, these are open-back, so people can hear what you are listening to. If they're 5ft away or closer, expect them to know.
Don't want someone to know you're listening to Miley Cyrus on hi-fi? Then maybe these aren't the best headphones to be listening to that with.
These headphones do benefit largely from a dedicated amplifier. It'll improve the volume, sound output, and sound quality greatly.
Some good budget-conscious amplifiers to consider are the FiiO E10K or the Schiit Fulla 3, which both cost under $100.
Microphone
Obviously, there is no microphone, so not much to say here.
If you plan on using these for gaming, I recommend getting a separate microphone such as a Blue Yeti or HyperX Quadcast microphone instead.
These will have much better microphone quality and work with all of your future headphone upgrades.
Technical Details
Frequency response: 20Hz to 35 KHz
Sensitivity: 93dB
Impedance: 35 Ohms
Style: Open-back
Drivers: Planar magnetic drivers
Cable length: 1.5m (4.9ft)
Weight: 370g
The combination of the slightly higher impedance (higher than 32 Ohms) and low sensitivity mean that the headphones can greatly benefit from an amplifier.
It is possible to drive these headphones with your cell phone alone if you set the volume on your phone to very high.
---
Conclusion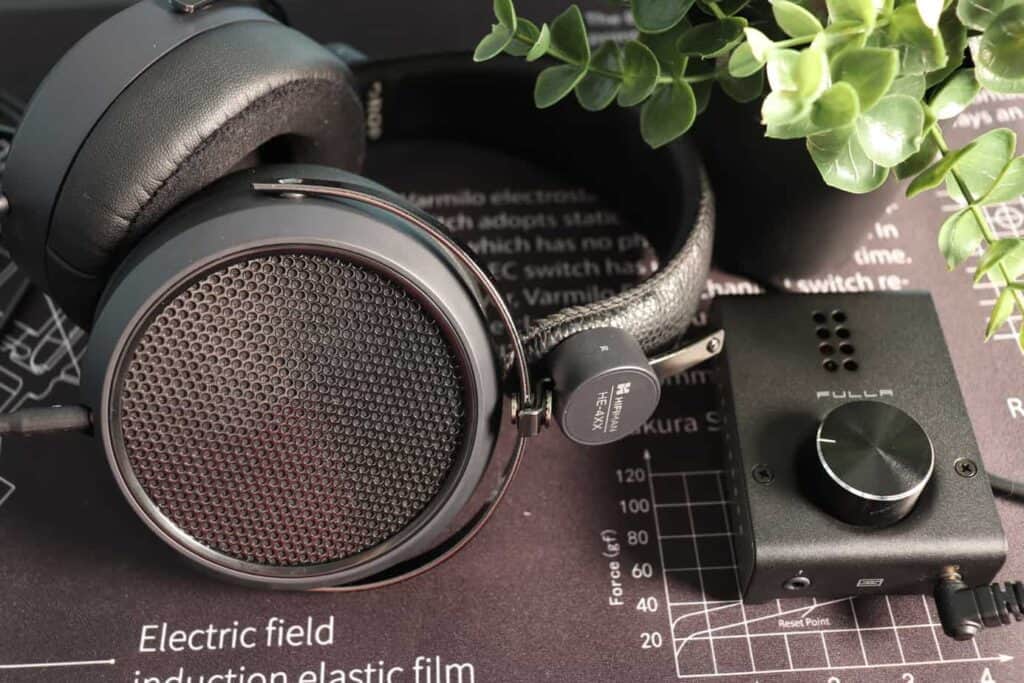 These headphones are an amazing way to try out headphones with planar magnetic drivers without really breaking the bank.
They are amazing open-back headphones with a wide soundstage and neutral and clear sound signature.
With an additional DAC and amplifier, the sound will be even louder and better. However, you can absolutely drive these from your PC motherboard or cell phone.
These headphones are not for going to public spaces such as the library, gym, bus, or subway. They are perfect for private listening or working at home while listening to nice music.
They might sound so good that they can distract from work though, so be careful.
They are extremely comfortable, except for the cushionless headband. It's possible to buy an additional cushion here for longer listening sessions.
The earcups are extremely well-fitting with glasses due to the hybrid pleather and velour material.
If you're interested in reading more about the Drop + Hifiman HE4XX headphones, check them out on Amazon for an affordable price.