Clack. Thock. Click.
The more tactile a switch, the louder it usually is, until now. Enter Gazzew's Boba U4, a surprisingly silent tactile switch.
Sometimes, it's the quiet ones you have to watch out for.
The Verdict: Very Silent, Very Deadly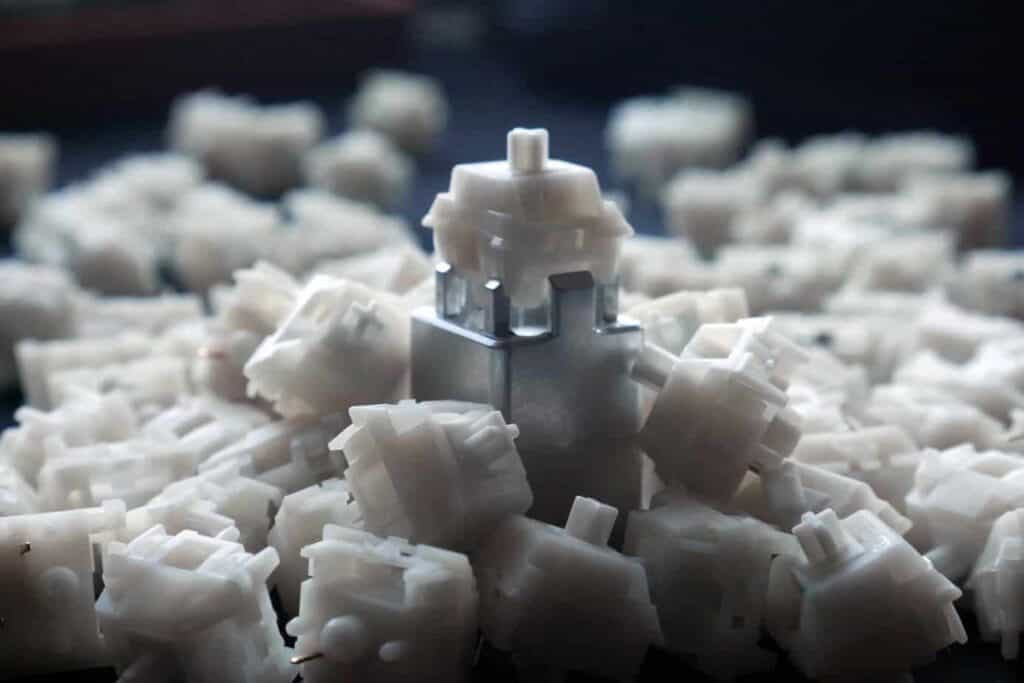 Who said Outemu switches aren't premium?
The Boba U4, designed by Gazzew in collaboration with Outemu, has been making waves in the mechanical keyboard communities over the past several months, but it is worth the hype?
Yes. Absolutely and unequivocally yes.
The Boba U4 is a silent tactile switch that lives up to both of those descriptors.
The U4 silent stem and soft Boba housing provide a large tactile bump that makes it a top tactile switch regardless of its sound – or lack thereof.
The Boba U4 is offered not only in 62g and 68g spring weights, but the housing is also provided in both milky-top and RGB-friendly clear-top options.
The housing is a little difficult to open, however, and the switch itself feels a bit scratchy and mushy compared to regular tactile switches. This is to be expected from a silent switch, and the Boba U4 is actually quite smooth for being a silent tactile switch.
As a 5-pin Outemu switch, the Boba U4 is compatible not only with MX-style PCB's, but also Outemu hotswap sockets which are known to be too thin for switches from other brands. You might need to downgrade your switches though by clipping off the extra legs.
Overall, the Boba U4 is not only one of the best value switches, but one of the best switches available on the market, which can be said of all Gazzew-designed switches.
If you're looking for a great tactile switch without all the clacking, the Boba U4 should be the first one you consider and is perfect for the office and at home.
The Boba U4 proves that the cream of the crop will rise to the top.
The Bump is Strong
If you have only ever typed on a membrane keyboard before, you know that while they do have quite a tactile bump, membrane keyboards are known for being mushier than mashed potatoes.
If you have only ever typed on lighter tactile switches like Cherry MX or Gateron Browns, you know that while they aren't mushy, Brown switches tend to lack the tactility that even a membrane keyboard provides.
The Boba U4 solves both of these problems.
Not only is the Boba U4 extremely tactile, it can be more silent and dampened than a membrane keyboard without having a pronounced mushiness.
Lighter spring weights like the 62g option may accentuate the tactile bump, but a 68g option could feel smoother without compromising much tactility.
The hallmarks of a tactile switch are the sharp or round bump and higher "peak force".
"Peak Force" is the maximum amount of force required to press and actuate the switch. The peak force required for a tactile switch is typically higher than that of a linear switch with the same spring.
The combination of tactile bump, spring weight, and peak force in the Boba U4 means if you rest your fingers on the keys, they won't budge unless you want them to.
While the stock-and-unmodified switch can be a bit scratchy, the Boba U4 is surprisingly smooth as silent switches go, and can be run un-lubed without much issue.
The dampened landing may bother you more than the scratchiness if you aren't used to a silent stem with silicone dampeners.
Tactility and Bump Profile
Let's talk about the bump.
The tactile bump is classified as a "D-bump".
The "D" describes the profile, corresponding to the feeling from top to bottom. A "D-bump" starts at top, and ends very close to bottom-out.
In practice, you should feel that the entire keypress is the bump. This makes bottoming-out intensely satisfying, and hard to avoid.
The bump itself is rounder and more full than that of a sharp Outemu Sky or MX Ergo Clear.
Actuation occurs after the bump, so you may be reminded of a membrane keyboard even more in that actuation could be tied with bottom-out depending on your typing style.
In fact, because of the robust tactility, dampened landing, and silent operation, a Boba U4 feels and sounds like what a membrane keyboard wants to be when it grows up and becomes a proper keyboard.
In relation to other tactile switches, the Boba U4 feels stronger and rounder than Holy Panda, Glorious Panda, T1, and Outemu Sky.
Novelkeys Blueberry may feel more tactile at first, but the lack of pre-travel on the Boba U4 makes it feel less mushy despite being a dampened switch.
Even the mighty Box Jade could feel lighter and faster to type on after using 68g Boba U4's for a while.
The Sound of Silence
The first thing you might hear when typing on these switches is…close to nothing.
Especially when compared to other louder tactile switches, the Boba U4 is noticeably more quiet.
Both top-out and bottom-out clacks are dampened, and the soft housing mutes most any spring-ping or metallic leaf tick which might be present.
What you are left with is usually a "scratchy thud" or "thunk".
The Design – Cream of the Crop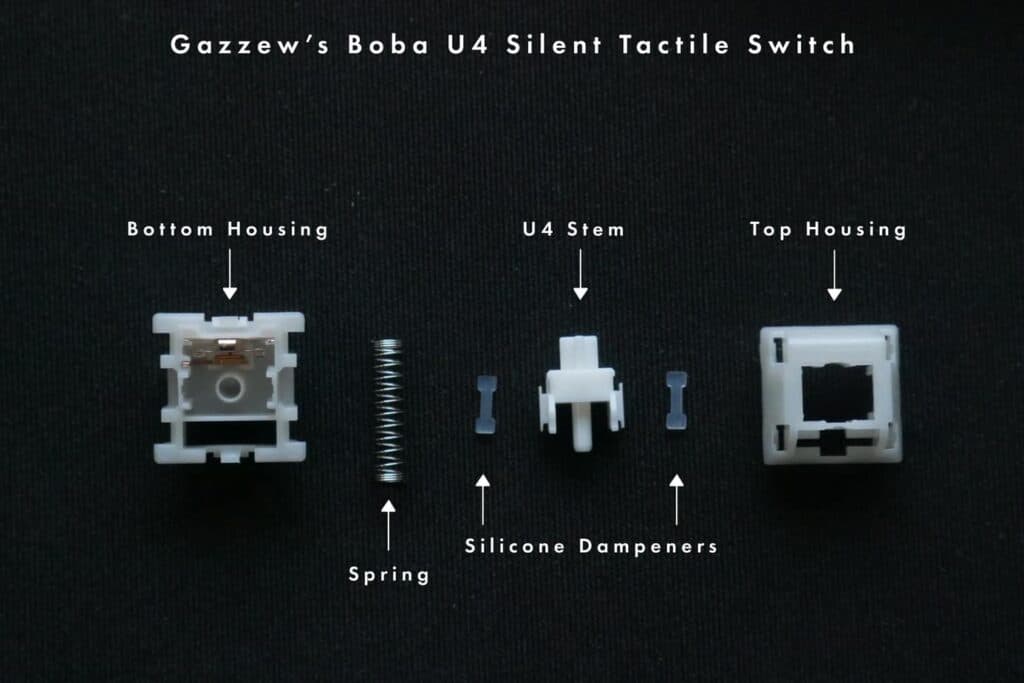 The Boba U4, like most other mechanical switches in production today, are derived from Cherry MX housing designs.
Unlike Cherry, who uses an all-nylon black housing on most of its switches, the Boba U4 sports a milky translucent "Pearl" housing.
The housing is made from a soft proprietary plastic blend that makes it softer than Nylon-66, and helps to mute any metallic noise caused by the spring or leaf.
The stem legs themselves are similar to that of the Halo stem found on Holy Pandas, with a rounder but larger and fuller bump.
The stem is a creamy, milky opaque white color.
The combination of the two colors makes the Boba U4 appear milkier than Gateron Milkies, and creamier than NK Creams.
Also available are both pink and RGB-friendly clear colored tops to add a bit of aesthetic flair.
While the clear-top variety is commonly found through official vendors, pink tops can currently only be obtained directly from Gazzew, or by obtaining the pink "Bobagum" silent linear switches.
While the clear-top version is the clear choice for RGB enthusiasts, most others will enjoy the diffused look from the pearl and pink housings.
The pearl housings, when paired with a low-profile case, makes the diffused RGB lighting look perfect under floating keycaps.
Should You Lube Boba Switches?
Silent switches are usually prime candidates for lubrication and adding switch films.
The Boba U4 does benefit from a bit of lube, but does not require film, as the housing is already tight enough and displays no wobble.
If you wish to film, try a clear top-housing with RGB slot, which has relaxed tolerances compared to the opaue housings.
If you wish to "tune" how the Boba U4 sounds, however, you can try a thin or compressible switch film.
There are a few ways you can lube the Boba U4, including the traditional method of lubing the springs, housings, and stem with GPL105 and Tribosys 3203 or 3204.
Gazzew also recommends his own personal lubing method, which may seem unorthodox at first but proves to be very effective for the Boba U4.
The process includes lubing stem rails on the bottom housing, and "donut-dipping" the spring bottoms in lubricant.
Gazzew's method is effective and saves time, but may not be as thorough for your preferences if you have a preferred lubing technique.
Lubing will be sure to remove any remaining scratch, as well as lingering metallic ping.
The housings plastic is soft and dampens most metallic noise. The dampeners are removeable.
Removing the silicone dampeners makes the stem sit higher, adds a bit of pretravel before the bump, and and gives the switch a milky clack similar to that of a Gateron Milky Black linear switch.
The tactile copper leaf provides great tactility, improving the push feel of a Halo True/Holy Panda stem and increasing its tactility.
Check out our guides on lubing and filming, as well as Betty's Boba U4 review and lube technique video for more specifics.
Other Switch Recommendations:
Outemu Silent Sky
Also a Gazzew X Outemu collaboration, the Outemu Silent Sky is the precursor to the Boba U4.
Featuring a sky-blue bottom housing, clear top housing, and semi-translucent stem, the OSS has a P-shaped bump with a slight amount of pre-travel that feels lighter than the Boba U4's robust D-shaped bump.
Gazzew Boba U4T (Thock)
Not looking for a silent switch?
The latest tactile switch from Gazzew, Boba U4T, is a non-silenced version of the Boba U4 featuring a "Thocky" longer stem and similar strong D-bump found on the silent version.
A great value switch, and excellent affordable alternative to the Drop Holy Panda and Zealios premium tactile switches.
If you want to see other tactile switch offerings, check out our best tactile switches article.
Conclusion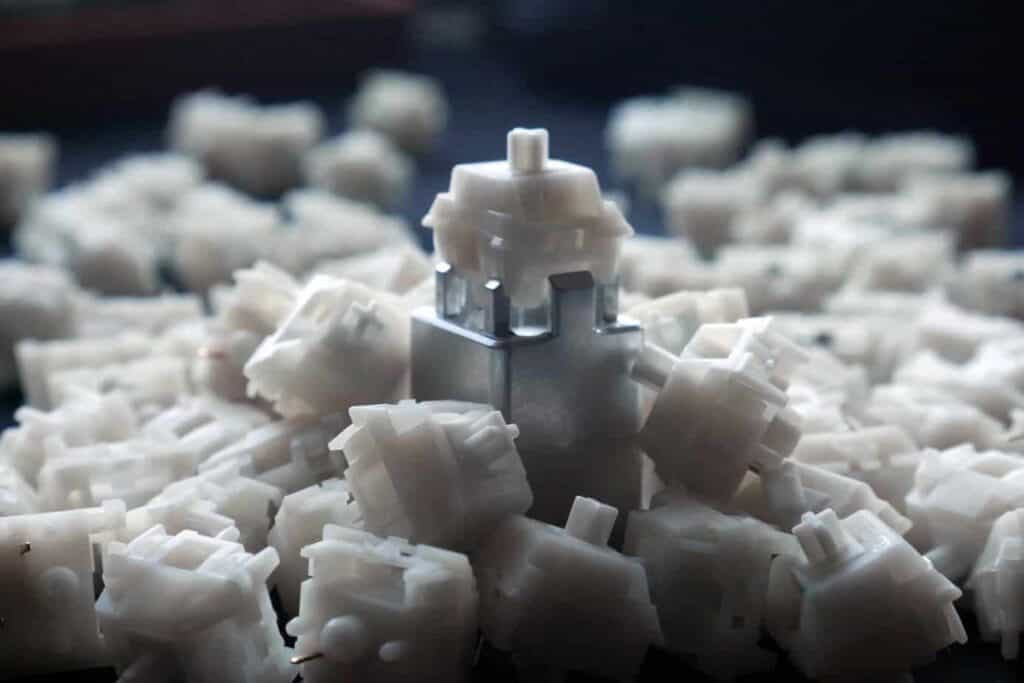 Anyone up for a Boba?
Gazzew's Boba U4 silent tactile switch is one of the more compelling switches to be released in quite some time, and is one of the most exciting tactile switches since the Holy Panda.
With a large and robust tactile bump, impressive sound qualities, and extremely competitive pricing, the Boba U4 is arguably one of the best value switches for your money.
If you've been looking for an excuse to try a silent switch, or have been sleeping on Outemu's latest offerings with Gazzew, the Boba U4 just might be the switch you've been waiting for.
If you love a tactile switch, but need to be courteous of colleagues, classmates, or family at home, maybe it's Boba time.
Thank you for reading!