Striking a very specific niche in the mechanical keyboard market is the Drop + OLKB Planck in a tight 40% layout.
You can make the most of your keyboard in this super compact size.
This review will cover everything you need to know about the board's overall build, features, and key components such as stabilizers and switches on Drop + OLKB's Planck.
The Verdict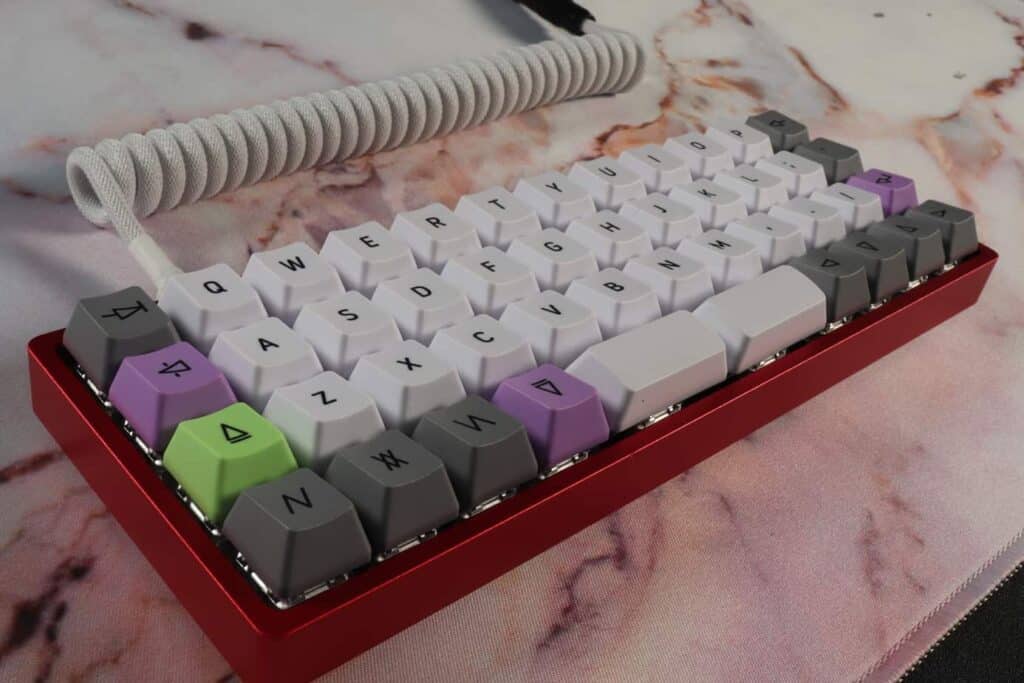 The Drop + OLKB Planck is an extremely compact board in a 40% size that could fit your pocket, yet still delivers features and quality.
The Planck provides a lot of customizability with multiple layout options, 5-pin hot-swap, and many case options.
This board has a solid aluminum build that would look great on your desk and while traveling.
On the downside of the extremely compact nature also makes it hard to get used to. Also if you can get used to it there is no height adjust and wobbly stabilizers.
Drop and OLKB's Planck is a very fun board to try out. If you travel often it's a great option because you can easily bring it around.
You can find the Drop + OLKB Planck on Drop's site.
---
In The Box
The OLKB Planck kit has multiple components.
In the box you get:
Keyboard User Manual: The first thing you will see the manual to walk you through the basic things you will need to know on the board like macros, layers, and more. It's very useful.
Case: The next thing you will see is the case in a plastic wrap. You will get four rubber feet with the board.
PCB: The PCB doesn't come installed on the board but in a bag ready to be put in the board.
Stabilizers: Included are a couple 2u sized PCB mount stabilizers. They are clip in stabs which means that they function like plate mounted stabs as they clip in, except on the PCB.
Plate: You will get an aluminum plate that you will need to install on the case.
Detachable Cable: To power the board, you will get a high-quality cable that's a regular USB to USB C. The cable is braided with no issues of fraying.
Screws and Nuts: In a small bag there are all the screws and nuts that you will need to assemble the board. You also get a small socket wrench.
Keycaps: Keycaps are bought separately but if you do buy the ones that Drop includes then you will get a box of them in the box.
There are a lot of different components for the board but that is everything you need to know.
---
Build Quality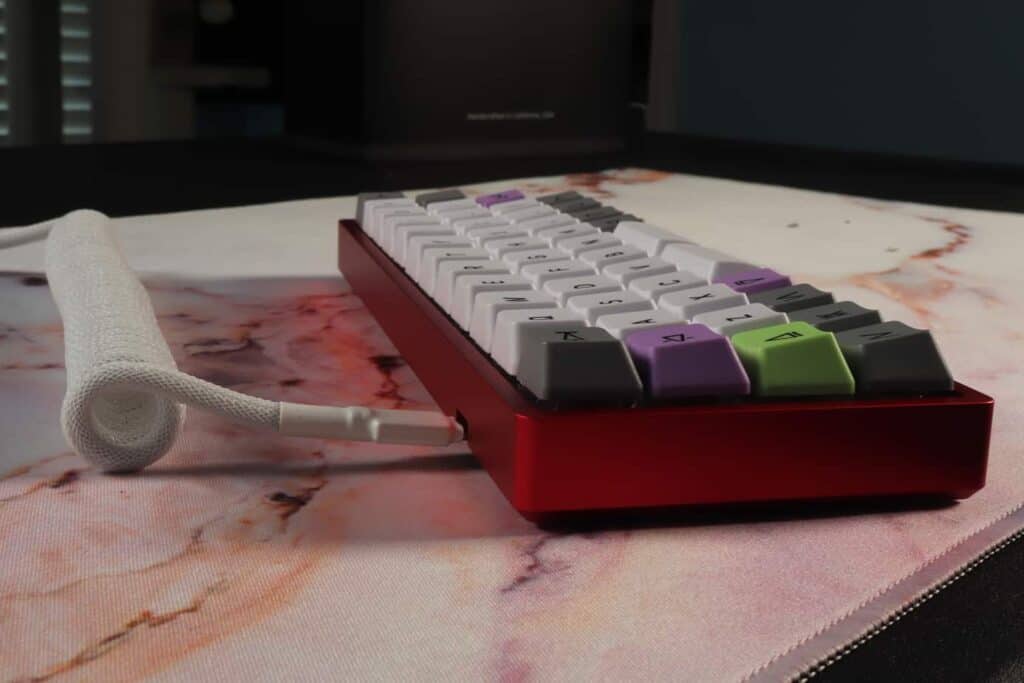 The case looks and feels really nice with a super clean design.
The Planck is made of a decently thick aluminum case with an aluminum top plate. This build makes the board feel very sturdy and provides confidence in the product.
Assembling the board overall is pretty straight forward.
For those who have built keyboards before or have learned how to build one, this should be a walk in the park.
There is no angle or flip-out feet on the case which means you will be typing flat. It is unfortunate and if you enjoy typing at an angle you may find this uncomfortable.
The lack of an angle or adjustment is not as bad as a regular board because the board is more compact so everything you need is close together.
On the rear left side of the case, there is the USB C port. This is nice to see because it is compatible with more custom cables and it is easier to plug a cable into.
You won't need a new cable because the included one is of great quality.
When buying a kit there are two main decisions that you need to make. What color and case profile you prefer.
There are six different case colors that you can choose from. They include black, green, purple, red, space gray, and yellow. Overall all the colors look nice and you have plenty of options.
In addition to the color, you also need to decide if you want a high or medium profile case. Both fit the same switches and stabilizers but the height of the sides is different.
On the medium profile, you will be able to see the switches easily and on the high profile, you won't be able to see the switches. Overall which one you choose is based mostly on what you prefer.
The Keycaps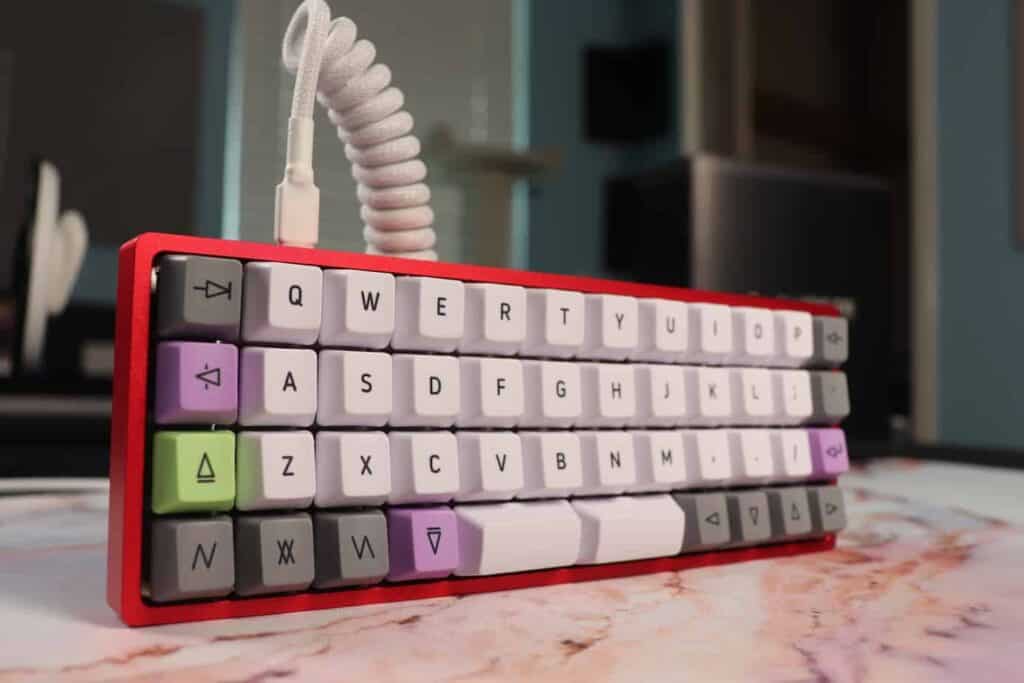 If you want keycaps with this board Drop sells a great set for the Planck. Unfortunately, this set is not included and you must pay extra.
Drop sells the Acute Ortholinear Keycap Set made from thick PBT plastic that aren't backlit. They feature dye-sub legends.
Over time, PBT won't shine as much as thin ABS keycaps will. Also, the dye-sub method will ensure that the legends will last for a long time.
The top of the keycaps are slightly rougher in comparison to regular ABS keycaps that are very smooth.
The keycaps are OEM profile which is sculpted. This profile is nice because if you have used a mechanical keyboard in the past, you are probably used to this layout.
In comparison to most OEM keycaps, this set has a different font and interesting legends for the modifier keys. Unlike the regular design which has the legends on the left-hand side, these keycaps have a centered font.
The modifier keys are compressed to accommodate for the smaller size. They have altered legends but are still easy to understand. It may take some time to get used to the new symbols.
This set features white alphas (primary keys) with grey, green, and purple modifier keys. This makes the set look nice because it adds more character and makes the modifiers more obvious.
The Switches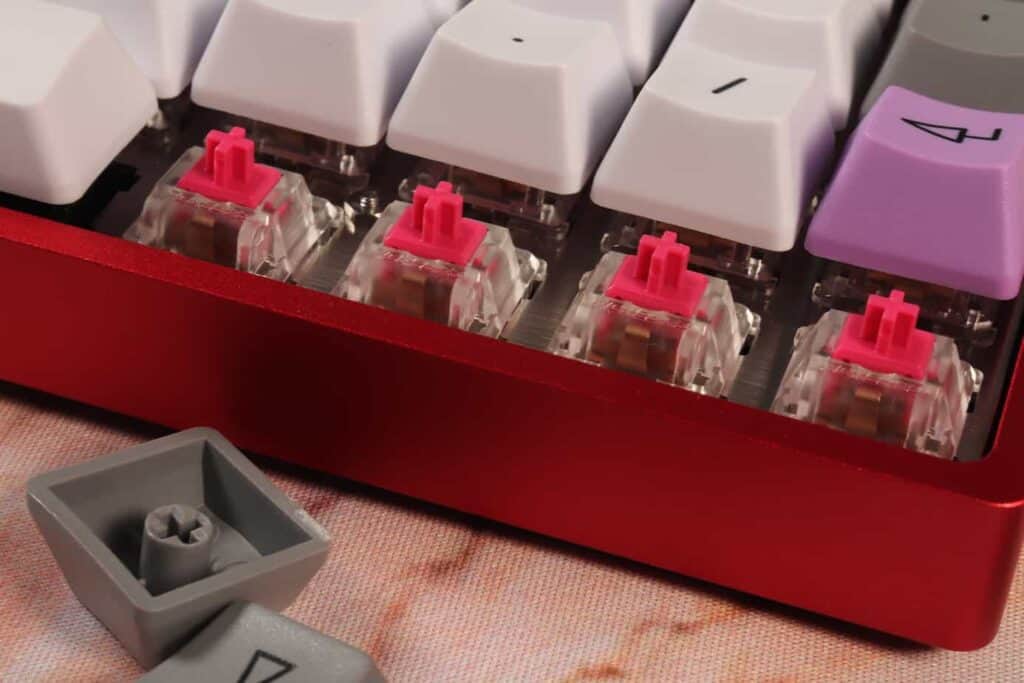 Since the Planck is a keyboard kit it does not come with switches.
This means you need to get your own switches but it also gives you a lot of flexibility because you are not confined to the switch options that Drop chooses.
Many keyboard kits require you to solder the switches which can be very time-consuming but Drop and OLKB make it easy with a hot-swappable PCB.
The hot-swap sockets allow you to change out switches within seconds. They are Kailh 5-pin sockets meaning this board will accept almost all switches.
Even if your switch only has 3-pins it will be compatible with the board but the 5-pin sockets mean you don't have to modify switches to fit in this board.
The sockets are north-facing which may cause interference issues if you are using aftermarket Cherry profile keycaps.
The Stabilizers
The stabilizers are probably the most disappointing part of this board.
The Planck comes with two 2u PCB mounted stabilizers. This means they mount to the PCB but you snap them into the PCB but you don't screw them in like most PCB stabilizers.
These stabs, overall, are quite bad. They feel loose and scratchy. The sound is arguably worse with a rattly sound and when bottoming out there is a metallic pinging that is really loud.
To make the stabilizers bearable it is recommended that you lube, clip, and band-aid mod them. This won't totally fix them but it will improve them.
These stabilizers are for 2u keys, like backspace, so they aren't completely necessary. Bigger keys benefit from stabilizers but the smallest ones don't need them.
We would recommend in this case not using the stabs on this board and instead installing the spacebar without them.
This will improve the sound and feel of them and can save you from a bad experience.
If you do want stabs you can also buy some. There are plenty of options but a good budget option is genuine Cherry stabs with a good value. You can find stabs from sites like NovelKeys or KDBFans.
The Features
As mentioned previously there are multiple features that the Planck delivers such as hot-swap it is very portable but there are many additional features.
Multiple Layout Options
Due to the flexibility of the plate, you have multiple layouts that you can choose from with the bottom row.
Most of these layouts reflect what you want to do with the spacebar and if you want to have two spacebars instead of one. Due to the small size of the spacebar having two of them may be more comfortable for you.
This flexibility allows you to customize this board to your liking and if needed you can add a few more keycaps as a result of not having a second spacebar.
QMK Support
The Planck has layers that are already set up but if you ever need to remap a key or want more in-depth customization then you can use the QMK firmware.
QMK isn't as easy to use as VIA but it does provide a lot of control once you learn how to use it.
You may be satisfied with the stock mappings and layers so you may never need to change anything.
Integrated Speaker
On the PCB there is a small speaker. This speaker has preset commands but can also be customized via QMK to change when it will make sounds or just to turn it off.
The speaker will tell you when you change the selected layout after customizing your board, when are flashing new firmware, or when the board is started up.
---
Alternatives to the Product
If you would like the Planck but don't feel comfortable building your own or don't have the time to do so then you can get the prebuilt Planck from Ergodox EZ.
They provide the Planck experience in a full package with switches and keycaps, and if you want it, RGB backlighting.
You can choose between white or black color case color options. The keycaps will be the same color as your case and are compatible with backlighting if you choose to get it.
You can also choose to get no keycaps if you have your own.
Under the keycaps, you will have 17 options for switches. You have plenty of options from both Kailh and Cherry no matter if you like linear, tactile, or clicky switches.
You have one preset layout option with this board with the single central spacebar with a few buttons to control layers and lighting on the bottom row.
---
Conclusion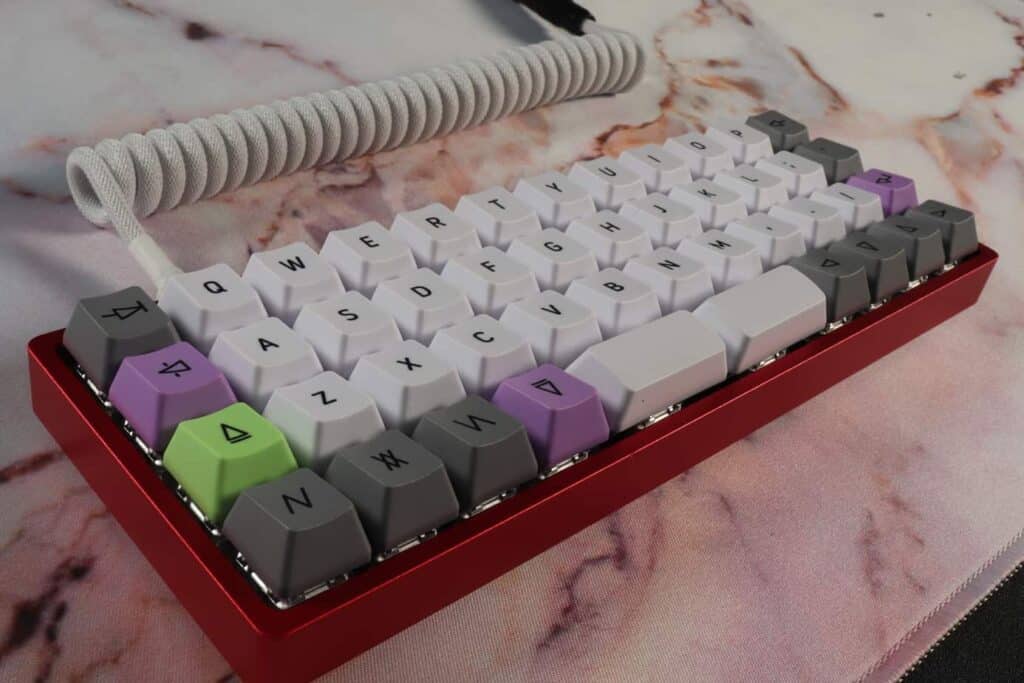 For those who want an extremely compact board, the Drop + OLKB Planck is a fantastic option.
The Planck is keyboard that looks and feels great. In such a small size, surprisingly, it supports so many features like an integrated speaker, QMK Support, an all-aluminum build, and lots of customizability.
The buyer has many options and how they build their board is very open-ended.
This board an interesting new way to experience a mechanical keyboard and a great pick for those who want a great board on the go.
If your interested in this board. You can find the Drop + OLKB Planck on Drop.
Happy Typing!