A good linear switch can make or break your keyboard.
When looking for a linear switch you want something that is buttery-smooth, stable, and makes a deep *thud* sound on impact.
Let's take a quick look at our list of favorite linear switches. If interested, we also have a full article on the best switches for gaming.
Best Linear Switches: Our Top Picks
We'll dive a bit deeper into the various switches and explain why they ranked the way they did.
Each switch was chosen because it excels in a certain category.
---
1. Gateron Yellow Switches: Best Budget Option
If you're looking for the best bang for your buck switch that still provides an awesome typing experience, look no further than the Gateron Yellow switch.
This switch comes in at a medium resistance, making it palatable for many who are new to linear switches.
Gateron linear switches are also known to have a slightly smaller stem size resulting in a buttery-smooth typing experience. We have a full guide on Gateron switches if you are more interested in their switches.
As a matter of fact, the entire linear switch line-up from Gateron is super smooth and satisfying to type on. This includes their Red, Yellow, and Black linear switches, so there is a spring for everyone out there.
Gateron switches are also in the budget category, so they are quite affordable compared to the rest of the switches on the list. You can find them here on the Kebo Store for an extremely good price.
You have the option between several different Gateron linear switches depending on if you want Red (light), Yellow (medium), or Black (heavy) resistance.
The travel distance is 4mm for all three which is standard for a linear switch.
2. Cherry MX Speed Silver: Best Linear Switch for Gaming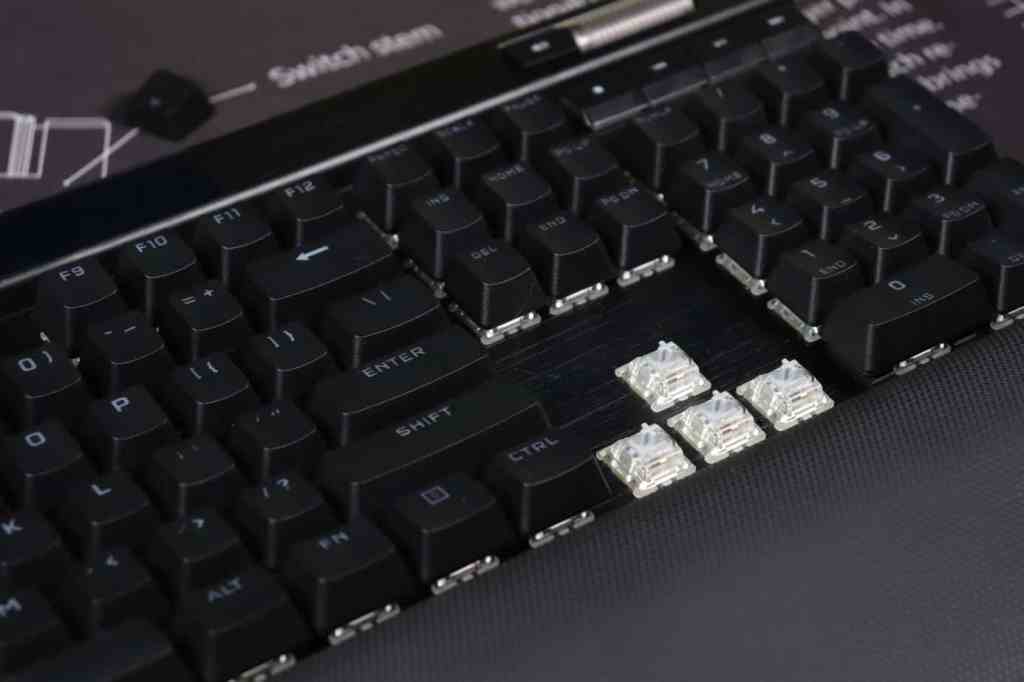 When it comes to gaming, you're best bet is to go with a linear switch. The smooth and consistent actuation will provide a reliable gaming experience.
The Cherry MX Speed Silver takes the great aspects of a linear switch and improves it even more for the purpose of gaming.
With a shorter actuation distance, the switch will be slightly faster than the other options on the list. This can give you a millisecond or two advantage over the competition.
The faster reaction speeds possible with the Cherry MX Speed Silver make it an awesome gaming switch.
However, this style of switch comes with big drawbacks if you do a lot of typing, because the shorter travel distance can be uncomfortable to type on for long periods of time.
There is definitely a trade-off to getting an ultra-specialized gaming switch. For maybe a <1% advantage in a game, you give up the comfort and enjoyment of a normal switch.
You can check the price of the Cherry MX Speed Silver on the Kebo Store.
3. NovelKeys Cream: The Best Sound
The NovelKeys Cream is a switch that has been in the spotlight for a while now due to its incredibly bassy sound on bottom-out.
The switch features a POM plastic design with creamy white color aesthetic that is sure to make many keyboard enthusiasts quite excited.
Unlike some of the other options on the list, you cannot find a keyboard with this switch pre-installed. Instead, you'll need to buy the switches separately and install them yourselves.
Being an enthusiast switch makes this option perfect if you plan on building a custom mechanical keyboard.
From our experience, the switch is quite scratchy brand new, but as you use the switch more, the self-lubricating design allows the feel to smoothen out.
If you're interested in the NovelKeys Cream, you can find it on Amazon for a mid-range price.
4. Cherry MX Black: Most Durable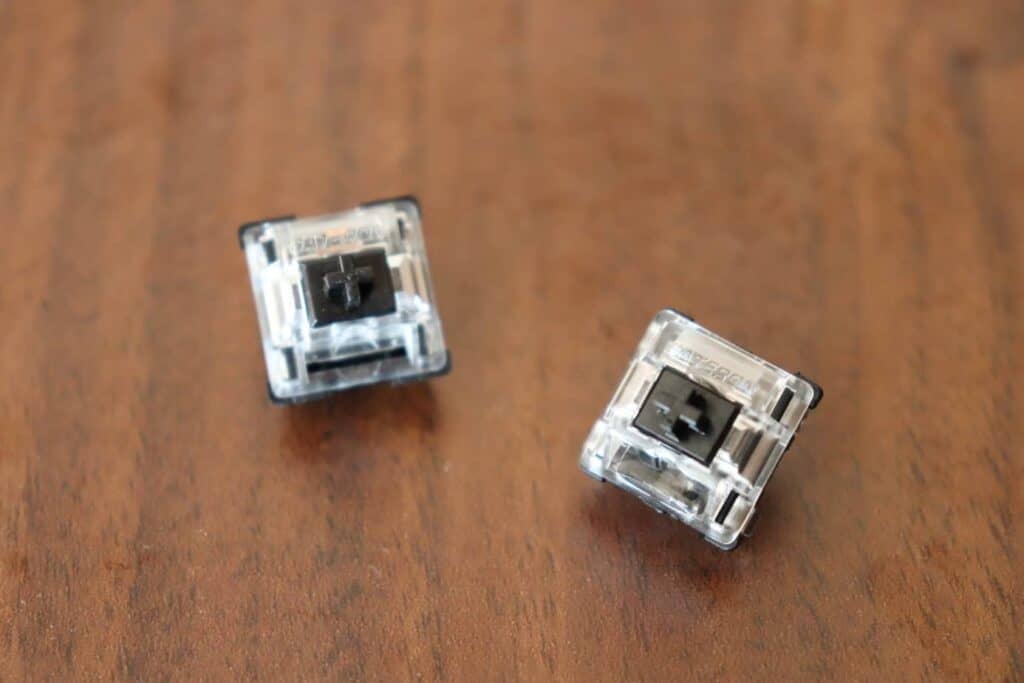 As an extremely well-known switch, Cherry MX is known to produce extremely durable, consistent, and all-around great switches.
The only downside is we have found the Cherry MX linear switches to be slightly scratchy which can ruin the feel of a linear switch.
On the plus side, Cherry MX is the most highly rated switch for durability, and they last for up to 100 million keystrokes.
It is worth noting that "vintage" Cherry MX Black switches are considered one of the best linear switches out there.
"Vintage" refers to the older switches that were made with the original tooling at the Cherry MX factory in Germany.
Within the last couple of years, the factory parts have been retooled and made differently, so the Cherry MX Black switches are not quite as highly-regarded anymore.
If you can get your hands on a set of vintage Cherry MX Black switches, they are a rare and exciting find.
You can find Cherry MX Black switches on the Kebo Store.
5. Gateron Ink Black: The Smoothest Feel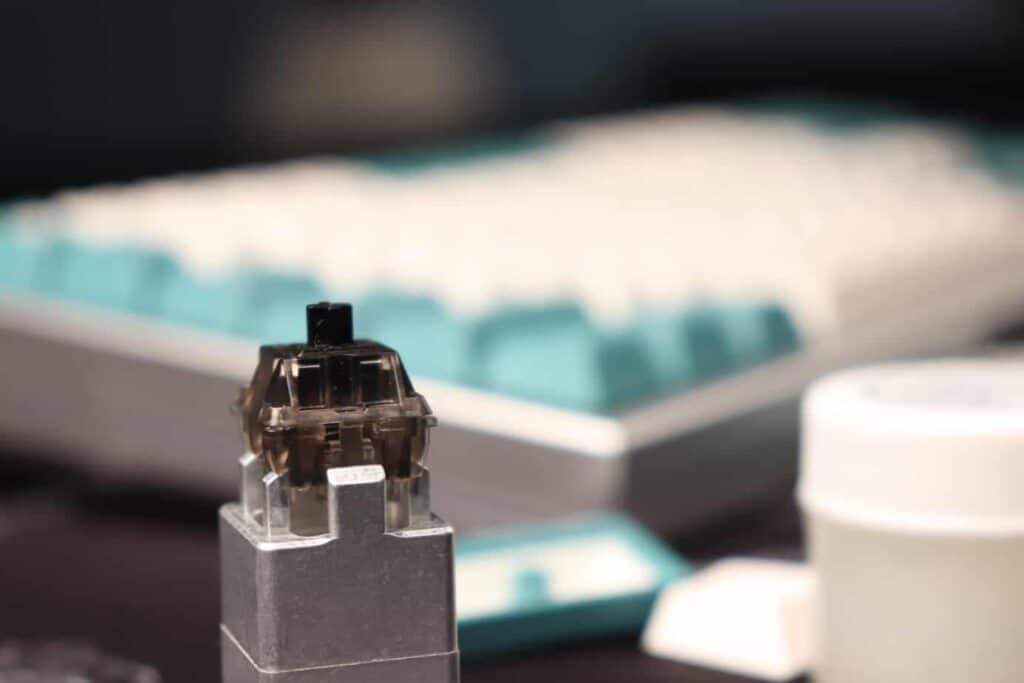 Gateron Ink Blacks are a super popular option that need very little introduction.
As part of Gateron's premium switch line-up, the Ink Black is constructed out of a different type of plastic resulting in a much smoother experience.
The increased smoothness from the already smooth Gateron Black switch makes this a highly sought-after switch for many.
Not to mention, the smoky black housing and jet black stem give the switch a very attractive aesthetic.
If you want to read more on the Gateron Ink Black, you can check out our review.
Similar to the NovelKeys Cream, this switch will require you to install them yourself on a custom keyboard build or in your favorite hot-swappable keyboard.
Should You Get A Linear Switch?
While linear switches are smooth and satisfying to use, there are some factors you need to consider before jumping aboard the linear switch train.
For those of you migrating from tactile switches, the transition can be difficult as you may bottom out the switches at first. This can lead to some mild finger pain and discomfort.
Once you get used to typing on the linear switches, they can be incredibly enjoyable and fun to use.
Because of bottoming out issues though, we don't recommend linear switches if it's your first mechanical keyboard.
Linear switches and more specifically, linear speed switches, are often used in the gaming community to give themselves a slight competitive edge over their opponents.
If gaming is what you'll primarily use your mechanical keyboard for, it may be worth it to explore some of the speed switch options from Cherry MX and Kailh.
How To Improve Your Linear Switches
If you're up for a little project, you can always take your linear switches to the next level.
There are some awesome DIY projects you can do to your linear switches with minimal equipment to improve the smoothness and quality of your linear switches. Regardless of what linear switch you have, you can make them better!
Let's explain some of the different upgrades.
Lube Your Switches
Getting your linear switches directly from the factory and slapping them onto your keyboard can sometimes result in a scratchy linear switch. The scratchy feel comes from some friction between the housing (outside) of a switch and the stem (long narrow part).
By lubricating the switch, you can get rid of the scratchiness and all you are left with is a smooth switch. You can improve all linear switches with this simple upgrade.
Keep in mind, lubing your switches can be a time-intensive activity, so make sure you are willing to put in an hour or so of your time.
You'll also need to invest in some basic tools and equipment, such as lubricant, switch puller, and keycap puller.
Here is our recommended lubricant from the Kebo store.
Once you have all that equipment ready and some time blocked off, it's time to get started. Check out the short video tutorial above, it will teach you all the steps to lube your linear switch.
Switch Film for Ultimate Stability
During the tooling and production process of a switch and the keyboard components, there are often small imperfections.
These imperfections can make the parts not combine perfectly, so you may experience some slight wobble or shaking when typing.
You can install switch film to fix this issue and make your linear switches more stable and quiet than ever before.
We've included a link to another video that explains the entire process.
For Those New To Mechanical Keyboards
I'll explain some of the different lingo commonly thrown around in the mechanical keyboard world because if you're new to the whole experience it can get quite confusing.
A mechanical keyboard switch refers to the switch under each key that supports your finger through the keystroke and registers each entry.
On mechanical keyboards, each key has its own dedicated switch, which makes for some high quality and extremely durable keyboards that have some fancy features such as N-key rollover (being able to press multiple keys and once and everything will register).
Linear switches are a sub-set type of switch that focus on producing a smooth, consistent actuation without any tactile feedback.
Linear switches are great for people who don't like the small bump experienced from tactile switches or the loud noises from clicky switches. Linear switches are usually quiet, smooth, and consistent throughout the entire movement.
Linear switches are especially used by gamers as the consistent keystrokes allow for more precision in highly competitive games. Linear switches are also enjoyed by people who prefer the smooth movements while typing.
Conclusion
Well, that's our list of the best linear switches for your mechanical keyboard.
For those of you who enjoy the buttery smooth feel of a switch over the bumpy feel of a tactile switch, you can't pass up on a linear switch for your next mechanical keyboard.
We went over what classifies a linear switch and why you might want a linear switch.
Our recommendations are all based on our personal experience with the switches and mainly comes down to our preferences, so your mileage may vary.
We hope you enjoyed our list of the best linear switches.
Happy Typing!