A rarity in the mechanical keyboard world, the Ajazz Zinc manages to pack Bluetooth wireless connectivity and the efficiency of a 65% layout into a full aluminum build.
Is the Ajazz Zinc the wireless wonder you've been waiting for? Or does this keyboard prove that you really need a tough skin to hide your imperfections? Let's find out.
The Verdict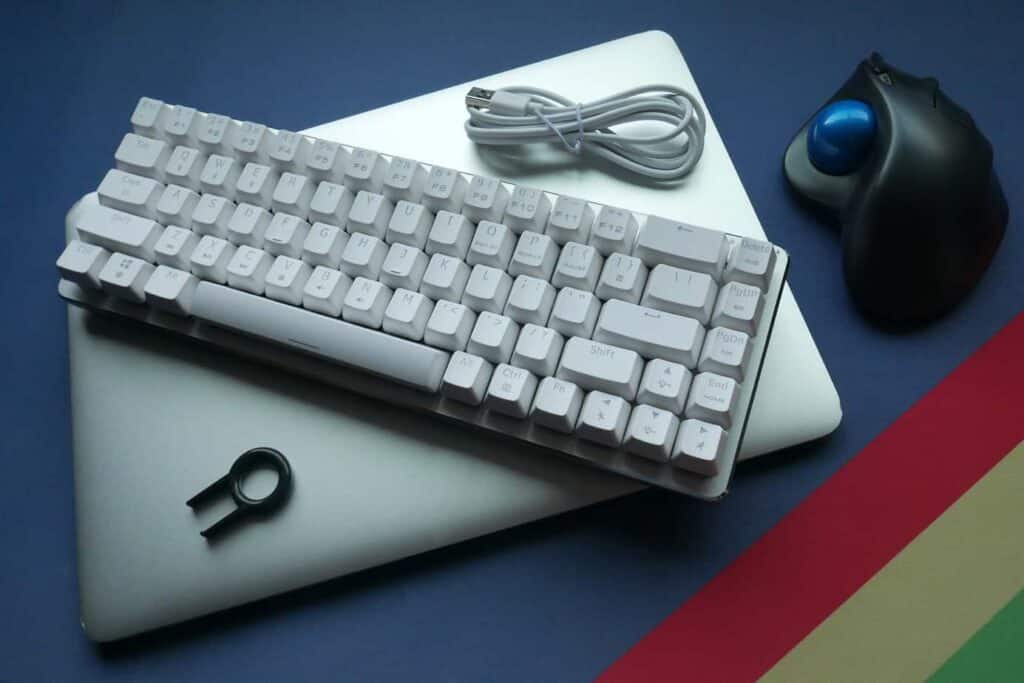 The Ajazz Zinc manages to offer the ever-popular 65% layout with bluetooth connectivity, doubleshot backlit keycaps with a tasteful white backlight all into a low-profile full metal case.
The build quality of the case itself is excellent. A two piece metal case, the Ajazz Zinc is solid but lightweight.
The Ajazz Zinc uses Cherry MX switches, and you get your choice of clicky blue, tactile brown, or linear red and black switches. The stabilizers are unlubed, so the typing experience could be improved.
The wireless connectivity works well enough for casual use and typing, but the moment you go start typing too quickly or trying to test the NKRO over Bluetooth, the keyboard becomes overwhelmed.
The white doubleshot PBT keycaps are textured and dry, but the shinethrough legends and metallic low-profile case allow the tasteful white backlight to shine through brilliantly.
The Ajazz Zinc is a great choice if you're looking for a wireless aluminum keyboard, and don't mind putting in a little extra work to make it perfect.
Find the keyboard directly from Epomaker.
---
In The Box
Let's start off with what's in the box. Like most Ajazz keyboards, this one is pretty no-frills.
In the box, you will find:
Ajazz Zinc Keyboard – the keyboard itself. brushed metal low-profile case and white keycaps.
Manual with Warranty Card – this almost all in Chinese, but all of the functions are printed as sub-legends so you should be able to figure it out.
Micro-USB cable – a rubberized, 1.5 meter white micro-USB cable.
Plastic Keycap Puller – a simple keycap puller should you need to remove or change your keycaps.
---
Build Quality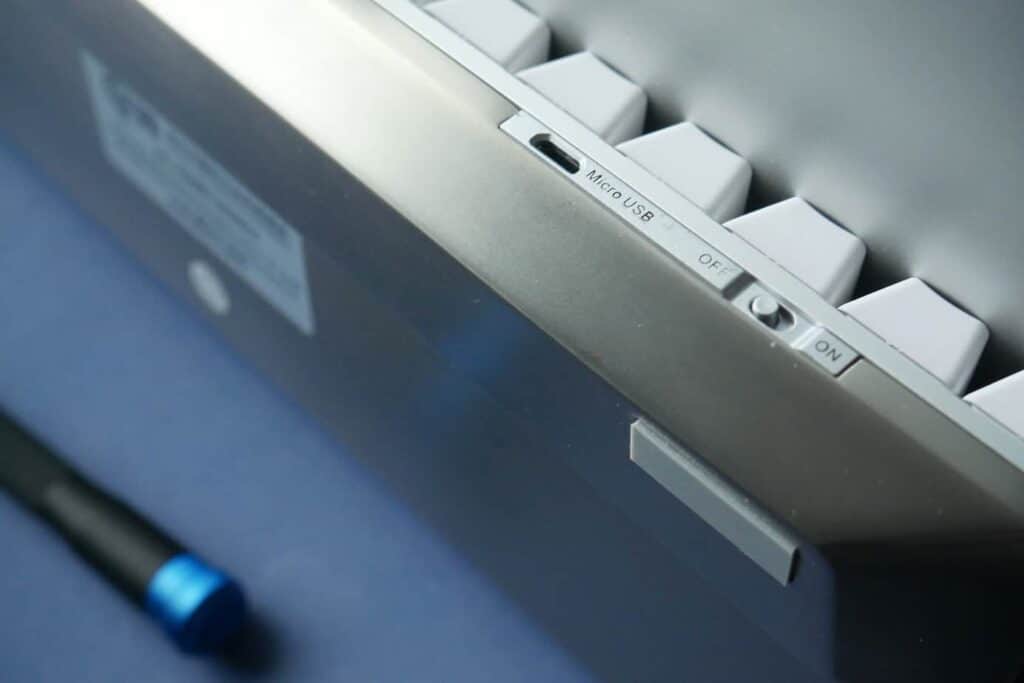 The Ajazz Zinc features a brushed all-alloy case with a low-profile, floating keycap design.
A low-profile case exposes the sides of the switches, which makes for easier cleaning and more lighting, but also means it can get dusty easier too.
Despite being made of all metal, the Ajazz Zinc is deceptively lightweight. Despite the weight, the case shows no sign of flex, creak, or warping.
The bottom of the case shows a battery hump that also helps with the typing angle. Four grey rubber feet prevent the Zinc from sliding around your desk or deskmat.
The built-in typing angle is comfortable, even without a wrist-rest.
The back of the case features a power switch, mode switch, Bluetooth mode button, and micro-USB port. It is disappointing to see micro-USB on a modern keyboard with this price tag, but having a wired option is better than no wire at all.
The top of the case also acts as the plate, holding the switches and stabilizers in place.
The Keycaps and Sublegends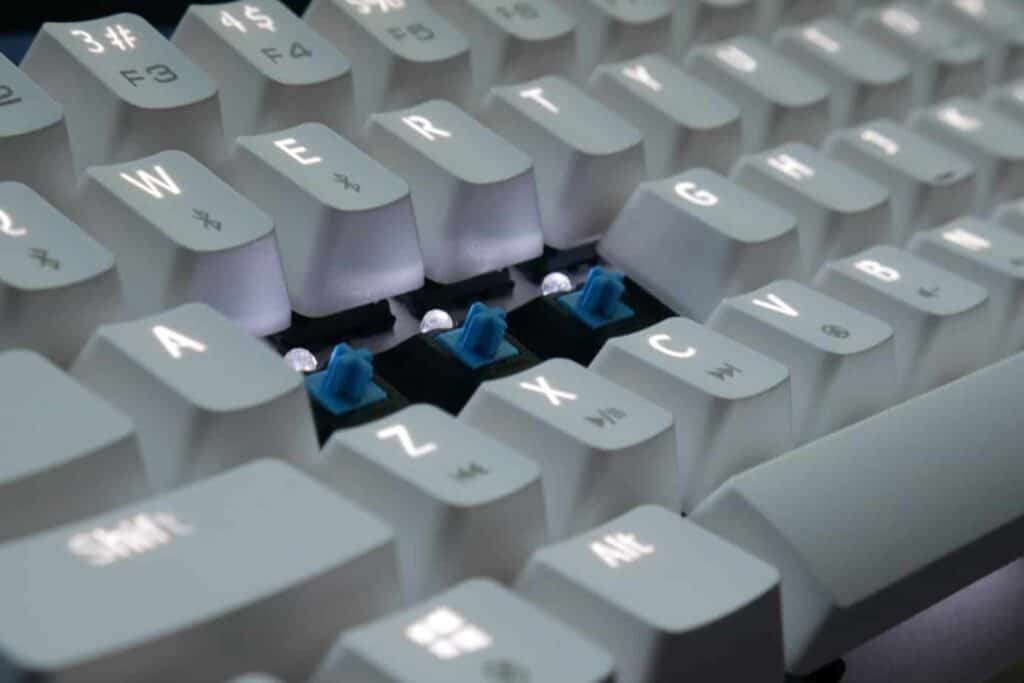 The Ajazz Zinc features Doubleshot PBT OEM profile keycaps. The legends won't rub off since they are a separate layer of plastic, and the PBT plastic will resist shine from oils and sweat.
The white color may attract a lot of dirt or discoloration, so you may find you will have to clean the keycaps every now and then.
Sublegends are not shinethrough, but are printed on. The keys with sublegends feel noticeably more textured than the normal keys.
The sublegends will be very necessary, as the manual is almost all in Chinese with no English translation other than a vague legend table.
Most of the legends are self-explanatory, and a lack of software means you won't be able to remap any of these keys without a third-party application like Autohotkey or or Sharpkeys.
Keep in mind that this won't save on-board, and will be need to be set up again for each computer you use with the Ajazz Zinc.
To summarize the sublegend groups, at the top row you will find sublegends for the Function-row.
On the second row you have the Bluetooth device selection and navigation toggles such as "printscreen", "scroll lock", and "pause".
Home row lacks any sublegends.
The 4th row has all of the media keys, and the bottom row features windows-lock for game mode and the option menu or right click.
The arrow cluster has sublegends for controlling the white backlight, which has brightness, and speed for the solid and wave lighting profiles.
The right colum has insert, home, and two buttons to toggle either Non-Key Roll-Over or 6-Key Roll-Over mode.
These sublegends that are printed show the only available commands that are built-in, so you won't be able to program your own function layers without third-party software.
The Switches
The Ajazz Zinc uses German-factory-made Cherry MX switches, which are rated at 100 million clicks before failure.
The choices available are:
Cherry MX Red – a linear switch with smooth, consistent feeling and a light weight.
Cherry MX Black – a linear switch with smooth, consistent feeling and heavy weight.
Cherry MX Blue – a clicky switch with sharp, tactile snap and click. Heavier than red but lighter than black.
Cherry MX Brown – a "best of both worlds" switch that offers resistance, a slight tactile bump, but no audible click. Lighter than Red, but heavier than Black.
The review unit sent by Epomaker uses Cherry MX Blue clicky switches.
They are a light-weight "clicky" switch that feels easy and speedy to type on, and typing at speed is as fun as it is noisy.
The tactile click is not too sharp or strong, but is enough to help with satisfaction and feedback.
These switches were rather pingy in the aluminum case, but the click also helped to cover up some of the metallic resonance.
If you choose a linear or tactile switch, you may want to consider lubing for smoother, less pingy typing experience.
Unless you know how to solder, we have a guide on how to lube your switches without desoldering.
Please only do this at your own risk, as this will most definietly void your warranty.
The Stabilizers
The stabilizers are Cherry-style stabilizers, which come unlubed from the factory.
While it is hard to tell how much rattle there is when paired with clicky switches, a tap-test reveals that the stabs do rattle with even a light touch.
This is fairly normal for factory-stabilizers, as the pieces may not fit together perfectly, and have a lot of extra room for moving parts.
Rattling stabilizers are common in pre-built boards, but do not lend themselves well to an ideal typing experience.
An annoying "feature" such as this can be easily remedied with modification.
Again, if you are willing to void your warranty, you can try lubing your stabilizers with di-electric grease.
The easiest way would be to squeeze the lubricant into the stabilizer using a syringe into the rear of the stabilizer, along the wire-insert.
Any thin applicator will do, but be careful not to "pop" your stabilizer wire.
The Bluetooth
The Ajazz Zinc uses Bluetooth 3.0 to provide wireless connectivity when a wire is unsightly or inconvenient.
Bluetooth 3.0 is not the most current version available, but should work well enough with most devices.
In order to connect to Bluetooth, make sure your battery is charged and your cable is unplugged.
Turn the switch to "On" mode, and press the connection button for 2 to 3 seconds.
You will see the blue USB light switch off, and the Bluetooth light will turn on. You are now in Bluetooth mode.
You can connect up to 3 devices.
Press and hold Fn and either Q, W, or E for 2 to 3 seconds, depending on which device you want to connect, and select the keyboard on your device's Bluetooth menu.
The latency is acceptable when typing, but if you have a higher WPM count, start mashing on the buttons, or want to game, then you may overwhelm the keyboard.
This will cause lag, multiple inputs, and an unpredictable behavior.
The Bluetooth may also go to sleep mode after a few minutes of inactivity, but pressing keys will reconnect your keyboard.
Wired mode is certainly preferred if you don't want any latency issues, but it is hard to deny the convenience of wireless, even with its nuances.
Still, a more reliable Bluetooth mode would be ideal.
---
Possible Alternative: Epomaker GK68XS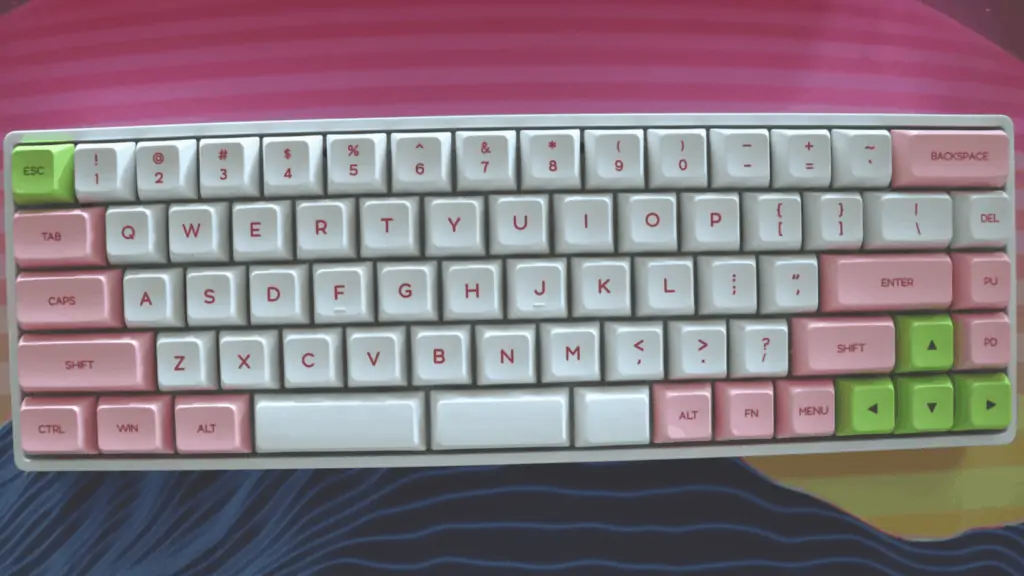 If you're looking for a reliable wireless 65% keyboard with more RGB, more customization options, and even an option for aluminum or acrylic case, the Epomaker GK68XS is a great alternative.
While the backspace key is repositioned, the GK68XS also offers a rare-and-convenient split-spacebar module which gives you more productivity and functionality for your thumbs.
Check it out on Amazon for a great price.
---
Conclusion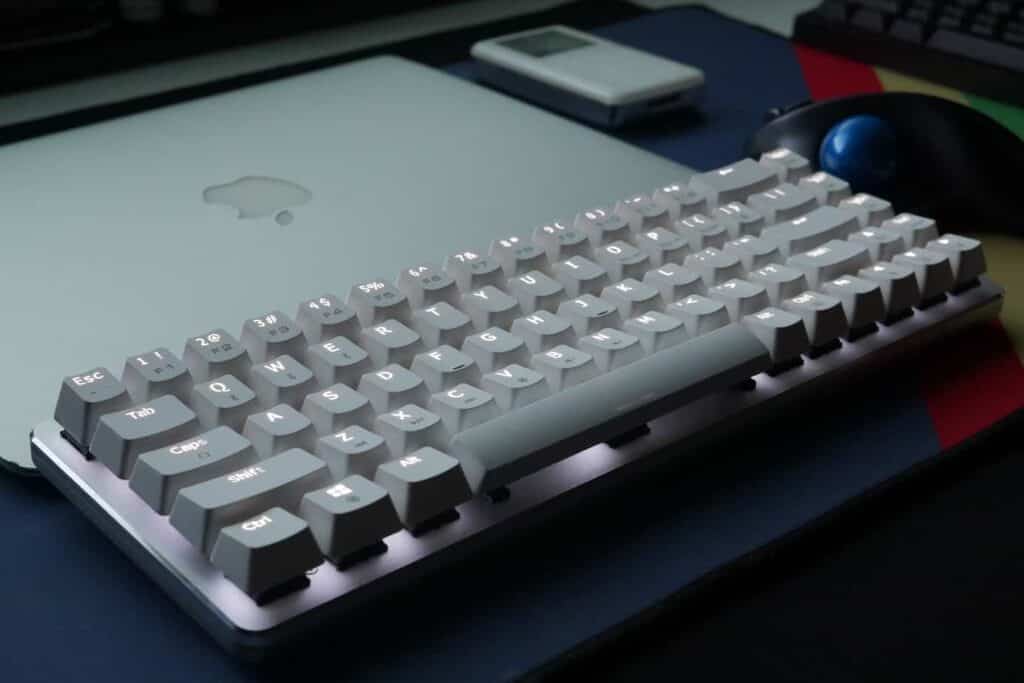 The Ajazz Zinc is a keyboard that fills the need for an affordable, compact keyboard with wireless and a full-alloy build.
While it isn't perfect, the Ajazz Zinc is a good option if you're willing to put in some work and void the warranty.
The Cherry MX Switches and solid build quality make the Ajazz Zinc an option for younger typists too, who may need durability more than they need premium luxury features and a perfect typing experience.
If you're looking for a compact 65% wireless keyboard with a study metal frame, the Ajazz Zinc could prove to be a good option.
Not the keyboard you're looking for? Check out Betty's video for the best keyboards you can get today!
Thank you for reading, and happy typing.