The world of keycaps has a variety of materials, profiles, and designs.
If you want an upgrade, PBT keycaps are one of the best options out there.
If you have been looking at keycaps for a new keyboard build or to upgrade your current board, you may be considering PBT. Let's go over why this may be a good option for you.
The Benefits of PBT Keycaps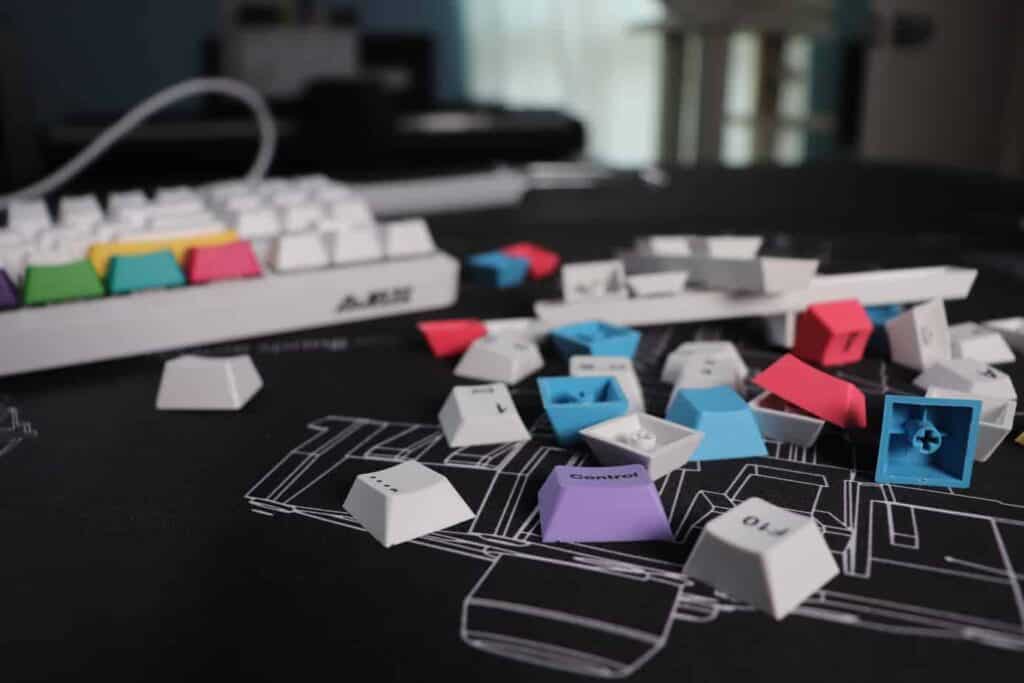 | Normal (ABS) Keycaps | PBT Keycaps |
| --- | --- |
| Usually Cheaper | More Expensive |
| Shiny/Greasy | Matte |
| Smooth | Textured |
| Thinner (Not always) | Thicker |
| Quieter when typing | Louder when typing |
| Flexible | Brittle |
| Wears Over Time | More Durable |
PBT keycaps are very popular for a variety of reasons. People tend to compare to ABS often which is also one of the most used materials for keycaps.
The PBT material has a more matte look with texture making it better when resting your fingers. Usually, PBT is a better option over the cheaper ABS options that are quite thin and develop grease very quickly.
Although all keycaps are very durable, the PBT material is more durable because it is rigid. As a result, it wears down more slowly than materials like ABS.
PBT Keycaps are almost always superior to the budget ABS keycaps that are sold in kits or that come stock on prebuilt mechanical keyboards.
If you want to find out how PBT compares to ABS more check out our ABS vs PBT Keycaps article.
Do PBT Keycaps Cost More?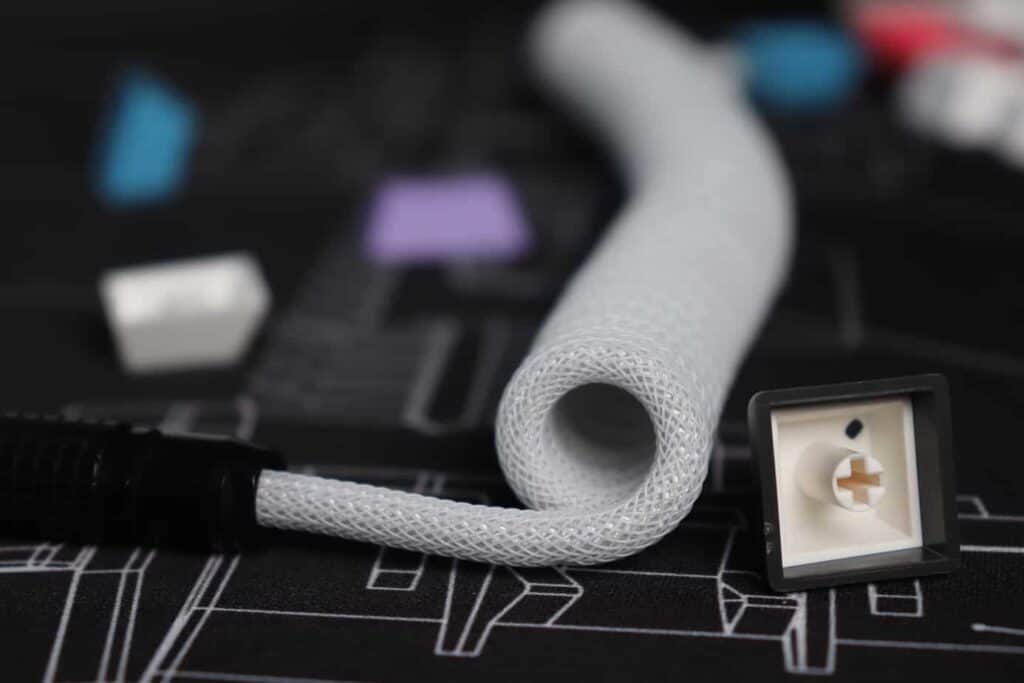 You can find PBT keycaps anywhere from $15 to upwards of $100. They tend to cost more than the keycaps found on prebuilt keyboards.
The material is more rigid and brittle, making it harder to form into the proper shape. The molding process is why PBT costs more to make than an ABS keycap, most of the time.
When looking at the price of different keycap sets, you can find budget ABS and PBT keycap sets at around the same price as each other. The PBT options are almost always a better value.
As you go up in price, the cost is about the same between ABS and PBT keycap options. There are some really expensive keycap sets made of ABS, which we'll talk about later.
If you're looking for a simple upgrade for your keyboard, PBT keycaps are an excellent choice – even if you're on a budget.
Why Are High-End Keycaps Made From ABS (Such as GMK)?
PBT Keycaps provide many benefits that make them a great material to use for keycaps but this isn't always the case.
When looking at the super high-end keycaps, the majority of them are made from ABS materials. There are multiple reasons for this.
Companies like GMK will use ABS plastic rather than PBT because of four primary factors.
Thick ABS keycaps are better than PBT for the following reasons:
Less warping issues
Fewer imperfections
Better colors
Improved acoustics
Warping is one of the biggest issues with PBT keycaps. It is found typically on the bigger keys and this makes these keys bend during the molding process. This means they won't have a perfect fit on your keyboard and can affect the feel/sound of your keyboard..
PBT often has problems with imperfections on the sides or bottom of the keycap, but when you are investing in a premium set of keycaps you can expect there to be none.
In addition, premium sets usually have more interesting designs and they may need more vibrant colors. In this case, ABS is better than PBT.
The sound of ABS is typically favored by keyboard enthusiasts. A lot of this comes from the thickness of the material. Thicker material will provide a more bassy sound, but the ABS material will provide a quieter sound.
The shine and feel of grease that accumulates on ABS keycaps is still an issue but not as bad with the thicker ABS used on premium keycaps.
Recommended PBT Keycaps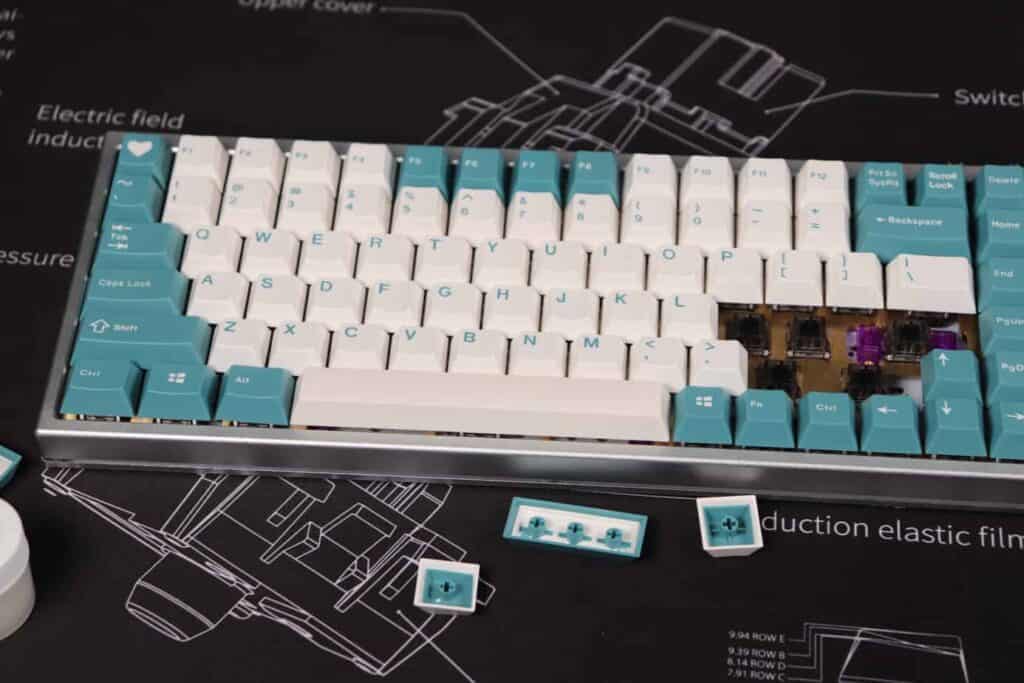 Good Budget Option
The budget range for PBT keycaps is highly competitive and a lot of what you choose is up to your style preference.
YMDK delivers some of the best options in this range.
YMDK delivers a 125 keycap set in the OEM profile with multiple color options to suit your board and setup.
The shape of the keycaps is great for most because it is commonly used and should be easy to get used to.
Although the price is pretty cheap, the quality is quite good.
The set is made from thick PBT plastic. The legends are dye-sublimated which means they will last for a very long time.
Your keyboard is more likely to break before you have an issue with the legends wearing down on the keycaps.
You can find the YMDK White Gray Red set on Amazon for a good price.
Premium Option
If you are looking for something a bit more premium, and less common, there are many premium PBT sets.
One of the most popular companies in this space is EnjoyPBT (EPBT).
An excellent option is EPT 9009, coming in a total of 178 keys. This set will be compatible with any keyboard, making it easy to switch up the theme at any point in time.
The keycaps are made from thick PBT plastic. The thickness of the material is expected at this price range and it ensures a good sound with good quality.
EPBT's 9009 set is Cherry profile which is one of the most popular profiles and a favorite for many. It is a bit shorter in height than the standard profile of most prebuilt keyboards.
You can read more about Cherry profile, if you are interested.
The legends are also high quality, made from the dye-sub process so you know that these keycaps will last for a while.
You can find the 9009 keycap set from Enjoy PBT on KBDFans.
High Profile Premium Option
The high profile keycap market is dominated by premium ABS options but there are still few PBT options. Drop delivers a high profile PBT set in their signature MT3 set.
Like the rest of the recommended sets in this article, the MT3 /dev/tty from Drop is made from thick PBT plastic with dye-sub legends. They are of high quality and the legends will last for a long time.
The MT3 profile is like the popular SA profile just even more sculpted making it very comfortable to type on. This profile will take some time to get used to for many but if you enjoy high profile keycaps you may find this profile very enjoyable.
This set comes in a white and light gray colorway with some red accents included if you want to use them.
When purchasing this set you can buy it for multiple types of boards.
For example sets for 40%, 65%, and TKL in addition to their 1800 Kit which can support most keyboard layouts. The smaller sets will cost less so that is one way to save money if you have a smaller board.
You can find the Drop /dev/tty set on both Amazon here and the official Drop website.
Conclusion
PBT is one of the most common materials used for keycaps. It is very popular in the budget range and it delivers many benefits over ABS keycaps that make it a great material to go with.
You can find PBT options at all price ranges although are often less common at higher price ranges. This is because PBT can sometimes have more issues with imperfections and colors that may not look as good.
Overall PBT is a great option that is definitely worth it. For those looking to get a new set of keycaps, PBT is a material choice that you should consider.
Happy Typing!