Razer released a 75% hot-swappable mechanical gaming keyboard on August 17th, 2023. It combines the best of the gaming and custom keyboard worlds with premium gaming features such as bright RGB and ultra-low latency as well as pre-lubed switches, tuned stabilizers, and a soft typing experience with wonderful sound.
This article is sponsored by Razer. They did not review or edit it before publishing. These opinions are our own. Sponsors like them make it so we can host and write content on our website at no cost to you.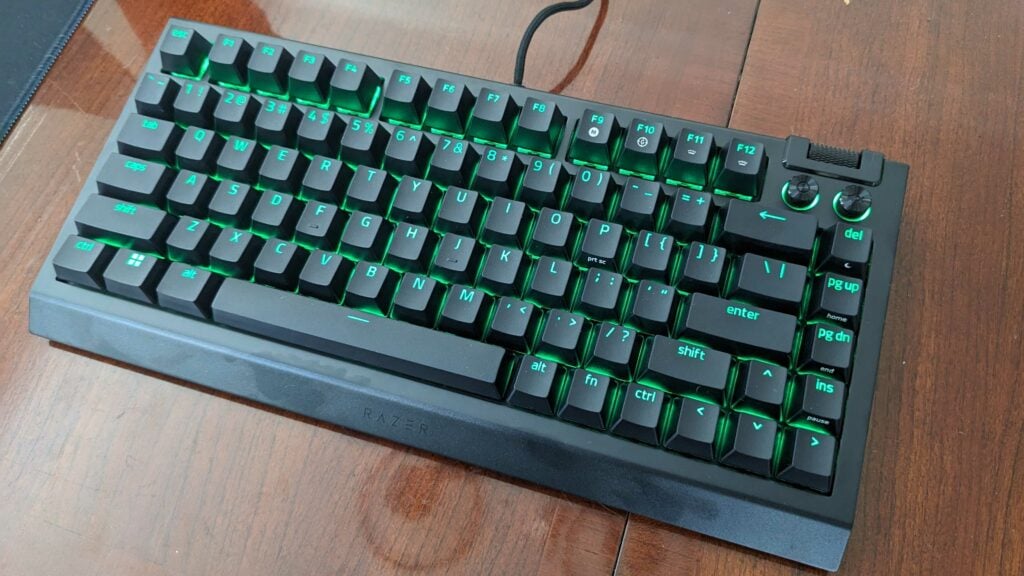 ---
The Main Takeaways
The Razer Blackwidow V4 75% has an unexpectedly nice typing feel and sound when you finally get to use it. Just picking it up, it feels like any other gaming keyboard, lightweight yet well-built. It comes with a plush wrist rest and a volume roller. It's Razer's first 75% keyboard, but it's also hot-swappable to allow you to customize it the way that you want to. The Razer Gen 3 Orange tactile switches feel super responsive to type on.

Switch and Click, August 2023
General Usage: For general usage, this could be one of the best keyboards out there right now. It does typing well but also gaming very well too. From a company like Razer, you know that the gaming performance is going to be top notch. The company 75% makes it so you don't lose any of your function keys or arrow keys, but there's plenty of space for you to use your mouse.
Typing: I didn't expect much when I first heard Razer was launching pre-lubed tactile switches and a keyboard that also tried to sound good too. Using it is a different experience altogether. The switches aren't too tactile such as the switches Holy Bobas or Boba U4Ts, although the bump is not subtle either like MX Browns. The Razer Orange switches hit a nice sweet spot for people who like tactile switches.
Gaming: With a polling rate up to 8000Hz, the Blackwidow 75% is meant to perform well with competitive gamers. It also has an RGB suite that syncs with a gigantic library of games now such as Diablo 4. The function row and compact design makes it so you can play almost any game without wanting more keys. The only games that wouldn't be effective are ones where you need the number pad to drive a helicopter like GTA V.
Programming: You can program on this keyboard, but similar to other compact 75% layouts, you are missing the number pad, and you have to use the secondary layers to access keys such as home and end. It's possible to reprogram your keys using Razer's software, but that involves some more work on your part.
---
In The Box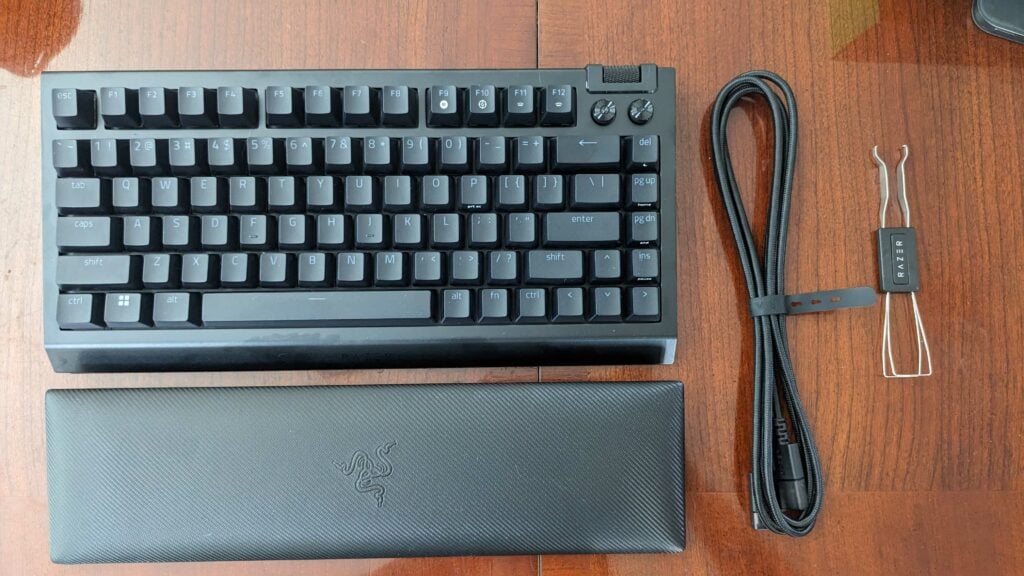 Parts In Box:
Keyboard
Plush wrist rest
USB-C cable
Combined switch and keycap puller
Inside the box are the typical accessories. It's uncommon to see Razer include a switch and keycap puller, but it is their intention for this keyboard to be customizable to your liking. The plush wrist rest is nice for gaming, especially for games where you rest on WASD. For typing, I prefer to not use the wrist rest, since it bulges out the top a bit more than I would like and gets in the way of typing.
---
Build Quality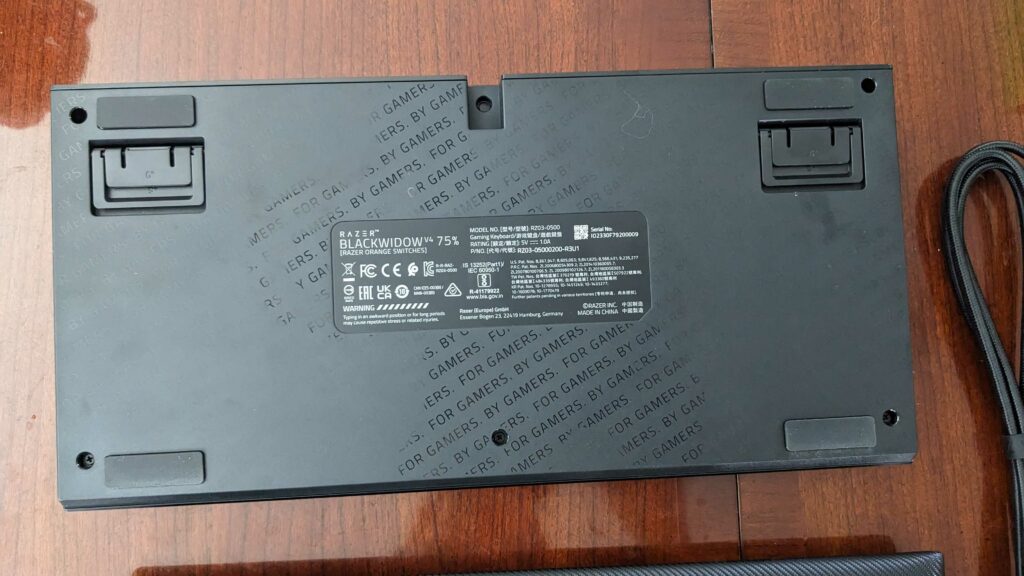 Material: Aluminum top with a plastic case
Flex: Some
Typing Angle:
Kickstands: Dual angle
Power Cable: Braided black USB-C straight cable
The keyboard ditches the integrated plate that most keyboards use and decides to go for a gasket-mount with an FR4 plate instead. This is more durable than polycarbonate since it has slightly less flex too. The aluminum top plate is quite thick and there is no give when trying to bend this keyboard.
Inside the keyboard, you do get multiple layers of sound dampening foam as well as a tape-enhanced PCB that already has tape mod applied to it for that "poppy" sound.
It is possible to mod this keyboard by removing the screws on the bottom. However, you do void your warranty if you do any internal modifications to your keyboard.
In my opinion, it sounds great out of the box and doesn't need anything to be done to it. You could change out the switches and the keycaps with ease without taking apart the case.
Layout and Size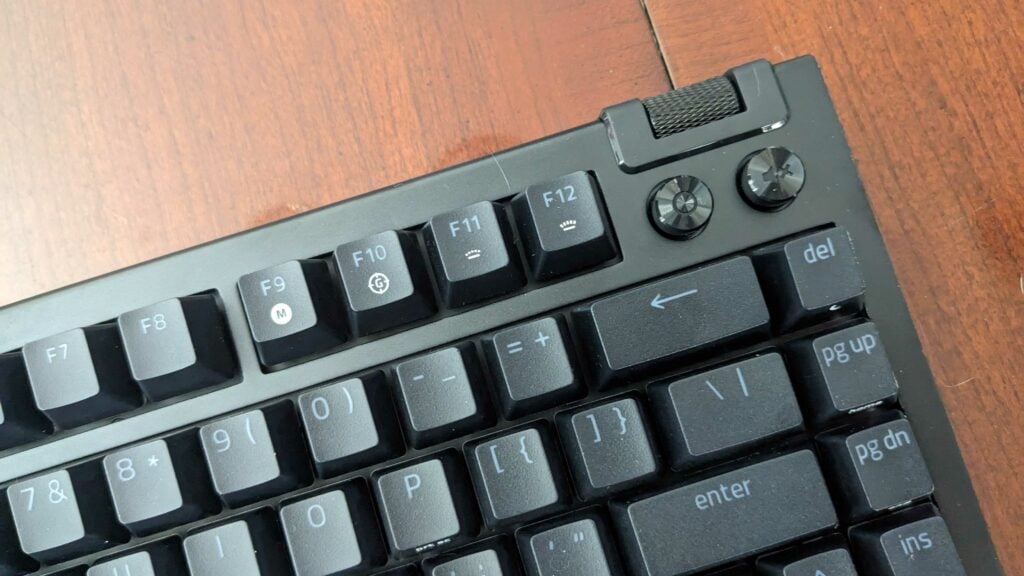 Layout: 75%
Length: 12.6in
Width: 6.1in
Thickness: 0.94in
Weight: 1.8lbs
The Blackwidow 75% has a roller wheel for volume controls on the top right, as well as 2 buttons that you can modify. When stock, the right button does mute and unmute and the left button does pause/play.
The bottom has a lip that protrudes out, but that doesn't prevent you from doing much. Although if you wanted to use your own custom wrist rest, it would get in the way.
The Keycaps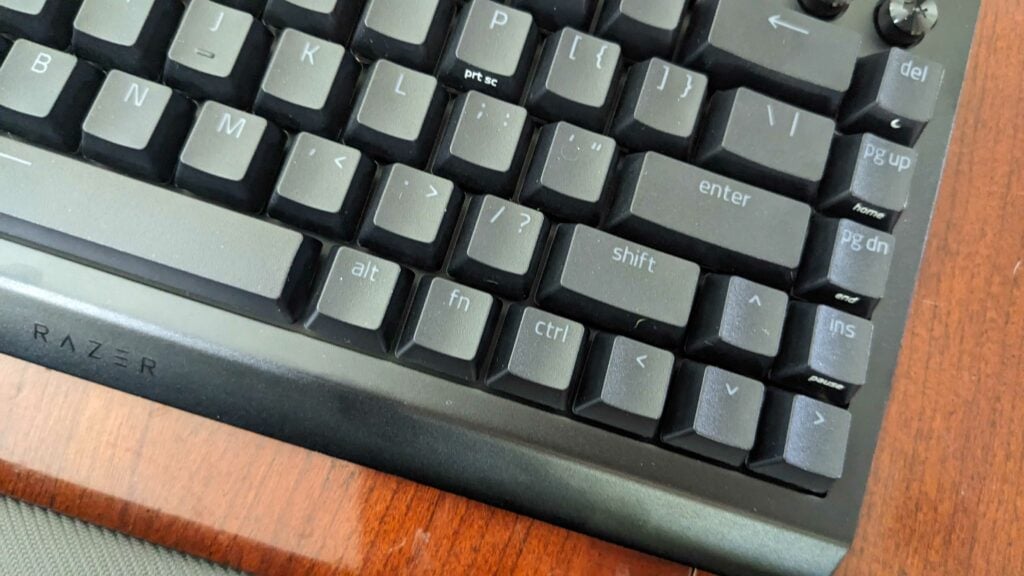 Keycap Material: ABS
Profile: OEM
Legends: Doubleshot
Standard Bottom Row: No
Aftermarket Keycaps: Any keycaps that fit a 75% keyboard, look for a small right shift and small 1u keys for FN, Alt, and Ctrl on the right side
The keycaps are made of doubleshot ABS, but they feel rough to type on. The RGB that shines through them looks fantastic and so clean. So far, there are no oily fingerprints on them, and the legends are super durable and won't wear down over time.
If you choose to, you can go for aftermarket keycaps as well. Most keycap sets that are compatible with custom keyboards will work for this keyboard.
The Switches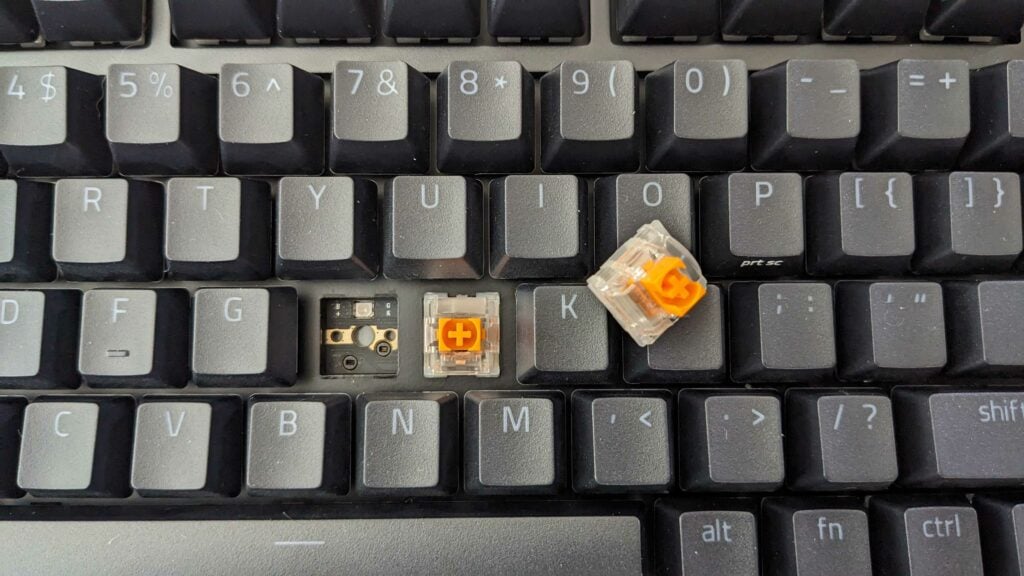 Type: Razer
Options: Gen 3 Orange
Hot-Swappable: Yes, 5-pin
Lifespan: 100 million keypresses
Actuation Distance: 2.0mm
Travel Distance: 3.5mm
Actuation Force: 50g
The Razer Gen 3 Orange switches are tactile with the bump at the top of the switch. It has a light diffuser dome to spread the RGB across the top area of the switch nicely. The 50g actuation force is a good middle ground for people who want a responsive switch but also want to be able to game for long periods of time without complaining about stiff fingers.
Stabilizers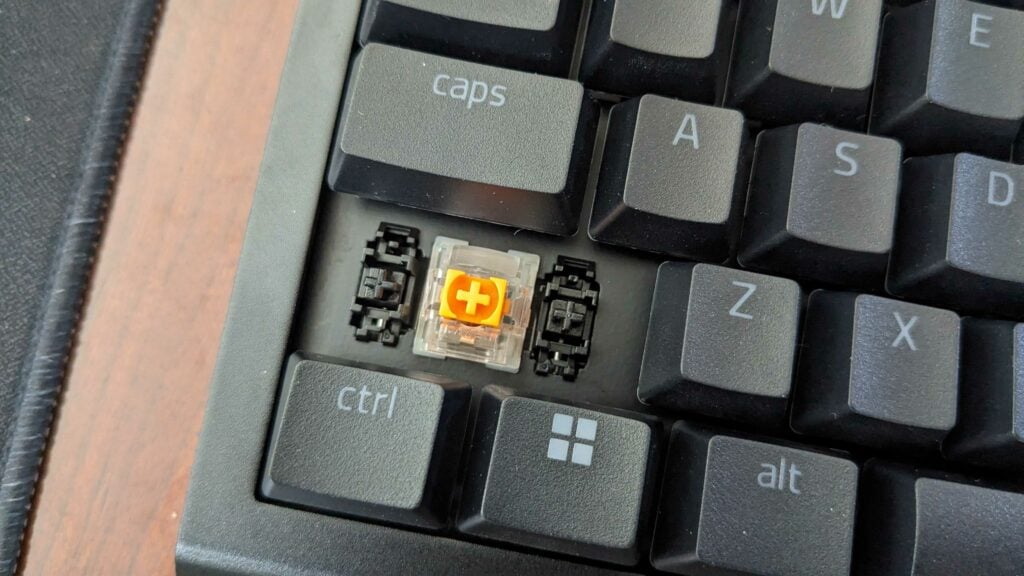 Type: Plate-mount
Color: Black
Unlubed/Lubed: Lubed
The stock stabilizers are pre-lubed plate-mounted stabilizers. However, the PCB has holes for compatibility with PCB-mounted stabilizers if you want to modify it that way. Unscrewing the case is very easy. You have screws in the back that you take out, and that's it.
The RGB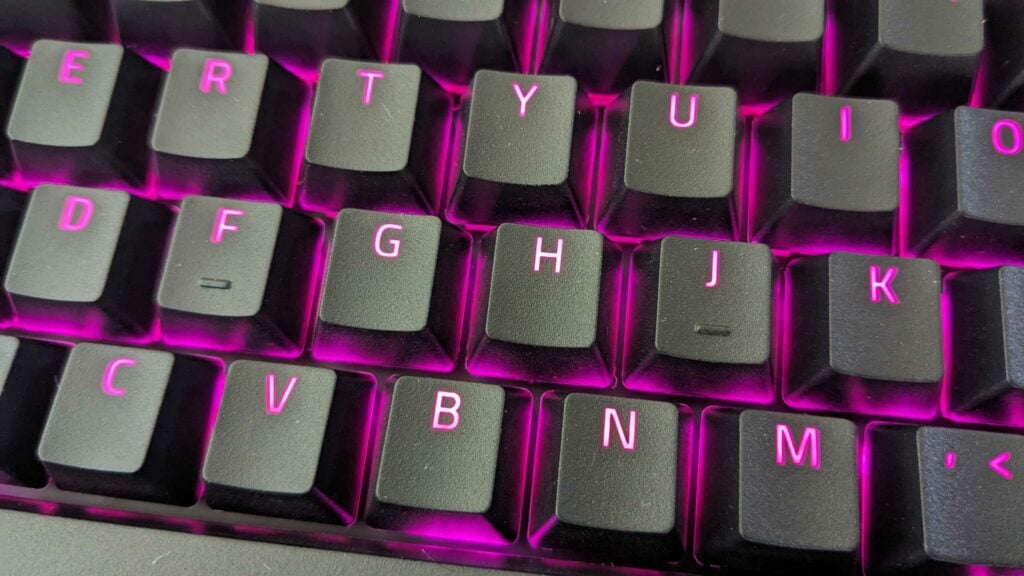 Color: RGB
Per-Key: Yes
Underglow: Yes
LED Location: North-facing
Change Lighting Effects: Razer Chroma software
Change Brightness: FN+11/12
The RGB is one of the main features of the Razer Blackwidow lineup. All of their keyboards have spectacular RGB, and the Blackwidow 75% is no different. It has clean legends with RGB that diffuses from under the keycaps as well as RGB around the two buttons on the top right side. There is underglow light on the left and right side of the keyboard too.
The Software
The Blackwidow 75% uses Razer Synapse and the Razer Chroma Studio. After installing, you need to restart your computer. One of the downsides to Razer Synapse is that you have to login, although this can be a benefit as well, since your profiles get saved onto the cloud instead of locally.
With Synapse, you can change the key programming and macros. With Razer Chroma Studio, you can change the RGB effects, make custom effects, and save them to your keyboard.
Connectivity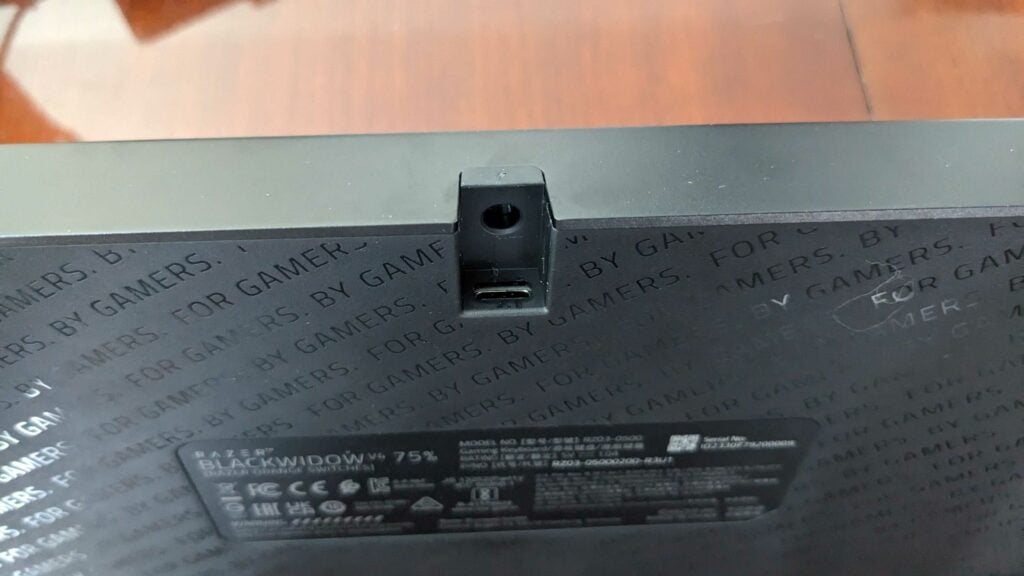 Port Type: USB-C
Wireless: None
Latency: Up to 8000Hz
Compatibility: Windows
Number of Devices: 1
Cable Length: Unknown
USB Passthrough: None
You get one USB-C port in the middle of the bottom of the case to connect to your PC. There is no wireless connectivity. The port is slightly recessed, so fitting custom cables in it may be difficult. The cable that comes with the keyboard fits perfectly and is a nice quality as well.
The Full Video Review
Full video coming soon on the Switch and Click YouTube channel.
---
Conclusion
Razer has outdone themselves with the launch of the Blackwidow V4 75%. They've done their research to figure out the perfect middle ground between gaming keyboards and custom keyboards.
For a keyboard in Razer's flagship lineup, it ended up being on the more affordable side, although not super budget-friendly. You can check the price down below.
If you are only interested in the switches, Razer is also selling the Gen 3 Orange tactile switches completely separately too.