The Fidelio X2HRs are in the $150 to $300 price category for open-back headphones and are amazing for the price.
They are arguably the most fun-sounding* headphones in this range.
Fun-sounding headphones are great for music lovers with no need for precise monitoring (like music producers or sound artists).
This review will show you all the features of this pair of headphones and my personal thoughts so you can decide if these are the right option for you.
The Verdict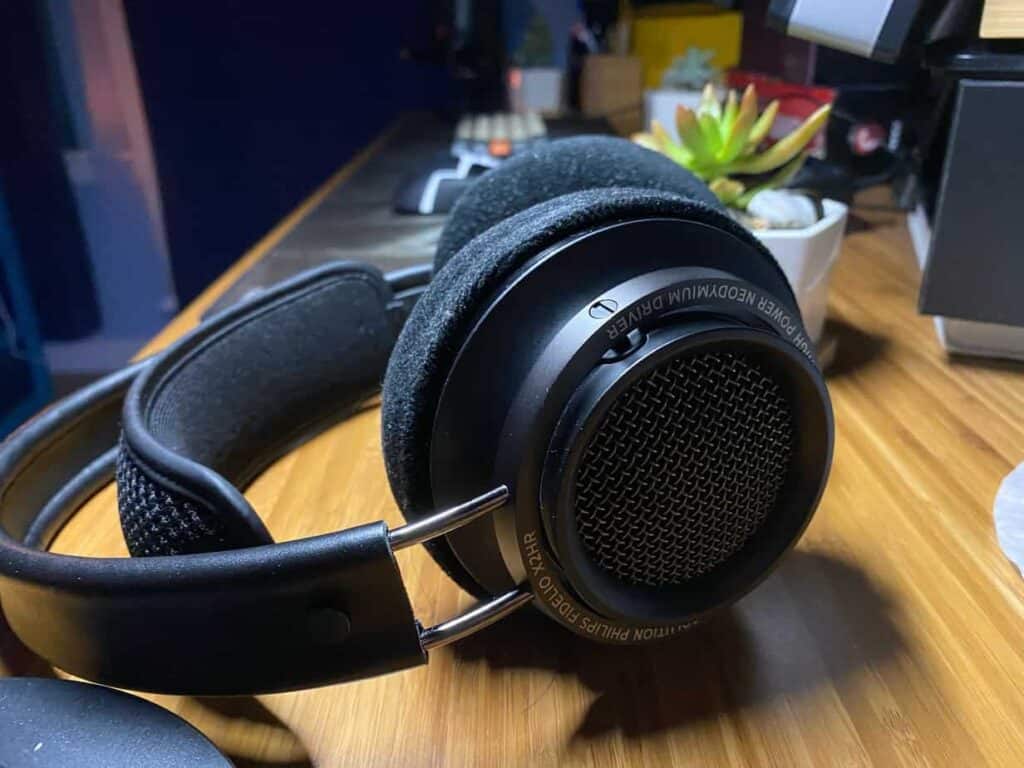 If you like bass and want a fun pair of headphones to enjoy in private, the Philips Fidelio X2HR is for you. These are great for music listening as well as gaming.
For those that are just planning on relaxing, enjoying music, and gaming, these are one of the top options to consider.
You don't need to get a DAC or amp to drive the X2HRs, but they can add more to the performance.
If you like to analyze music or listen to mostly classical, then these may not be the right option for you. These are not balanced and instead have a "v curve" to make them sound more interesting.
This means the lows and highs will be more pronounced with the mids are not as note-worthy. The music will be more energetic.
The Fidelio X2HRs are open-back so that means the sound will leak out of the earcups, unlike closed-back or noise-canceling headphones.
This makes the experience a lot more immersive for you and gives you a better sound stage. If you aren't in a private environment though, open-back headphones aren't the best option for you.
If you need a microphone, these don't come with one, but you can easily add one such as a ModMic because the X2HR has a detachable cable.
If you are gaming and need a mic on your headset and want an all-in-one solution, the X2HR is a decent option. However, a dedicated gaming headset could suit your needs better.
You can find the Philips Fidelio X2HR headphones on Amazon for about $140 to $180. Amazon may call these the "old version" but that is because there is a different version.
The Philips X3s, which may cost more and is the newer design, will have a different sound signature with a different look and set of features.
The specific version of these is the X2HR/27s making minor physical improvements from previous versions.
---
In The Box
Inside the box there are the headphones and few accessories.
Headphones: At a quick glance, the headphones are initially very comfortable, but they also look quite big.
Long 3.5mm to 3.5mm auxiliary cable: This pair only requires one cable to go to a single earcup. The cable is braided and it doesn't develop kinks. It is 1.5m (4.9 feet) long. This cable is removable and can be replaced, if you would like, with a shorter cable. The cable is long enough to connect to your computer even if it is far away and allows you to move around a bit too which can be nice. The downside to this length though is it can get tangled easily which can get annoying without the cable management clip.
Gold plated 3.5mm to 1/4in. adapter: This adapter is useful if you need to connect your headphones to some amplifiers or musical equipment. These adapters are quite convenient to have.
Cable Management Clip: There is a small clip to help you with cable management, as the cable is very long. Personally, I didn't use it, but it's nice to have. It may be useful to you if you find the long cable very annoying.
---
Build Quality
The build quality of the Fidelio X2HR is really solid. It punches above its price tier and is superior to many of the competitors in this price range.
The headband is made of steel tubes with real leather covering them. The only plastic is some on the earcups, and it feels very strong and smooth.
The outside of the earcups is made of aluminum. The headphones are self-adjusting to the shape of your head, with a thick and breathable mesh pad.
The earpads themselves are made of memory foam covered in velour. They are very thick and pretty deep as well. These earpads are also removable if you want to change them out.
This is an upgrade from these headphones having glued-on ear cushions in earlier models. Thank goodness that's out.
The only issue I had with the earpads were that they got dirty and collected things like dead skin or hairs very easily.
The Fidelio X2HR can take falls as they are really strong. However, I wouldn't suggest throwing them around in bags because things getting into the side of the drivers could damage them like any open-back headphones.
So far there are no cracks, scratches, or dents after accidentally dropping the pair a few times. The Fidelio X2HR has had zero quality issues, and that is one department where that would not be a concern.
The cable is a braided cable, and it won't kink or fray. The 3.5mm to 1.4in adapter is really well-made and feels strong.
The build quality is great and not an issue at all. In the hands, the Fidelio X2HR feels like a good quality pair of headphones that will last you for a long time.
Comfort and Style
With a self-adjusting design, the headband and earcups match the shape of your head, which makes these extremely comfortable, especially during long listening sessions.
Overall the X2HR looks quite large and weighs a decent amount at about 380g, but they spread the weight nicely due to their design.
These headphones fit people with average to large heads.
They may not fit well on smaller heads. The self-adjusting headband requires some force on the top headband to make the headband adjust and match your head shape.
The replaceable earpads are really comfortable covered in velour which feels nice to the skin, at least for the first few hours, and the memory foam inside makes them not apply much pressure.
Your ears won't touch the drivers for almost all people, and the ear cushions are very thick.
The Fidelio X2HR stays on your head well without putting pressure and will even stay on your head during a basic workout.
If you are running or moving around a lot, then these may fall off your head and move around.
You can use these for over three hours even if your ears get hot very easily.
If you are sitting for long periods of time then there won't be any pressure spots, but the earpads may get a bit warm.
Most of the pair is black with some silver accents from the steel bars of the headband and aluminum sides of the earcups.
Overall, the headphones look quite good although you may not like the style due to how large they with the suspended headband design.
Sound Quality
The sound quality of these is fantastic. The XHR2 from Philips isn't an analytical pair of headphones, meaning when listening to music they are more for enjoying music than analyzing.
The soundstage is excellent due to these being open-back. It is very wide and feels like there is a lot of space as sound comes from all around.
There is a lot of clarity, separation, and detail. For both music listening as well as gaming (with gunfire, grenades, footsteps, small details) these are really amazing.
The sound stage and open-back nature make these incredibly immersive.
Sometimes I would find myself actually turning my head while playing a game or listening to a song because I thought the sound was actually next to me.
The sound is warm with highs that sound as if they come from all around you, yet the sounds come right up to your ear. The vocals have detail and are textured, and you can hear the different elements of the voice well. Male and female vocals both sound clear and vibrant with lots of detail as well.
The sound signature is a "v curve," meaning there are more lows and highs than mids resulting in a lot of bass more significant vocals.
These are not balanced and this is what makes them very good for enjoying music. The bass is really, really amazing.
If you like EDM, hip-hop, RnB, or rap, these are the pair for you at this price point. These also do great for all other genres, although a more balanced pair might be better if you mostly enjoy classical music.
Since these are open-back they do leak about 25% to 33% of the sound. Someone most likely won't be able to hear what you are listening to outside of your room, but if they are on the other side of your room they would hear what you are listening to.
If you want to get even more out of these headphones to get all detail, get more power, and get improved bass, then an amp or DAC may be a good additional purchase.
The Fidelio X2HR will work on a phone or game controller perfectly fine while delivering a great performance without any problems, but you will probably need to turn up the volume a decent amount.
Off of a motherboard sound card, the Fidelio X2HR will drive just fine. An amp and DAC is just icing on top of the cake.
Microphone
These X2HRs from Philips don't come with a microphone, but the detachable cable creates options if you want to add a mic.
The V-MODA BoomPro mic is a great option to turn this pair of headphones into a gaming headset. This is a very quick and easy way as you can attach it to the cable with no reduced audio quality.
The only potential downside of this method is that headphones do leak some sound and the mic may pick some of it back up.
If you don't go this route, you will either have no mic or will need an external mic solution.
Technical Details
Drivers Size and Type: 50mm Angled Dynamic Drivers
Frequency response: 5 – 40kHz
Impedance: 30 Ohms
Sensitivity: 100dB.
Style: Open-back
Cable length: 1.5m (4.9ft)
Weight: 381g
Due to the impedance of 30 Ohms and high sensitivity you can drive this headphone with just about anything, from a PS4 controller to your computer.
An amp will improve the sound and provide more power. That will make these headphones louder and pack more of a punch in the bass, but an amp is not needed.
The 50mm drivers are large so they can pack a punch and provide a wider sound stage. The frequency response, which is the range of sound from low to high, is not an issue and makes these a great pair in the highs and lows.
---
Alternatives to the Product
In this price range, there is a lot of competition. The majority of open-back headphones in this range don't have as exciting of a sound profile and sound more analytical.
There are many alternatives to the X2HRs from Philips including the Drop + HIFIMAN HE-4XX, Drop +Sennheiser HD58X, Beyerdynamic DT770 Pro Beyerdynamic DT990 Pro, Drop x AKG K7XX, and at a bit higher price point the HD 6XX by Drop and Sennheiser. There are more competitors but these are just a few of the most popular options.
For mostly gaming, the K7XX or HD58X are better option as you may find it easier to hear gun shots other sound cues.
If you want something for just enjoying music then the Hifiman HE-4XXs or the X2HRs are your best option in the majority of cases.
In contrast, if you like analyzing music the Sennheiser 58X is a great option and for a bit more cost, the HD 6XXs are also great. The Beyerdynamic DT770 and 990 are also both great options for music listening that compete heavily with the options from Sennheiser.
---
Conclusion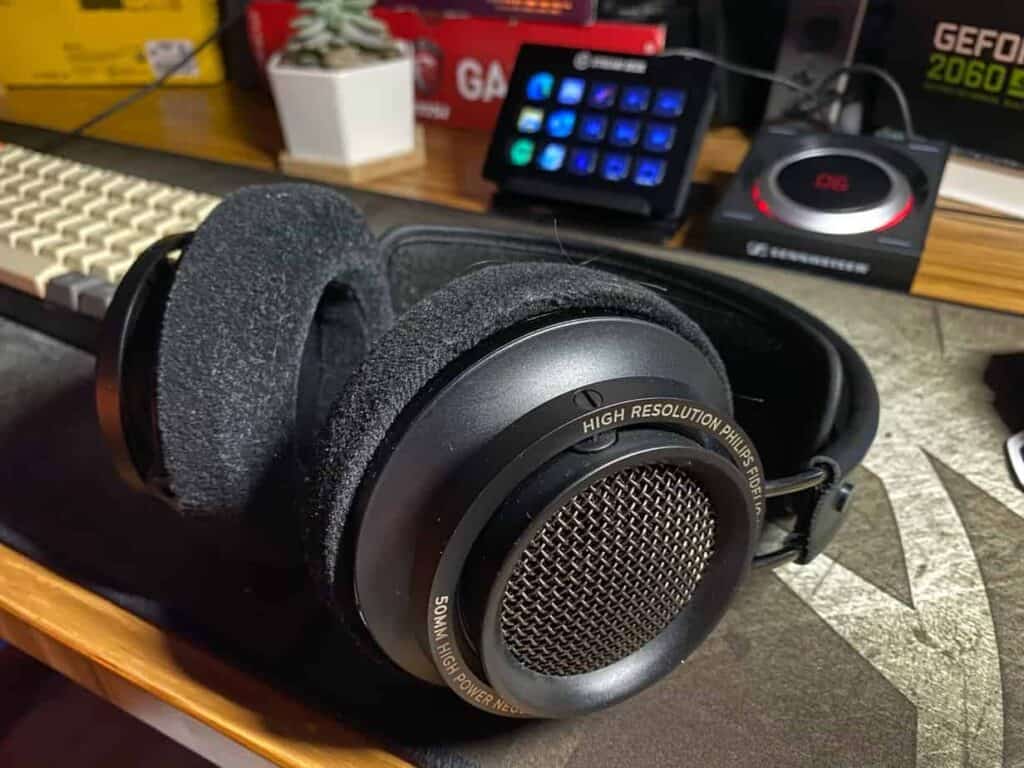 At the price category of $150 to $300, the Fidelio X2HRs are arguably the best pair of headphones for enjoying music and also a great option for gaming.
These could be a great upgrade from your current headphones and could introduce you to or further your knowledge of the audiophile hobby. They are also a great purchase, especially when so many people work at a computer for long hours.
These deliver a wide sound stage, great bass, a fun sound signature, and great build quality. The material quality is fantastic, especially for the price, and it is not a concern in any way.
For the bass heads, it is superior to most, if not all, headphones in this price category and are great for many genres of listening.
These are very comfortable for hours upon end and are great if you work in a private office environment. If you are in a public environment or are doing physical activities with a lot of movement like running, then a close-back or noise-canceling option may be better.
If you think these might be a good fit for you then check the X2HRs here on Amazon for an affordable price.