The MKey keyboard is Montech's first attempt to make a mechanical keyboard. Will it be able to compete and will it be as good as their PC cases?
Lets find out in this review.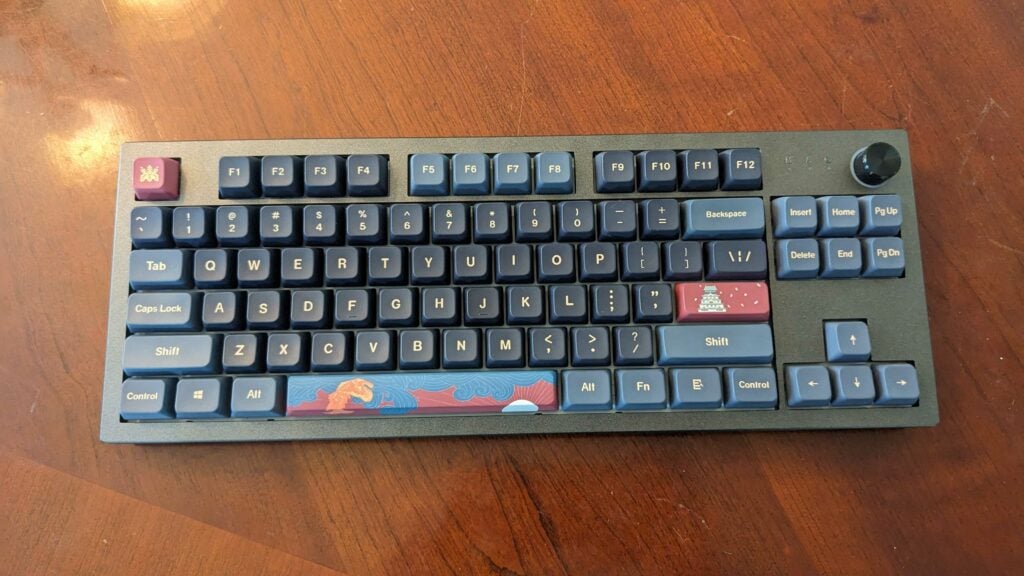 ---
The Main Takeaways
The Montech MKey comes in a Japanese-inspired aesthetic and offers a high-quality typing experience. With a weighty build and a variety of options for lighting and macros, the keyboard is quite versatile. For a first entry into the mechanical keyboard space, Montech's MKey keyboard makes a splash.
General Usage: For general usage, the Montech MKey will get the job done. With a satisfying typing experience, well-done aesthetics, and coming in a both TKL and full-size options you get keyboard that doesn't mess around. The biggest limiter of this build is the lack of wireless connectivity options.
Typing: Coming with prelubed switches and well-tuned stabilizers, this keyboard offers a smooth typing experience. The sound is satifying and with a subtle thocky bottom-out noise on every keypress. The case contains foam which helps prevent the noise from sounding too rattly or inconsistent.
Gaming: Nothing about this keyboard screams "I'm for gaming", but seeing how it's mechanical and it offers a nice quiet experience, it certainly wouldn't be a bad option for gamers out there. This keyboard also offer macro capabilities, so it may be useful for certain games that require macros.
Programming: This is an excellent choice for programmers. The keyboard is subtle and stylish, so you can use it in an office space without attracting too much unwanted attention. The sound dampened case keeps the keyboard from being too loud as well. You may find the macro functionality useful as a programmer.
---
In The Box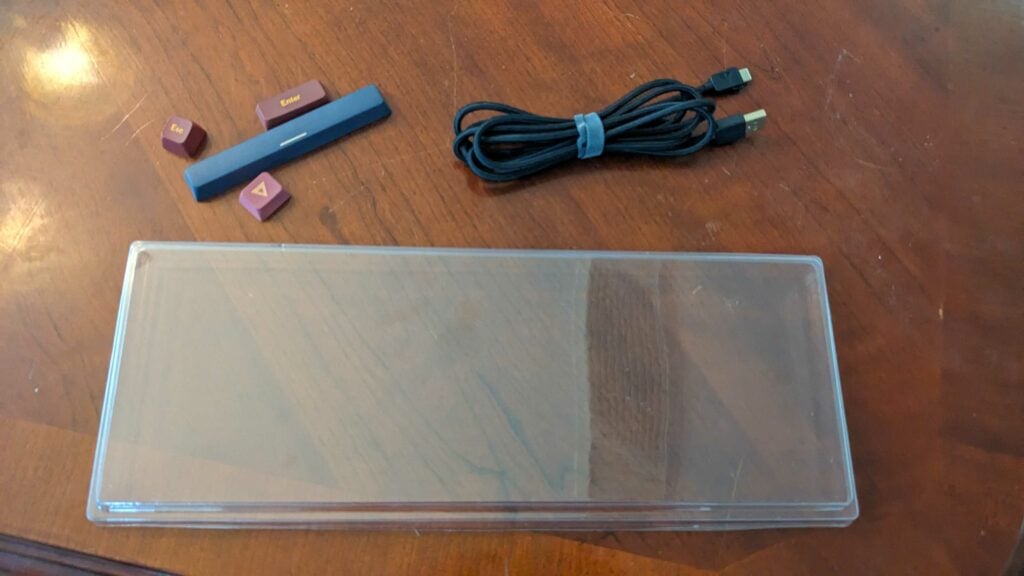 Parts In Box:
Plastic dust cover: A piece of plastic you can put over your keyboard when not in use to protect it from dust or hair particles.
Braided USB-C cable: A nice durable cable comes with the keyboard. It would be nice if it had a USB-C option for the PC-side, as it would make it easier for laptops. But alas, it does not.
Dual-sided switch/keycap puller: You can easily remove switches and keycaps with the dual-sided puller.
Extra keycaps: A few designer keycaps are included so you can customize the look to your liking.
---
Build Quality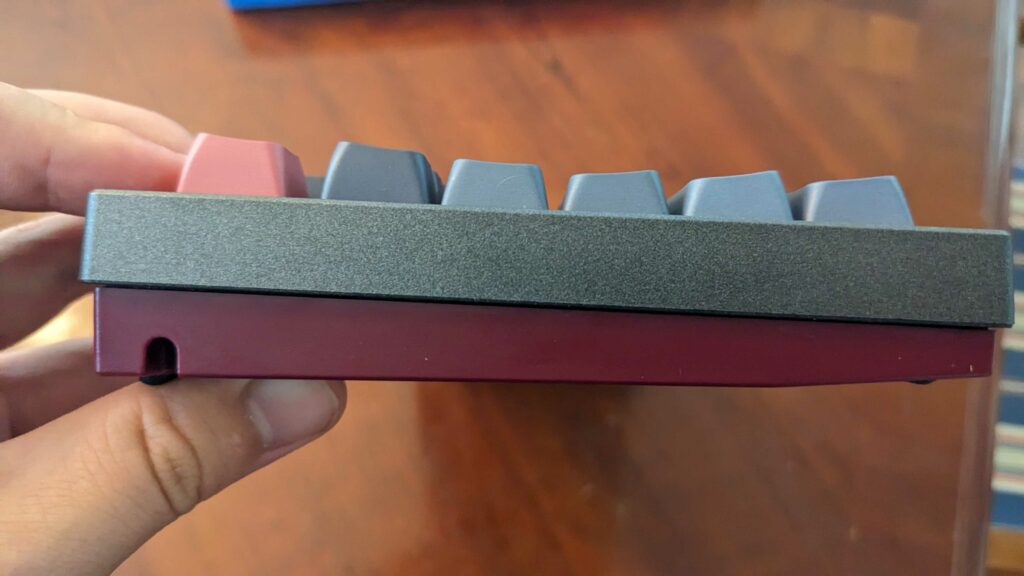 Material: Plastic
Flex: None
Kickstands: Double kick-up feet
Power Cable: USB-C center mounted
The keyboard comes in an all plastic build, with both the top and bottom case featuring their own colors. With my specific build, the top case is a gun-metal aluminum color and the bottom is a maroon-shade, making for an interesting mix of colors. The case is much heavier than I imagined, especially for the all-plastic build. The keyboard also has zero flex, so it's very sturdy and well built. The case itself is tray-mounted.
Layout and Size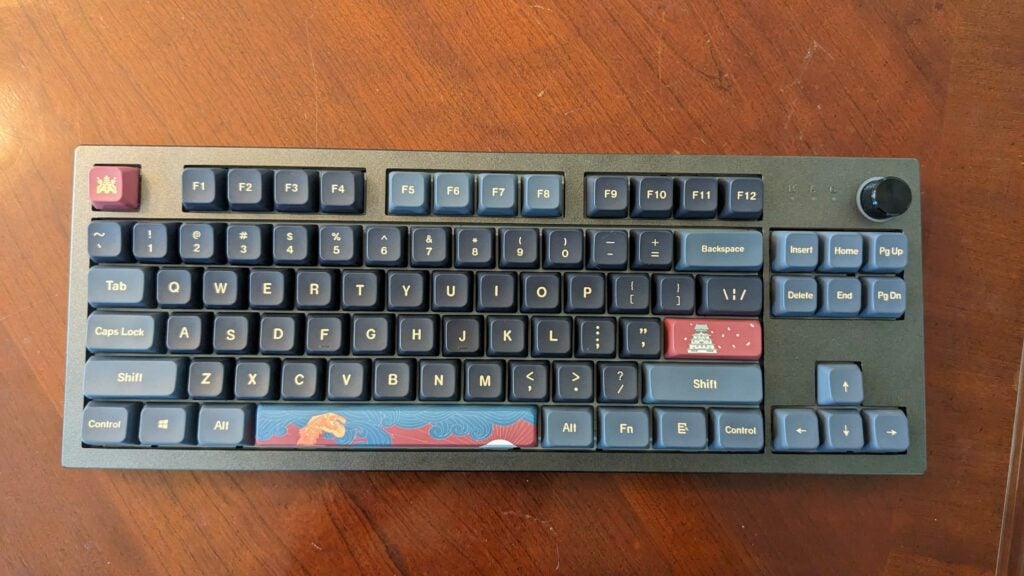 Layout: TKL/Full
Length: 14.29 in (TKL version)
Width: 5.35 in (TKL version)
Thickness: 1.61 in (TKL version)
Weight: 3.84 lbs
The keyboard comes in either a tenkeyless (TKL) or full-size option. We got the TKL version which means there is no number pad. The keyboard also features a small knob on the top-right. The knob has a satisfying tactile feel on every turn and can control volume, zoom, and RGB backlighting. You can toggle between each functionality by simply pressing down on the knob.
The Keycaps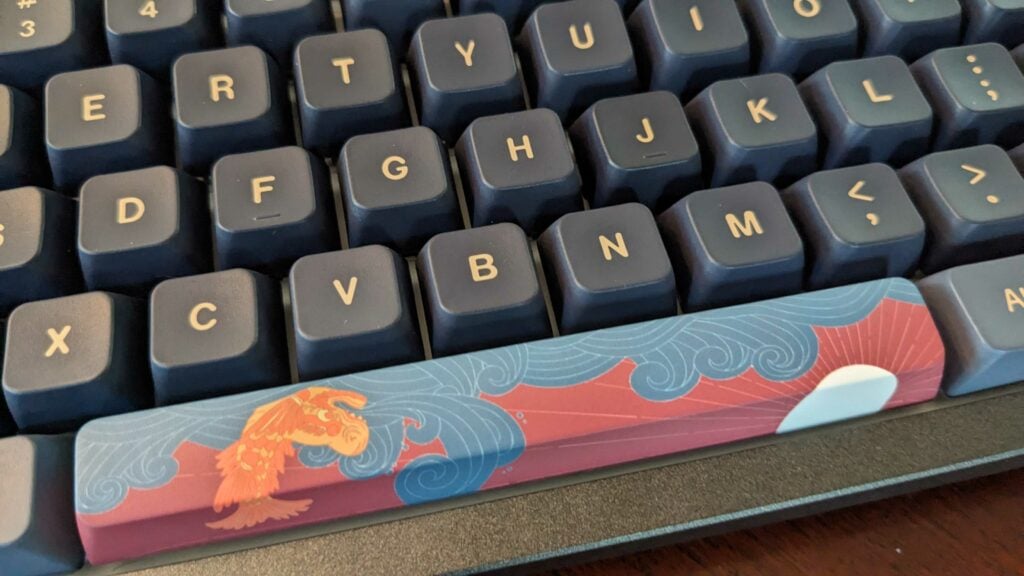 Keycap Material: PBT
Profile: MDA
Legends: Doubleshot
Standard Bottom Row: Yes
Aftermarket Keycaps: Yes
The keycaps are the highlight of this particular keyboard. The spacebar features interesting Japanese-style line art that shows a dragon over a sunrise in the ocean. The colors jump out at you with a mix of blue, red, and orange. The keycaps themselves are a dark-blue gray and light-blue gray two-tone set with very light peach colored legends. The overall color scheme is very cool and interesting to look at. There is also a light blue version of the keyboard, which you can find on the official store page.
The Switches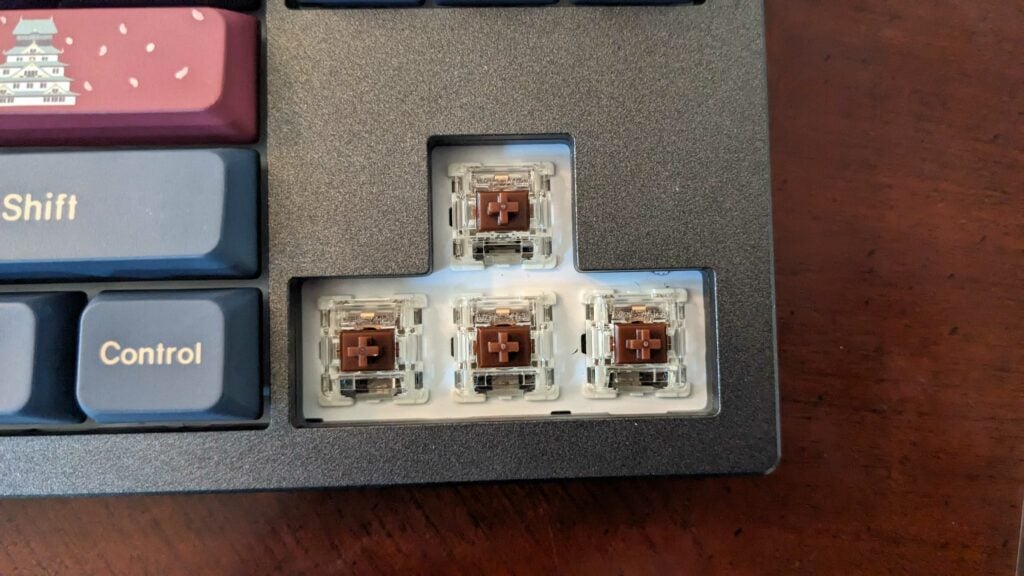 Type: Gateron Pro (Pre-lubed)
Options: Brown, Yellow
Hot-Swappable: 5-pin South-Facing
Lifespan: 50 million keystrokes
Actuation Distance: 2 mm
Travel Distance: 4 mm
The Montech MKey comes with hot-swappable Gateron Pro Yellow or Brown switches, giving you the option between linear and tactile. Unfortunately, if you want clicky switches you'll need to buy them aftermarket. The switches do come prelubed, which improve the feel and sound of the board drastically. Gateron G Pro switches are always a safe bet in terms of quality and how they feel/sound, but there's nothing too fancy about them either.
Stabilizers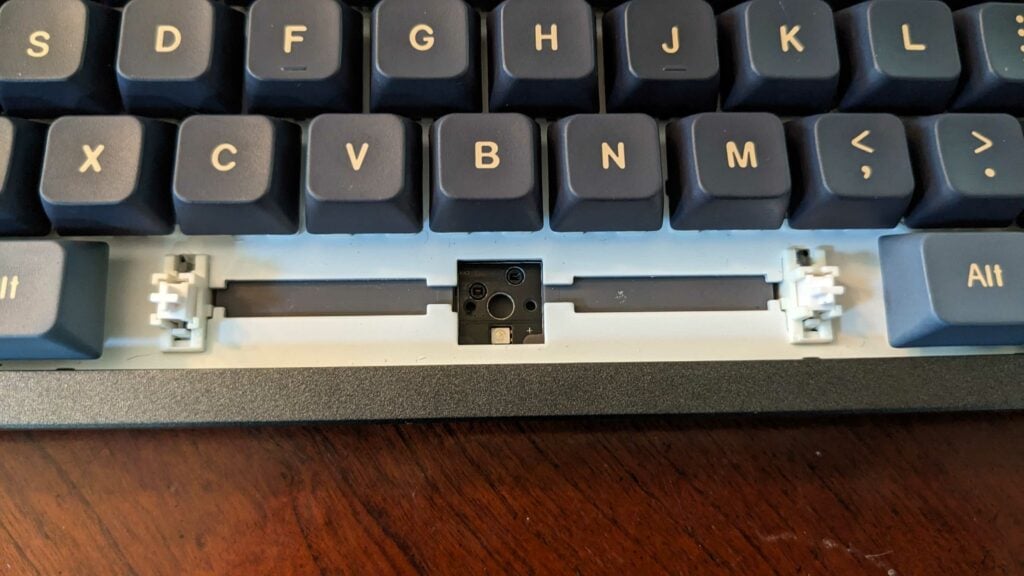 Type: Plate-mounted
Color: White
Unlubed/Lubed: Lubed
The stablizers under the spacebar, Caps Lock, Enter, and Shift key are all well-tuned and feel great to type on. There is no rattle at all. They come in a standard plate-mounted design and are prelubed to improve the overall typing experience.
The RGB
Color: RGB
Per-Key: Yes
Underglow: No
LED Location: South-facing
Change Lighting Effects: Yes
Change Brightness: Yes
The RGB on this keyboard is quite vibrant and bright. It's nice to look at and is customizable with both firmware and software. You can change the lighting effects with the knob super easily or with the F1/F2/F3/F4 + FN keys. As a note, the keycaps are not shinethrough so the legends will not be illuminated by the RGB. The RGB is visible from the sides of the keycap only.
The Software
Name: Montech MKey Software
Macros: Yes
Per-Key Lighting: Yes
Remap Keys: Yes
Onboard Memory: Yes
The keyboard comes with software that you can download here to control the RGB lighting, key locations, and macros.
The Full Video Review
---