Custom keyboards are slowly becoming more affordable and require you to do less work to make it sound and look good. The Luminkey75 is one of those keyboards that already comes with pre-tuned stabilizers, pre-lubed switches, and keycaps all pre-assembled and delivered straight to your doorstep.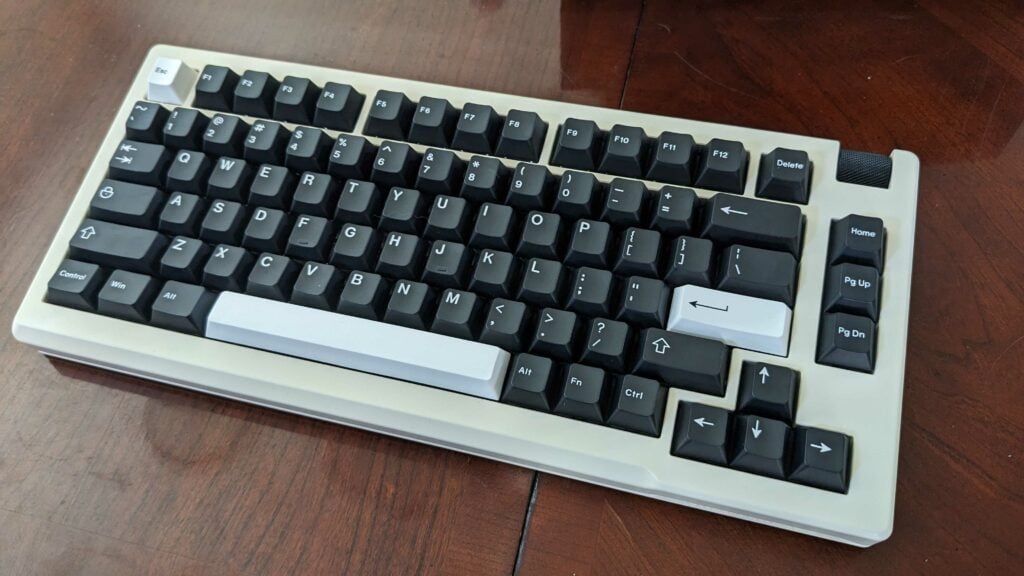 This article is sponsored by Createkeebs. They did not review or edit it before publishing. These opinions are our own. Sponsors like them make it so we can host and write content on our website at no cost to you.
---
The Main Takeaways
The roller wheel on the top right gives it a unique asymmetric look compared to most 75% keyboards. They really focused on the design of the case instead of just an aluminum block that's cut into a rectangle. The only downside is that there are only 2 colors to pick from: a creamy beige and anodized black.

Switch and Click, 2023
General Usage: This keyboard looks and feels great. However, with every day life, it definitely has its shortcomings. One of which is the steep angle of the case as well as the height of the front. A wrist rest or taking breaks from using this keyboard is recommended or hovering your hand above when using it. Another aspect is that it uses QMK and VIAL to customize its layout, which both require flashing the PCB, which to some may be difficult if it's your first time.
Typing: This keyboard feels the best when typing, such as typing this article. It sounds fantastic to listen to it while typing away in a flow state. In a public space such as an office or family space, the poppy sound could annoy others, so be careful. Unless you are around others who also want to listen to your keyboard, I wouldn't recommend taking this one out in public.
Gaming: This keyboard features a 1000hz polling rate, which makes it fast enough for gaming without feeling lag or latency. However, with the high angle, resting your wrist and fingers on keys like WASD may not be the most comfortable for extended periods of time.
Programming: I wouldn't recommend this keyboard for programming due to its lack of a number pad and to all of the navigational keys on the side. You can pick the 3 that you use the most, such as PgUp, PgDn, and Home. However, that means you give up End. It's possible to do this on the secondary layers, but that just means adding another step.
---
In The Box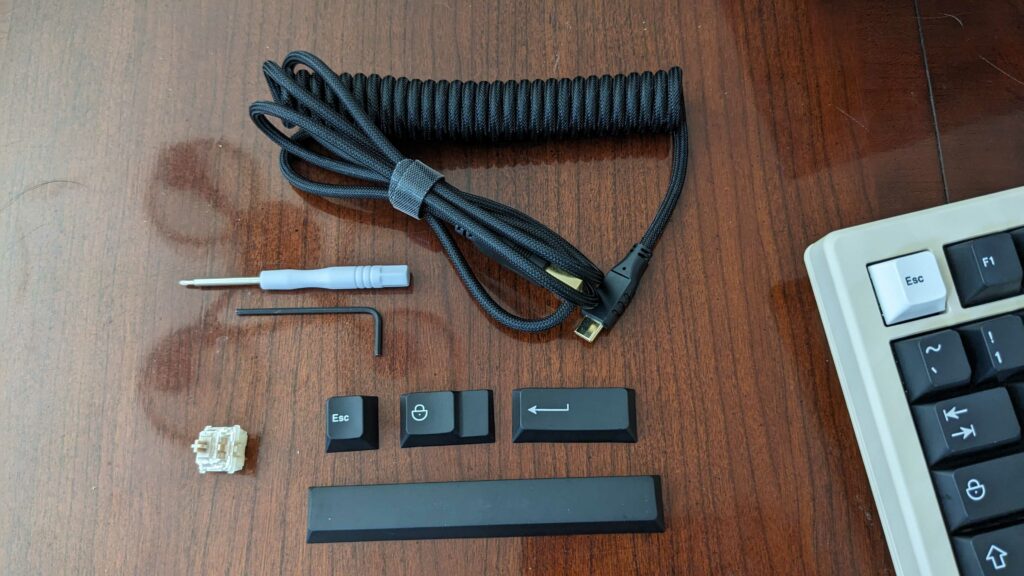 Parts In Box:
Keyboard
Switch and keycap puller
USB-C braided and coiled black cable
Accent keycaps
An extra switch
A small Phillips screwdriver and an Allen wrench
The parts are neatly arranged in 2 small boxes. The braided cable is nice. However, the coiled aspect of it might not fit with every desk aesthetic. I recommend having your own cable that you use, unless this is your first mechanical keyboard. The included tools are nice in case you don't have your own, so taking apart the keyboard is fast and easy. It is very easy to customize this keyboard if you choose to. I would have liked to see some more extra switches in case something breaks over time.
---
Build Quality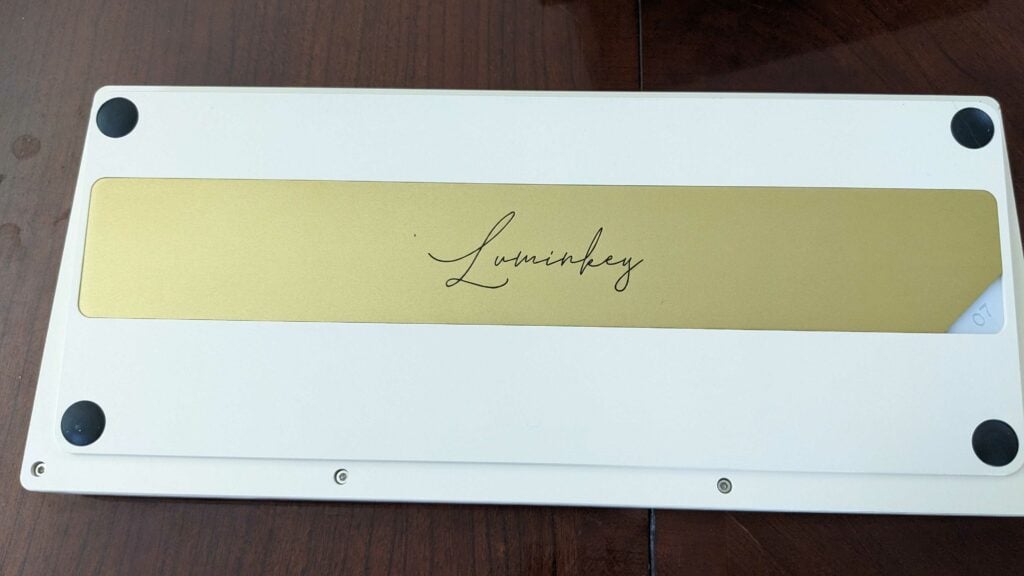 Material: 6063 CNC Aluminum Case
Flex: Gasket-mounted with nice flex
Typing Angle: 7° typing angle
Kickstands: None
Power Cable: USB-C Coiled Cable
The Luminkey75 is heavy and built like a tank. Like most custom keyboards, it's made fully of aluminum metal. On the back, you see a brass weight with the name "Luminkey" engraved in cursive for additional style. Although no one will see it, you'll still know it's there.
Layout and Size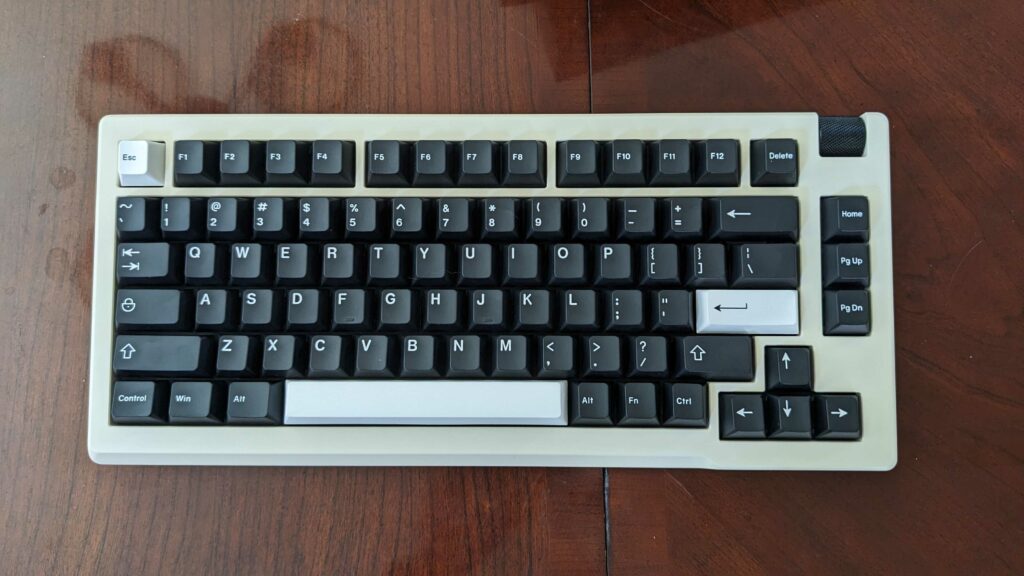 There is a bit of extra forehead and lip on the front and back side of the case. The case on the back gives you ample space to pick it up easily despite how heavy it is.
The Keycaps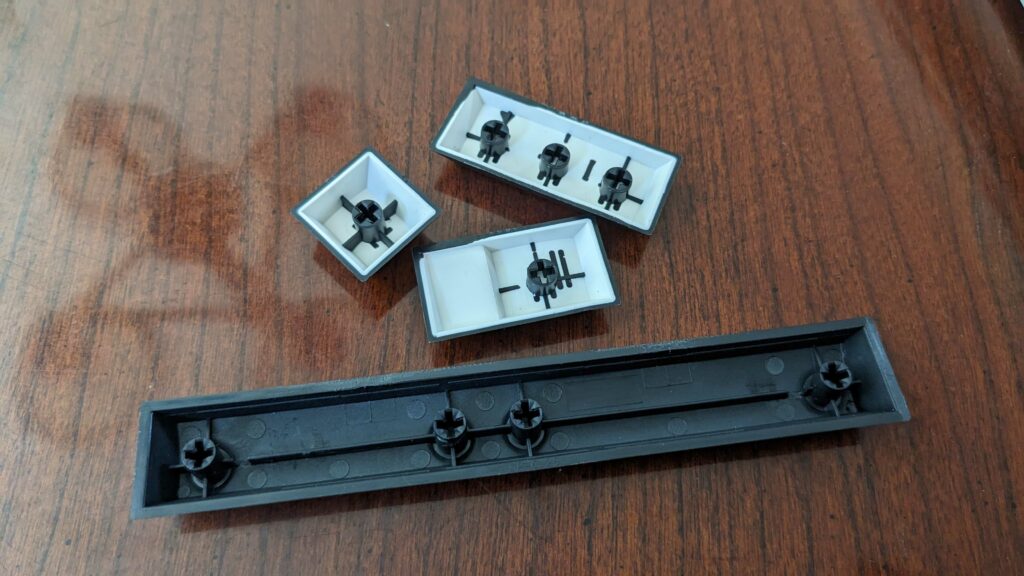 Keycap Material: PBT
Profile: Cherry profile
Legends: Doubleshot
Standard Bottom Row: Left side has standard keycaps
Aftermarket Keycaps: Right bottom row needs 1u keys and a smaller right shift as well. Ideally, you would want keycaps that are made specifically for a 75% keyboard.
The keycaps in the pre-assembled version is manufactured by ePBT. These are ePBT white-on-black keycaps that you can buy separately on websites like KBDFans, although it costs more for a full kit and you would have extras lying around that you probably won't end up using.
The Switches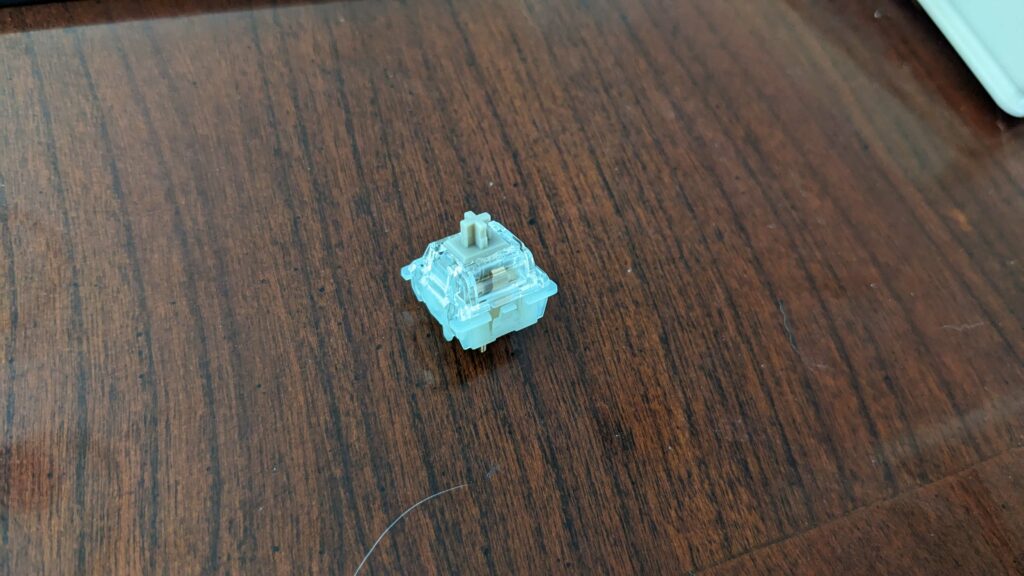 Type: Gateron
Options: Baby Raccoon
Hot-Swappable: 5-pin universal sockets
Lifespan: at least 50 million keypresses
Actuation Distance: 2.0±0.5mm
Travel Distance: 3.6±0.2mm
Actuation Force: 55±8g
You can hear the sound test here in this YouTube video. These are long-pole linears with a satisfying bottom-out sound. Combined with the PE foam and poron foams included in the keyboard, it sounds poppy and resonates throughout the room when you type.
Stabilizers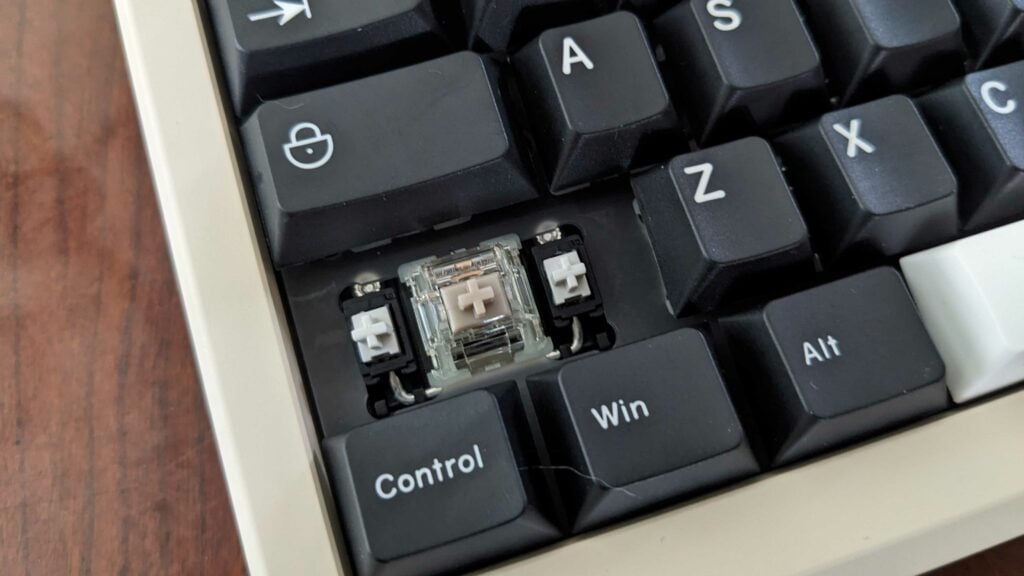 Type: PCB-screw-in Gateron Stabilizers
Color: Black housing with white stems
Unlubed/Lubed: Pre-lubed
The stabilizers are finely tuned with no rattle to be heard, especially in the spacebar. Each key sounds spectacular, and I love that you won't even need to add additional lube. I always find that with most keyboards I have to do something with it, even something small. But with finely tuned stabilizers, it's so nice not having to get my fingers dirty.
The RGB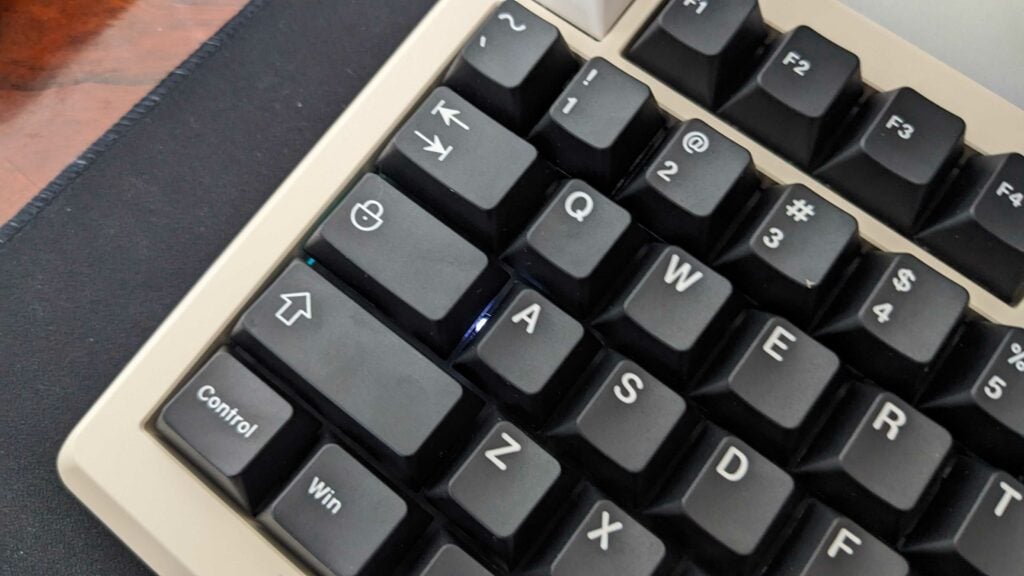 Color: None
Per-Key: None
Underglow: None
LED Location: None
Change Lighting Effects: None
Change Brightness: None
This keyboard is sleek and simple. There is no RGB anywhere except for a little bit on the left side. There is a light between the CapsLk key and the A key for you to see if it's turned on or not. Other than that, there are no additional lights.
The Software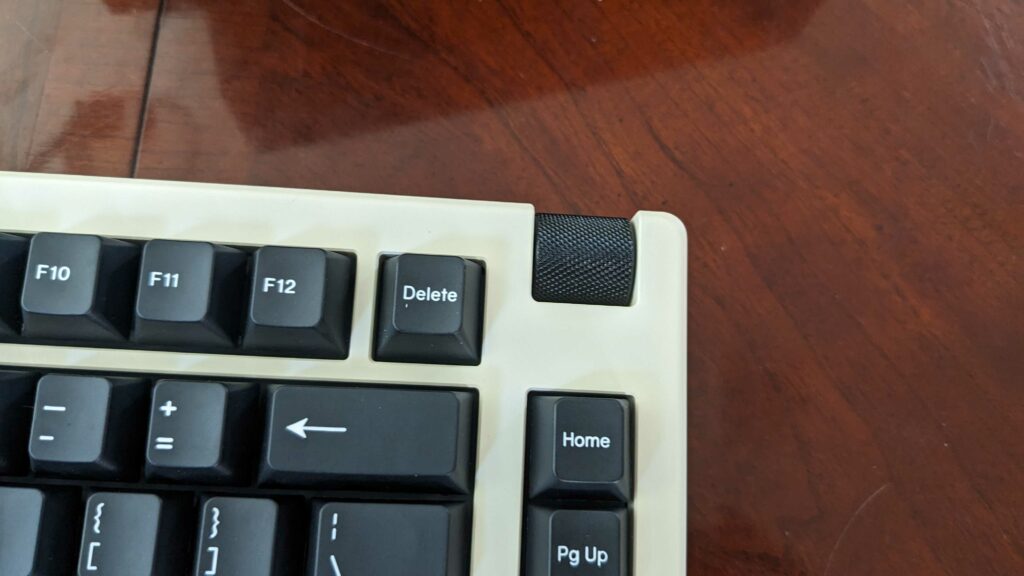 Name: QMK and VIAL
Compatibility: Windows and Mac
Macros: Accessibly through QMK and VIAL
Per-Key Lighting: No RGB
Remap Keys: Yes
Onboard Memory: One profile
Every key is programmable via QMK and VIAL. For VIAL, they recommend downloading the software rather than using the in-browser version.
Connectivity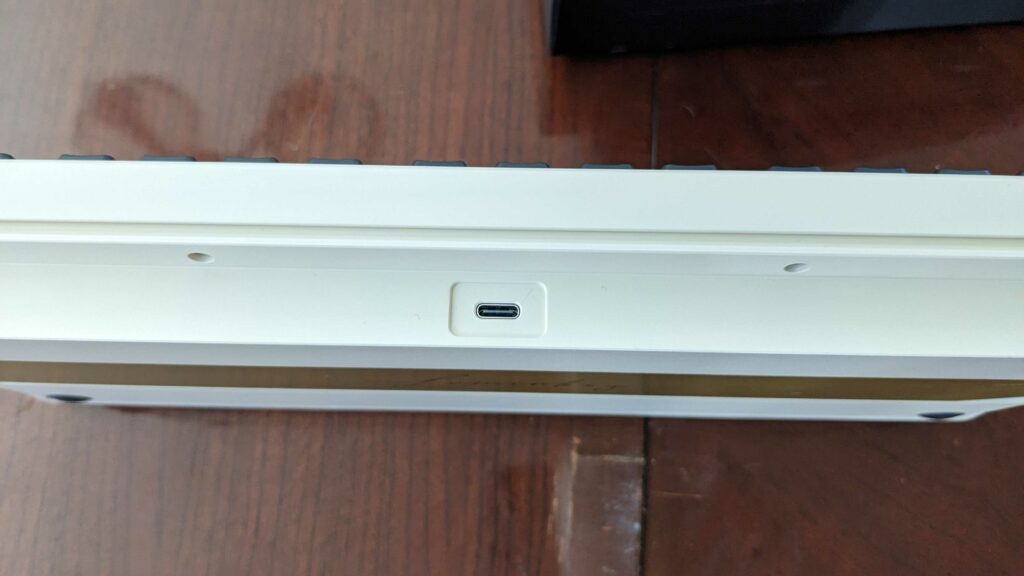 Port Type: USB-C
Wireless: None
Latency: 1000Hz
Compatibility: Windows and Mac
Number of Devices: 1
Cable Length: Unknown
USB Passthrough: None
There is a singular USB-C port in the middle of the back of the Luminkey75. All-in-all, it's meant to be used with one device such as your every day computer. And definitely not for switching between multiple devices or even travelling with it due to its heavy weight.
Alternative Options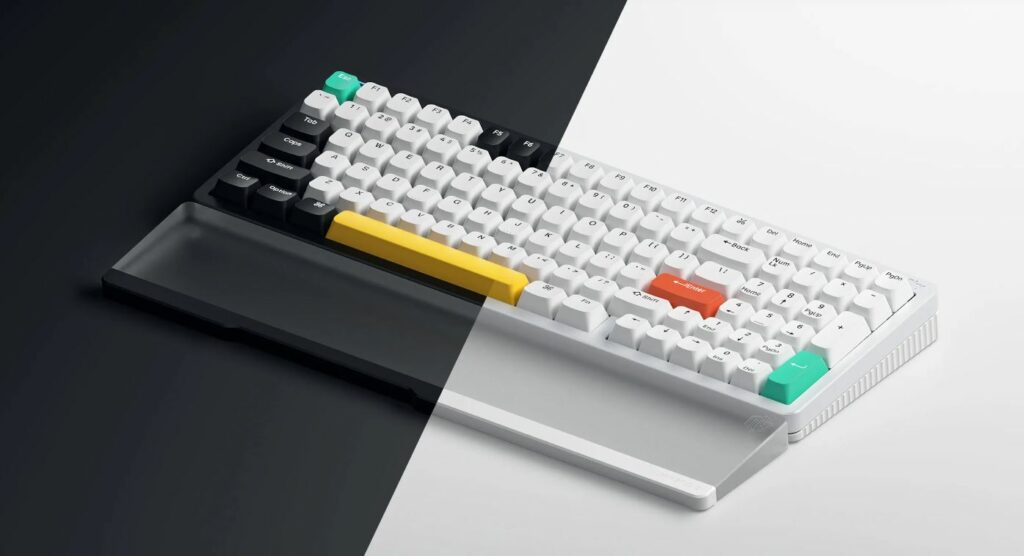 Why It's Recommended: For a much lighter keyboard with a similar layout, the NuPhy Halo75 fits perfectly. It also has wireless connectivity through Bluetooth or 2.4G via a dongle. Additionally, it comes with various different switches, has a clean look, is completely pre-assembled, and sounds great out of the box. However, it has no volume wheel or knob, but it does have RGB. Check it out here.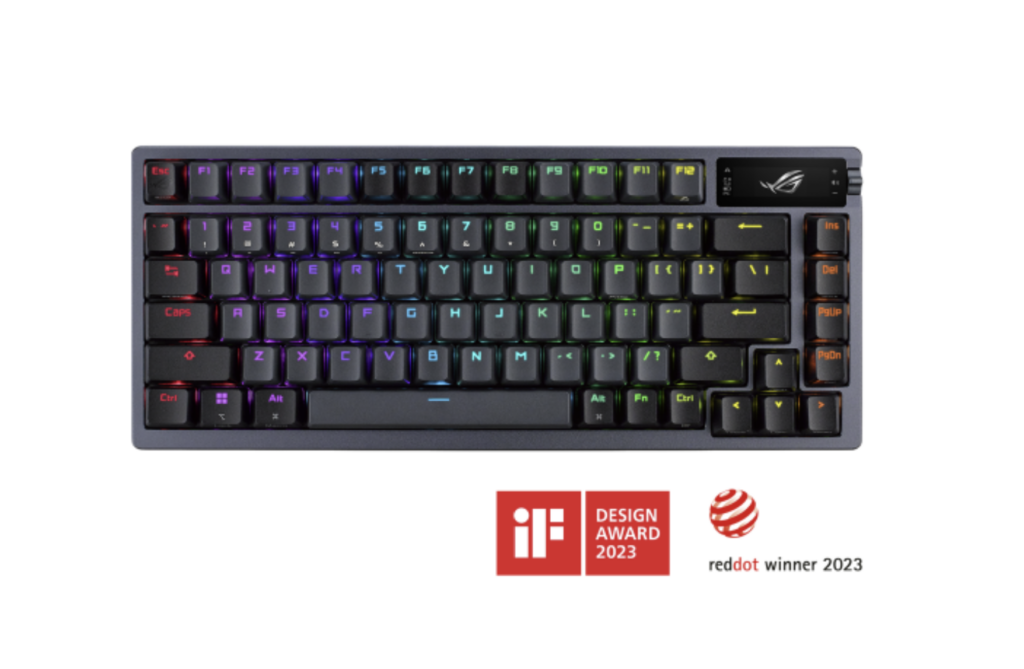 Why It's Recommended: The ASUS Azoth does come with a dial on the top right side. It has multiple connectivity options, and has pre-lubed switches, is gasket-mounted, and has nicely tuned stabilizers. However, it doesn't have the custom look or poppy sound or feel. Also, the software can be finnicky to use. It also has intense RGB with a gamer look. Check it out here.
The Full Video Unboxing
---
Conclusion
The Luminkey75 sounds fantastic out of the box, especially the pre-assembled version. Not only that, but it is also quite affordable for a keyboard of its quality and materials.
The main downside is that availability is limited and that Createkeebs is selling it in a Group Buy format before switching to an in-stock model down the road. That means you'll have to wait several months before receiving your product despite paying for it already.