You may be familiar with Tada68, Epomaker GK68X, and other 65% mechanical keyboards. What if we told you there's a 65% board that's soaring in popularity in the eastern marketplace?
Introducing the Keydous NJ68, one of most recommended boards on Taobao.
It is budget-friendly to mechanical keyboard enthusiasts who want to explore different switches, has an amazingly sturdy build, is hot-swappable, has remappable keys with Mac-compatibility, and Bluetooth and wired connectivity.
This review will cover all of the unique features of the board as well as look at the board's overall build, switches, keycaps, and stabilizers of the Keydous NJ68.
The Verdict
The Keydous NJ68 has a standard 68-key layout, which one of the most popular among mech keyboards communities with dedicated arrow keys and a compact layout that is perfect for gamers and typists alike.
It doesn't have a function row or number pad.
The NJ68 is perfectly suitable for compact layout users without sacrificing necessary navigation clusters and arrow navigation keys. Along with its sturdy look and size, it fits well even on smaller desks.
It comes with many interesting features without hurting your wallet. Features that may not be available on even high-tier keyboards.
The NJ68 comes in several different options available from Taobao (an occasionally on Drop).
---
In The Box
Inside the box, there are a bunch of different accessories to accommodate all of its features.
Keyboard – More detail on this down below.
Additional Yellow Accent Keycaps – 3 yellow accent extra keycaps (Esc, Enter, and Spacebar) for you to try out to snazz up your keyboard's look.
Additional Mac keycaps – The keyboard comes with extra 4 grey Mac keycaps (1.25u Option, 1.25u Command, 1u Option, and 1u cmd) on it
Keycap puller – Wired Keycap puller and metallic switch puller, a decent kit for a hot-swappable board.
USB-C cable – It's white with a simplistic look. Comes with a rubber strap for wire management.
Manual – Comes in Chinese without English translation.
---
Build Quality
The build quality can be described in two words: beyond expectations. From afar, it looks like a high-end custom keyboard. Up close, it's a beautiful yet simplistic board.
The case comes in black, pink, or white colors.
It is made with ABS plastic, comes with thick bezels around the edges, which prevents it from creaking or flexing.
The build looks like it can sustain a drop on its corners without breaking.
On the back of the case, it comes with two adjustable kickstands to adjust the angle and rubber feet to prevent sliding.
The mounting plate is available in steel or brass.
Overall, the build quality is exceptional for the price and compares to custom built boards.
The Keycaps
The keycaps are made with non-backlit PBT plastic with dye-sublimated legends (letters and symbols on the keycaps).
Overall time, the plastic won't shine as much as thin ABS plastic caps. And the legends are going to last a long time, no need to worry about longevity.
The tops of the keycaps are slightly rougher than regular ABS keycaps with smooth tops.
The thickness is 1.3mm-1.4mm for each side. The keycap legends are sharp and crisp, which makes the letters and symbols very easy to read.
However, there are some minor warping issues with the space bar. This is what is causing the rattling and metal ping issues.
This is fixable by heating up the spacebar keycap and straightening it back out.
In addition, the orange keycaps are more prone to the light bleeding through.
The Switches
The switches offered with the NJ68 are:
Cherry Blue
Cherry Red
Cherry Brown
Kailh Box White
Kailh Box Red
Kailh Box Brown
Cherry switches come with the stock unlubed switches, but the Kailh Box switches come with factory pre-lubed.
The Kailh switches will be more smooth to use, and Box switches are more dust and water resistant to prevent damages to the PCB if any accidents occur.
The PCB is hot-swappable and supports both 3-pin and 5-pin switches.
You can use Cherry, Kailh, Gateron, ZealPC, and other mechanical switches as well.
The switches are north-facing and might cause some interference issues for Gateron and Cherry switches when paired with Cherry Profile / GMK keycaps with 1.5mm thickness.
The Kailh Red switches that we received have a smooth yet lightweight typing experience, which highly recommended for those who type for long hours, whether for gaming or work.
The Stabilizers
The stabilizers are Cherry-style plate-mount stabilizers, which can be removed from the board to further mod if necessary.
The stabilizers come pre-lubed with dielectric grease to decrease any rattling and additional sounds.
The stabilizers' housings are tight on the plate, This reduces the chances of having any wobbling issues.
The Features
Bluetooth Connectivity
The NJ68 has Bluetooth 4.1, which has a good range and low latency.
It's not recommended for competitive gaming while wireless, but it lets you save space on your desk by not using wires.
It also comes with a 3100 mAh battery, which will last you 20 hours (with backlight) to 70 hours (without backlight).
Having wireless connectivity provides a clean look on your desk, which is nice for your clean battle station.
We have tested the latency with a Macbook Pro's built-in receiver, and we have yet to see any significant delay or latency in our typing tests.
Along with NKRO feature, the typing experience was pleasant for us. NKRO allows the board to register all of the keys you press, even at the same time.
The board does need to get charged every once in awhile, or you can permanently connect it to your computer via a USB-C cable.
The cable connects to the center port of the board and looks quite clean. The hole can also fit other custom cables' connectors as well.
To turn the board on/off, there is slider under the keyboard case.
Then to connect to devices, you hold FN and Q to begin pairing.
RGB Lighting

The NJ68 has onboard lighting effects that can be cycled through via FN + Backslash keys. Additionally, you can download their software from their website http://keydous.com to program your own RGB profiles and macros settings
Mac and Windows Compatibility
It's super easy switching between Mac and Windows by holding FN + M keys (for 2-3secs) for either operating system.
The function row matches the function row on Mac computers, which is convenient because you don't have to memorize new shortcuts.
---
Conclusion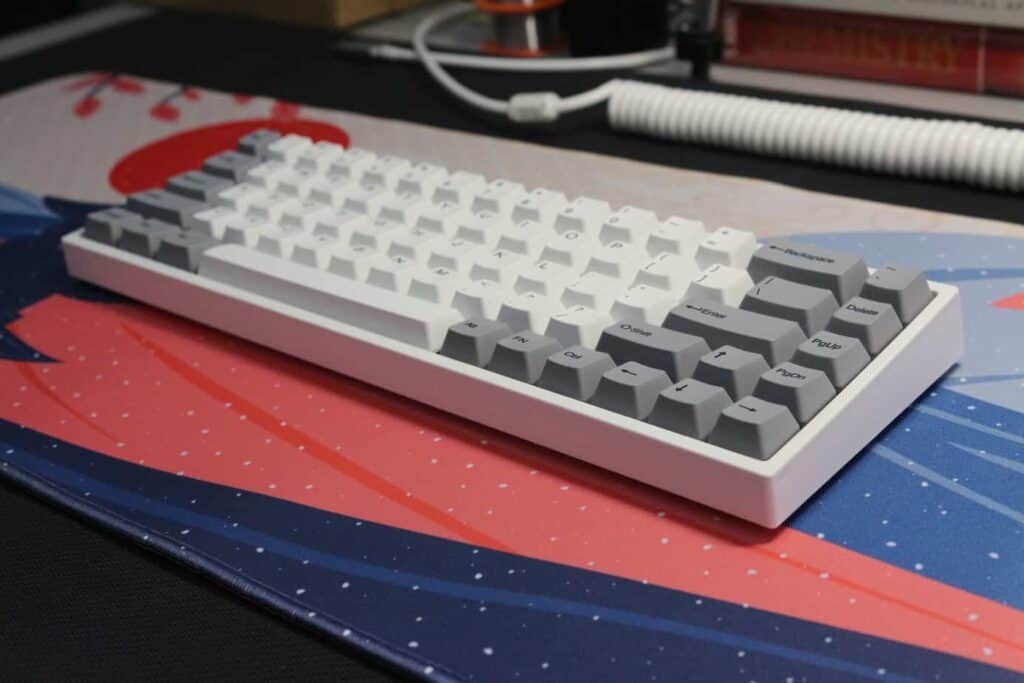 In summary, the Keydous NJ68 meets the needs of many individuals with its compact 65% layout, hot-swappable sockets, Bluetooth features, and Mac/Windows compatibility.
It can also be used as a custom or DIY mechanical keyboard kit. This way, you can do things such as explore different switches, mod the stabilizers, lube the switches, and more.
And the best part is, no soldering!
This board is budget-friendly to many new mechanical keyboards enthusiasts.
Alongside this, you don't have to sacrifice the arrow keys or navigational keys.
If this keyboard is available in your area, definitely check it out. The Keydous NJ68 is an affordable board yet full of features.