Pudding keycaps have been very popular recently and can be found from many different brands. Along with having a higher quality plastic, it also accentuates any RGB effect that you keyboard may have with its translucent sides.
HyperX pudding PBT keycaps are very affordable, available in two different colors, and elevate the lighting experience when using your mechanical keyboard.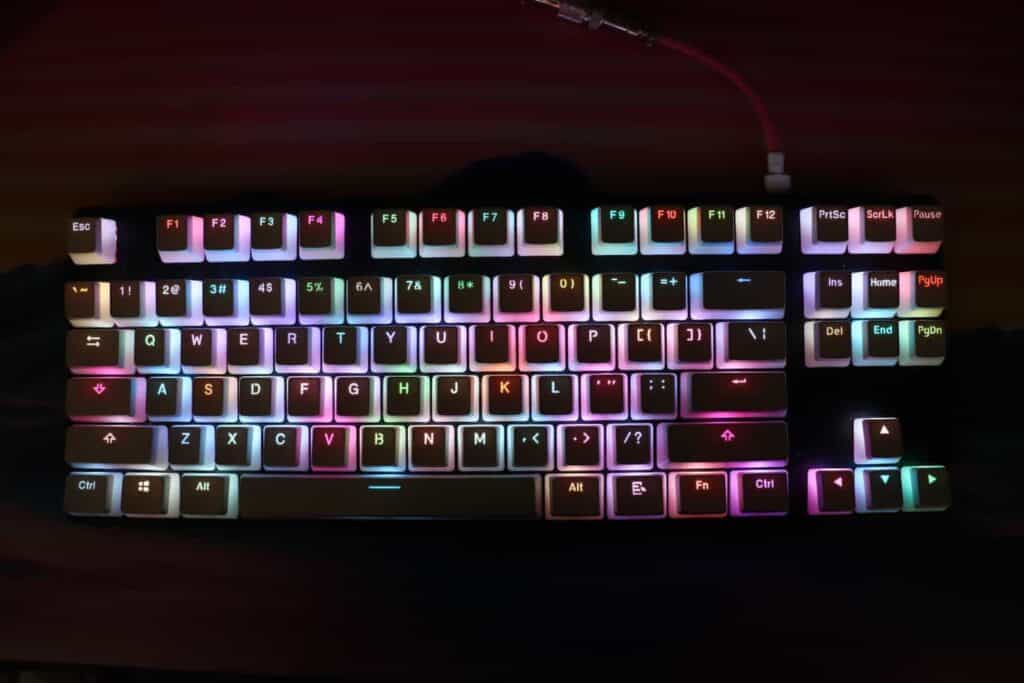 If you are looking for a different style than bland keycaps, these keycap sets are a good option to check out and consider.
We currently have the previous version on-hand, but when you purchase these keycap sets, you will get the newer and updated version (which is reflected in this review as well).
Should You Get HyperX PBT Keycaps?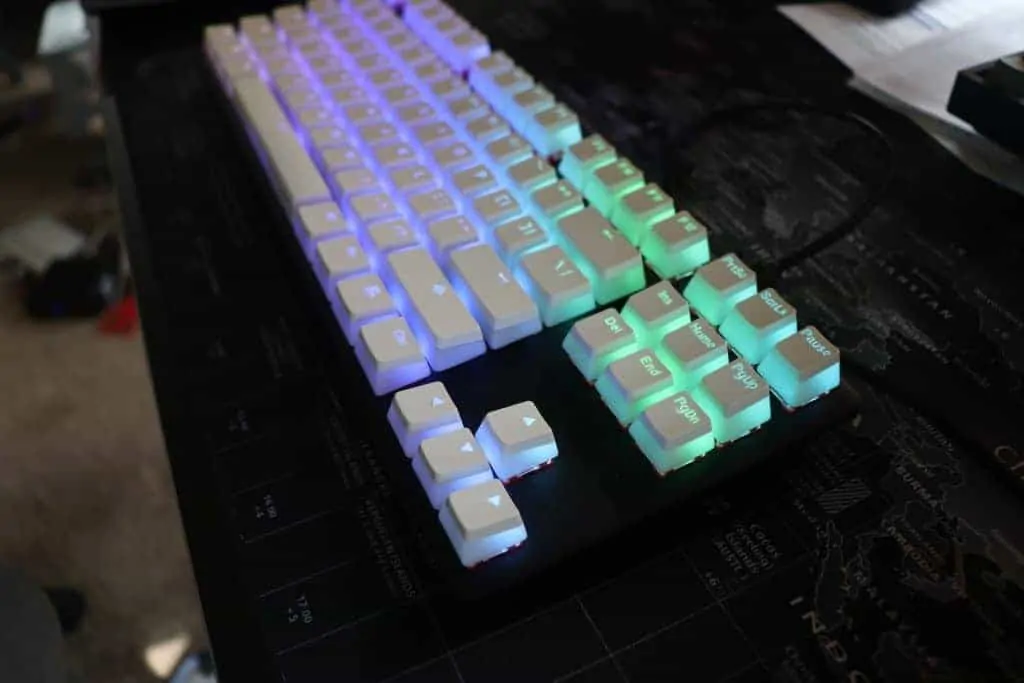 After using the HyperX pudding PBT keycaps on the HyperX Alloy Origins Core, we've really come to love the overall look of pudding keycaps. At first, they seemed silly and too bright. Almost too much umph on our simple desks.
However, these keycaps are a huge improvement over the stock ABS matte-black keycaps that come originally on the HyperX keyboards themselves. The pudding keycaps attract no fingerprints, oils, or grime. Even the white ones remain clean and spotless after countless hours of use.
The HyperX pudding PBT keycaps come in two different colors: black and white. They both feature doubleshot PBT plastic with translucent walls. These keycaps have the HyperX font, which is a combination between simple, no-frills and slightly gamer font.
For people who are looking to purchase a very affordable set of new keycaps that will improve the overall feel, sound, and quality of your current keycaps, these are a great option.
You can find the HyperX Pudding PBT keycaps on Amazon, where you'll be able to choose between black and white.
Pros of the HyperX Pudding Keycaps
Much more affordable than other keycap sets out there, price varies but usually stays under $30
Oil-resistant durable PBT plastic that does not get dirty or feel slippery
Thin walls that allow RGB to shine through very brightly
Full set that is compatible with ANSI keyboards with standard layouts (104 key set)
Cons of the HyperX Pudding Keycaps
Font looks slightly boxy, which may not fit your preferences
Keycap puller that comes with the set did not last many keycap changes (approximately 5 full set changes)
HyperX logo on the spacebar makes you not want to use this keycap set on non-HyperX keyboards
Difficult to see legends on the white keycaps with bright lights unless in the dark
What Makes the HyperX PBT Keycaps Unique?
Doubleshot PBT with Dual Layer Design for Maximum RGB
The HyperX pudding PBT keycaps are made entirely out of PBT. This means that the entire keycap is durable and will last many hours of use. PBT plastic is also oil resistant and will ward off skin oils.
They are made with a doubleshot injection molding. What this means is that the keycap is made of two different layers of plastic. The top part that is fully opaque and thick is one layer. The other half, the more translucent part, including the legend is the second layer.
Due to this, the legends on the keycaps will not wear out or fade away because they are a layer of plastic rather than ink or laser-etched.
The pudding keycaps have more translucent walls, allowing the RGB to really mesh together and create a seamless look when using your keycap in dim lighting.
These keycaps excel when you use lighting effects rather than just a single static color. You can do that too, but the full potential is when there is a lot of dynamic movement happening with the RGB effects.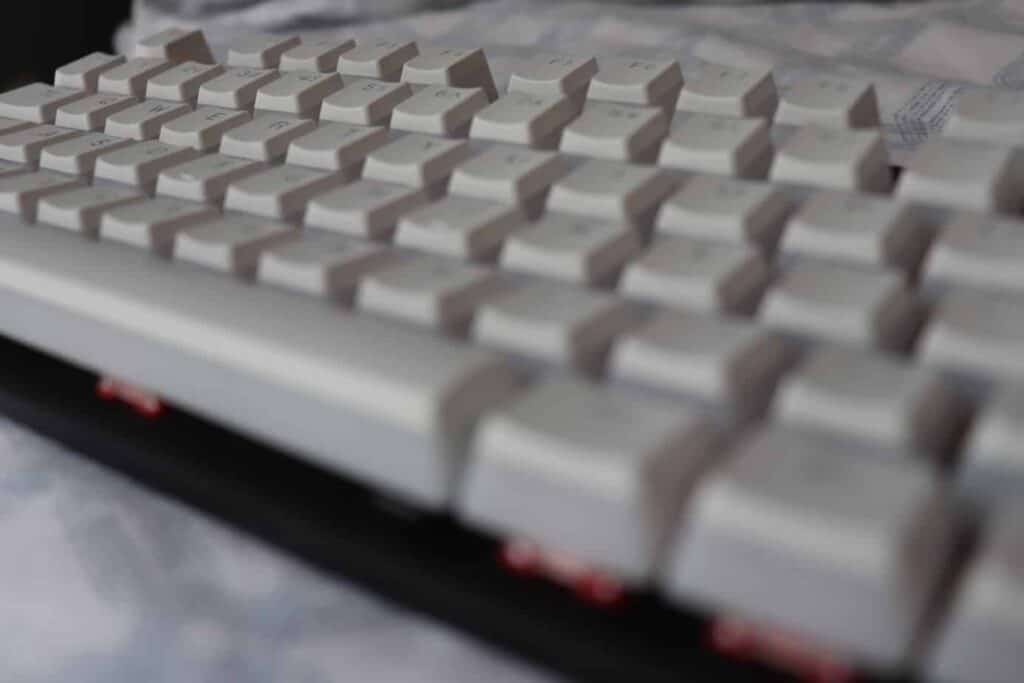 Improved Font (as of May 2020)
The font on the previous version of these keycaps, which were updated in May 2020, were thin and had separations within the letters/symbols.
It was also a very generic font that was seen in many budget keycap sets as well. The new updated font is unique to HyperX, which is thicker and bolder. It also has no disconnections in letters such as O, Q, and B.
HyperX also replaced the symbols for caps lock, enter, shift, and tab with lettering rather than just a symbol.
The spacebar has the HyperX logo. However, this set is compatible with all mechanical keyboards that feature a standard bottom row (60%, tenkeyless, and full-sized.
One downside of replacing your original keycaps to the HyperX pudding keycaps is that you'll lose any sub legends of the secondary functions on your original keycaps.
Full Set and Compatibility
The HyperX pudding keycap set comes with 104 keys, enough keys to fill a full-sized keyboard.
This means that smaller sets with a standard bottom row could fit the set as well, but you wouldn't use all the keys.
These include 60% and tenkeyless (80%) mechanical keyboards. This keycap set does not fit alternate layouts with small bottom row keys or different sized shift keys such as 65%, 75%, or 96%.
Very Affordable Pricing
The PBT pudding keycap set is available in two different colors for the same price. Their updated sets fall at around $25 (prices will vary depending on time and location), but at times of the year, they can be found on sale too.
This puts the price of these keycaps lower than other companies such as Razer, YMDK, Tai-Hao, and other quality keycaps that are considered when purchasing new keycap sets.
OEM Profile
The HyperX PBT Pudding keycaps come in OEM profile. This means that it's usually what you're already used to.
For more reading on OEM keycaps, see our full keycap profile guide.
OEM profile is what is seen in most big brand mechanical keyboards. They are sculpted, which means each row is different than the next to decrease the distance your fingers need to reach but also allow more comfort.
If you've used a HyperX mechanical keyboard, you're no stranger to this profile of keycaps.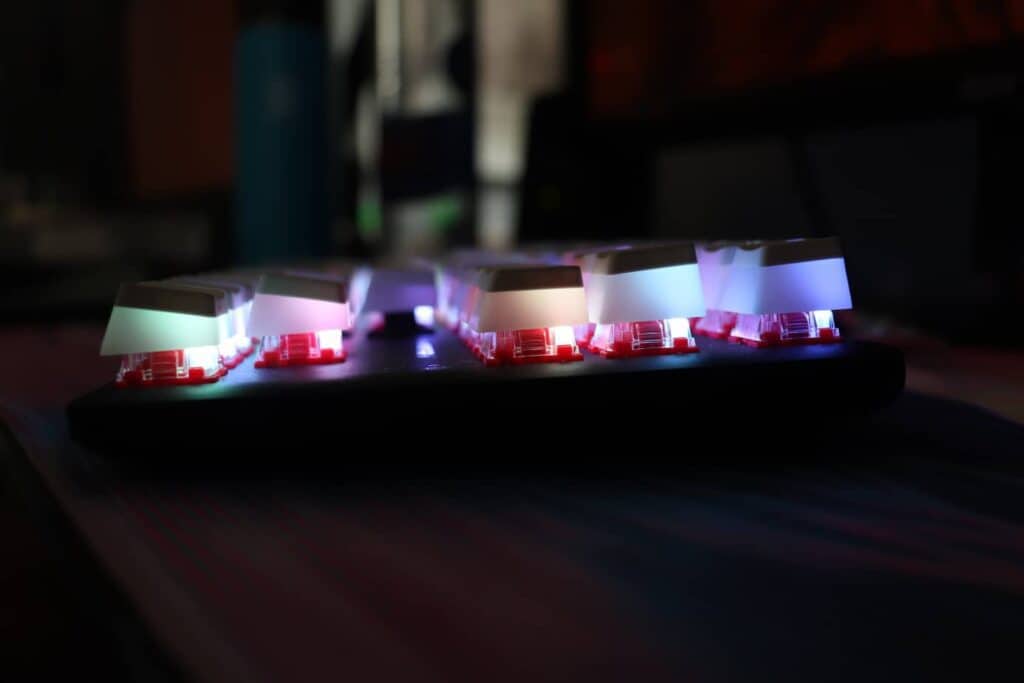 Other Pudding Keycap Sets to Consider
Havit Pudding Keycaps: Slightly More Affordable
The Havit pudding PBT keycap set also has 104 keys and fits 60%, tenkeyless, and full-sized mechanical keyboards.
This set also features 4 additional blank keys for Row 4, which is the function row and the number row.
The font of these keycaps are similar to the previous version of the HyperX pudding keycaps. These keycaps are available in two different colors: white and black.
They are slightly more affordable than the HyperX keycaps, and you can find out more information about them on Amazon.
Happy Balls Pudding Keycaps: For ISO Layout as Well
Another set of pudding keycaps is made by Happy Balls. This keycap set includes the standard 104 keys as well as 4 additional keys to be compatible with the ISO layout.
The legends are similar to the previous HyperX pudding keycaps, and they are also in OEM profile.
To check out these keycaps, see them on Amazon.
Conclusion
The HyperX PBT Keycap Set (updated in May 2020) is a huge improvement from their previous design.
HyperX kept them at the same affordable price but they improved on the font, the overall thickness and material, and also the legend choices on them.
For people who currently use their stock HyperX keycaps, these are a great upgrade as well as for keyboards with standard layouts that aren't HyperX.
We also have a ton of other great keycap recommendations in our favorite keycap sets post.
If you are very excited to show off your custom created RGB effects and need keycaps that will let you maximize that, these HyperX PBT pudding keycaps are a really good keycap set to check out.
HyperX PBT pudding keycaps can be bought on Amazon in either black or white for a very affordable price.