This article is sponsored by ASUS. They did not review or edit it before publishing. These opinions are our own.
Big gaming brands are taking lessons from the custom mechanical keyboard world. ASUS just launched a keyboard that sounds absolutely amazing, and that's because of 2 huge upgrades from their previous keyboards, which we'll get into later.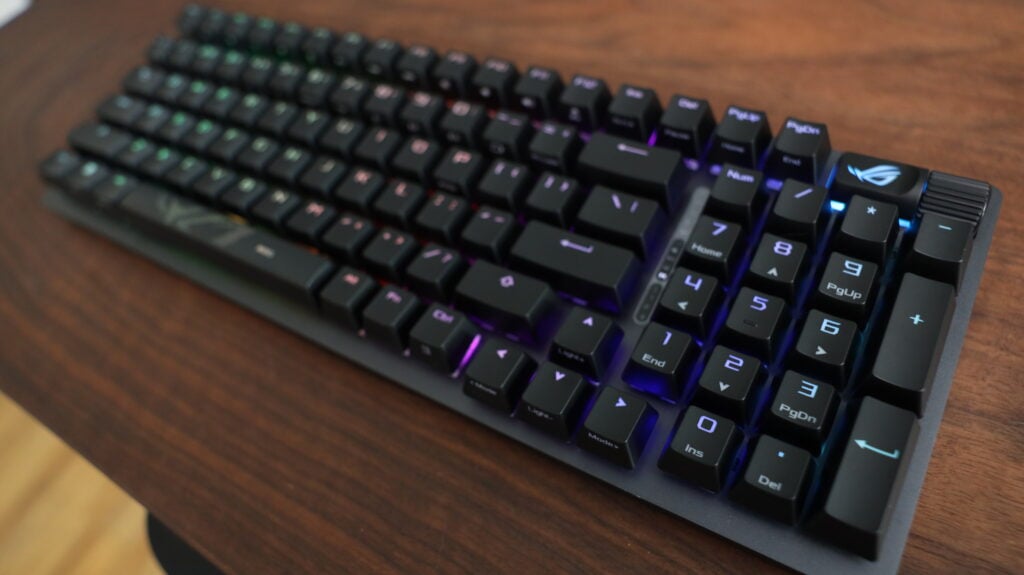 ---
The Main Takeaways
The new ASUS ROG Strix Scope 96 II Wireless (which we will call the Scope 96 II from now on) has some of the smoothest switches I've tried so far. However, I really wish they made a 75% version in addition to the 96% version.

Launched July 3, 2023
General Usage: This keyboard has it all, but it's not a full-sized keyboard. It lacks certain keys such as Home and End that you need to use the FN key to access. The added knob does make up for that with easy-to-access page scrolling, media controls, and even a custom function that can be modified in the software. The software is buggy and can have its own issues. You don't need the software to use this keyboard. But it does help. For those who use the numpad often, the smaller zero may be off-putting since it's easy to accidentally press the right arrow key instead. Moving to a smaller layout like this takes time to get used to.
Typing: The typing experience is exceptionally. I opt not to use the provided wrist rest because that strains my wrists quite a bit. The keycaps they chose to use are lower than other keyboards, but the floating keycap design adds height to each key. The stabilizers are lubed and tuned, so there's no rattle when you type on any keys. The interior also has several layers of sound dampening foam to make the sound a deep thock. It is a pleasant typing experience overall.
Gaming: It depends on the game, but the switches are lubed and smooth. They are in the medium range for actuation force. If you're used to a lot more mouse space while gaming, the additional numpad does make this keyboard the same width as a TKL keyboard. I find my mouse hitting the keyboard's right side often when aiming. It would be huge if they made a 75% of a 65% of this keyboard. Keep everything else, but make it slightly smaller. You get Windows lock, as well as some macro features and ultra-fast 2.4Ghz connection for wireless gaming too.
Programming: Surprisingly, programming is convenient with this keyboard, although it's made for gaming. You can scroll the page with the scroll wheel function, which gives you a smoother scroll than using page up/down. Also, the on-the-fly macro recording helps for any constantly repeated phrases to save you more time. The numpad also makes it faster than reaching up and looking at your number row.
---
In The Box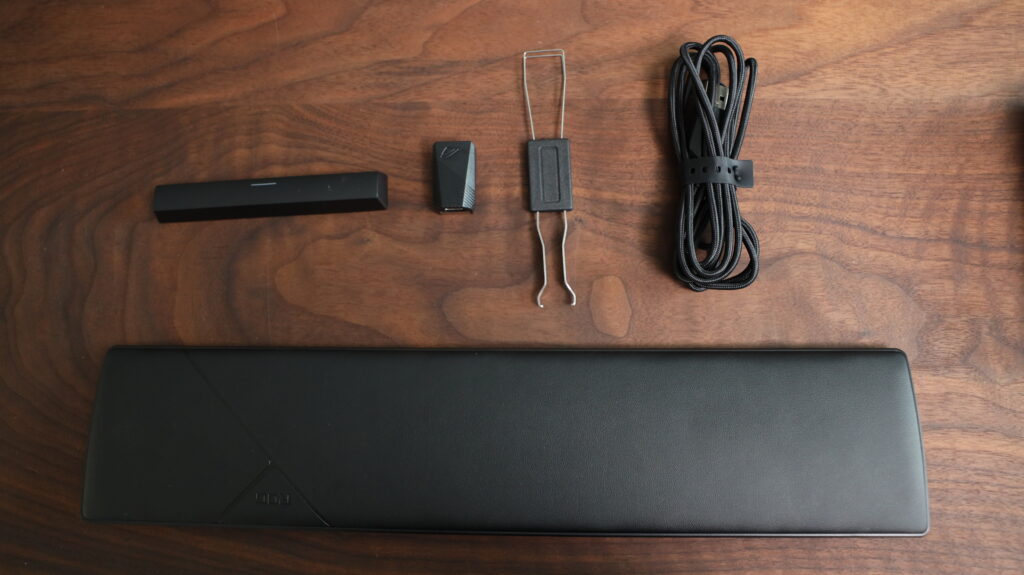 Parts In Box:
ROG branded spacebar with additional RGB lights
Combined keycap and switch puller
Wrist rest
USB-C cable
USB-C to USB-A adapter for the 2.4Ghz dongle
Keyboard
This keyboard is made so you can modify it if you wanted to. The keycaps are replaceable if you wanted something lower. The switches are hot-swappable as well, although the stock RGB NX Snow switches are finely lubed and do not need to be changed. The keyboard has a dongle holder, so you don't need to worry about losing it either. I would have hoped to see 3-5 extra switches in case something broke over time.
---
Build Quality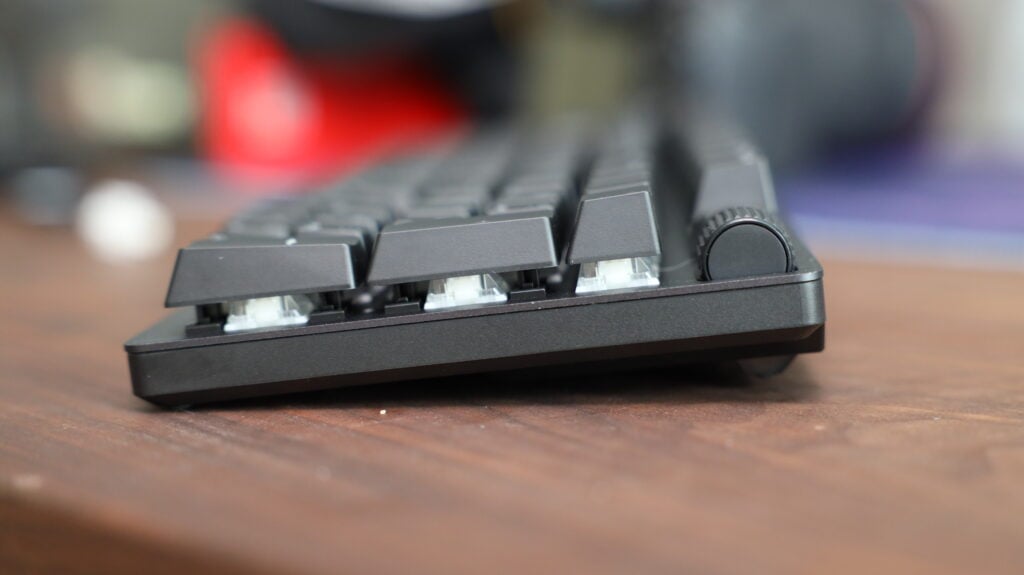 Material: Aluminum top with a plastic frame
Flex: Negligible. The keyboard is tray-mounted there is not much movement when typing.
Kickstands: There are 2 angles of kickstands on the back.
Power Cable: The USB-C slot is on the left third of the keyboard. It uses a USB-C cable, although you can connect via Bluetooth and 2.4G as well. The cable you get inside the box is braided and long.
The Scope II 96 is very sturdy and surprisingly heavy for its appearance. Typically, gaming keyboards are lightweight. However, this one is heavier due to its additional size, layers of foam, and also the top aluminum layer too. I expect this keyboard to last a long time. However, I would pick the PBT keycap version if that is available in your region. ABS keycaps, even when they're coated to prevent shininess, will still degrade over time.
Layout and Size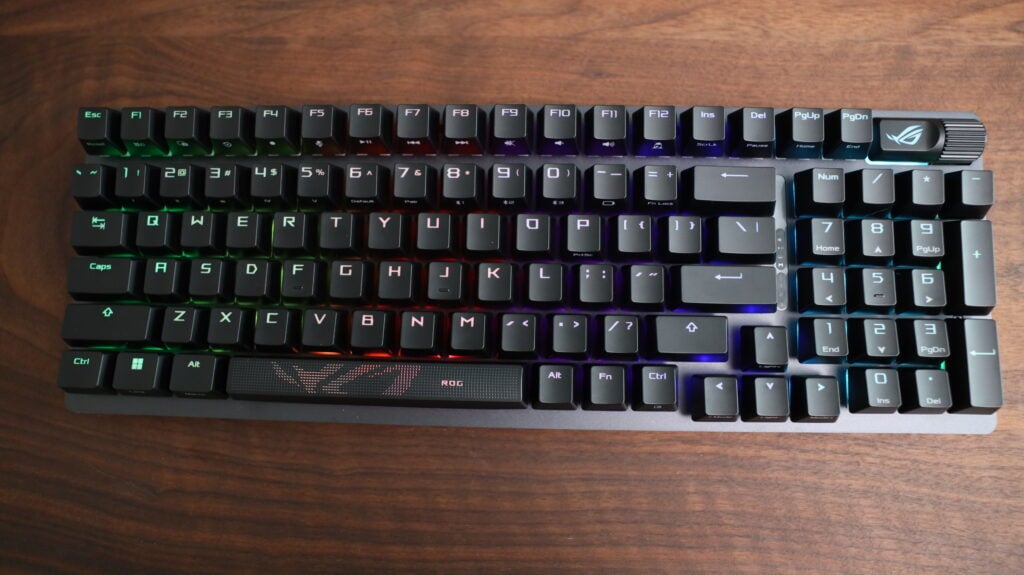 Layout: 96% keyboard with a smaller zero in the numpad, small right shift, and 1u keys for the right ALT, FN, and CTRL
Length: 131mm.
Width: 377m.
Height: 40mm
Weight: 1012g or 2.2lbs
The 96% layout is fantastic for anyone who doesn't want to lose their numpad. It takes the majority of the function of a full-sized keyboard and smushes it into the width of a TKL, saving you a lot of desk real estate. The length is reasonable, although it increases plenty if you choose to use the included wrist rest.
The Keycaps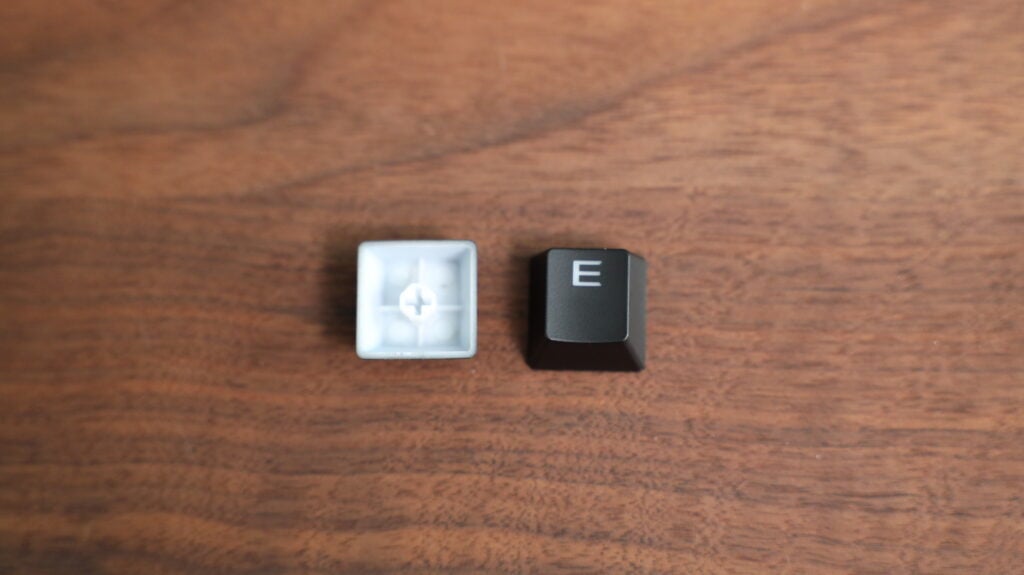 Keycap Material: ABS Shinethrough or PBT Shinethrough (depending on your region availability)
Profile: Slightly lower than OEM but higher than Cherry profile
Legends: ASUS gamer legends, edgy and harsh
Standard Bottom Row: On the left side and the spacebar, but not for the right side
Aftermarket Keycaps: Many aftermarket keycaps will fit this layout. Just look for kits that are compatible with 65%, 75%, and 96% keyboards to ensure you get a smaller right shift and 1u right modifiers.
There are 2 options for keycap material: ABS and PBT. It depends on where you are. The ABS keycaps are UV-coated to prevent oiliness over time, although we all know over a long enough period of time, degradation still occurs. The PBT keycaps are slightly more textured and rough. Both have RGB shinethrough, so you can enjoy the sweet bright lights.
The Switches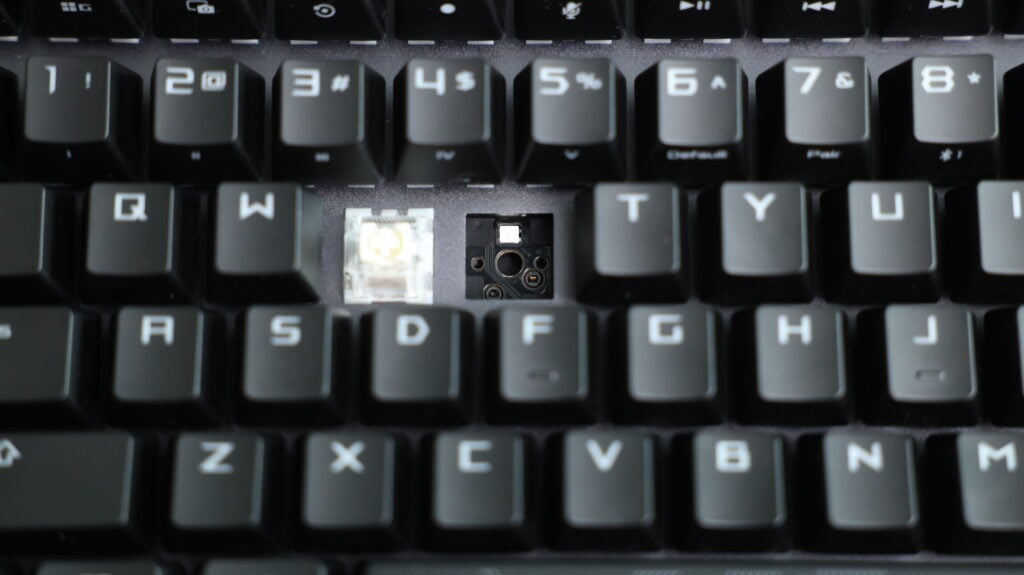 Type: ASUS ROG NX Snow
Options: Only these, they are linear
Hot-Swappable: Yes, north-facing, 5-pin
Lifespan: It doesn't say, but it's most likely 50-100 million keypresses.
Actuation Distance: 1.8mm
Travel Distance: 3.6mm
Actuation Force: 40g initial force and 53g total force
This is the main standout feature of this keyboard, the switches. They are cross-shaped so you can use other keycaps if you wish too. The top is also a box stem design to minimize wobble and dust getting into your switch. These switches are prelubed with a dry lube and Krytox 205g0 from the factory. They are made of POM for the stem and bottom housing with a PC top.
Stabilizers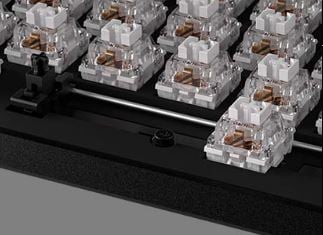 Type: Plate-mount, although atypical
Color: Black
Unlubed/Lubed: Lubed and tuned
Photo credits: ASUS
I am super impressed with these stabilizers. Right out of the box, they sound fantastic with no wobble or ticking. They are frictionless too with the additional lube. They are different than your typical stabilizers, so if these break or you lose one of the endings, they are not easily replaceable. They remind me of optical stabilizers combined with plate-mount stabilizers.
The RGB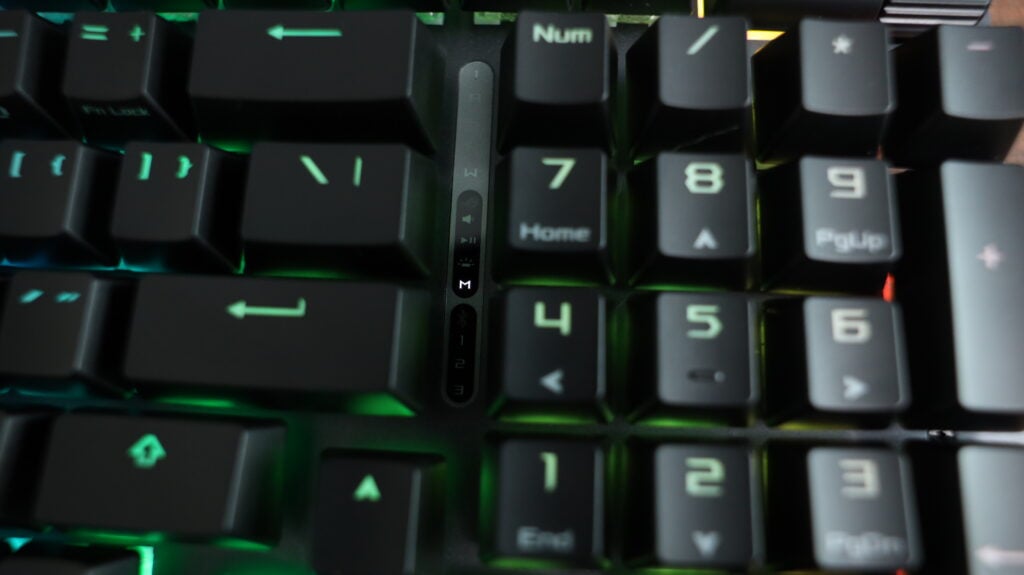 Color: Any color your want
Per-Key: Yes
Underglow: No
LED Location: North-facing
Change Lighting Effects: FN and left/right arrow keys
Change Brightness: FN and up/down arrow keys
The RGB is amazing. It has built-in RGB effects, although simple ones, within the keyboard itself. If you wanted to get more custom with it, you would have to download the ASUS software, which I've heard is not easy to use. It can get buggy.
The Software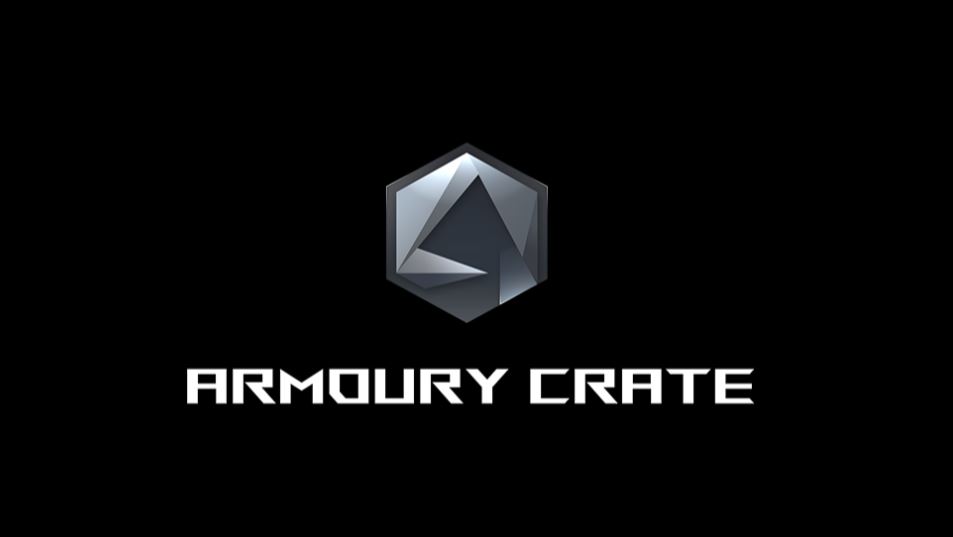 Name: Armory Crate and Aura Sync
Compatibility: Windows and Mac
Macros: You can record these on the fly or through software.
Per-Key Lighting: Yes
Remap Keys: Yes
There is ASUS software to change RGB and do everything else. ASUS uses Aura Sync to do lighting effects for each individual key.
The other software is Armory Crate, and this is used to set up the Omni Receiver for multiple Asus products to one dongle. It can also be used to change the custom functionality of your scroll wheel.
Connectivity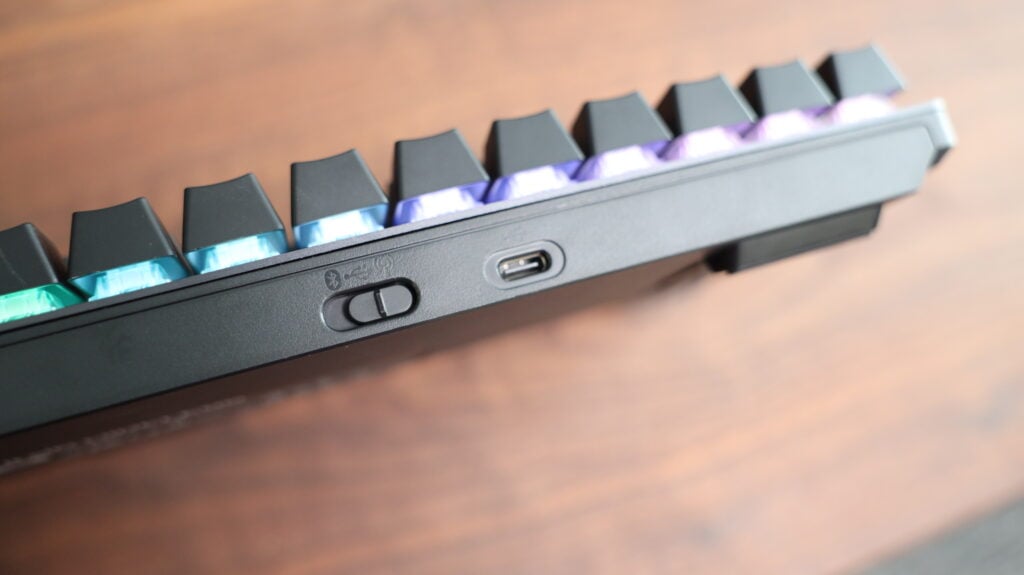 Port Type: USB-C
Wireless: Bluetooth and 2.4G
Latency: 1000 Hz
Number of Devices: Up to 3 devices for Bluetooth
Cable Length: 2.0m braided fiber
USB Passthrough: Not available
The battery life using wireless is absolutely fantastic. I do recommend using the 2.4G over Bluetooth as that's always been more consistent for me.
With RGB off, you can get 1500+ hours with 2.4G and 1750+ hours with Bluetooth. With RGB on, you can get 90 hours with 2.4G and 110 hours with Bluetooth. Either way, it doesn't need to be charged for a long time. Checking battery life using the keyboard is easy as well. Just hold FN and the minus key, and you'll see the number row light up. Each color represents a different battery life.
Alternative Options
NuPhy Halo96 Wireless Mechanical Keyboard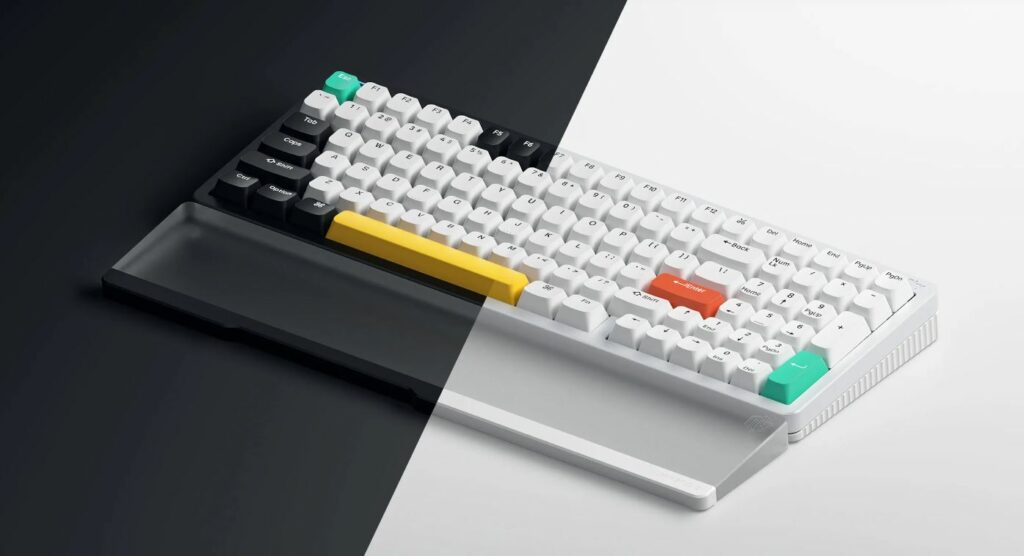 Why It's Recommended: The Halo96 is a similar size to the Scope 96 II Wireless, although it costs at a lower price point. It doesn't have the scroll wheel feature or an included wrist rest, but it has everything else, including connectivity, prelubed switches and stabilizers, and RGB.
Photo credits: NuPhy
Keychron Q5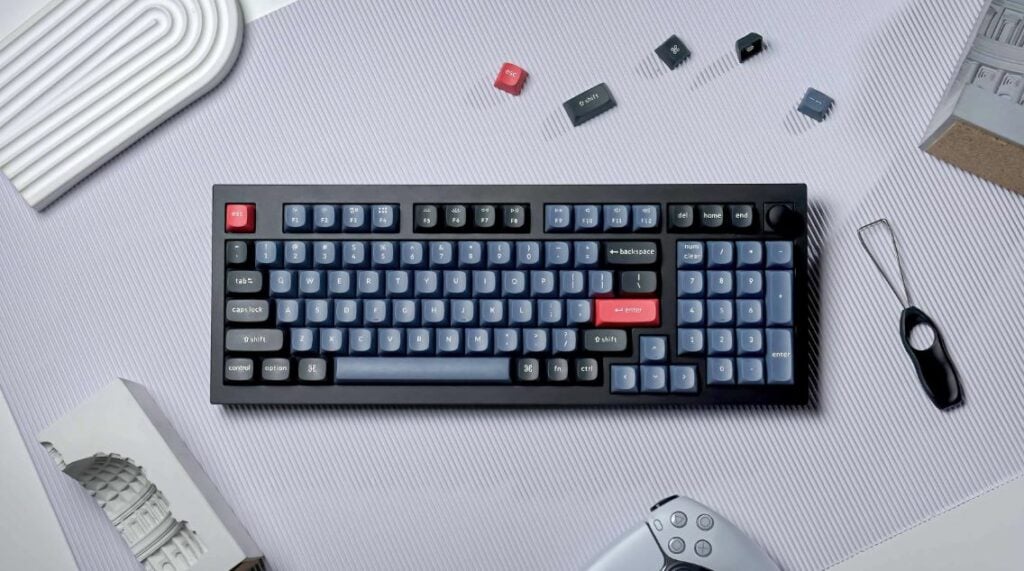 Why It's Recommended: The Keychron Q5 is also 96%, although it is fully built with an aluminum case. It's also gasket-mounted for a soft and flexible typing experience. It is a similar price point to the Scope 96 II Wireless, although it doesn't have wireless connectivity at all.
Photo credits: Keychron
The Full Video Showcase
---
Conclusion
Thanks to ASUS for sponsoring this keyboard showcase. It has plenty of features for gamers, workers, and programmers all in one. The biggest downside for me is the size, I would love to see this in 75%. But for the extra numpad functionality, the 96% is perfect.
The indicators, scroll wheel, pre-lubed switches and stabilizers all make this keyboard an excellent experience. The price is around $180 total, which is not budget-friendly, although it's a very reasonable price for a flagship keyboard.
You can check out the Scope 96 II Wireless at Micro Center or on Amazon.