The Epomaker TH80-X is a colorful keyboard with a unique design with its small LCD screen and large battery life that comes in at just under $100. It also has smooth keycaps and various connectivity options too for anyone who moves their keyboard around a lot. It also has a ginormous 8000mAh battery.
This article is sponsored by Epomaker. They did not review or edit it before publishing. These opinions are our own. Sponsors like them make it so we can host and write content on our website at no cost to you.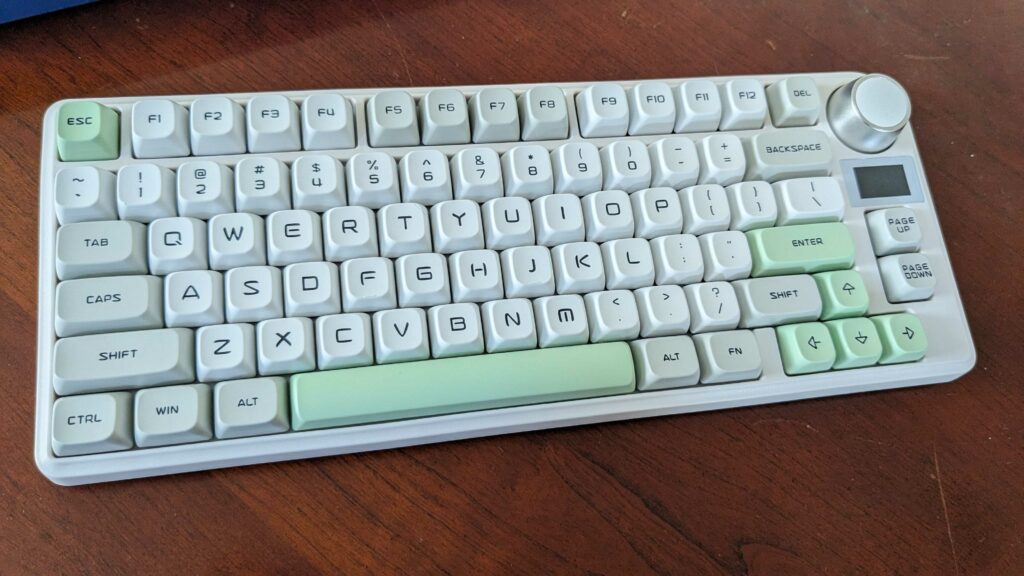 ---
The Main Takeaways
At under $100, this keyboard is nice to use out-of-the-box. However, it does venture away from the typical 75% layout and keycap profiles that I've seen in many other keyboards. If you are looking for a more unique typing experience that is not common, the TH80-X could be worth trying out.

August 2023, Switch and Click
General Usage: The Epomaker TH80-X is hotswappable, but it comes with pre-lubed linear switches such as Flamingos, Yellow, and Black switches. It also says that it's a gasket-mounted design. However, typing on it indicates that the gaskets don't actually provide any give or flex while typing, and the overall experience is quite stiff. In exchange for keys such as Home and End on the right hand column, we not have an oversized knob and a small LCD screen that can tell you the date, time, connectivity, and some more details on battery life and Windows Lock. Overall, it is not an unpleasant experience, however, there are better options out there that I would recommend getting instead.
Typing: For typing, the original NAE profile for the keycaps make it feel quite foreign on the fingertips at first. Eventually you get used to it. The pre-lubed switches are nice to use, and most of the stabilizers don't need any modifications except for the spacebar, which has a bit of rattle and hollowness. The iron plate and "gasket-mount" also don't add much give when typing either. I would describe the overall sound of the keyboard as hollow, despite their being some sound dampening foam inside the case.
Gaming: The wireless latency of this keyboard is too high for competitive gaming, but when plugged in, it can be used to play games. Because the legends a re not shinethrough, it is tough to see the legends at night. Also, the keycap profile might make it difficult for you to game if you're used to OEM or Cherry profile. For casual games such as Stardew Valley, Dinkum, or just not competitive modes, this keyboard performs well. You won't even notice any latency issues.
Programming: Like most other 75% keyboards, the Epomaker TH80-X doesn't make for an amazing keyboard for programming. It has software to remap keys. However, it's proprietary and isn't as easily accessible as a keyboard compatible with QMK/VIA. It also lacks a number pad, and the keys Home and End too. You do get PgUp and PgDn, which is convenient and helps with scrolling through large blocks of code. The knob also makes it easy to control media while in intense programming sessions or debugging.
---
In The Box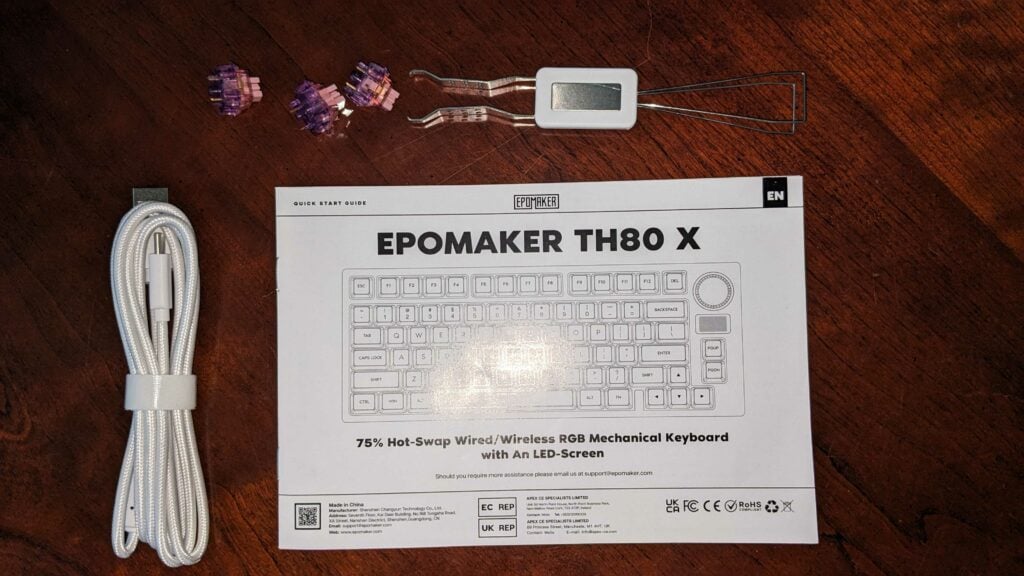 Parts In Box:
Plastic dust cover
Keycap and switch puller
White USB-C braided straight cable
3 extra switches
Manual
The box is not overly large for this keyboard, and they make use of the space nicely. There even is text to says "Accessories are underneath!" to make sure that you don't accidentally throw away your accessories, definitely something I'm guilty of doing before unless they make it obvious.
---
Build Quality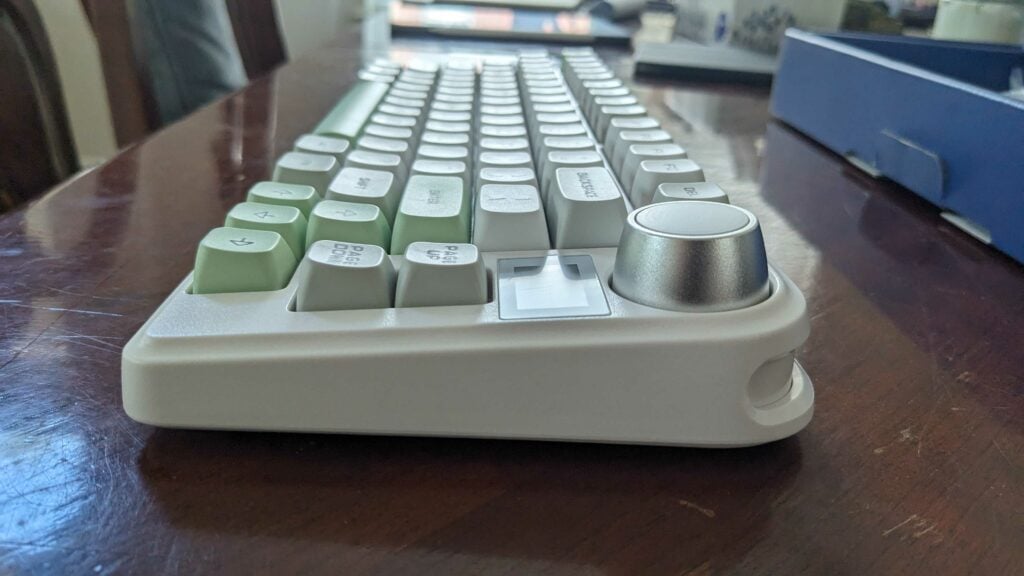 Material: Plastic case with Iron plate
Flex: Minimal
Typing Angle: Unknown
Kickstands: 2 kick-up feet
Power Cable: Braided straight cable
The overall build quality is good. It is not a fragile keyboard by any means, despite being made of plastic. The plate material is very strong and won't bend. It also feels quite heavy too, due to its build construction.
Layout and Size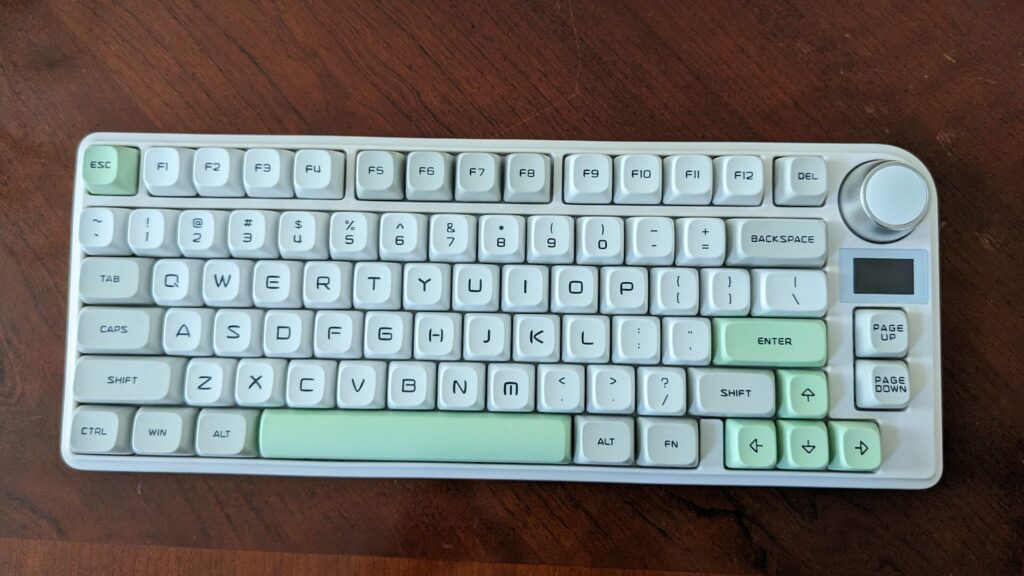 Layout: 75%
Length: 138mm
Width: 340 mm
Thickness: 38mm
Weight: 1117g
The keyboard sticks out more on the right side than a compact 75%, and this is because of the huge knob and small LCD screen that they decided to add. The knob does feel extremely satisfying and tactile to use. However, I think it's too big and takes up more space than necessary. The screen also has large bezels and takes up a large amount of space too. The knob lets you go through RGB, Lighting effects, Brightness, Photo/GIF mode, and Windows/Mac mode as well as selecting different key output layers.
The Keycaps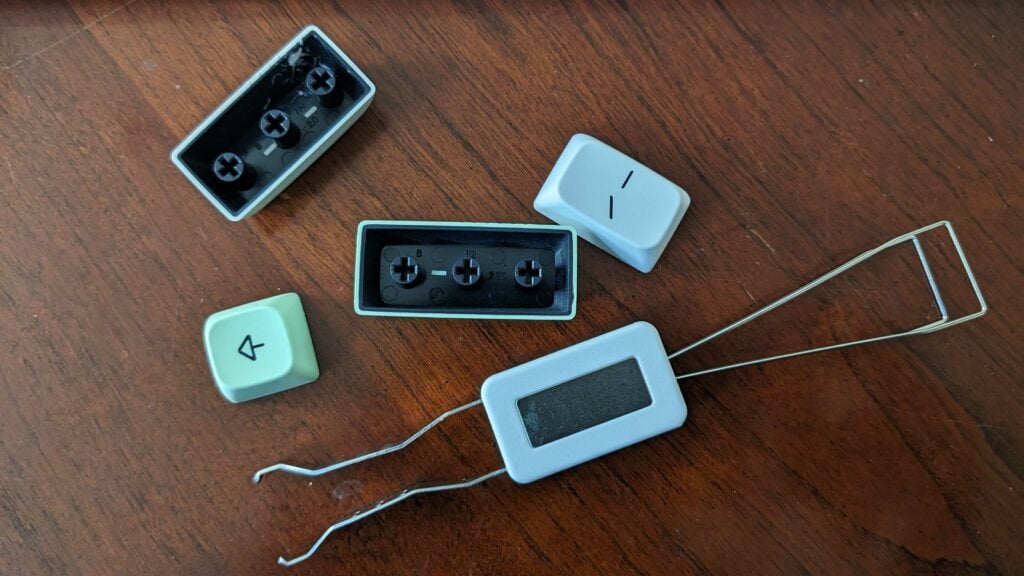 Keycap Material: ABS
Profile: NAE
Legends: Doubleshot
Standard Bottom Row: Yes
Aftermarket Keycaps: Compatible with most keycap sets
The keycaps are the biggest downside for me personally because they feel strange to type on. The NAE profile is unique and custom to this manufacturer. It is a sculpted profile, with each row being a different height.
The Switches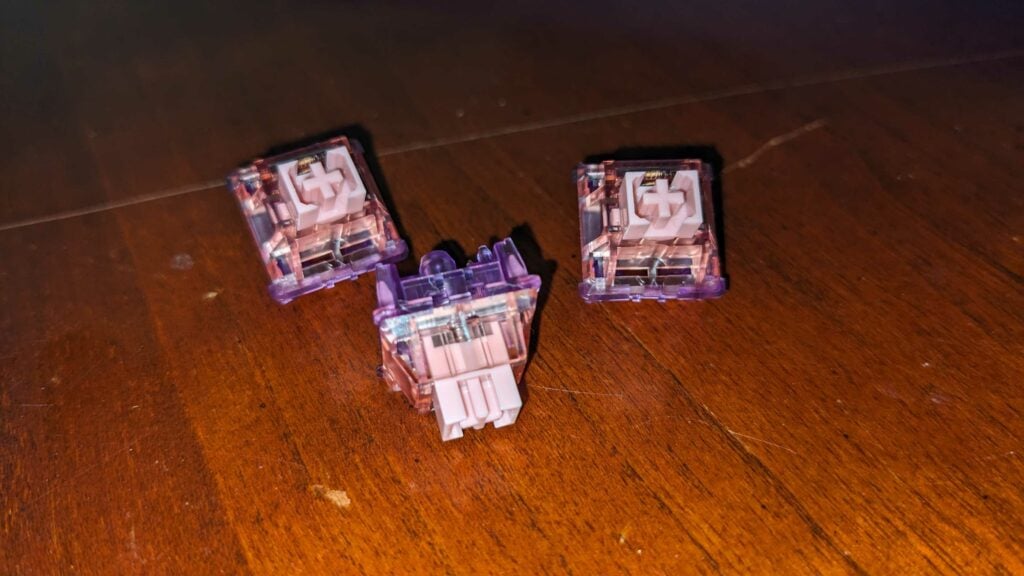 Type: Mechanical switches
Options: Gateron Yellow, Gateron Black, and Epomaker Flamingo
Hot-Swappable: 5-pin south-facing universal sockets
Lifespan: N/A

The Epomaker Flamingo switches make for an excellent typing experience, beyond that Gateron Black and Yellows feel like. They're also lighter weight too, which make typing for longer periods of time more comfortable. This keyboard only offers linear switches, so if you do enjoy tactiles or clickies, you'll have to replace the ones that come in the box. At times, although very rarely (it's only happened 2x while typing this article so far), you'll get a spacebar keychatter, which means it'll input 2x instead of 1x. So you might get something like " k eychatter" when you type "keychatter".
Stabilizers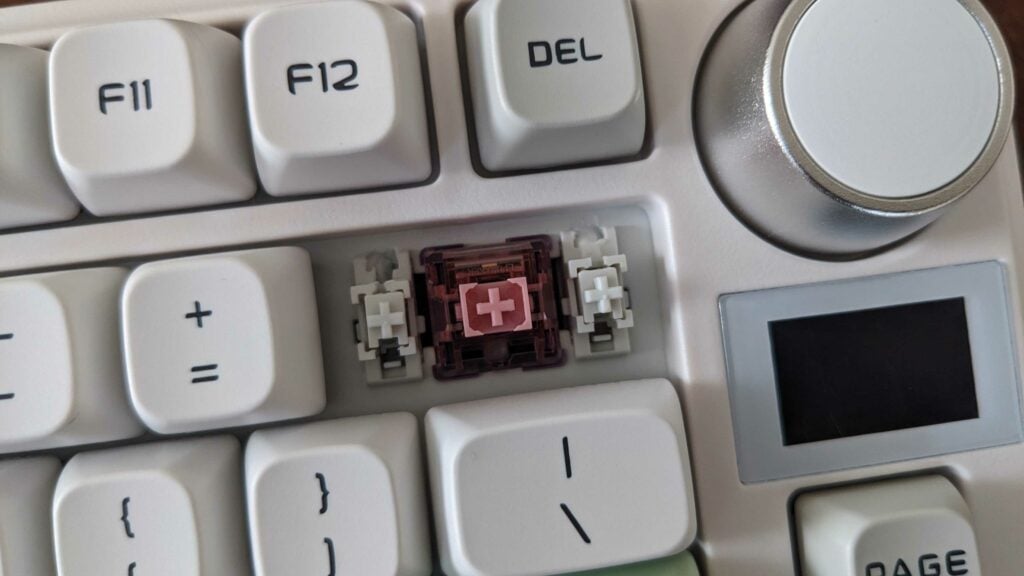 Type: Plate-mounted
Color: White
Unlubed/Lubed: Pre-lubed
The stabilizers sound good on all of the keys, except the spacebar could use a little bit of aftermarket modifications. Just a small bit of dielectric grease in a syringe will do it justice. Also, the spacebar sounds quite hollow. Using something like spacebar foam or an insert of some sort will make it sound better.
The RGB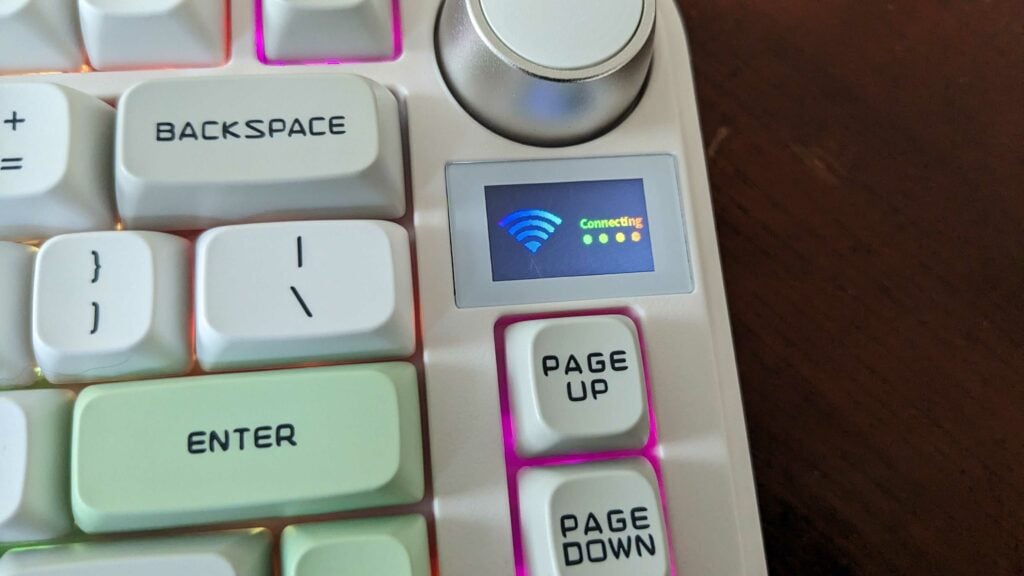 Color: RGB
Per-Key: Yes
Underglow: No
LED Location: South-facing
Change Lighting Effects: Yes, via knob
Change Brightness: Yes, via knob
50-100 words
The Software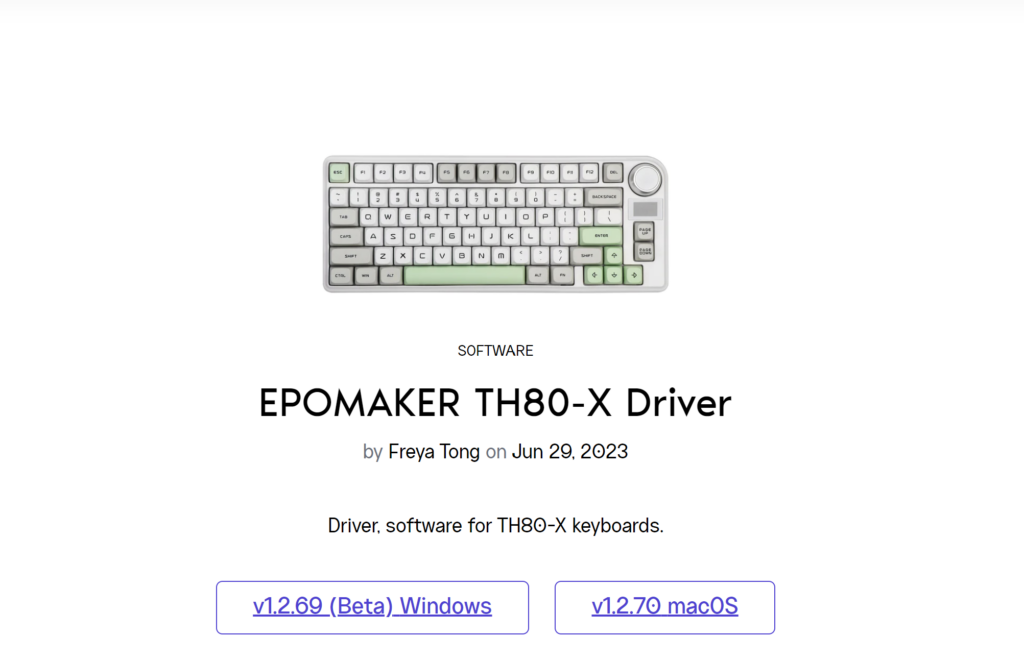 Name: Epomaker
Compatibility: Mac and Windows
Macros: Yes
Per-Key Lighting: Yes
Remap Keys: Yes
Onboard Memory: Yes
Profiles: 1 profile
You can download the software on the Epomaker website here. It is currently in Beta mode for Windows, and it feels archaic. One benefit is that you just need to download it once, make all of your modifications, and then uninstall it since everything gets saved to your keyboard.
I myself do not like downloading, installing, or keeping software that doesn't need to be kept, so this is a nice thing rather than having to keep your software open in the background for your settings to work.
Connectivity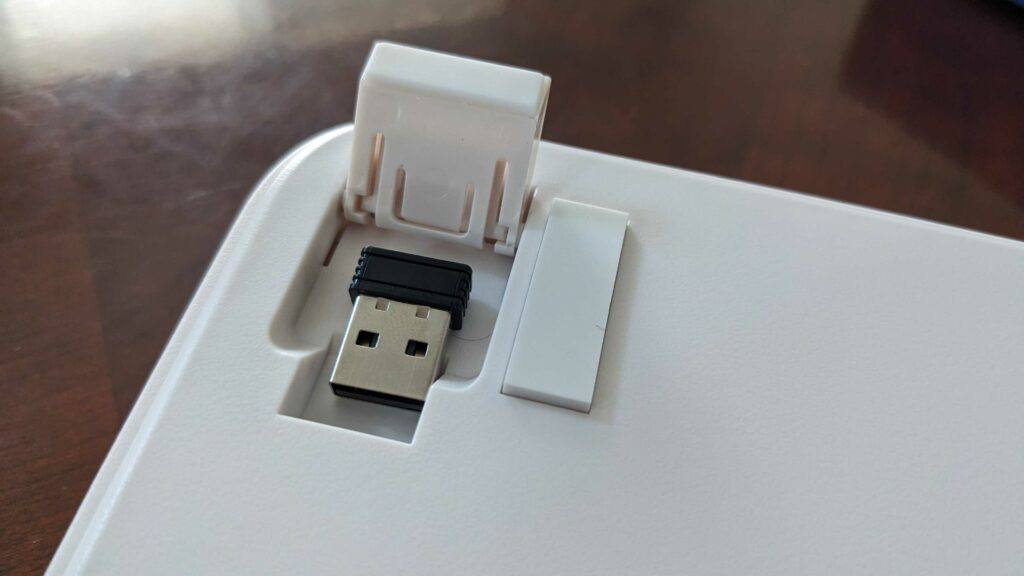 Port Type: USB-C
Wireless: Bluetooth 5.0 and 2.4Ghz
Latency: 1000Hz for wired and 2.4Ghz
Compatibility: Windows and Mac
Number of Devices: Up to 3 for BT, and 1 for 2.4Gz and wired
USB Passthrough: No
The connectivity for 2.4Ghz is easy to use. Just plug in, turn on, and play. Same goes for wired. I attempted to connect via Bluetooth at first, but it requires you to hold down FN+1/2/3, which was too troublesome for me in the first place. It does work though, but it would've been really cool if I could turn it on and then have the keyboard automatically be searchable from my laptop. There is only an off/off button on the top right of the keyboard, so this is probably why it didn't do that right away.
Alternative Options
NuPhy Halo 75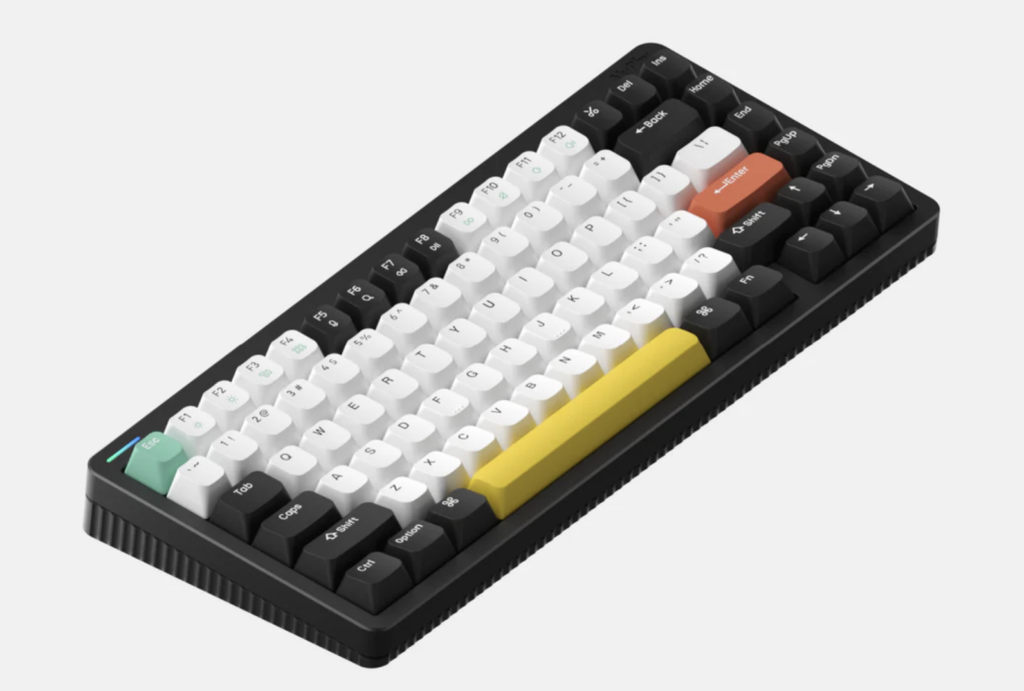 Why It's Recommended: The Halo75 doesn't have the knob or the screen, but it does offer a much better typing experience with their Night Breeze switches, PBT keycaps, and classic aesthetic. It also sounds a lot better with the muted spacebar dampening too.
Royal Kludge M75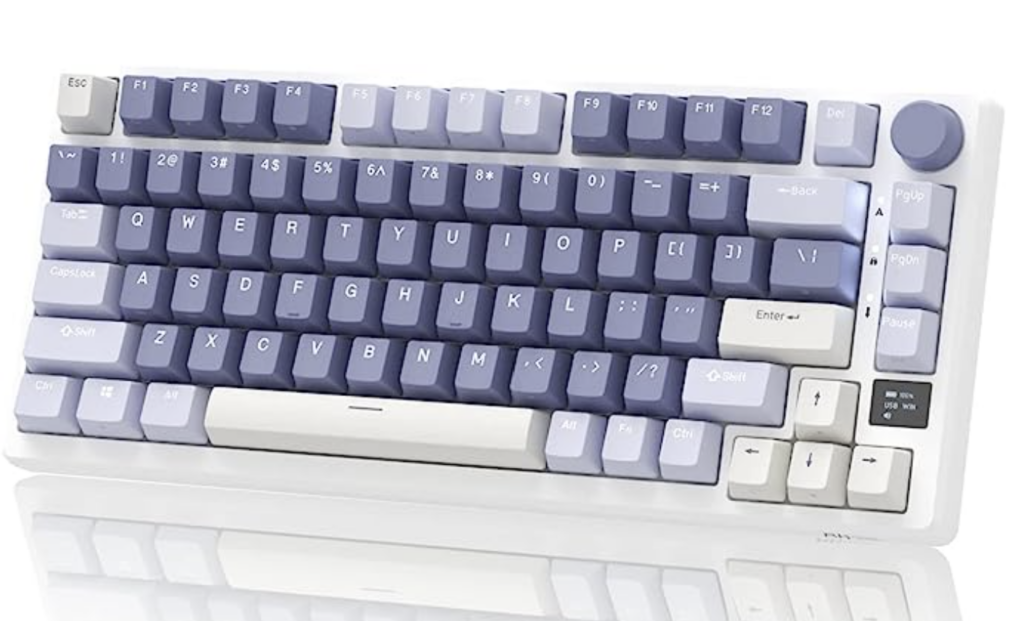 Why It's Recommended: The Royal Kludge M75 is also a 75% keyboard. It has a knob and a small screen, but what stands out is that the gasket-mount actually provides a much better typing experience with its pre-lubed linear switches too.
The Full Video Review
Coming soon to Switch and Click YouTube channel.
---
Conclusion
The Epomaker TH80-X is a unique keyboard. However, I wouldn't recommend it for most, especially those who are just buying their first mechanical keyboard. It has a lot of extra features, but it lacks when it comes to the barebones functionality of the keyboard. Namely, the overall feel and sound of it when using it regularly.
The price at just under $100 is also quite nice to look at. However, some of the alternative picks we suggested will be a much better pick for your first keyboard.
But if you do love the aesthetic of the oversized knob and the keycap styles, go for it! It does offer a lot of customizability with it's hot-swappability and software.