I thought mechanical keyboards had to bulky, but the Corsair K100 Air proved me wrong. I have never seen a mechanical so thin, in fact, it's nearly the same height as a laptop keyboard.
How is the keyboard this thin? Well, it has to do with the magic hidden below each key, the Cherry Ultra-Low Profile switches. But we'll get into that later.
The Verdict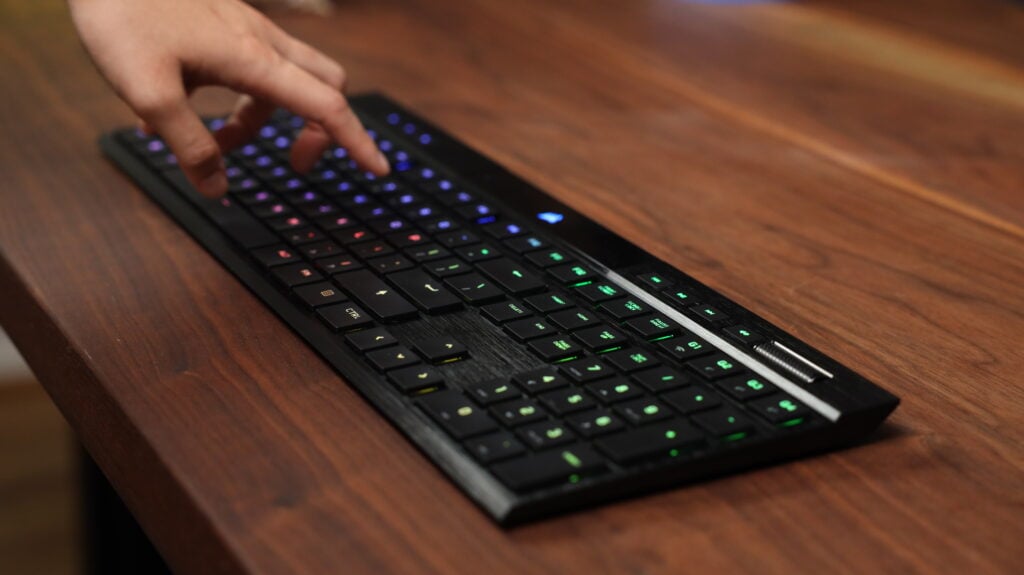 While on the pricier side ($200+), this keyboard is definitely painful on the wallet, but it does give you an extremely unique typing experience and is on the cutting edge in the world of mechanical keyboards.
The Cherry ULP (ultra-low profile) switches are razor thin and are surprisingly fun and tactile to type with.
So if you want a keyboard that's sleek and thin, but still gives an enjoyable typing experience similar to a true mechanical keyboard, this is your best bet.
Plus the keyboard is wireless with 2.4 gHz and Bluetooth, both of which connect instantly and seamlessly, perfect for using on the go or working at coffee shops.
But if you're on tight budget and you can't justify the extra cost for the thinner profile, it's probably not for you. Plus the keyboard does lack the customizability and modularity of a normal mechanical keyboard.
---
In The Box
The keyboard comes shipped in a nice detailed box with the highly recognizable Corsair yellow. The box opens with a nice friction fit that reveals the keyboard inside.
Along with the keyboard, you get:
A plastic dust-cover – Do people actually use this?
A braided black cable with USB-A to USB-C. It would be nice if there was a USB-C to USB-C option, considering that this keyboard is so thin and highly portable, if it was easier to connect to laptops without an additional piece of tech that'd be a huge bonus.
Some basic instructions along with safety/warranty guides.
Overall, not bad so far. Although for a $200-ish keyboard, I did expect more accessories when opening the box.
---
Build Quality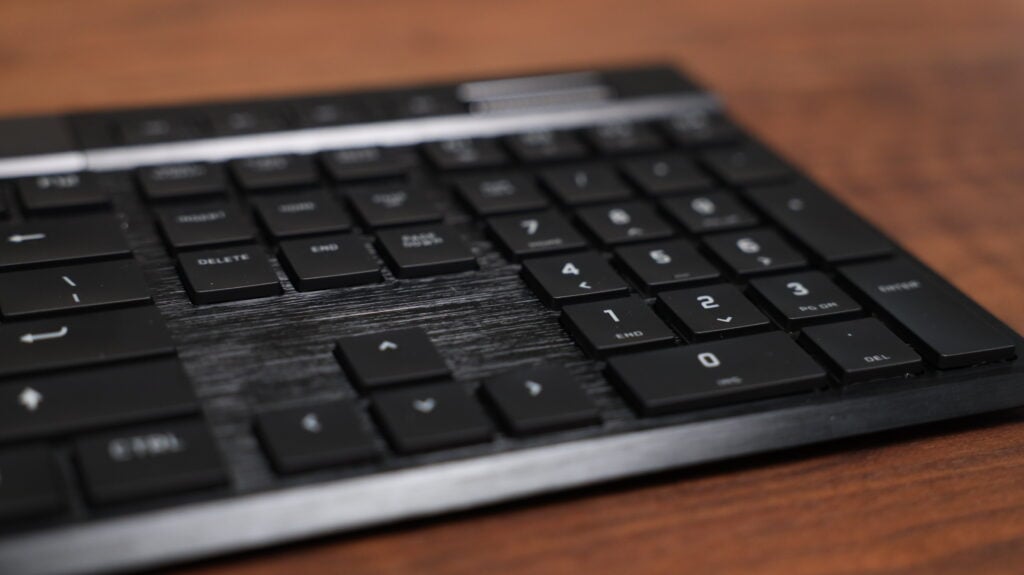 For how thin this keyboard is, I am surprised by how sturdy it is! I picked up the keyboard and tried to bend it, but there is no flex or anything. The keyboard is solid.
I also accidentally dropped the keyboard and nothing happened. No keycaps fell off, no dents or anything.
The front plate is made of a nice brushed aluminum plate and it looks absolutely fantastic. And in the bottom left-hand corner you see the words "//K100" printed to signify the model.
The layout of the keyboard is a standard full-sized, so you get every single key along with a few extra media keys at the top.
These include the controls to switch between profiles (which I'll get into later) along with sound controls and a horizontally mounted volume wheel.
Unfortunately, the media buttons do not use the ULP switches, which is a bit disappointing. Instead they feature a rubber button instead. If I had to guess why, I would it's because they didn't have enough space to mount a full switch without making the forehead absolutely massive.
The volume wheel is super smooth, which feels nice to use.
On the backside of the keyboard, you get dual kick-up feet for multiple typing angles. I typically don't use these when typing on a mechanical keyboard, but due to how thin this one is, I did find myself using the kick-up feet somewhat frequently.
There is a long strip of rubber on the back to keep the keyboard from sliding. It's very effective. This keyboard is not sliding around anywhere.
And on the top of the keyboard, you get a slot that stores the 2.4 gHz dongle. It's not magnetic or anything, it just stays attached through a basic friction fit. I would've preferred magnetic but this gets the job done.
Along with that you get a power switch that you can toggle on and off and a USB-C port on the top-left.
The Keycaps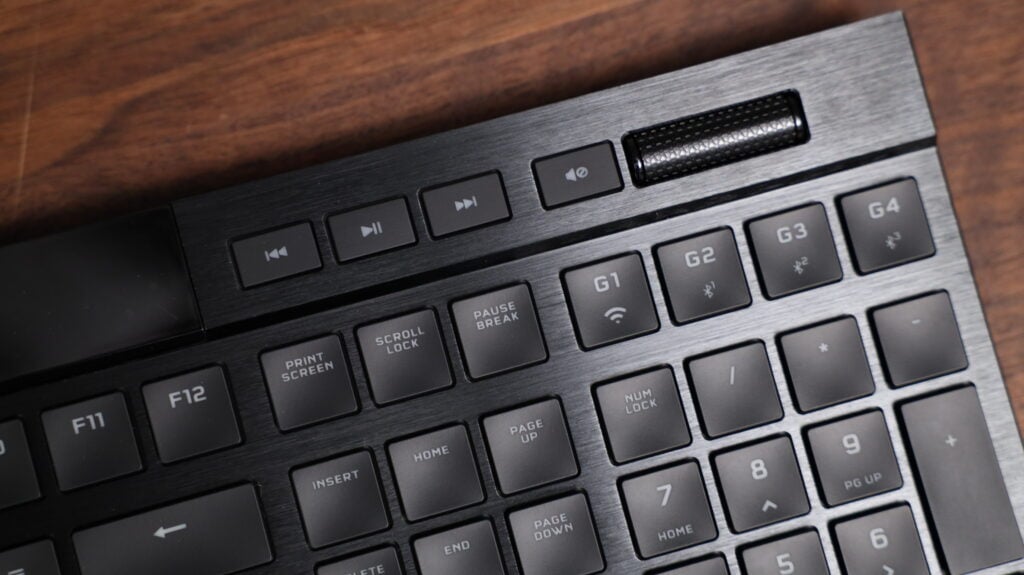 The keycaps on this keyboard are extremely thin and flat. At first glance I thought they were dead flat, but upon closer inspection I realized they were slightly concave.
This means they have a small indent on them for your fingers to comfortably sit whilst typing. I found this to be super helpful and made typing on this keyboard more intuitive instead of the completely flat keycaps you usually find on a laptop keyboard.
The keycaps are shine-through, which means the RGB lighting peeks through keycaps and illuminates them. Perfect for working or gaming at in the dark, so you can still what key you're pressing instead of just fumbling around.
The font is very simple, which I actually appreciate. It's not winning any style awards but it's also not overly "gamey" looking (for a lack of better words). You could use this in an office setting and not be totally ostracized by your coworkers.
The keys have a secondary legend that you can see in a smaller font which is nice for knowing what you can access on the lower layer. Especially the connectivity controls on the macro keys on the top right.
The keycaps also do not appear to pick up the grease from your fingers when typing which is a nice added bonus.
The Switches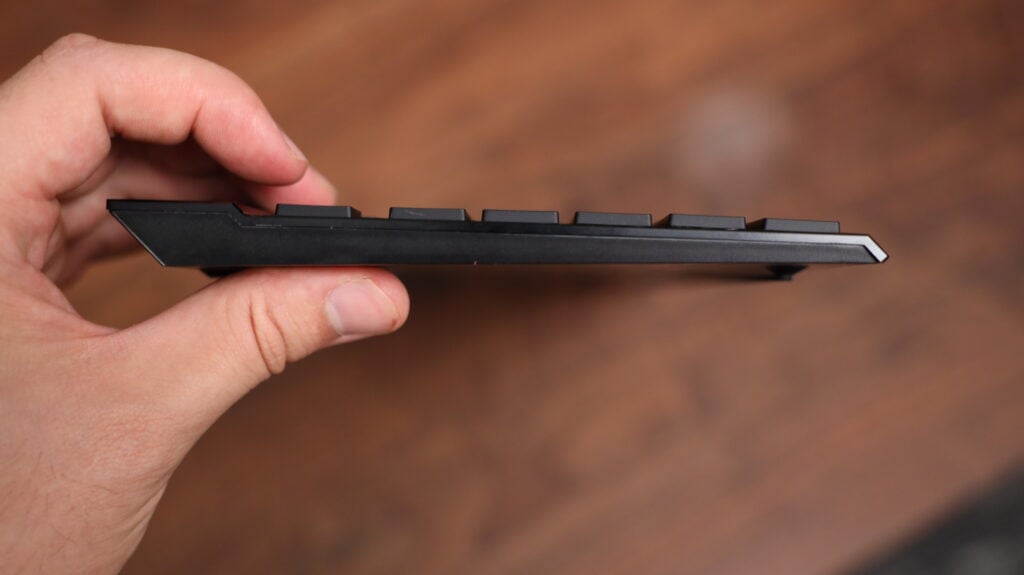 The switches on this keyboard are SO cool. So so cool.
They are the Cherry ULP switches and they are razor thin. They have a total travel of 1.8mm, which is absolutely insane.
To put it in perspective, a normal mechanical switch is 4mm and a low-profile switch is 3.2 mm.
This one is nearly half as thin as a normal switch.
We got the tactile version of the ULP switch, but there is also a clicky version as well. And while the switch is thin by nature, the tactility is out in full force.
On each key press you get a big tactile bump. I mean, you really feel it. It's impressive that Cherry was able to make this switch pack such a big punch.
The only downside to this switch type is that they are very loud. Like much louder than a normal switch. The spacebar is especially loud. It rocks the entire room with how loud it slams down.
Another downside is that you can't remove the keycaps and customize them. It would be cool to take them off and play around with the new switches, but apparently it's really difficult to put them back on.
Connectivity
The Corsair K100 Air can connect via three different methods.
Wired connection – Fast and reliable as always.
Bluetooth – You can connect up to three Bluetooth devices and switch between them easily
2.4 gHz – You can connect with the dongle for a super fast and responsive experience. Corsair calls it their "Ultra-Fast Slipstream Wireless" connection.
Overall, I found connectivity to be incredibly fast and easy. That's one thing I really enjoy about big brand keyboards like this one, it's extremely convenient to use.
Software and RGB
The Corsair K100 Air connects via Corsair iCUE software which you can download at their website. While I'm not a fan of the massive download, the software itself is super easy to use and allows for you to save to a variety of different profiles which is nice if you want a different profile for gaming or working.
The RGB is also highly customizable within the software, along with a few controls on the keyboard itself.
With the lighting button in the top-left you can turn on and off the RGB lights.
And with FN + 1/2/3/4/5… you can change up the lighting to other preset designs. These are fun to filter through and find what