The Bose QuietComfort 35 II came out in September 2017. Almost two years later, are they still worth it? Or are other ANC headphones a better price?
The prices for these headphones have also dropped, making them a much better deal and more affordable for those that were looking at them.
The Verdict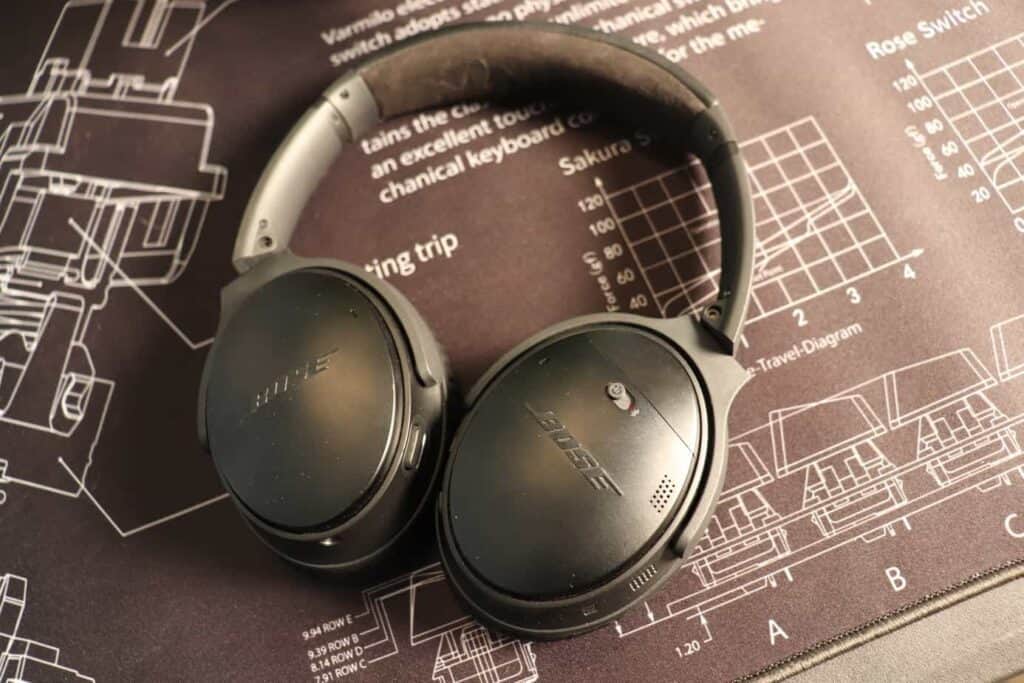 The Bose QC35 IIs are more worth it in 2020 than they were many years ago. Their prices have dropped significantly, and the noise cancelling abilities of these headphones are still phenomenal.
Whether it's with vacuuming, on a long airplane ride, walking around, or otherwise, the ANC of these headphones will let you hear your music, podcasts, and audiobooks perfectly without worrying about whether you missed a word or not.
However, if you plan on making many calls in loud environments, these are not good. Take a look at newer ANC headphones such as the Sony XM3/XM4 or Bose 700 headphones instead.
If you are looking for a great pair of active noise cancelling headphones, then the Bose QuietComfort 35 II will not disappoint at all.
To check the current price of these headphones right now, click here to go to Amazon or the link below.
---
In The Box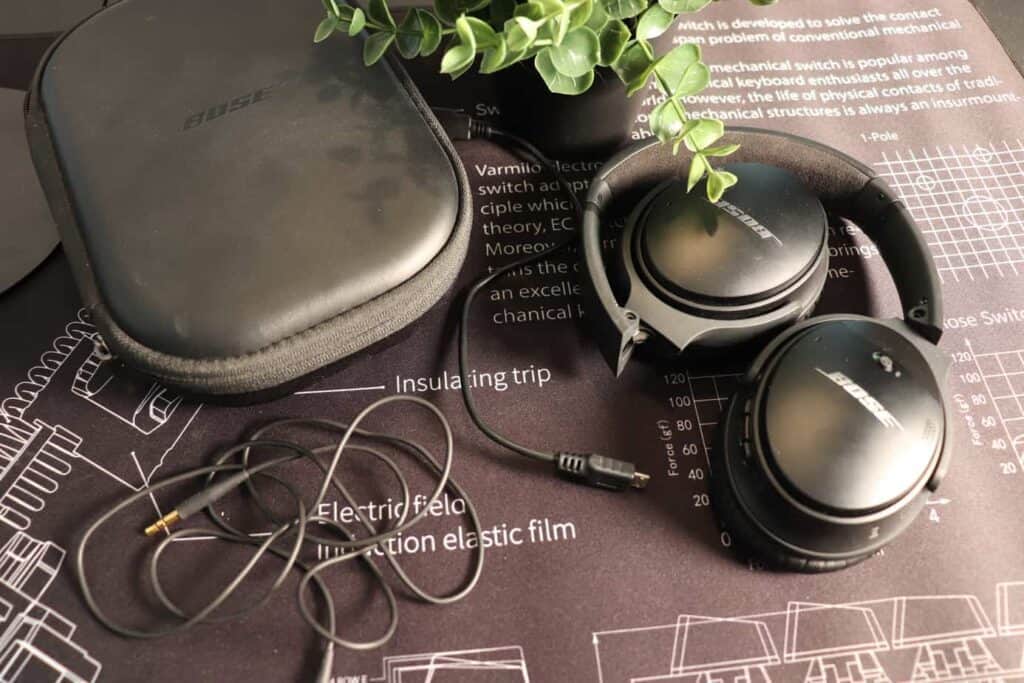 Please note, we bought our Bose QuietComfort 35 IIs in November/December 2017, and it's been quite awhile since then.
Inside the box, we have the following accessories:
Carrying case – This is a hard case with a zipper and an inside pouch to carrying accompanying wires and chargers.
Mini-USB cable – It's fairly short and fits within the pouch easily.
2.5mm to 3.5mm cable – To connect your headphones to devices without Bluetooth connectivity
Headphones – We will go into more detail in the review.
Already, we can see that some of these are outdated, especially the mini-USB charging cable rather than a USB-C charging cable.
USB-C allows much faster charging speeds. An added bonus is, if you use Android phones, that you can use the same cable to charge both devices.
The 2.5mm to 3.5mm cable is also fairly inconvenient, as most cables are 3.5mm to 3.5mm nowadays. Also, it's pretty short and really thin and flimsy.
I don't use it too often, so that's why it's still intact. Bose does sell replacements.
Alongside this, the headphones don't come with a 3.5mm to 1/4in adapter, but that may just be personal preference.
---
Build Quality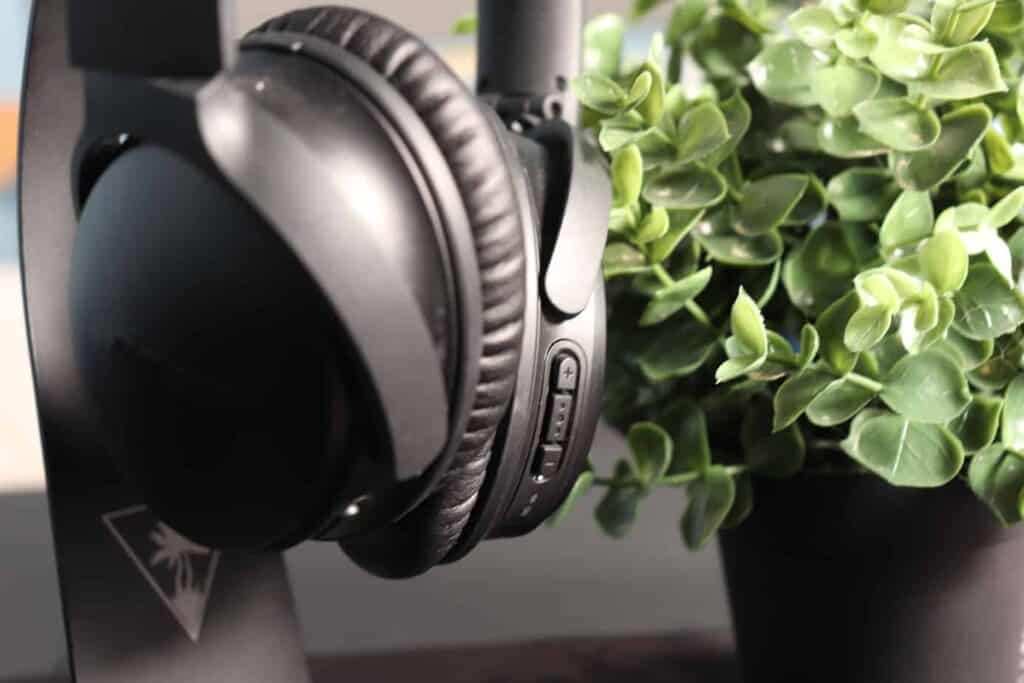 The build of the Bose QC35s are made entirely of plastic with the exception of a few parts. There are small metal screws that connect different parts of the headphones.
The primary benefit of these headphones is that they fold up conveniently to be placed into their small and portable carrying case. Many more recent ANC headphones such as the Sony XM3 and XM4 have copied this feature for themselves.
Unfortunately, the updated Bose headphones decided to go for a different approach with their Bose 700 headphones, which ultimately lack the ability to fold up.
The very top of the headband, about 33% of it, is made of stitched leather. When the headphones are too outstretched, there is some gapping into between the plastic on either side of the headband.
This can be worrying with big heads or improper care of the headphones. After 3 years of use, our pair of headphones have stood strong with zero signs of wear or tear.
We've taken these everywhere, and they rarely stay in their case. I actually use these almost everyday for vacuuming and house chores. Sounds lame, I know. But they get worn.
There is adequate horizontal swiveling on each ear cup to lay completely flat on a table. Each ear cup also can rotate upon its connecting arms to conform to your heard comfortably.
There are a bunch of metal screws everywhere, connecting all of the varying moving pieces.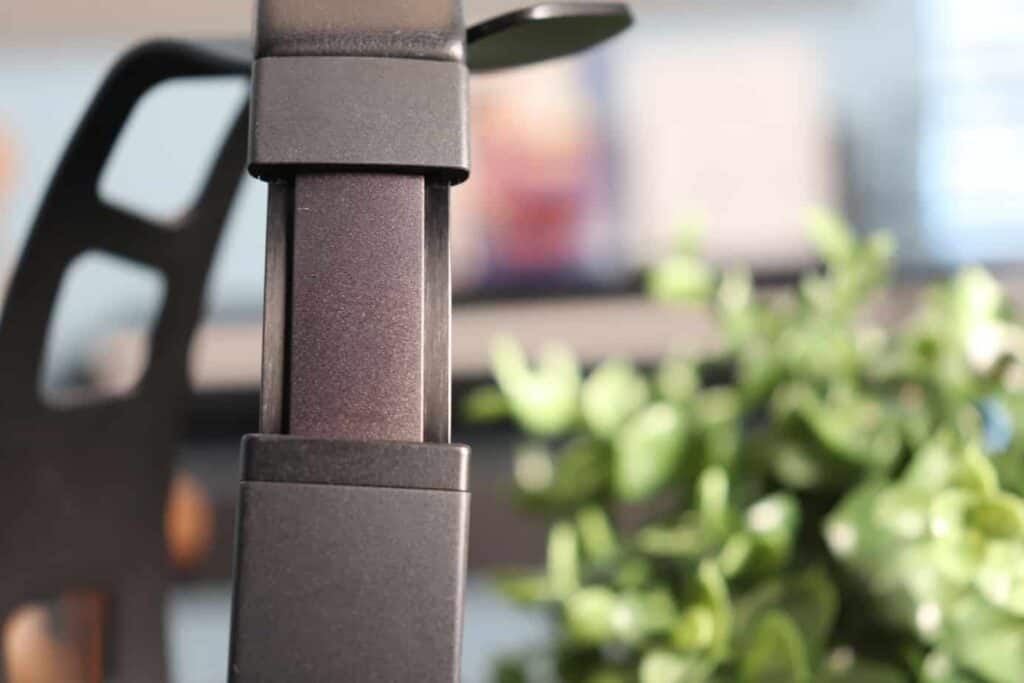 The headband adjustment sliders are half plastic and half metal. I wonder why they chose such a design, why not be 100% metal. The plastic has indicators of which height selection you are at. And the metal sits on each side of it.
Overall, the build quality, despite being approximately 90% plastic, is extremely durable and lasts through the test of time. So far, three years and counting.
In fact, the thing that I am most worried about is that the battery needs charging more and more often.
Comfort and Style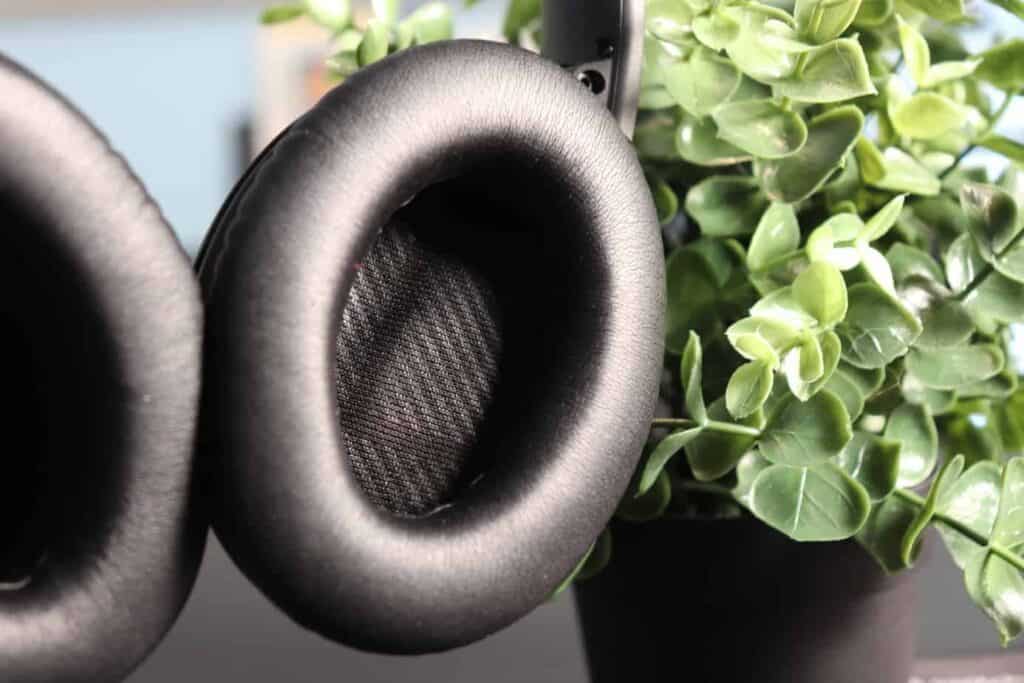 The headphones are extremely comfortable for long hours of wear. I've taken them on several long flights and even have falling asleep with them on top of my head.
However, past a certain point (I believe it's the 5/6 hour mark), there is a hotspot and discomfort at the very top of my head).
My ears are fairly small, at least relatively to average sized heads, and they feel very snug within the ear cups already. If you have larger ears, you might find that the cushions will rest on your ears like on-ear headphones rather than over-ear headphones.
The cushions themselves are extremely ovular. They are memory foam with faux leather covers.
At the top of the headband there is adequate padding, memory foam, and a velour material to prevent the headband from digging into your head.
Alongside that, the clamping force is not too high. When I first put them on three years ago, perhaps they had too much. With the ANC, it felt too vacuum-like and uncomfortable.
However, after several years of wear, of course they have stretched out and conformed to my head quite well.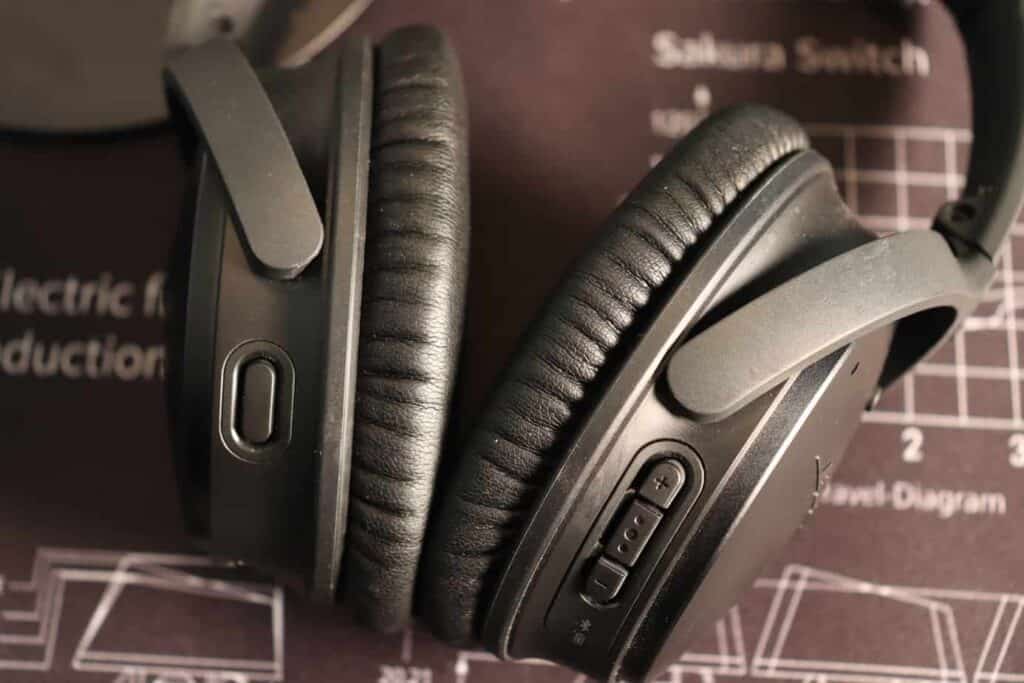 As for style, the headphones are quite sleek and subtle. They're not overly big or obtrusive.
They come in two different colors: black or silver. Nowadays, I believe you can even customize your own pair from Bose.
The cushions work well with glasses and will mold themselves around the frame.
Compared to newer headsets, the Bose 700s feel the same as the QC35s. The Sony XM3s are slightly lighter and therefore, can sit on your head for a longer amount of time.
Sound Quality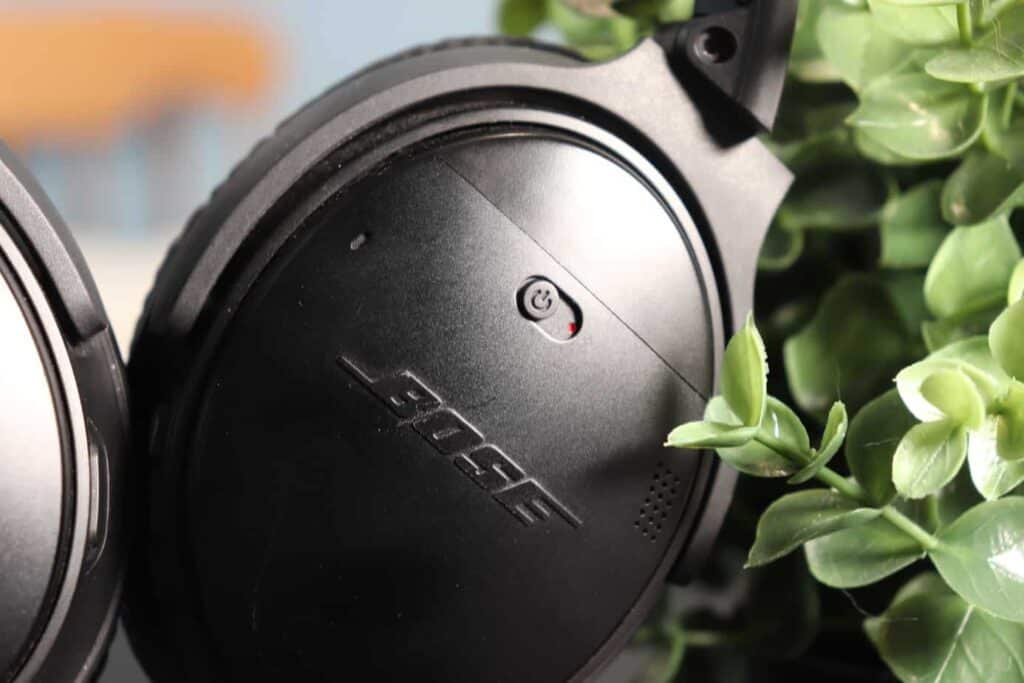 The ANC is these headphones were phenomenal when they first came out. However, with new technology nowadays, there is better ANC available.
The benefit to having okay ANC is that you can hear some subtle ambient sounds in the background: someone calling your name, someone trying to talk to you, etc.
However, if you plan on purchasing these for long flights, there are better headphones available.
The Bose 700 headphones allow you to change between different levels of noise cancelling by cycling through the settings on your app. The Bose QC35s have three levels of this – high, medium, and low.
The buttons on the right ear cup let you turn up or down the volume.
Music within these headphones sound very neutral with crisp details. Paired with the noise cancelling, and all the details can be heard easily.
There is no special sound signature.
Bose has a flat sound signature, no thumping bass or strong highs.
However, it has immense detail.
Microphone
The microphone on the QC35 IIs are not the most impressive. When compared to newer ANC headphones, they definitely lack in this category. By a LOT.
The microphone on the Bose QC35 II definitely compresses your voice, especially when there is more noise in the background.
When there is minimal noise in your surroundings, the microphone quality is much cleaner and lacks the compression.
For conference calls or phone calls with a lot of noise, it doesn't sound amazing. You can still hear the ambient noise such as cars doing by, rain, road rumble, air conditioning, etc.
At an airport, the Bose microphone is not amazing. It picks up way too many people talking around, and it's quite unpleasant to listen to.
Compared to other headphones, such as the Sony XM3, the XM3s do way better. It suppresses background sounds as well as the speaker's microphone levels though.
The Bose 700 have much better call quality, especially in loud ambient environments. Alongside that, the Bose 700s have different levels of noise cancelling that can be modified through their app.
---
Alternatives to the Product
Sony WH-1000XM3
The Sony XM3s are extremely stylish. It's got a similar look to the QC35 with multiple joints and foldability.
The cushions on the XM3 are thicker and better on the headband.
There are also really light at 254g, which is lighter than the Bose QC35. The clamp is middle, with no slipping or squishing your head.
The XM3s are more updated with USB-C charging. The app is very nice as well, and it lets you control how much ambient sound you hear. So if you're walking around or running, you definitely want to hear some of the surroundings.
If you're looking for a better microphone for conference calls or personal calls in loud environments, the microphone on the XM3s is amazing. It disables more ambient noise and has a crisper sound.
If you're interested in these, you can check them out here on Amazon.
Bose Noise Cancelling Headphones 700
The Bose 700s are the newest versions of the Bose QuietComfort. They are more expensive, considering that they're the newer edition.
The noise cancelling is a lot better. The design is a bit iffy, with lack of joints and the ability to fold.
Adjusting the headband is now smooth and no longer has satisfying clicks.
On the ear cup are touch functions rather than buttons. Touch or tap in certain ways to pause/play or turn up/down the volume.
The phone app is solid and super easy to use with 11 levels of ANC rather than only 3 in the Bose QC35 IIs.
The sound signature is very similar to the QC35. It may not get loud enough, especially if you're trying to listen to music in loud environments.
You can check these out here if you want on Amazon, and they're definitely not as budget-friendly.
---
Conclusion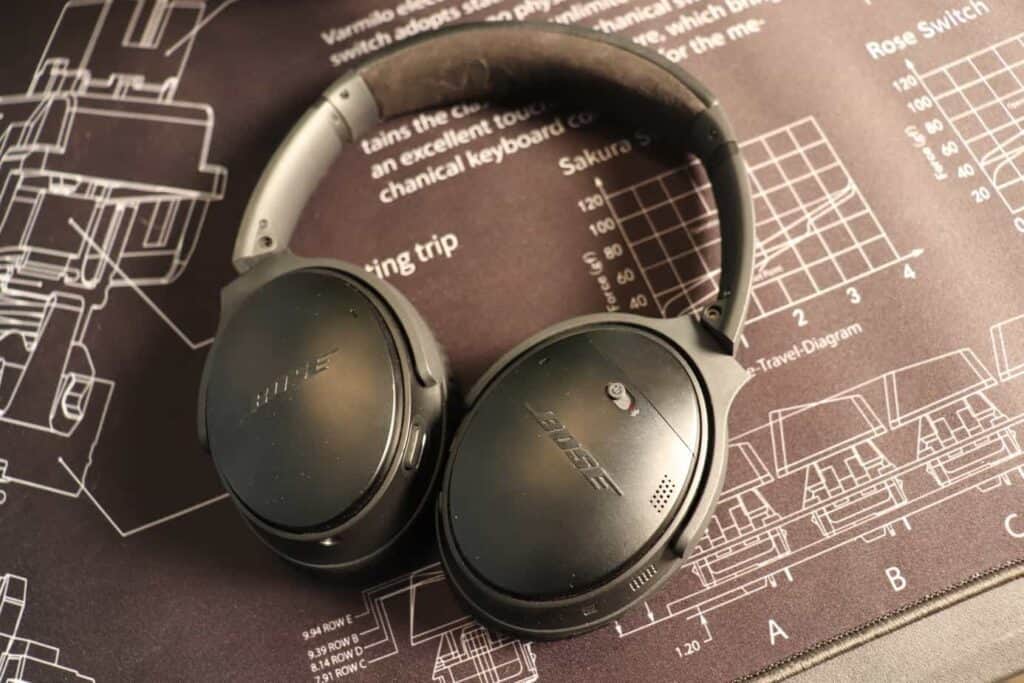 Whether these are still worth it in 2020 will depend on what you value in a great pair of headphones.
The ANC is amazing, although the newer Bose 700s are known to have better noise cancelling.
The microphone is not the best and can be disappointing. Especially if you're taking calls in loud environments.
Their prices have dropped significantly, and the noise cancelling abilities of these headphones are still phenomenal.
If you are looking for a great pair of active noise cancelling headphones that are a bit more affordable, then the Bose QuietComfort 35 II will not disappoint at all.
To check the current price of these headphones right now, click here to go to Amazon or the link above.