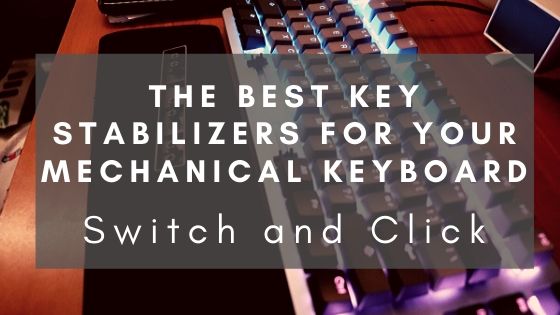 If you're planning to build a custom keyboard and are puzzled about which key stabilizer will be best for your build, keep reading, you're in the right place.
We'll go over the best stabilizer and how to optimize it for your build so you can get that perfect sound and feel that you've been desperately craving.
In case you're wondering what a keyboard stabilizer is, read here.
To kick this off, lets start with:
Cherry Stabilizers
These come in screw in, snap in, and plate mounted styles, you can read more about the different styles here. Basically, your PCB plate mounting holes determine what will fit on your keyboard. The linked posts goes more into detail about what will work for you.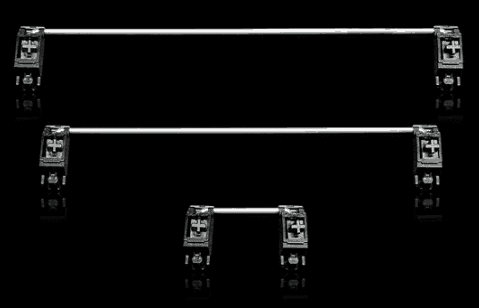 These are the industry standard, so if you already own a mechanical keyboard, it is most likely equipped with these stabilizers. You can find the Cherry stabilizers for an affordable price on Amazon, you can check the price here.
The Cherry stabilizers are known to rattle and feel a bit mushy. In addition, they are a bit slow. If you are willing to put a little extra work in, these stabilizers really benefit from some custom modifications (band aid, clipping, and lubrication).
The band aid modification dampens some of the sound and creates a much nicer acoustic. Clipping the stabilizer actually makes the key feel less rickety, which is a bit counter intuitive. But what works, works. Lubricating the stabilizer really helps with the friction-y slow feel of the key, and helps it feel more consistent and smooth.
After some modification, these compete as one of the best stabilizers out there. The modifications reduce the rattling and create a much better smooth and stable feel.
Click test before and after modification
If you're not interested in modding your stabilizers, keep reading because the next stabilizer is for you.
Costar Plate-Mounted
If your looking for a stabilizer that is great without mods, Costar's are a pretty decent option. Coming in cheaper than the Cherry stabs, they're quite affordable.
They can be difficult to install and feel similar to the unmodded Cherry stabilizers. They are quite smooth, don't rattle much and make a very satisfying sound on impact.
Listen here for the click test
Costar can be difficult to mod and swap out since to install you need to hook them into the key caps. Trying to remove the keycaps afterwards to clean your keyboard can be quite frustrating and time consuming, because of that some people don't enjoy this type of stabilizer.
The Costars are great if you want to install them and forget about em. No modding required, very solid performance, and a decent mid-range price. However, not the best if you enjoy tinkering with your keyboard and swapping out your keycaps regularly.
If you enjoy sitting on a golden toilet and looking down at the rest of us from your ivory tower, these stabilizers are for you.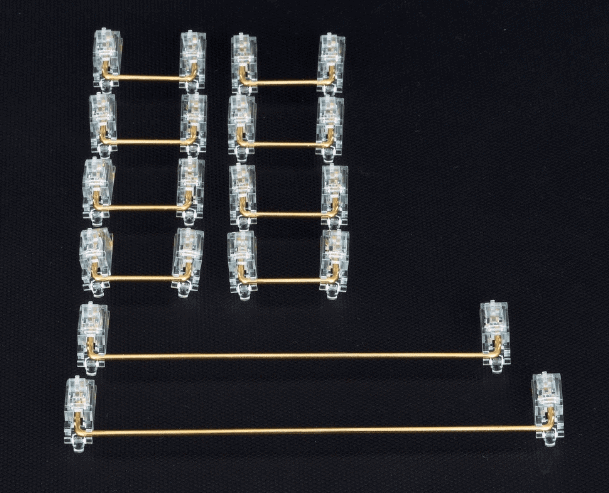 The fanciest and most expensive on the list ($30). Gold-plated and aesthetic, these are high quality stabilizers and one of the best on the market.
Offered only in the screw-mount style, with a custom nut design to prevent stripping the threads.
They are durable and stylish. And are a great choice if you're willing to shell out the dough. The price tends to turn off a lot of people, which is totally understandable. At multiple times the price of the Cherry stabilizer only the truly passionate people will pay for these.
That about wraps it up for the list! If you have any questions, corrections or additions to the list, please let us know.
You can also check out our YouTube video if you don't feel like reading.
Common Questions:
How do you install the stabilizers?
You can reference this link, we have a step by step guide on how to install stabilizers.
Want to learn more about the Cherry stabilizer mods?
Watch this YouTube video by TaeHa Types. He goes over how to do it in great detail.